Features
30 Best Nintendo Switch Games
With so many great games to choose from on the Nintendo Switch, which are the very best? Here are our picks...
After four years of the Wii U, we were eagerly anticipating its successor. While there were plenty of great games on the doomed platform, the Wii U just never caught fire with the public at large. But four years into the Switch's lifespan, and Nintendo has turned things around dramatically.
Instead of winding things down, the Switch shows no signs of slowing down, with plenty of excellent third party games in its library, as well as more than a few innovative titles from the Big N as well. The platform has also been a great way to bring underrated Wii U gems to a broader audience of Switch adopters. With a rumored 4K upgrade on the horizon, there's a good chance that the Switch may even have another four years ahead of it.
But for now, these are the very best games available for the portable-console hybrid:
30. Untitled Goose Game
2019 | House House
Anyone who's even been to a pond can attest to one simple fact: Geese are dicks. Untitled Goose Game lets you finally live out the fantasy of being one of nature's most annoying creatures, flapping, honking, and generally being a nuisance to the residents of a fair English town. The only thing missing is the goose poop covering everything in sight.
Untitled Goose Game is a short but sweet experience inspired by classic stealth games that adds just enough charm and innovation to make it one of the best indie games on the platform.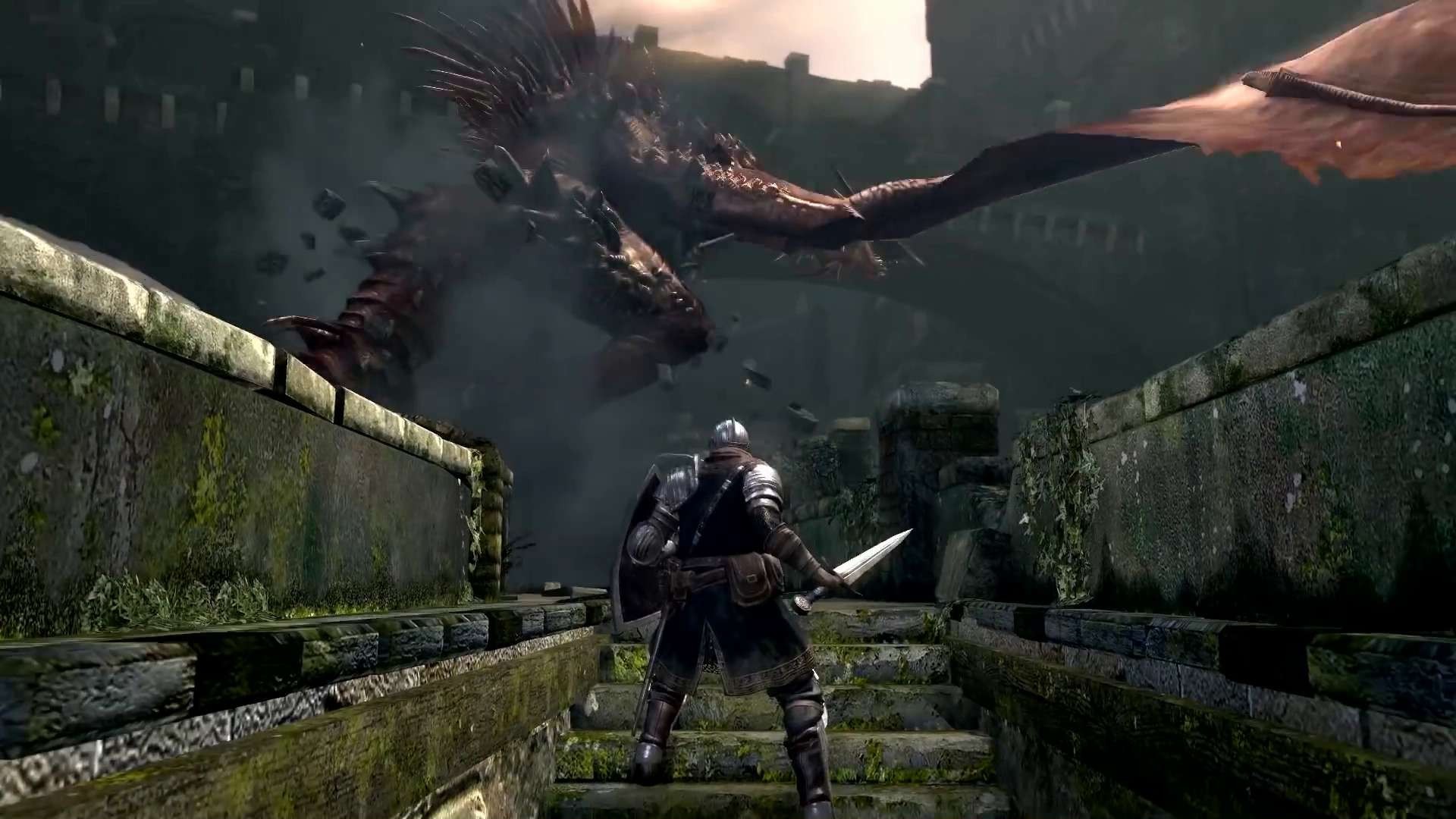 29. Dark Souls Remastered
2018 | FromSoftware
There's not much more that can be said about Dark Souls that hasn't been said about this revolutionary action RPG title already. Its tough-as-nails difficulty, foreboding atmosphere, and esoteric storytelling have made it a fan-favorite and critical darling.
The Switch port doesn't change much. It's actually a visual downgrade from the Xbox One and PlayStation 4 versions without the benefit of 4K resolution, but being able to play Dark Souls on-the-go more than makes up for that. This may not be the best version of Dark Souls, but the gameplay still stands up, and like a lot of Switch ports, being able to finally play the game on a handheld makes it a worthy pick up.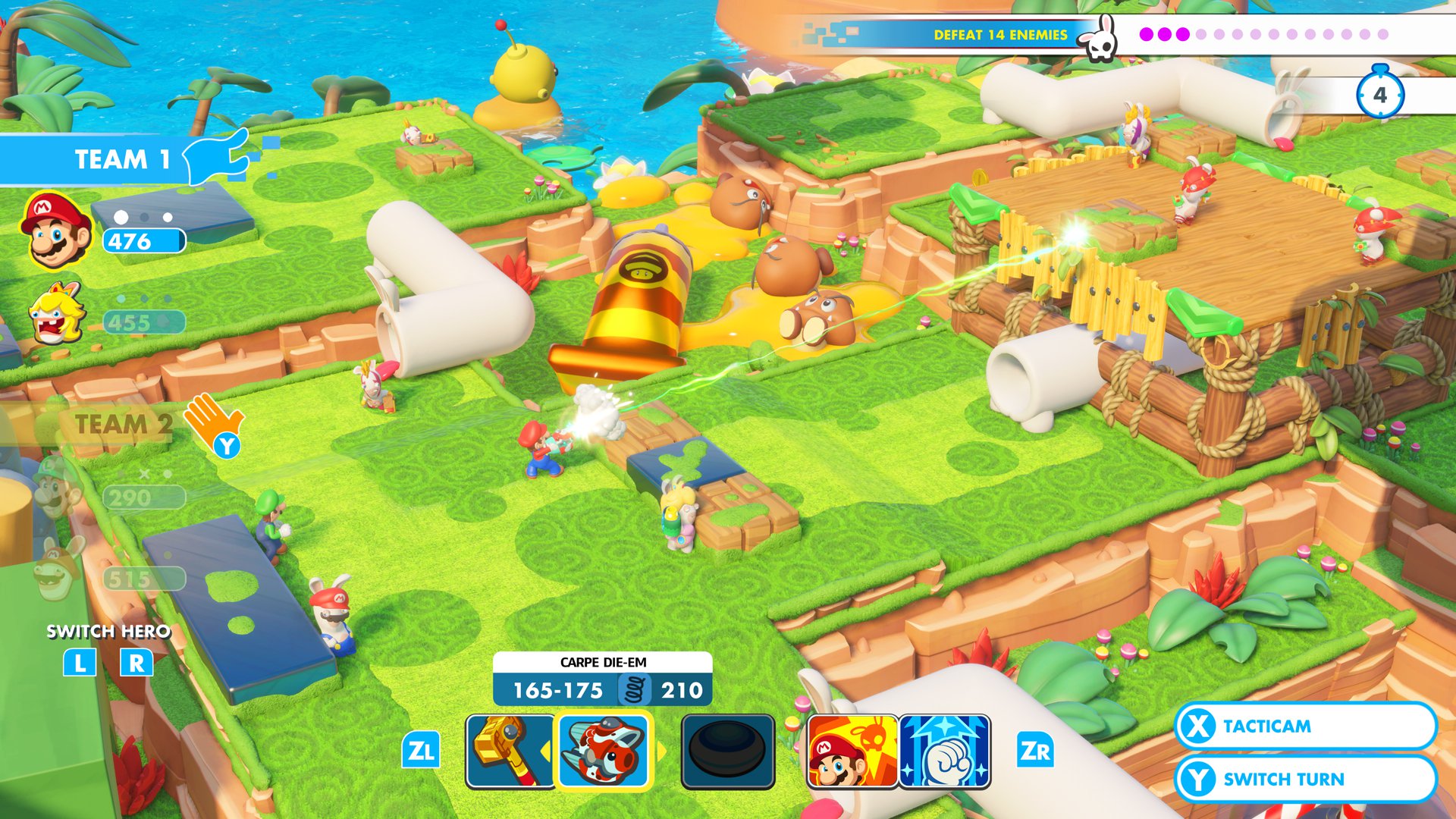 28. Mario + Rabbids: Kingdom Battle
2017 | Ubisoft
"What if Mario starred in an XCOM game?" might sound like the basis for some very ambitious fan fiction, but somehow Ubisoft pulled it off with Mario + Rabbids: Kingdom Battle. The Rabbids actually fit into the Mushroom Kingdom pretty well and the Rabbid impersonations of Mario and company are hilarious.
Even if Mario games aren't typically your cup of tea, the tactics featured in this turn-based strategy title add a layer of difficulty rarely seen in the plumber's resume. If you aren't careful, the corrupted Rabbids will repeatedly hand you your ass on a platter.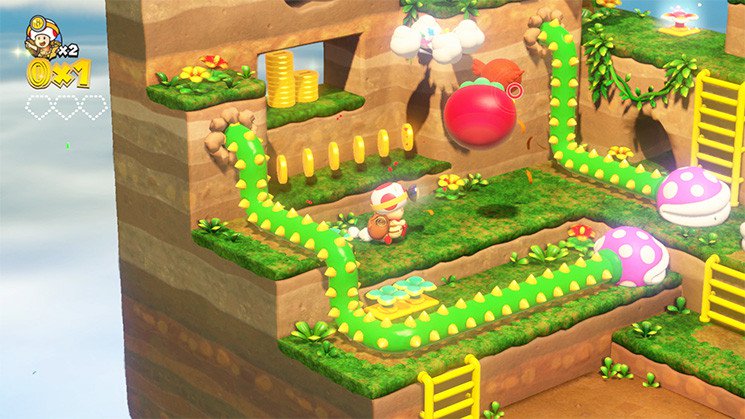 27. Captain Toad: Treasure Tracker
2018 | Nintendo
The Captain Toad levels were the best parts of Super Mario 3D World.* Captain Toad: Treasure Tracker delivered more of what people loved, this time for the 3DS.
Ignoring traditional Mario-style platforming for isometric puzzles that bar jumping, getting all the stars in every level of Captain Toad is genuinely challenging but rarely frustrating. Captain Toad also stands out as one of the better Wii U ports for the Switch, thanks to a number of new levels, although many of them are only available as paid DLC.
26. Starlink: Battle for Atlas
2018 | Ubisoft
Starlink: Battle for Atlas is a fun space shooter bogged down by a confusing and frankly unnecessary toys-to-life gimmick. The basic premise equates to a sort of smaller scale No Man's Sky, but with highly customizable ships and weapons.
The big draw for the Switch version is exclusive Star Fox content, missions that feel like the animal-themed space combat game people have wanted from Nintendo for years. They're certainly better than Star Fox Zero. The retail version even comes with awesome Arwing and Fox McCloud toys.
With gamers largely burned out on the toys-to-life phenomenon, Starlink didn't exactly light up the sales charts, but it did sell best on the Switch and is scratching that Star Fox itch.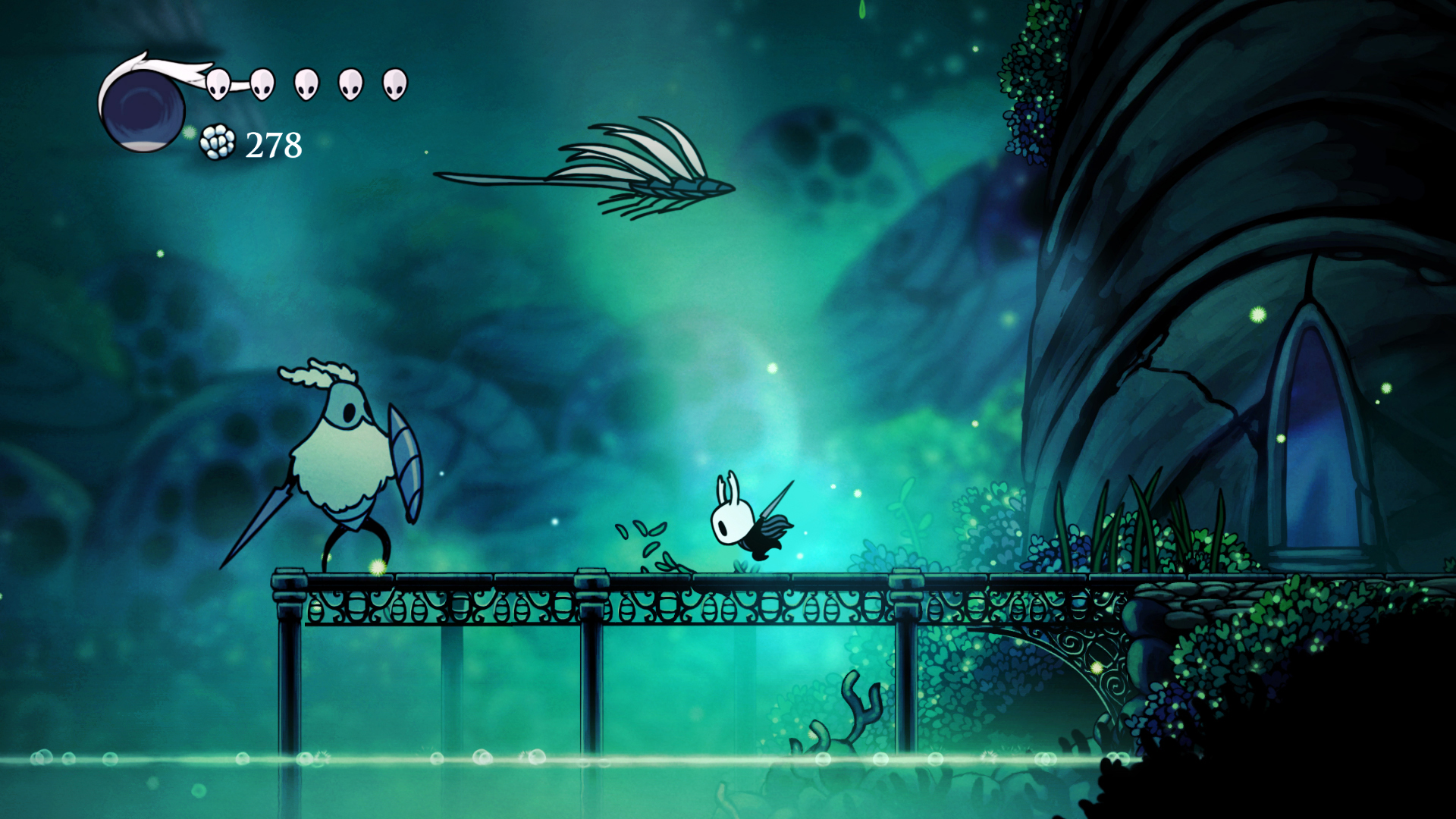 25. Hollow Knight
2018 | Team Cherry
Nintendo basically created the Metroidvania genre, but the company has been remarkably stingy about releasing new 2D Metroid games. Thankfully, Hollow Knight is here to fill the void with its insect-filled underground world. While there have been many takes on the Metroidvania formula over the years, a Tim Burton-esque aesthetic gives Hollow Knight a unique edge over the rest of the field.
Of course, Metroidvanias are only as strong as their maps, and Hollow Knight's giant, secret-filled levels are easy to get lost in for hours. And then there's the Dark Souls-inspired combat, which requires both patience and skill to master. We can't wait for the sequel.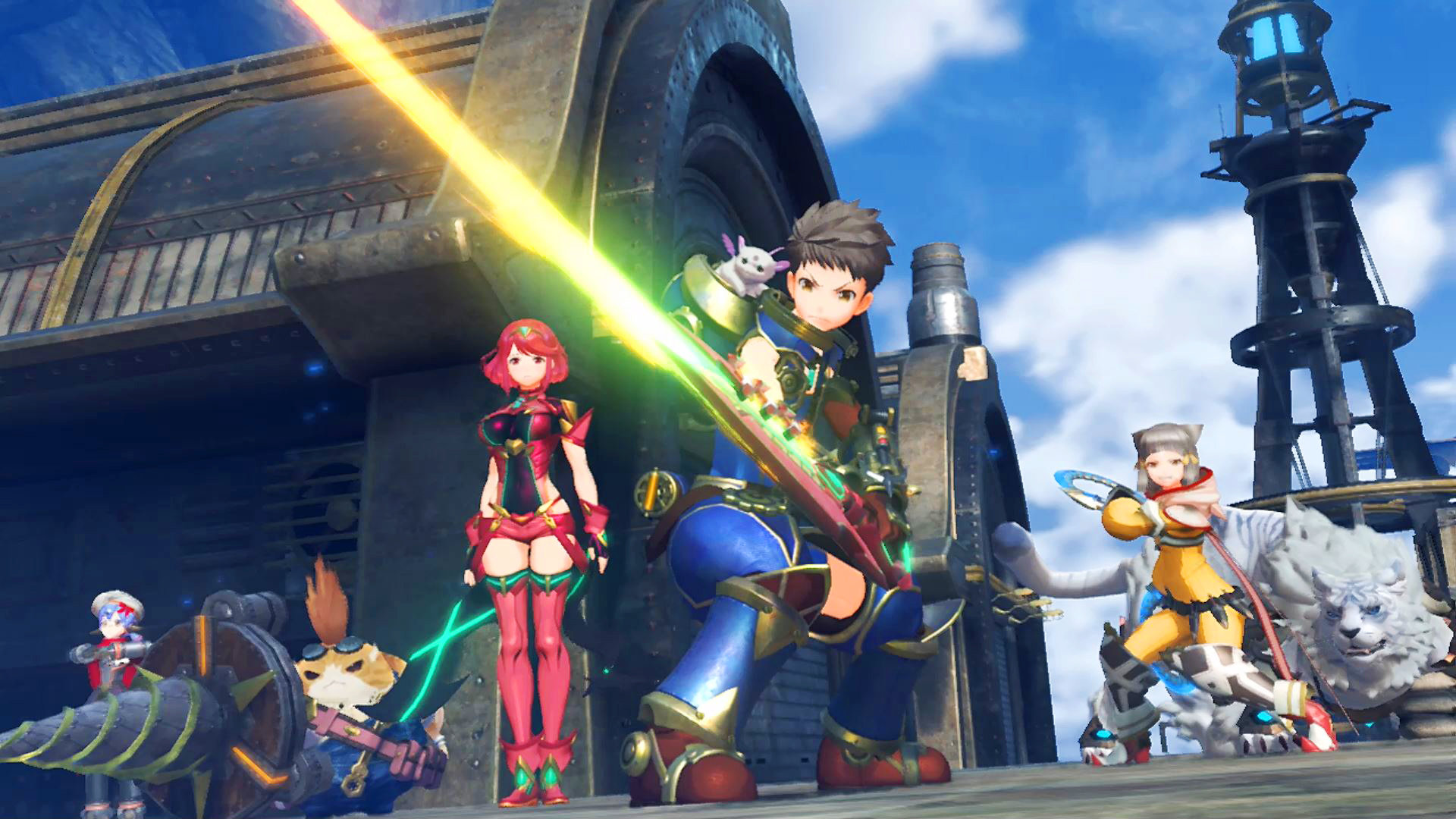 24. Xenoblade Chronicles 2
2017 | Monolith Soft
Xenoblade Chronicles 2 is not for casual gamers. The main story alone takes more than 60 hours to complete and you're looking at well over 100 hours of gameplay if you dig into the side content. Its systems, particularly the Pokemon-style Blade system, aren't very user-friendly and require time to truly understand. But for those who are willing to keep with it, or who enjoy complex stories and mastering all the intricacies of a JRPG, there are few games of this caliber available on the current crop of consoles. And none of them are on the Switch.
23. The Legend of Zelda: Link's Awakening
2019 | Nintendo
The Legend of Zelda: Link's Awakening is arguably the very best game for the original Game Boy, held back only by the portable's lack of buttons and color. The Switch-exclusive remake easily rectifies those issues, and improves on this classic with so much more, including customizable dungeons and a delightful new art style inspired by children's toys.
The core Link's Awakening experience remains as enjoyable as it first was back in 1993, with the deceptively small Koholint Island giving way to nine labyrinthine dungeons and some of the best puzzles in the entire series. This is a great example of a remake done right.
22. Stardew Valley
2017 | ConcernedApe
There's something oddly relaxing about farming games that Stardew Valley taps into better than any other game in the niche genre. Maybe it's the especially calming music, the charmingly well-written characters, or just being able to live out your agricultural dreams at your own pace. Whatever the exact reason, Stardew Valley has garnered millions of fans since its original release.
Part of the appeal is the regular updates. Just when you think you've seen everything, ConcernedApe will add new content to keep the game fresh. And while Stardew Valley is a fantastic experience on any of the numerous platforms it's currently available on, being able to play it anywhere on the Switch arguably makes it the definitive version.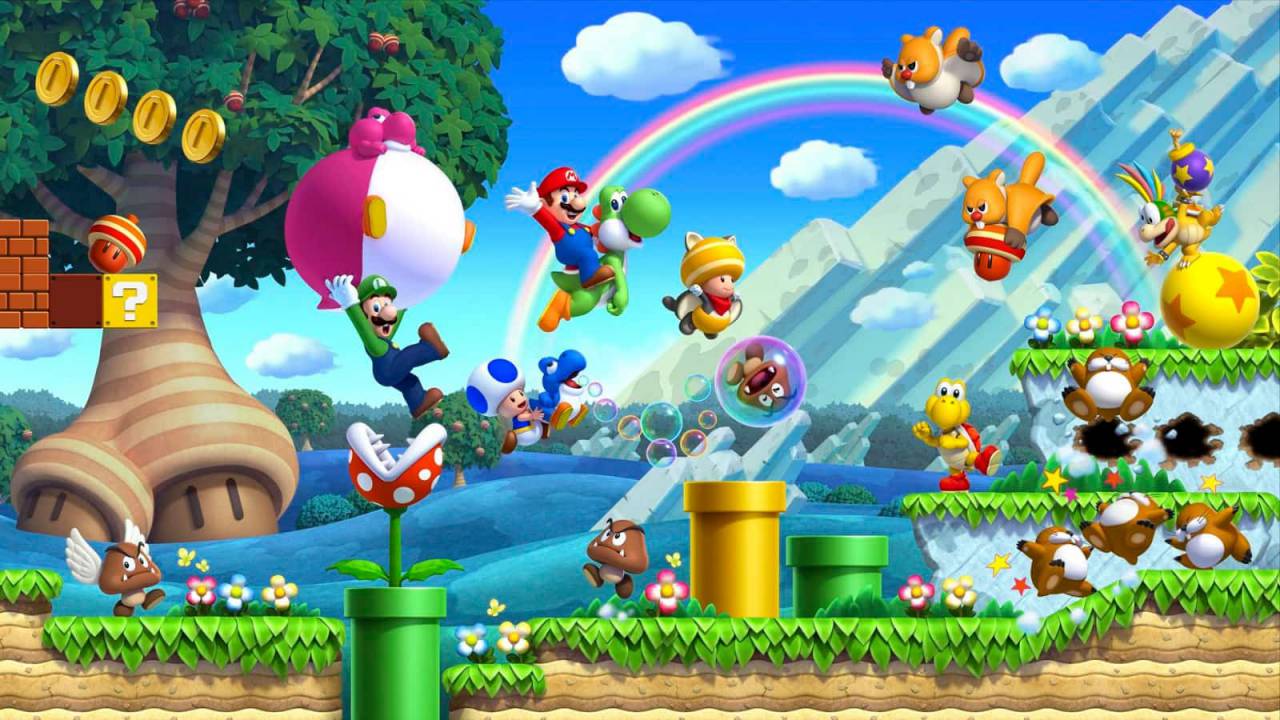 21. New Super Mario Bros. U Deluxe
2019 | Nintendo
The Switch's success has allowed many Wii U games to enjoy a second life. With their brief levels, Mario games have always been perfect for handhelds, and with its pitch-perfect controls and heavy nods to Super Mario Bros. 3, New Super Mario Bros. U is arguably the best side-scrolling Mario game of the last decade. The Switch port even includes all of the New Super Luigi U content previously only available as DLC and a new playable character, Toadette.
20. The Elder Scrolls V: Skyrim
2017 | Bethesda Game Studios
We probably didn't need another version of Skyrim, and the Switch port doesn't look that much better than the original 2011 release, but as with other ports of older games, the ability to play one of the greatest RPGs anywhere is a good reason to double (or triple) dip. And there are a few cool unlockables though amiibos, like the Master Sword.
It's impossible to ignore such a classic RPG on the Switch, especially now that you can play it on your lunch break or on the bus. But seriously, Bethesda, you can stop porting Skyrim now. Get to work on The Elder Scrolls VI and maybe bring that to the Switch.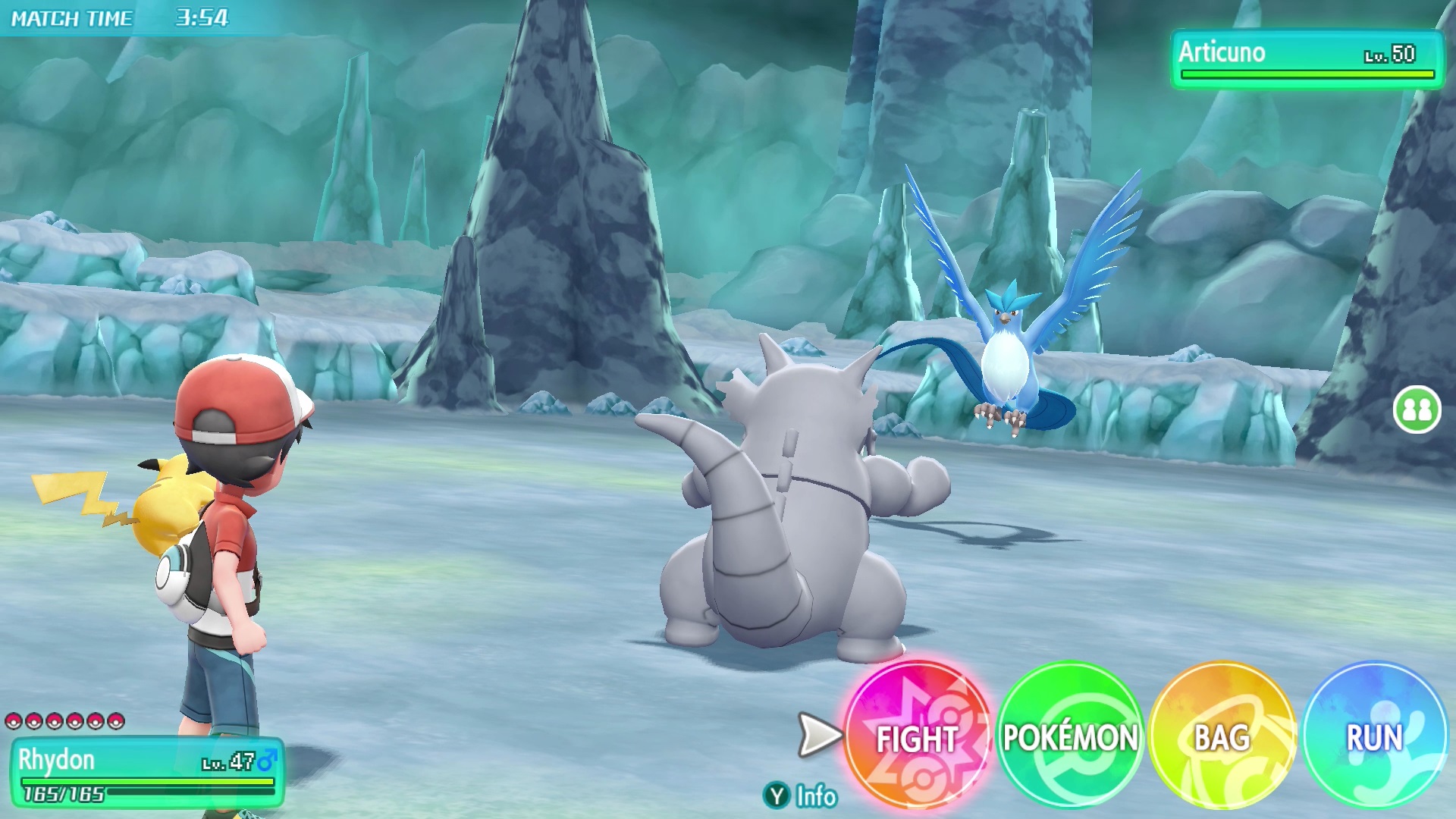 19. Pokemon Let's Go, Pikachu/Eevee
2018 | Game Freak
The Pokemon franchise has been around so long at this point that the Let's Go games are actually the second remakes of the original 1996 Red and Blue games. That's okay though, as even the last remakes were released on the Game Boy Advance in 2004. By 2018, it was time for a new coat of paint.
Let's Go freshens things up with modern 3D graphics, wild Pokemon that are now visible in the overworld, and Mega Evolutions from more recent games. The biggest change is the most divisive: motion controls for catching Pokemon. It can be a little silly at first, but it actually adds to the game's charm.
18. Luigi's Mansion 3
2019 | Nintendo
Luigi has long played second fiddle to his more famous brother, but after three spooky solo games, he's built up a successful franchise in its own right that ranks up there among Nintendo's best. If the previous Luigi's Mansion games had a flaw, it's that they got a little repetitive. Luigi's Mansion 3 thankfully fixes that problem with a massive 17-story hotel with plenty of puzzles to solve and ghosts to trap. And while Luigi's Mansion 3 is a fantastic single player experience, what really gives it legs is its co-operative modes for 2-8 players, making it the best ghostbusting game since, well…Ghostbusters.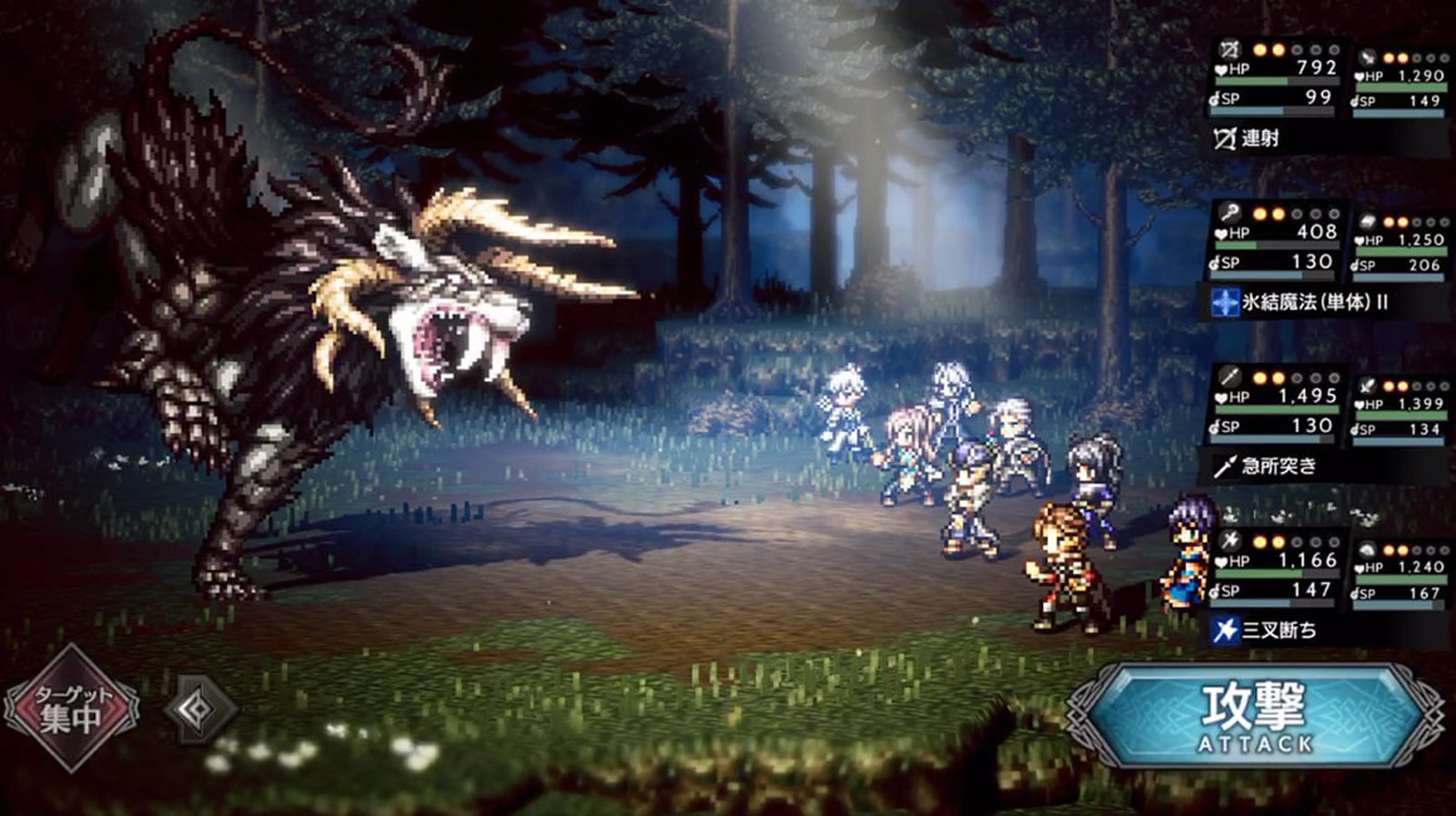 17. Octopath Traveler
2018 | Square Enix
Square Enix's love letter to 16-bit RPGs might just be better than the classics. Octopath Traveler boasts an innovative battle system that tweaks the typical turn-based formula and unique "HD-2D" graphics that are unlike anything else in the genre. It's easy to lose several hours playing in portable mode or at home on a big screen. And while the story drags a little bit at times, it's still worth playing to the end to see how the tales of all eight protagonists play out.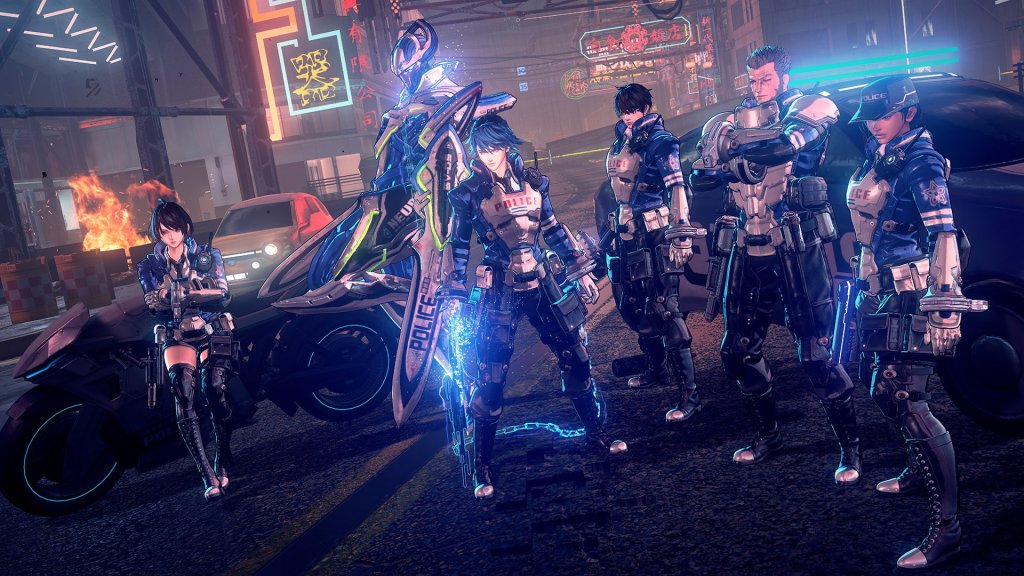 16. Astral Chain
2019 | PlatinumGames
PlatinumGames' streak of creating the best and most unique action games in the industry continues with Astral Chain. Everything that has made the developer's past titles like Bayonetta and Nier: Automata instant classics is on full display here, from the massive set pieces to the bonkers anime-inspired story of humanity making its last stand against an interdimensional threat.
And while you'd think those previous efforts pushed combat in an action game to its limits, Astral Chain's innovative gameplay finds way to introduce new twists to the Platinum secret sauce. Here, you control both your main character and a fully customizable tethered Legion to maximize combos. This is the perfect game to tie you over until Platinum finishes up Bayonetta 3.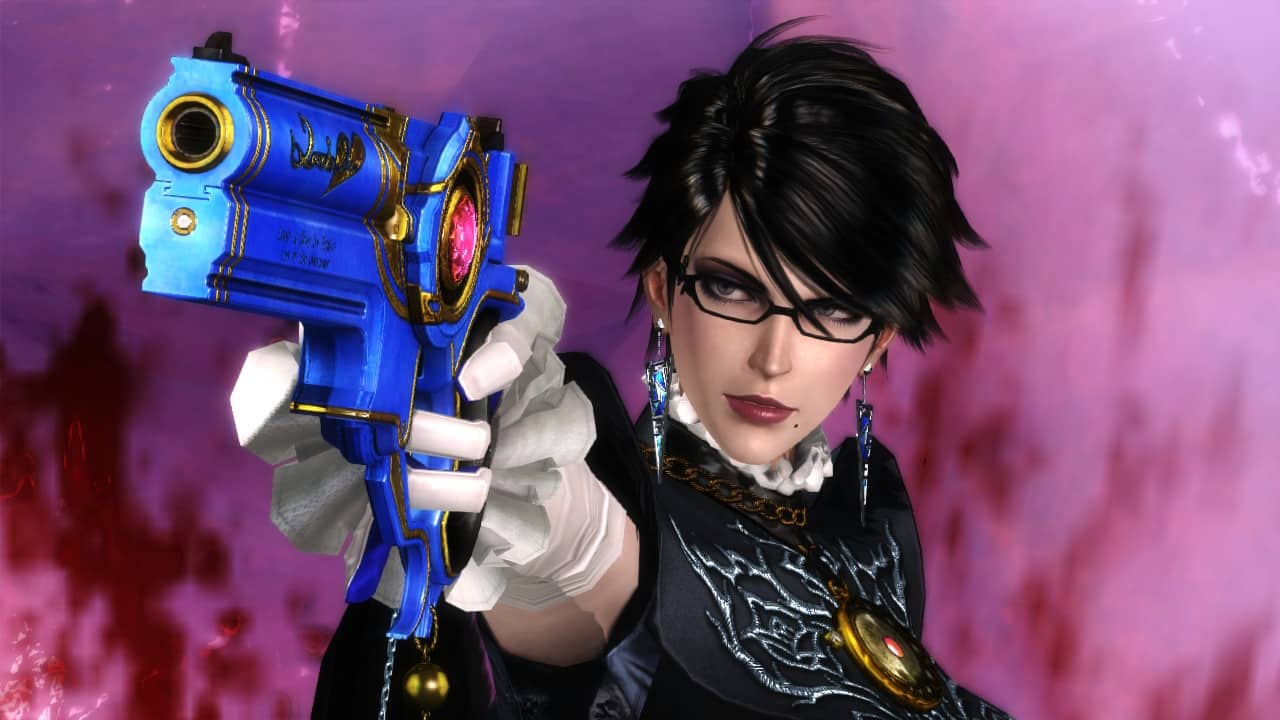 15. Bayonetta 2
2018 | PlatinumGames
The first Bayonetta was a sexy, stylish take on action-adventure hack and slash games, with some of the smoothest combat around and a badass protagonist. Bayonetta 2 doesn't mess with the winning formula but adds more combat options and some of the most ridiculous setpieces ever put in a game, like a battle on top of a moving fighter jet. If you're looking for something a little less family-friendly on the Switch, look no further than this hectic action game.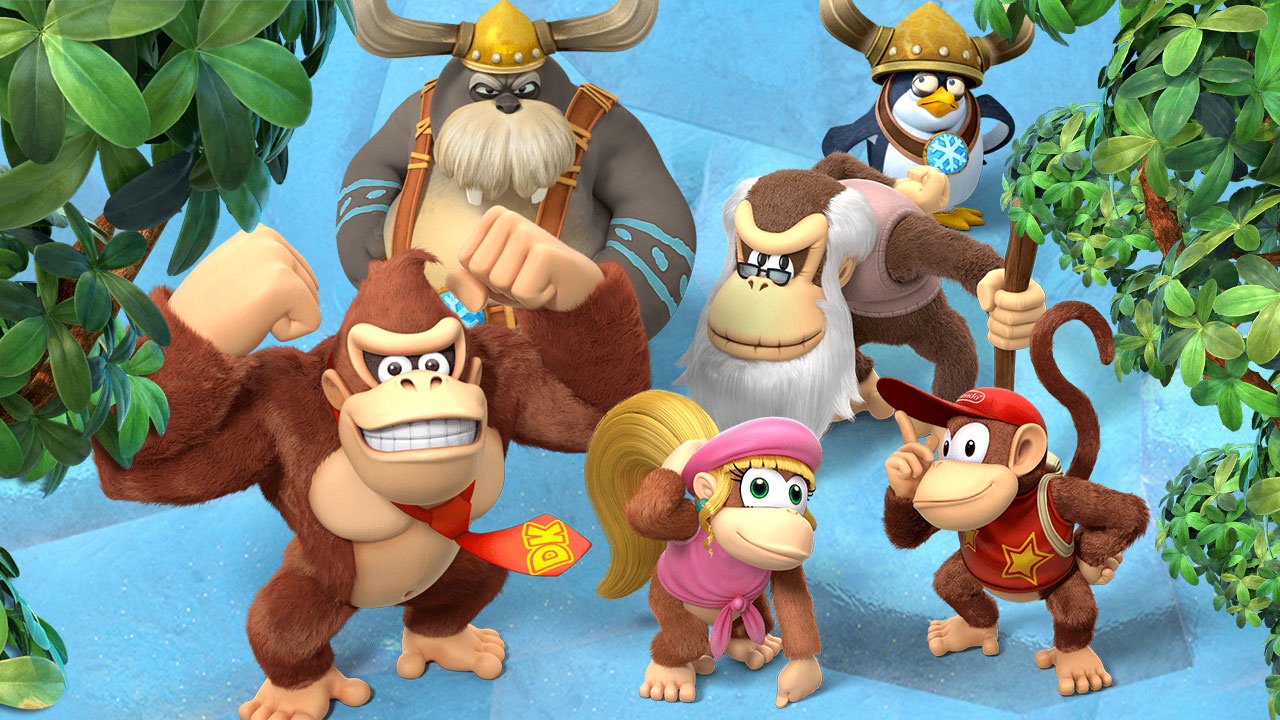 14. Donkey Kong Country: Tropical Freeze
2018 | Retro Studios
The original Donkey Kong Country trilogy is a highlight of the 16-bit era, but in hindsight, it was more beloved for its graphics than its gameplay. It was only once Retro Studios took over the series that the franchise began to live up to its potential, with super smooth platforming and levels more creative than even some of Nintendo's Super Mario games.
While Retro's first Donkey Kong Country game on the Wii was a little too punishing, Tropical Freeze got the balance between challenging and frustrating just right. The game was originally released on the Wii U, and the Switch port adds Funky Kong as a playable character. This is an excellent platformer to play with a friend, too!
13. Super Mario 3D World + Bowser's Fury
2021 | Nintendo
Super Mario 3D World is a top-notch Mario game, so it was always a shame that it released on a platform as underwhelming as the Wii U. The genius of the game is how it so perfectly combines the best elements of 2D and 3D Mario games. Levels have clear beginnings and endings, and ultimately you just need to climb the flag pole at the goal, but there's also plenty of room for exploration to track down every last green star. Plus, the cat suit is one of the weirdest and best power-ups in any Mario game.
Everything that made the original Wii U release a must-have remains the highlight of the Switch port, but the addition of Bowser's Fury, a new adventure where Mario and Bowser Jr. must quickly complete missions before the arrival of a giant, enraged Bowser, makes this one well worth a double dip.
12. Pokemon Sword and Shield
2019 | Game Freak
Sword and Shield may not be the best games in the long-running Pokemon series. Arguably, the lack of some older Pokemon (even after two big expansions) is a pretty big mark against it, but the eighth generation still has a lot going for it thanks to more streamlined gameplay, a massive open-world, and the fact this is the first time a mainline Pokemon game can be played on a home console. That's something that fans have been clamoring for since the series' inception back in 1996.
So no, you can't quite "catch 'em all," but you can still have a great time battling the gym leaders of Galar in the seemingly never-ending quest to become the very best.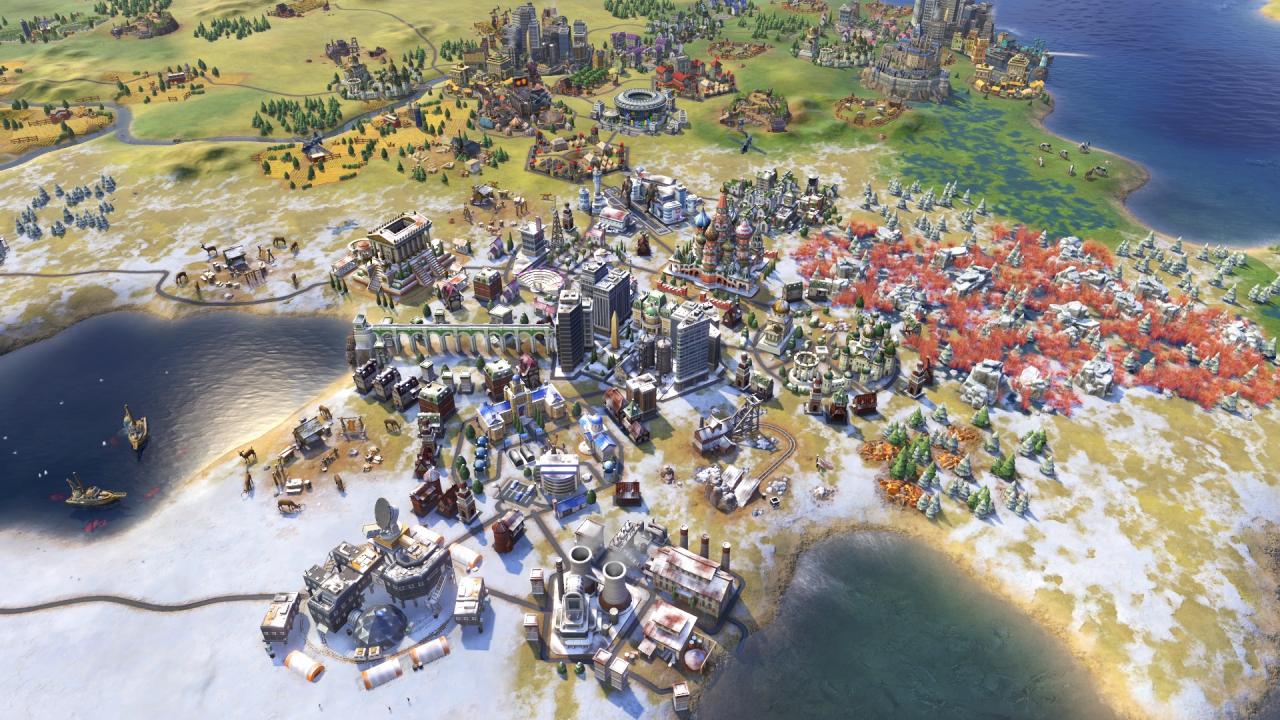 11. Sid Meier's Civilization VI
2018 | Firaxis Games
Despite the Switch's early success, it's still home to relatively few third-party console exclusives, but Civilization VI alone almost makes up for that deficit. This is an uncompromising PC port with 24 different civilizations available from the get-go, and all of the features from the original version. It also works great with either a controller or touchscreen controls. If you're looking for a 4X strategy game on the Switch, Civilization VI is the one.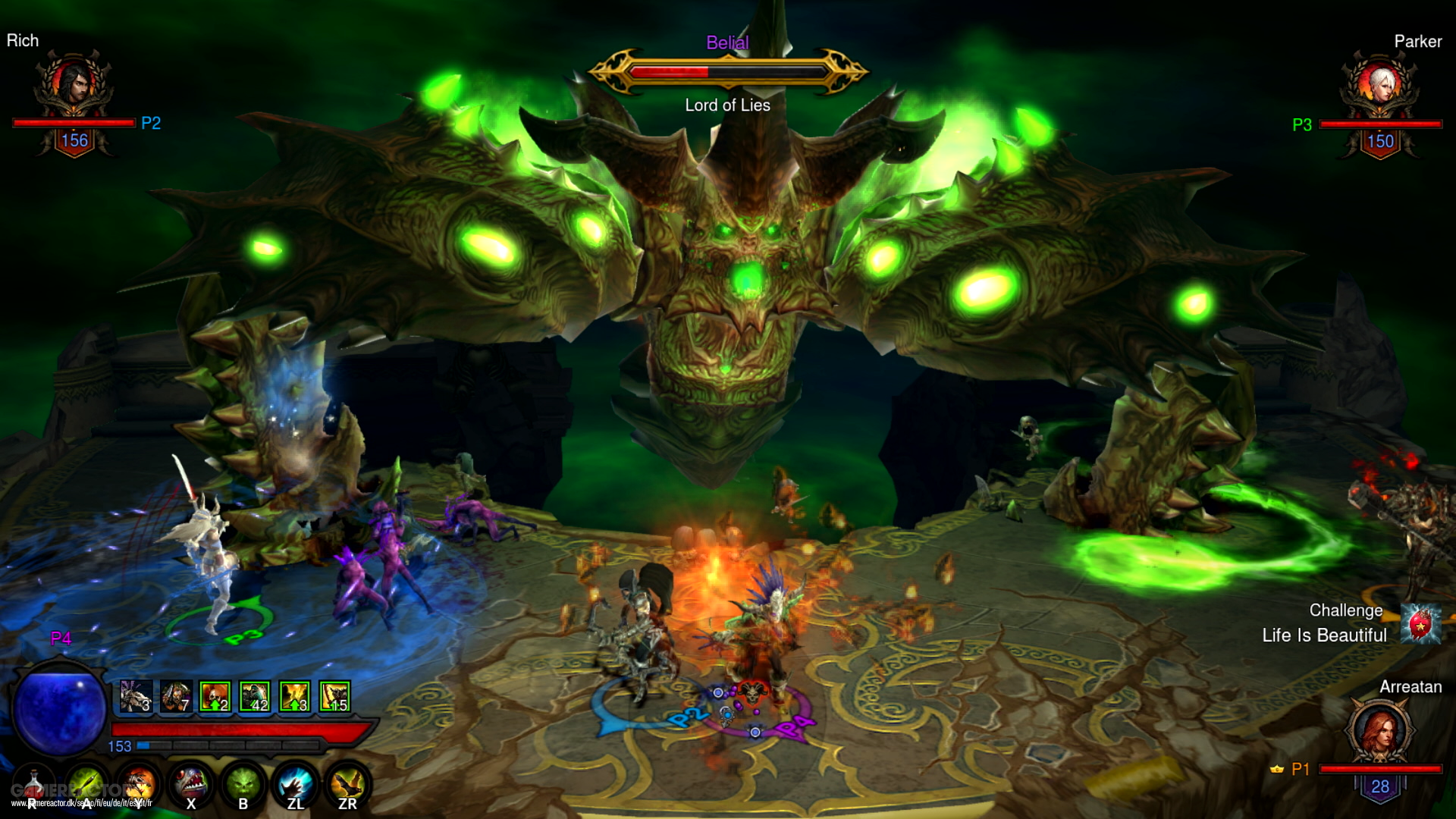 10. Diablo III: Eternal Collection
2018 | Blizzard Entertainment
Diablo III is one of the best games of the last decade. The Switch port is late to the party, but if you really want to slay demons on the go and don't have a laptop handy, this is the perfect way to play the classic action RPG.
The Switch version adds a handful of Legend of Zelda items, including a Ganondorf costume. It's not an earth-shattering exclusive, but it's an easy excuse to sink a few more hours into this game.
9. Fire Emblem: Three Houses
2019 | Nintendo
Nintendo is still mostly known for accessible games that appeal to a wider audience. But then there's Fire Emblem, a series of hardcore tactical RPGs where every battle can mean permanent death for you and your allies. While still true to its roots, Three Houses takes some liberties with the typical Fire Emblem gameplay. There are still plenty of battles to be fought, but the first half of the game largely takes place at a monastery where you're a teacher preparing your students for war. And the long-used "weapon triangle" has mostly been replaced with the need to equip the best weapons for each character, adding a new layer of strategy.
As if all that didn't make for dozens of hours of gameplay, the ability to choose which of the titular three houses you belong to has radically different consequences for the game's story. It takes a very long time to experience everything that Three Houses has to offer.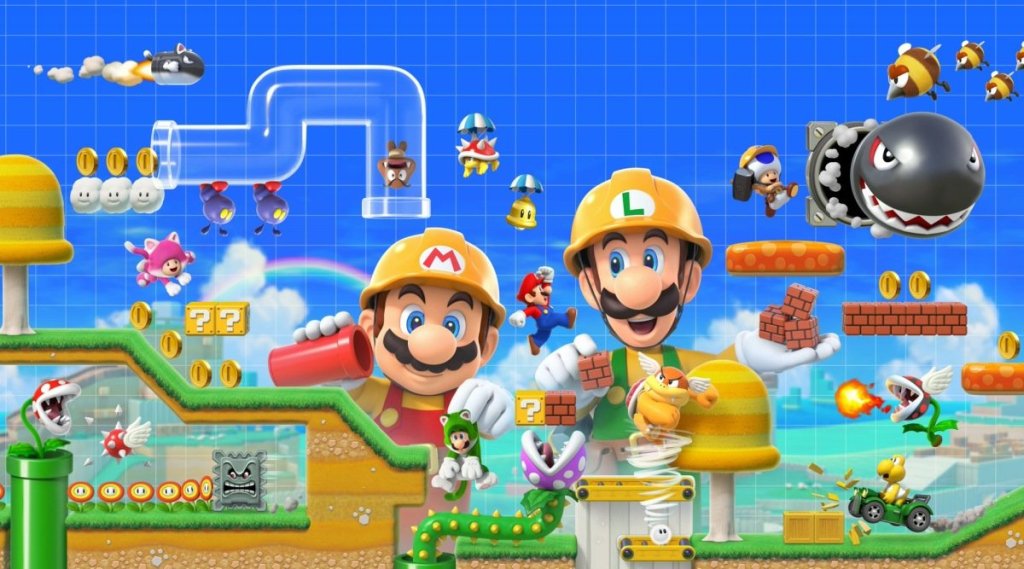 8. Super Mario Maker 2
2019 | Nintendo
Super Mario Maker 2 is the definitive Mario game, building on its already near-perfect predecessor with new power ups, a world maker, and assets from Super Mario 3D World. The star of the show is the almost endless supply of user created levels that constantly surprise with twists on other genres and some of the most fiendishly difficult levels ever devised. And if you're the creative type, the course maker remains one of the most intuitive modes in any game, allowing you to design perfectly playable new levels in just a few minutes.
Even if making Mario levels isn't you're thing, Super Mario Maker 2 includes a surprisingly fun story mode of 100 original levels that stand toe-to-toe with anything else in the legendary franchise.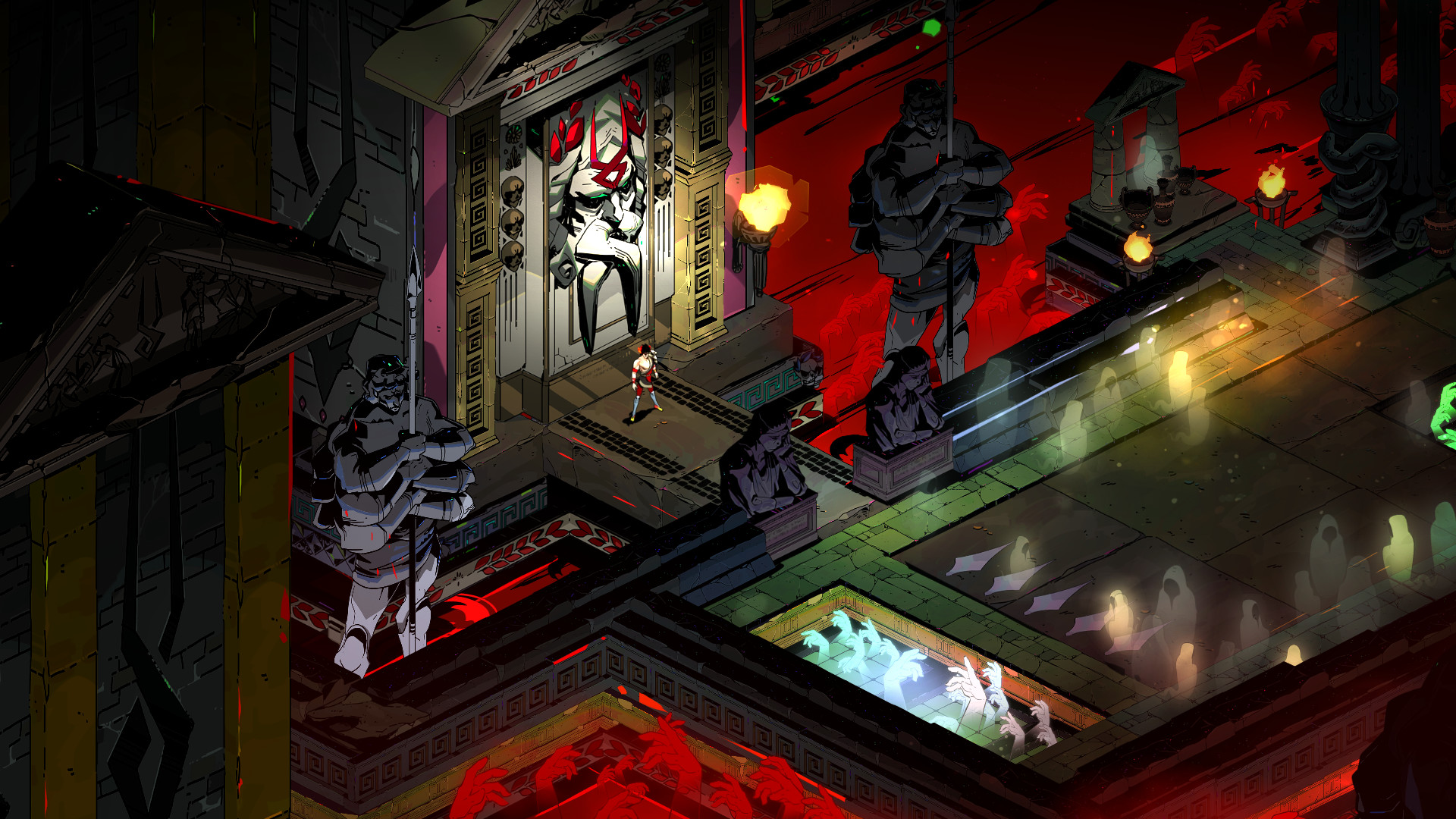 7. Hades
2020 | Supergiant Games
Rarely do story, gameplay, and atmosphere mesh together as well as they do in the rogue-lite Hades. You play as Zagreus, the prince of the Underworld, with the simple goal of escaping from the monotonous life you're forced to lead under your apathetic father. You'll die a lot during this quest, but each time you'll get a little stronger and gain new abilities from the gods of Olympus that keep the experience fresh. Hades knows exactly how to leverage its setting, perfectly capturing each deity's unique personality and abilities.
The rogue-lite gameplay is also well suited for short bursts of gameplay or marathon sessions, making it a perfect fit for the Switch, which is currently the only home console its available on. It's easily the best third-party game on the system, and one of the best reasons to pick up a Switch if you haven't already.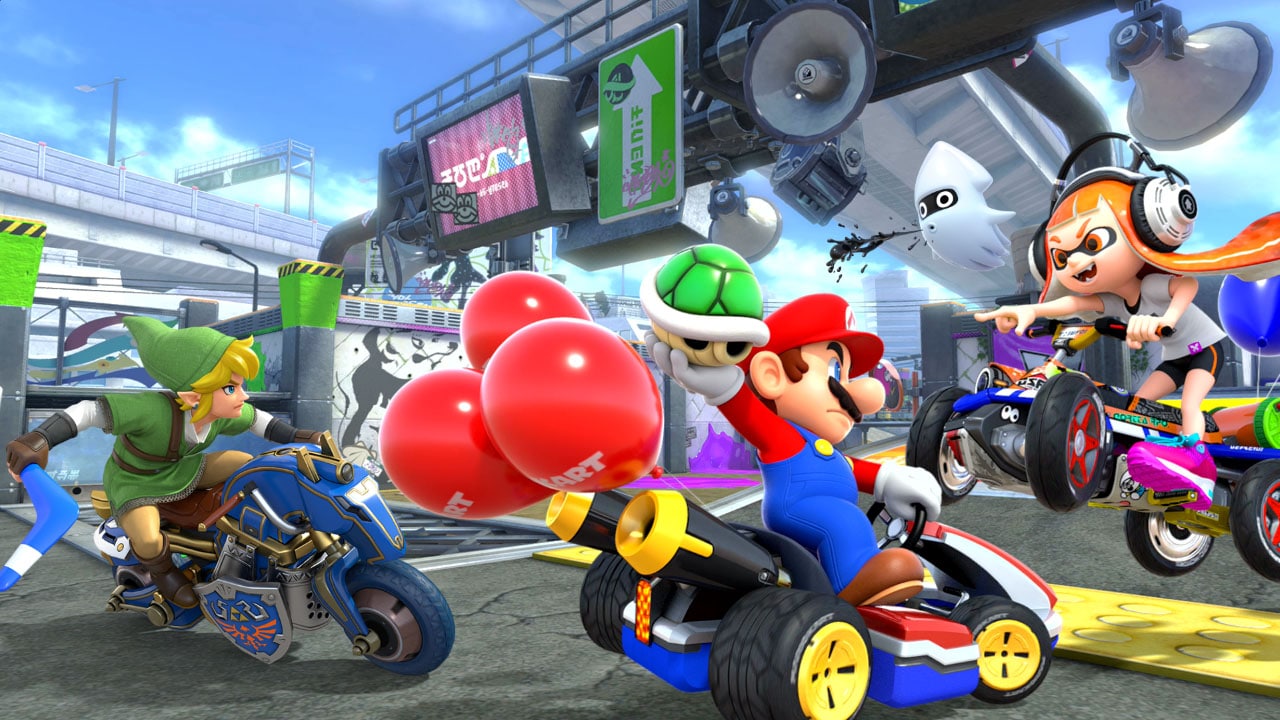 6. Mario Kart 8 Deluxe
2017 | Nintendo
Mario Kart 8 is the best kart racing game ever made. That was true with the original Wii U release and it's true of the Switch port, which includes all previously released DLC and adds a few new characters and a completely reworked battle mode. Each and every track has its own challenges and the addition of anti-gravity racing is a nice update to the formula.
With tracks and characters from F-Zero, The Legend of Zelda, and Animal Crossing, Mario Kart 8 also feels like the most complete Nintendo racing game of all time. There's really no reason for a Switch owner not to have this one in their collection.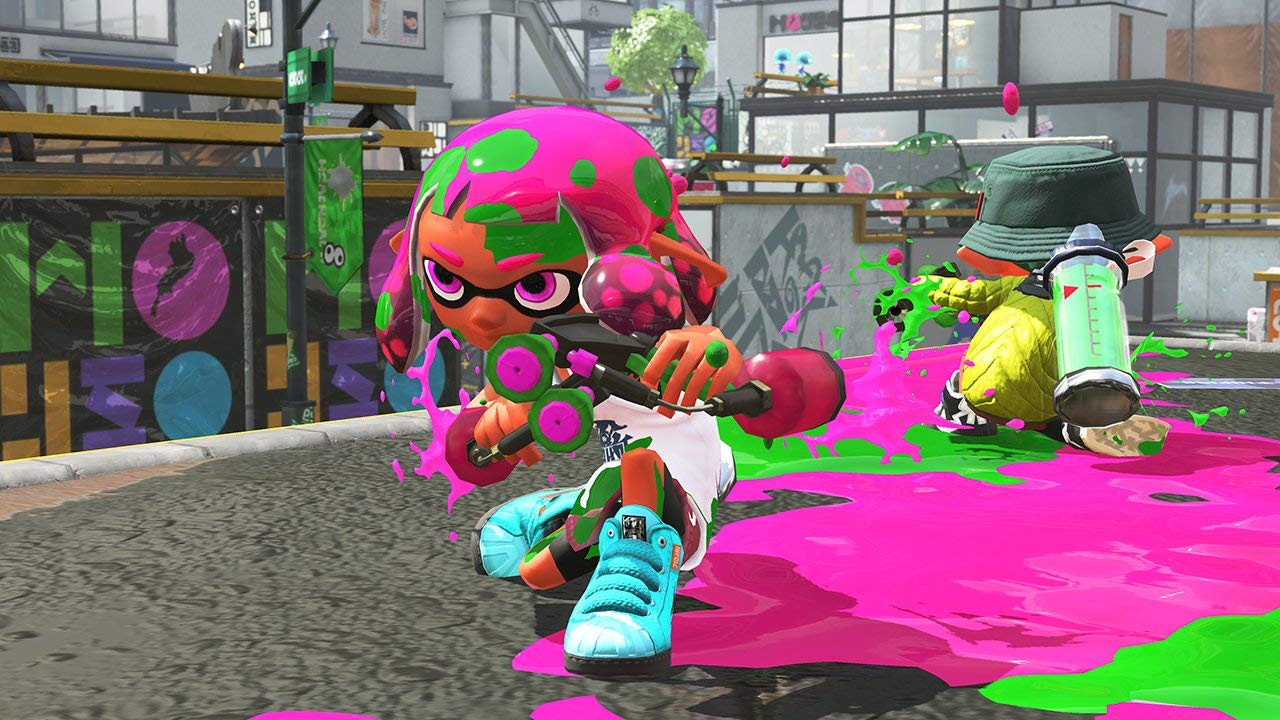 5. Splatoon 2
2017 | Nintendo
Nintendo has never developed a multiplayer shooter like Call of Duty or Halo. Odds are it never will. But the Splatoon series is just as good as those shooters, especially the second installment. Like with the original, the focus of Splatoon 2 is to use a variety of paint-spraying weapons to cover as much of each level as possible. It's actually a lot more fun and creative than most of the high-profile shooters out there.
Splatoon 2 adds quite a few new levels, weapons, and unlockables. There's also a sizable single-player mode, and a ridiculously fun cooperative mode called Salmon Run. If that's not enough content, Nintendo released the lengthy Octo Expansion DLC in 2018. A copy of Splatoon 2 could occupy a Switch gamer for months.
4. Animal Crossing: New Horizons
2020 | Nintendo
For a lot of people, Animal Crossing isn't just a game. It's life. New Horizons was always highly anticipated, but its release at the beginning of the Covid-19 lockdowns made it a much-needed escape for millions of people. Birthdays, graduations, and weddings couldn't be held in-person, so many were celebrated within New Horizons. Even President Biden and Hong Kong democracy activists set up their own islands.
Even without the specter of Covid-19, New Horizons would still be one of the best games on the Switch. Nintendo has been perfecting the franchise for two decades now, but this version of Animal Crossing is easily the best yet, allowing for near-limitless customization of your own little world. And yet you're still free to play at your own pace, without any of the pressure of the outside world. The ultimate appeal of Animal Crossing continues to be that it allows us to live our ideal lives.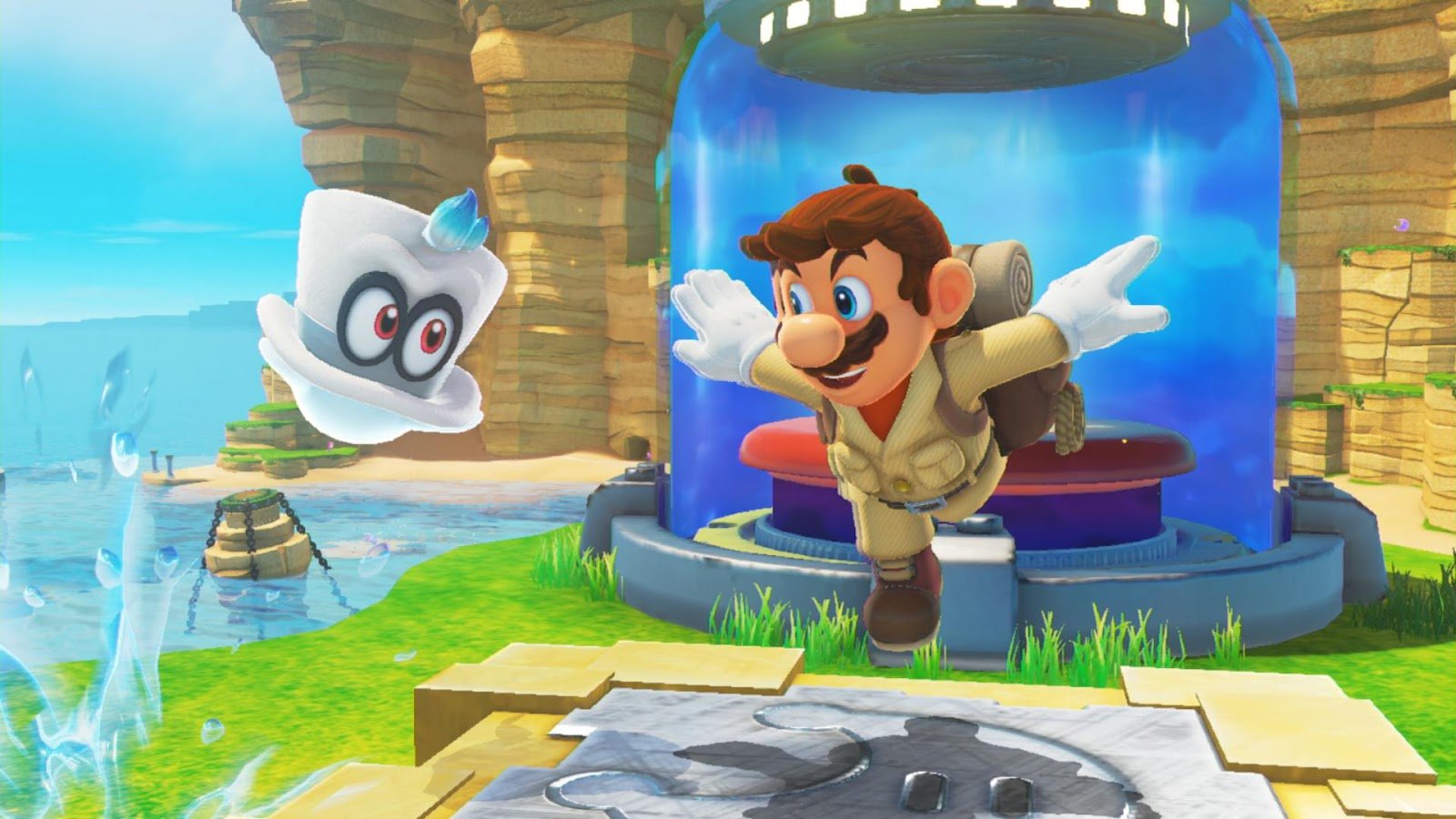 3. Super Mario Odyssey
2017 | Nintendo
Is Super Mario Odyssey the best 3D Mario game? It's hard to argue otherwise. Odyssey borrows its level structure and progression system from the beloved Super Mario 64, which Nintendo had largely ignored for the last two decades. Several new twists on the traditional 3D platforming formula, like the ability to throw your new hat buddy Cappy at enemies to take control of them, make Super Mario Odyssey feel incredibly fresh. There probably won't be another platformer this good on the Switch.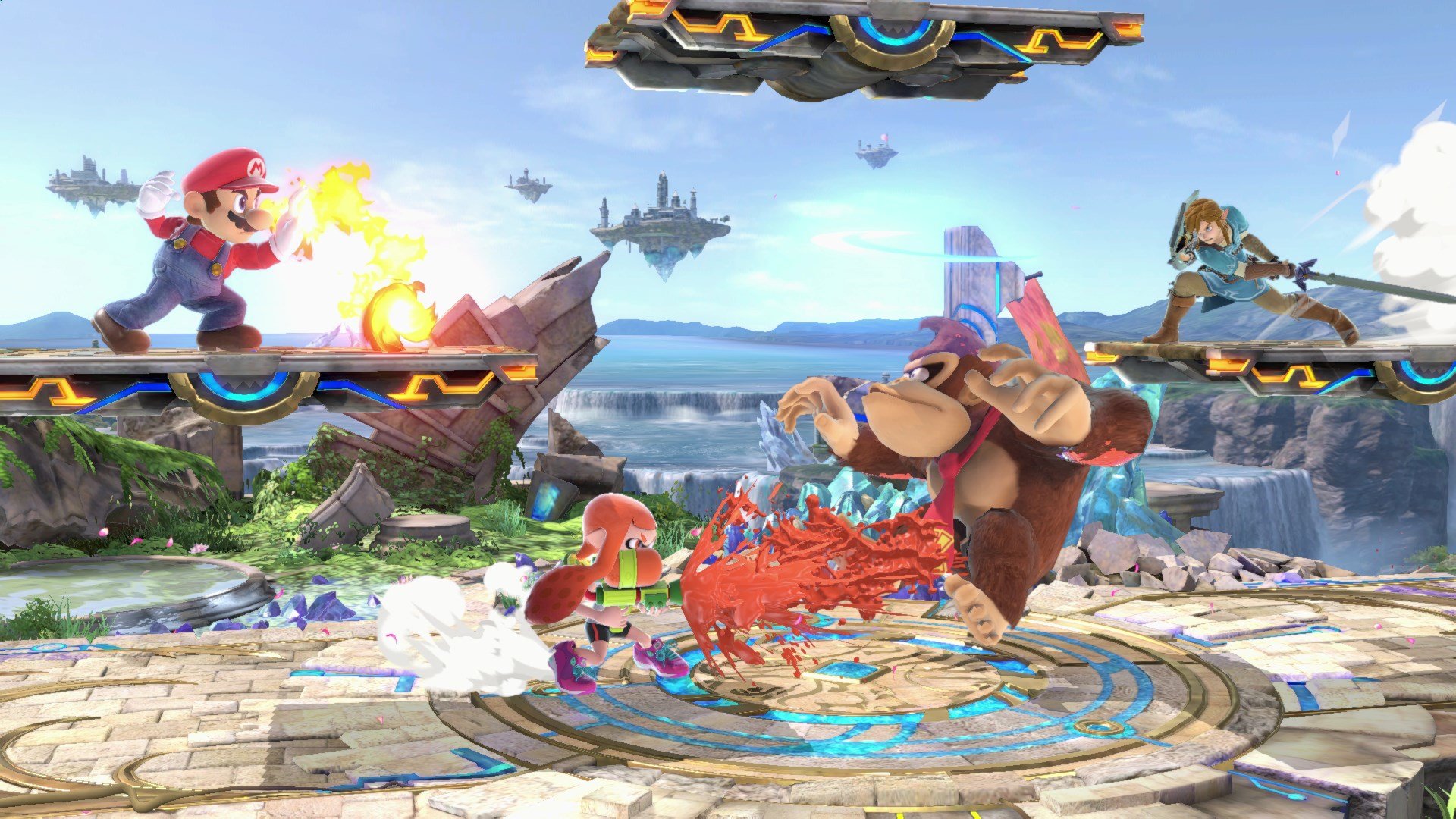 2. Super Smash Bros. Ultimate
2018 | Nintendo
Super Smash Bros. has remained wildly popular since it debuted in 1999, and there's always been a lively debate about which title is the best in the series. Melee arguably has the best mechanics, while Brawl's Subspace Emissary boasts the most complete story mode. The Wii U game looks fantastic, but the Ice Climbers and Snake were sorely missed.
Ultimate tries to satisfy the fans of each game by including every character who's ever appeared in the series (plus a few new ones), more than 100 stages from throughout the Nintendo universe, a deep adventure mode called World of Light, and interesting tweaks to even the oldest characters in the roster. If Ultimate isn't the perfect installment of Smash Bros., we don't know what is.
Further Reading: Super Smash Bros. Characters Ranked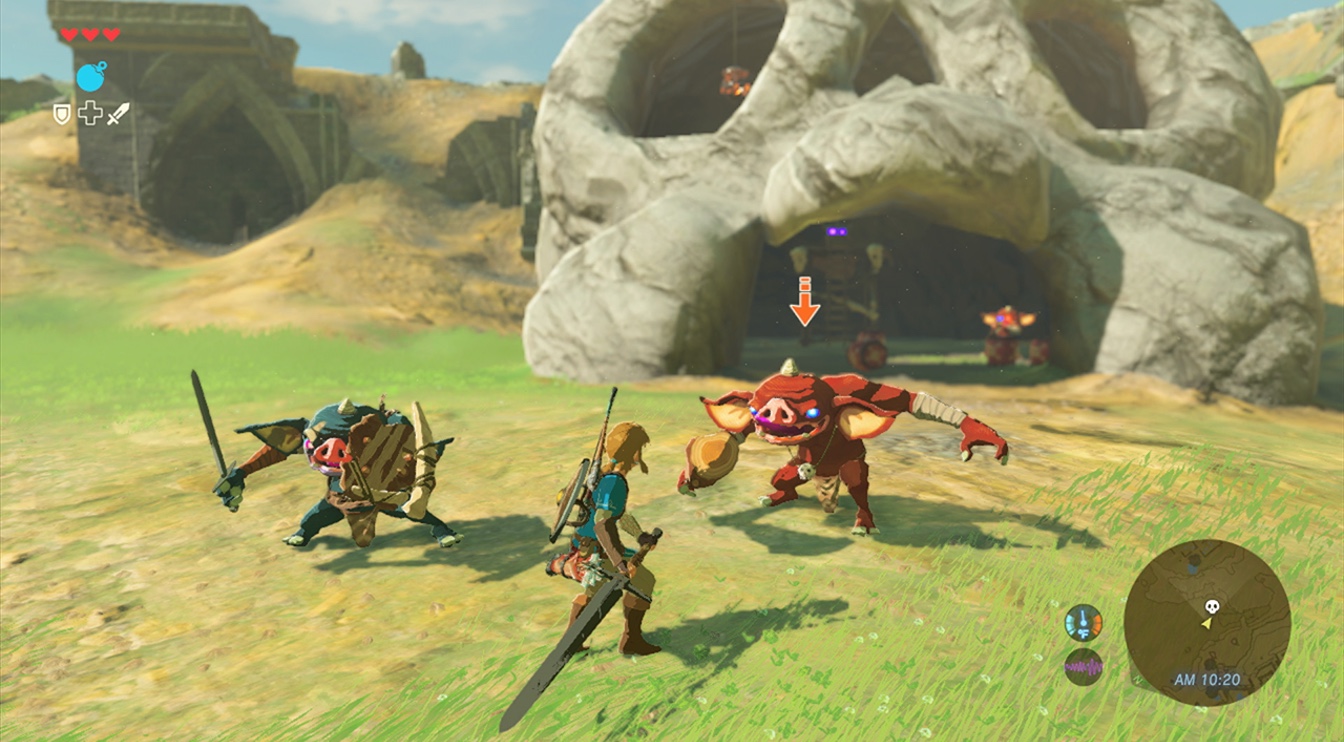 1. The Legend of Zelda: Breath of the Wild
2017 | Nintendo
Breath of the Wild is the perfect marriage of traditional Legend of Zelda 3D gameplay and innovative new systems. The world and story are unmistakably Hylian, yet the game puts a major focus on exploration and experimentation to an extent never before seen in the series.
Yes, the number of weapons have been cut down drastically, but the handful of abilities — like freezing time and creating ice blocks — create even more ways to complete the game's challenges and traverse its world. And you will want to explore every last inch of Hyrule's beautifully realized world.
For almost two decades, Zelda games closely following the formula established by Ocarina of Time, one of the greatest games ever made. Breath of the Wild throws out almost all of the concepts that Ocarina pioneered and redefines Zelda as something more open-ended and exciting that will hopefully continue to evolve over the next few years.
*Editor's Note: An earlier version of this article misstated the Switch release date of Super Mario 3D World.