Sponsored
The Best Marvel Gifts For Holiday Season 2023 From Toynk
In partnership with Toynk, we present the best Marvel gifts to snatch up for your comic book loving family and friends this holiday season!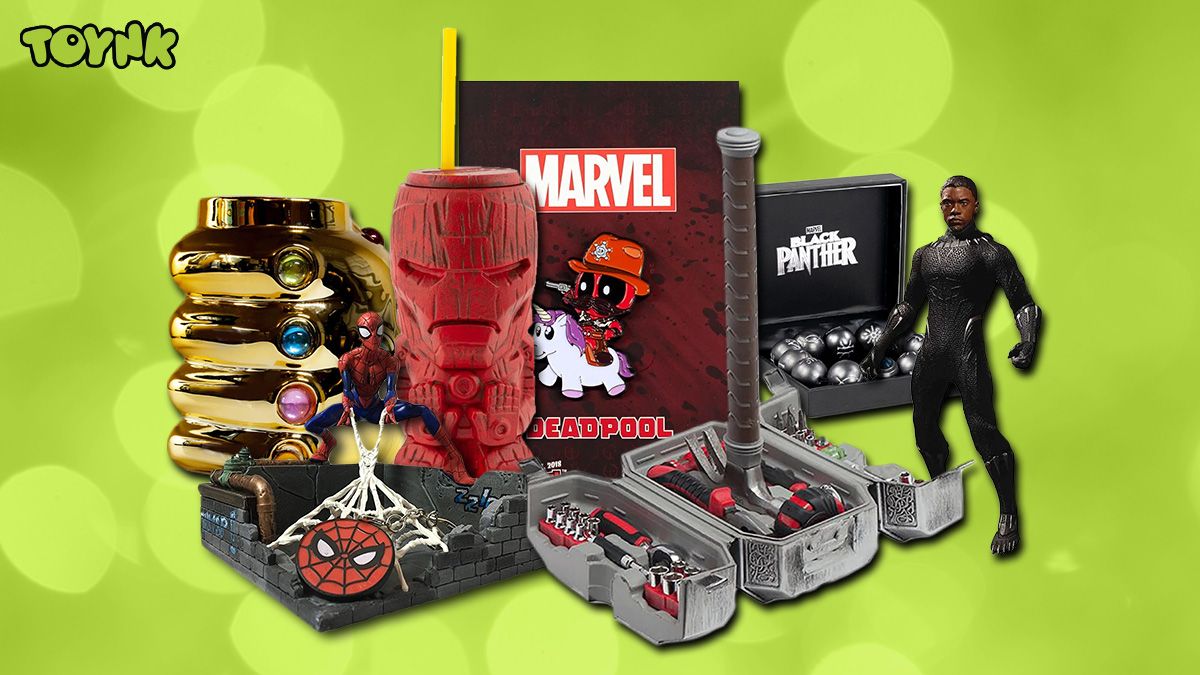 This article is sponsored by Toynk
As we head into the end of the year, finding the perfect gift to celebrate your, or another person's, fandom is no easy task. Just because nerds took over the world of pop culture doesn't mean it's easier.
In fact, I'd say the surplus generated by the nerd world's dominance makes finding the best products and gizmos deceptively difficult. Thankfully, Toynk is here to come to your aide with a massive — so massive it'd make Thanos' army look like a high school marching band — collection of products across not just Marvel, but many other brands like Disney, Star Wars, Harry Potter, and DC Comics. Since this writer is a particular Marvel head himself, though, that's where we'll be focusing on today.
Sit back, relax, and enjoy a tour of some (some) particular products that stood out the most!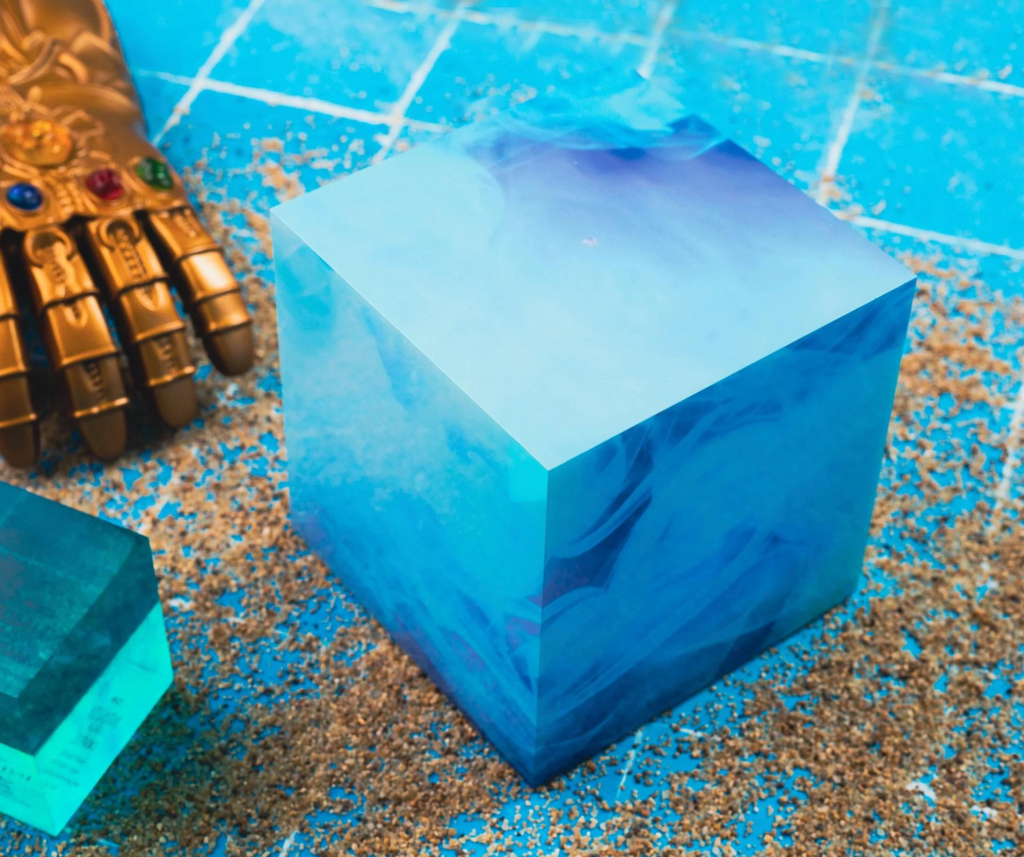 The Infinity Stones are, perhaps, some of the more famous macguffins used in movies in the 21st century. Even if you find yourself forgetting which ones are the Soul and Mind stone, they have a strangely attractive aura to them. One of the first major stones, the tesseract that Loki famously abuses in the first Avengers movie, has that kind of aura. On top of being an official replica, the cube actually lights up — and in multiple colors!
It's the type of prop that works great in your room to help liven up the atmosphere.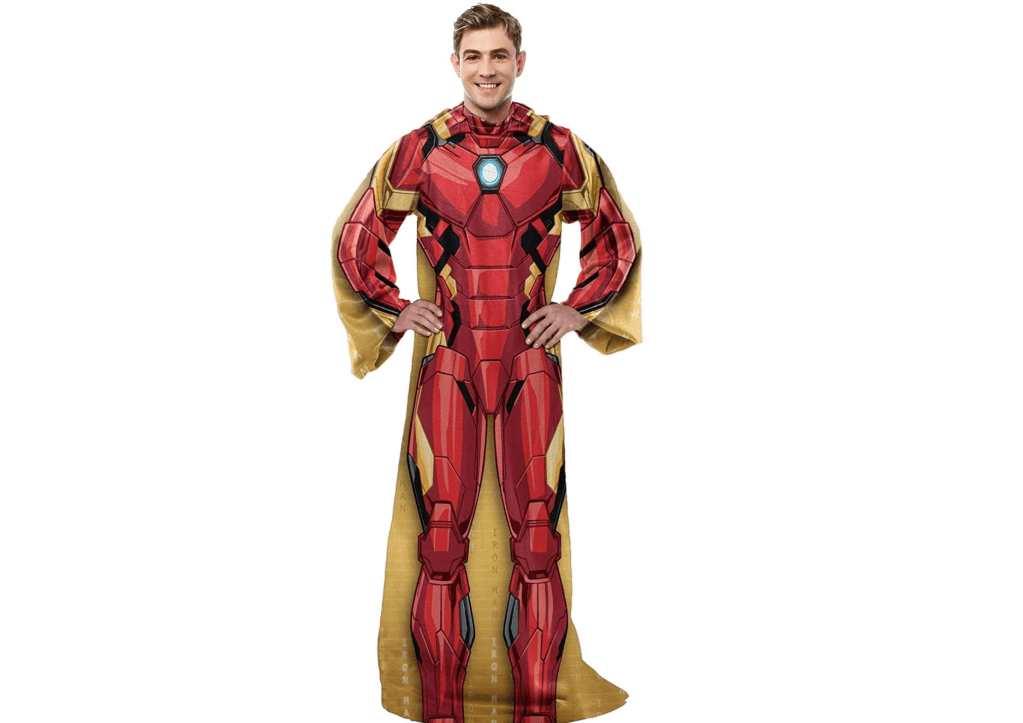 As someone who's been rocking a Snuggie since an infomercial illuminated me to its existence in, like, 2010, seeing this lit a light in my heart. I can attest to the comfort of these bad boys — a must in these chilly times — and the lite cosplaying possibilities are endless. Putting on this bad boy will feel like using the portable briefcase armor from Iron Man 2.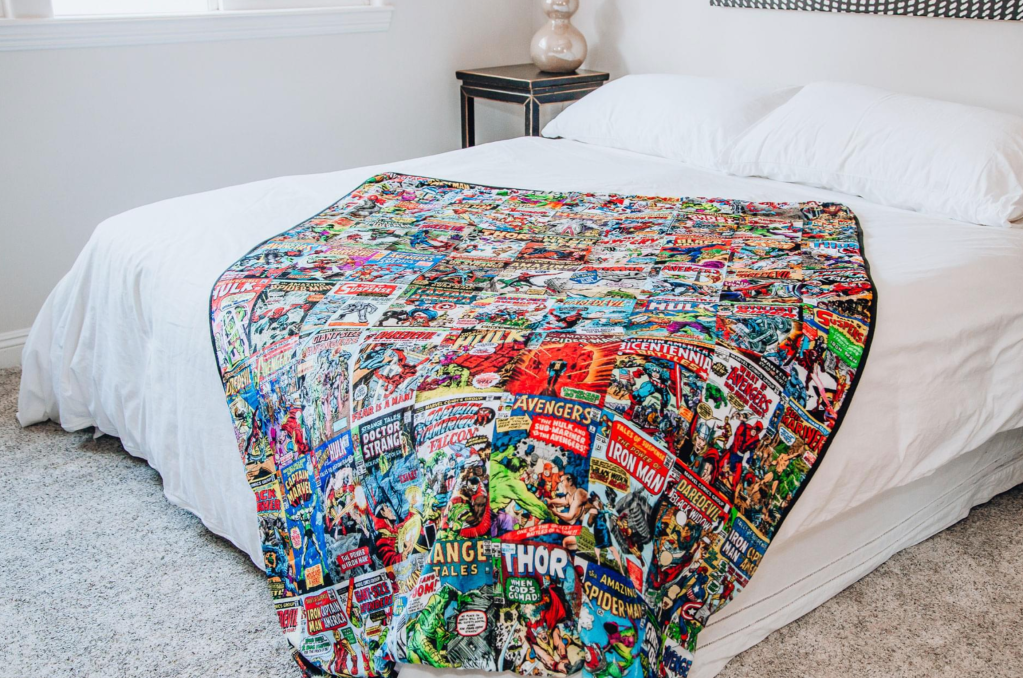 As mentioned with the Iron Man blanket, ya boy is very much a fan of being cozy. It's a sentiment I imagine many others share, so we're featuring a second blanket on this list that's perhaps the greatest embodiment of fandom you could have. Instead of focusing on just Iron Man, this bad boy features the classics — old-school comic covers that remind us of where this entire universe first started.
Whether it be the first appearance of Spider-Man in Amazing Fantasy #1 or Luke Cage as a "Hero for Hire", this blanket has something for everyone and is a perfect tribute to the characters we all have grown to love.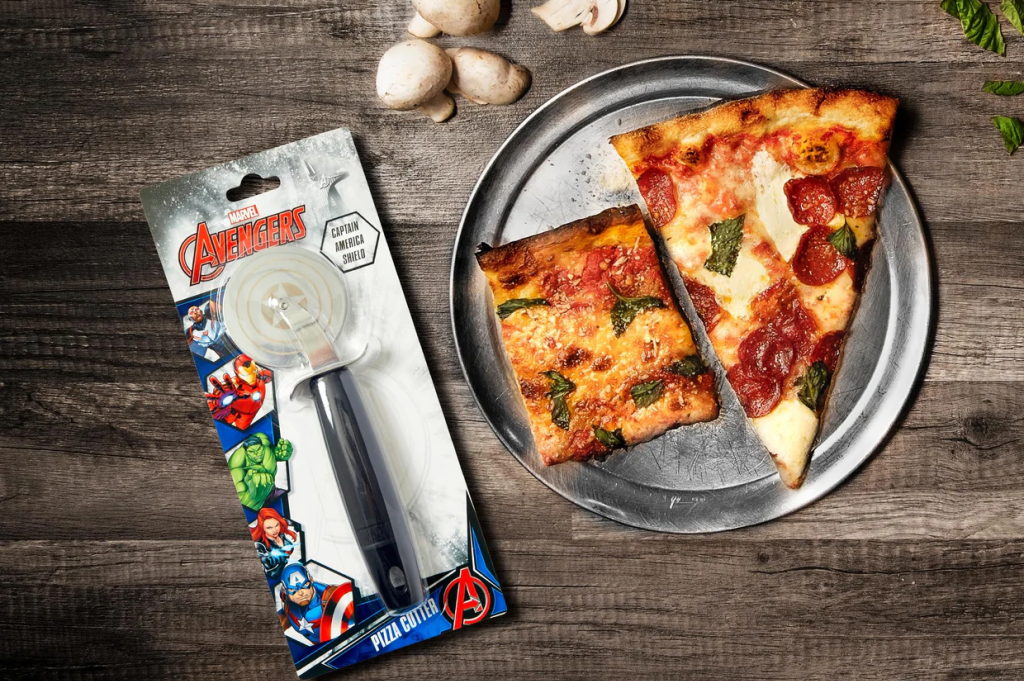 Starting off, we have what any good night, afternoon or, even morning, starts off with: Pizza. A good pizza cutter, however, is something that folks tend to forget in this equation. The casual nature in which you whip out the Sentinel of Liberty's iconic shield as you slice up some cheesy goodness will elicit awe and admiration from onlookers. Those reactions, alone, make this one a steal.
One of things that happens when you get older is an increase in attention to all things cooking. You want to impress folks, not just with your actual concoctions but also what you use to make said concoctions. So, naturally, instead of using just a regular ole' meat tenderizer, why not whip out the power of the gods? The power of Mjolnir, baby — just think how impressed onlookers will be.
And also, like, it's Thor's hammer, no other explanation should ever be needed when it comes to any items that recreate it. Can already envision myself shouting things like "Thankfully, I am MIGHTY" as my house guests await their delicious meal.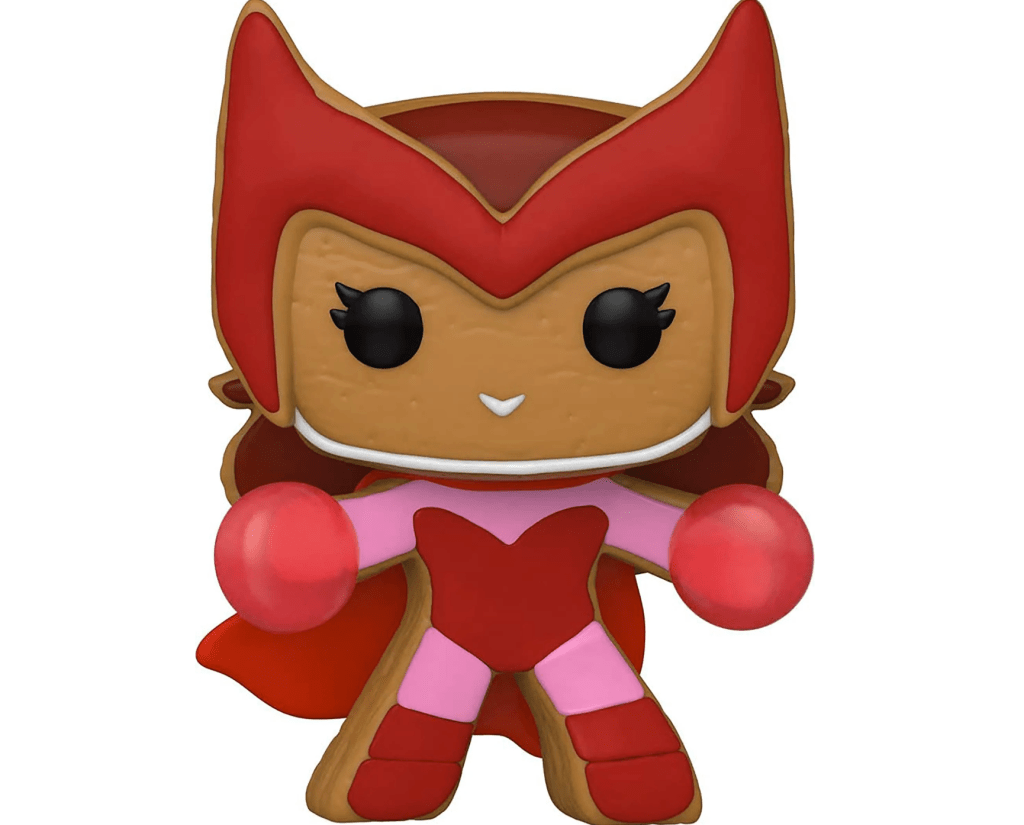 If the NOWA (Nerd Observing Writer's Association, which is totally real) were to put together their MVP ballots for phase 4 of the MCU, Scarlet Witch may very well win unanimously. After the success of both Wandavision and Doctor Strange and the Multiverse of Madness, her popularity is seemingly at all-time high.
So, may I humbly suggest this particular Funko POP! Figure that is both adorable and timely! On top of its cuteness, the gingerbread theme also makes it timely enough for the holiday season.
Another major success from phase 4 was Loki, which was not only rad but also ranks in the S-tier for shows that utilize an alligator (Atlanta being another example). This pin is simple and endearing for even the most casual of Marvel fans to enjoy. C'mon, it's Loki as an alligator, you should already be adding this to your cart as we speak, because lord knows I am.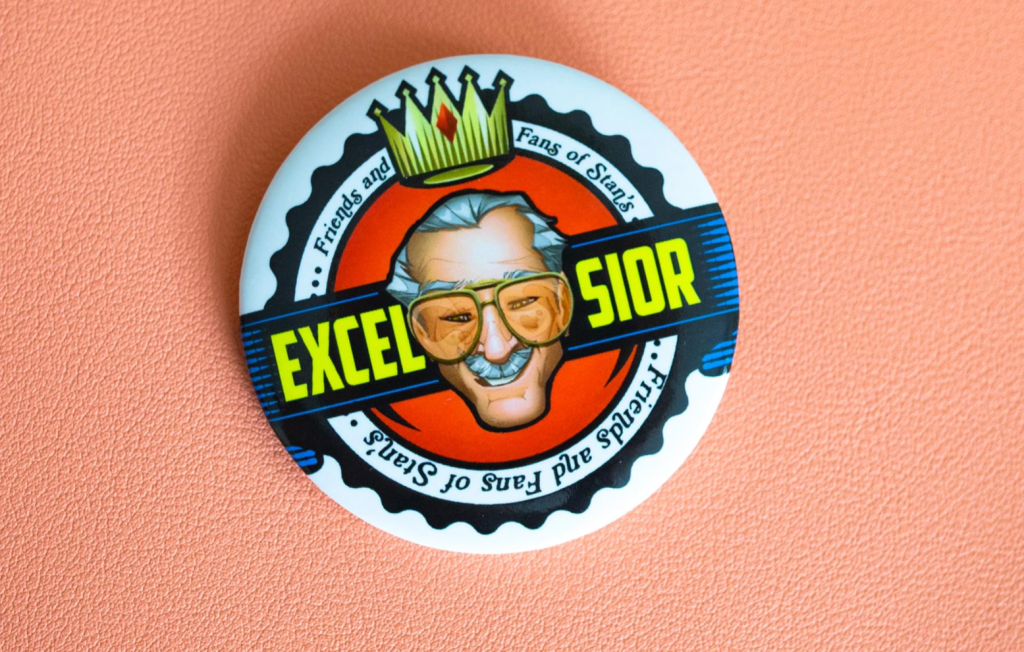 The late, great Stan Lee needs no introduction. What really made this pin stand out is the crown, because there's perhaps no more worthy Marvel figure for it than the man himself.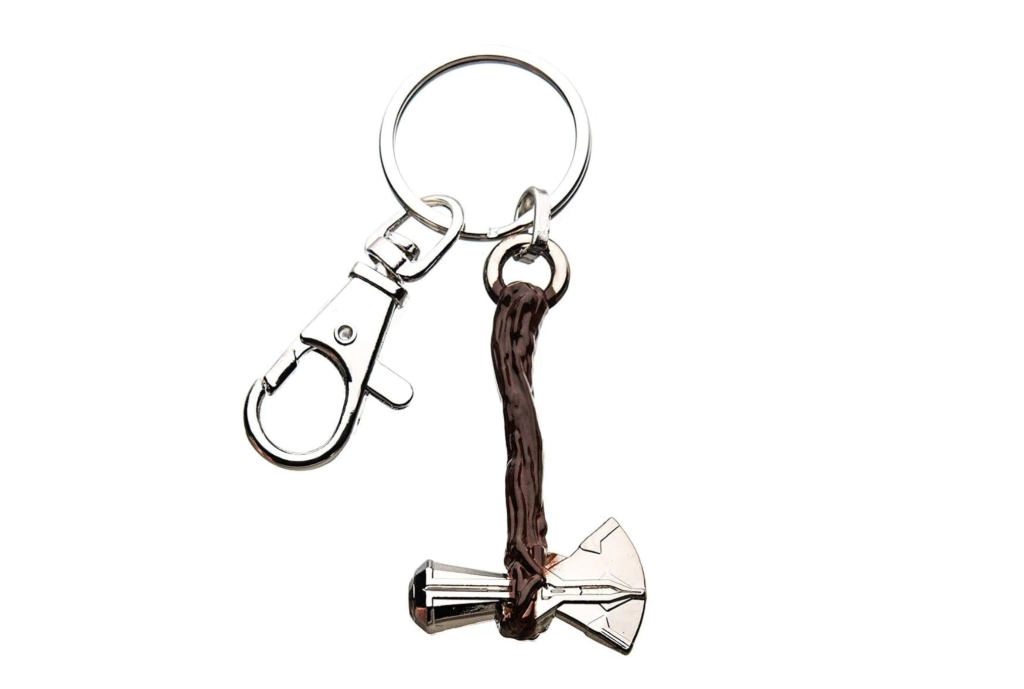 With this bad boy, you too can be worthy! Imagine the look on those mortal's faces when they see you rocking one of the most powerful weapons in the Marvel universe on your backpack. Plus, Stormbreaker also plays like a little celebration of the lad of few words, Sir Groot the Wise. Can't go wrong either way.
Look, I know, I know, this tiki tumbler here is more associated with the summer than it is of the incoming winter. But guess what… weather and seasons are actually a construct! Who cares! This beast just looks cool, and anyone that lets the seasons dictate their theme of gifts is a fool! I don't care if it's the middle of winter, in Chicago, during a developer's conference on keyboard designs: I'd still hoist this beautiful chalice.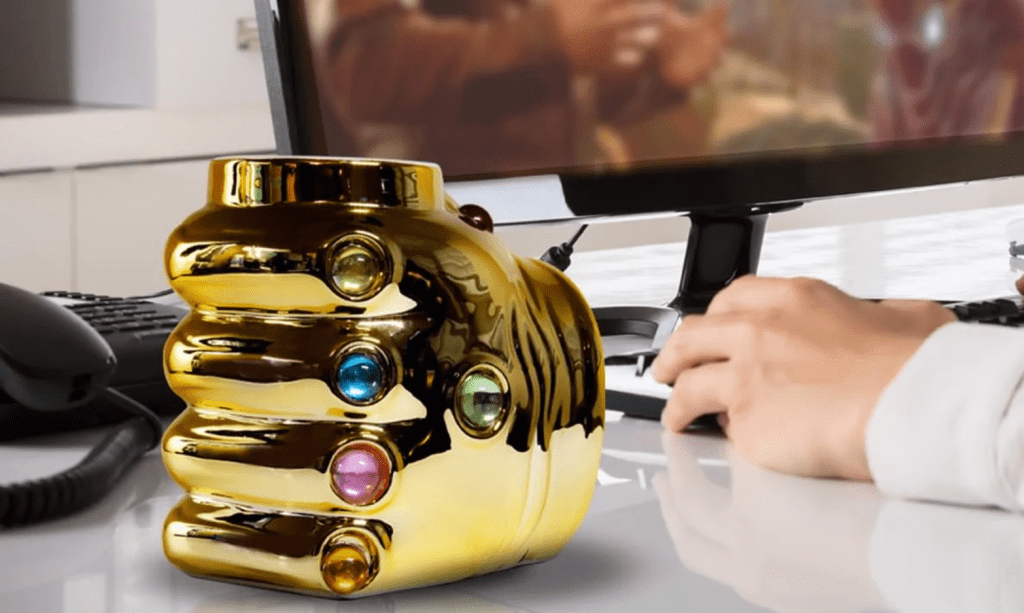 Coffee mugs feel like one of those things you simply can't go wrong with. I myself am more of a tea drinker, but can already seen the amount of fun and joy that Thanos' iconic glove of destruction will give me. Sitting in the dining room, grinning menacingly at whoever sits across from me, sipping my green tea as I start doing my (still a work in progress) Thanos impersonation.
The mad titan himself would be pleased.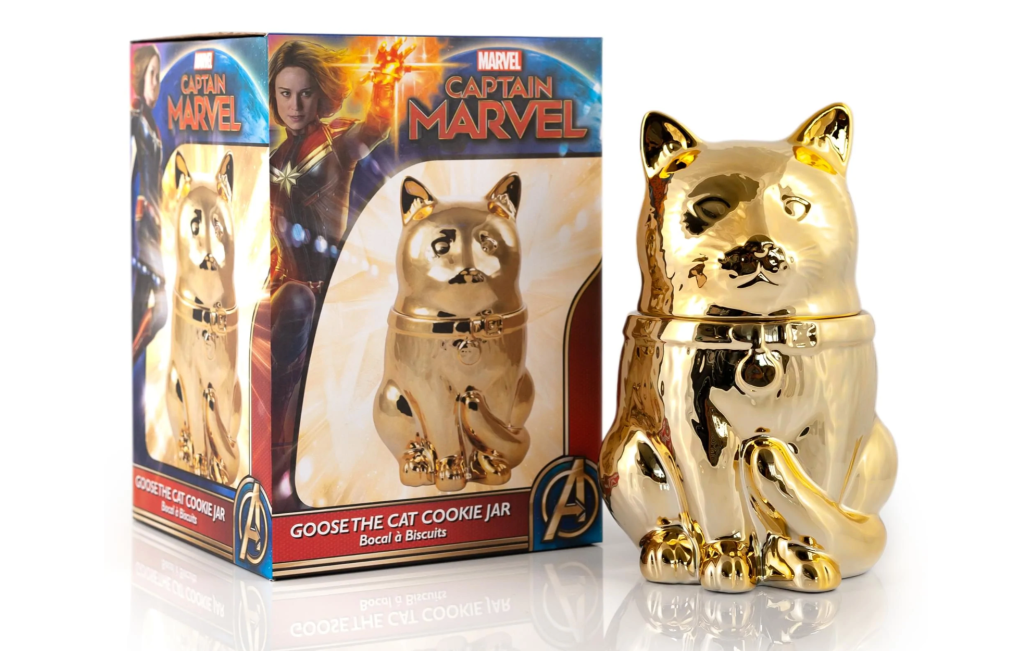 You might forget, but Goose is not just the name of a certain legendary air pilot that fought alongside Tom Cruise, but also the name of an alien cat that can devours entire people if it wants. Goose is basically a name always associated with greatness.
Even if Captain Marvel's companion isn't your favorite from the universe, the gold flourish is a wonderful touch and it can even work as a gift for the more casual fan; they may just view it as cute cat! Everyone wins!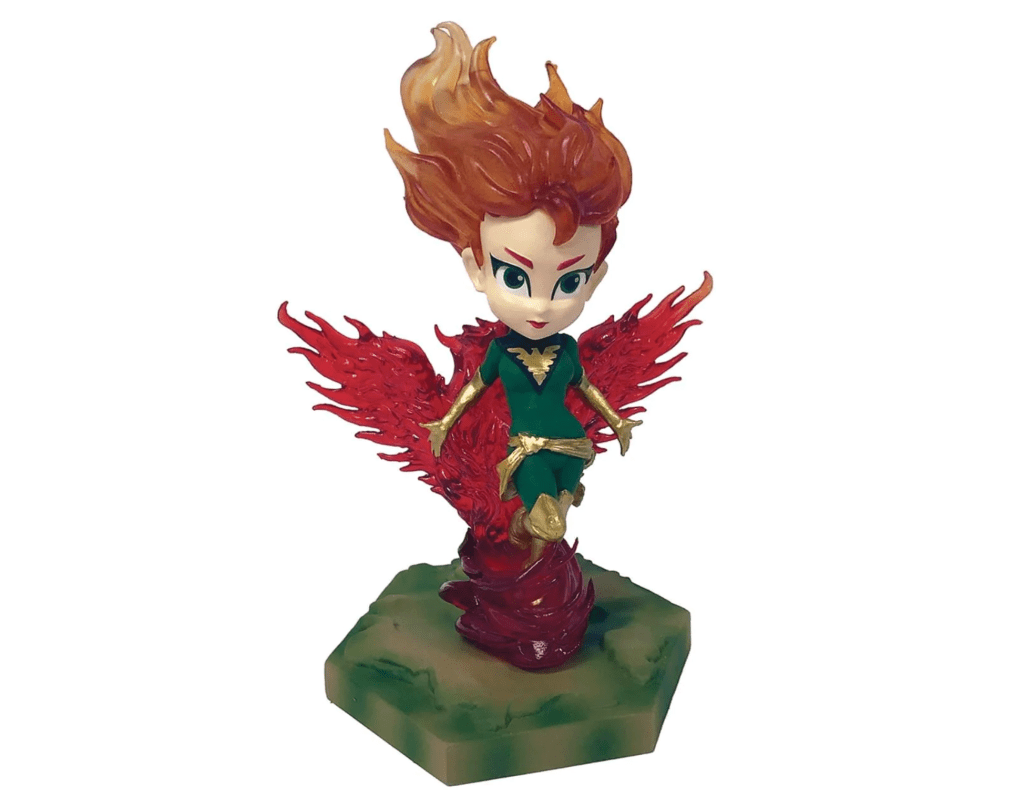 Gotta get some X-Men love in here! I'd venture to say that Jean Grey's Phoenix costume is in the top-5 most iconic Marvel outfits in history. It's just perfect. The flames are also an excellent touch, and it's not particularly expensive either! A queen, that Jean Grey is.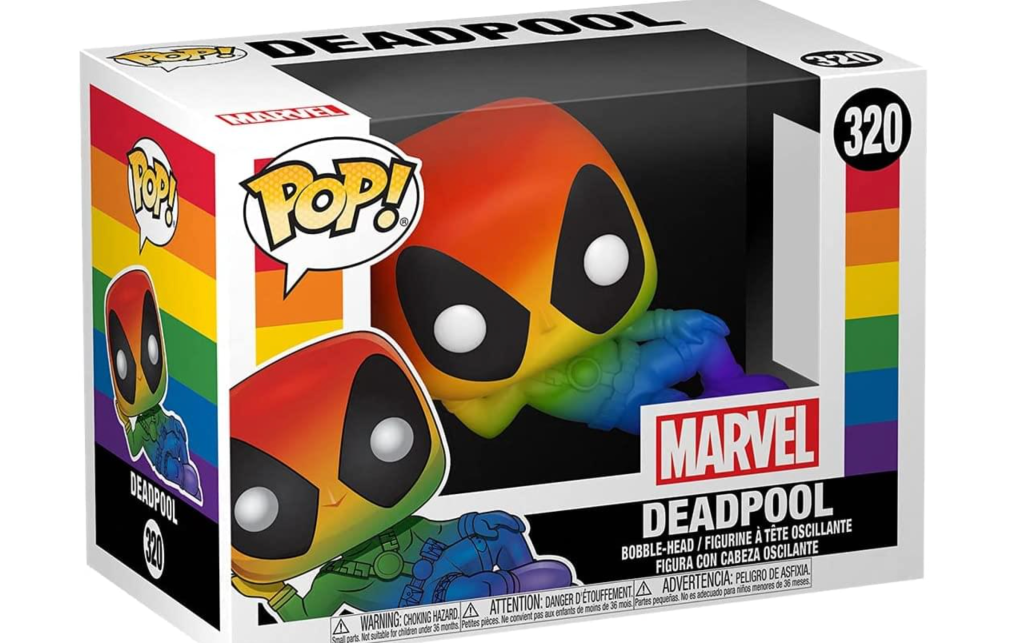 It was only a matter of time before this crazy goober found his way onto the list. The pose? Deadpool is always doing something beautifully chaotic. While Toynk does have plenty of other memorabilia featuring Mr. Pool, this one stood out the most. The pose? Exquisite. The pride coloring? Divine.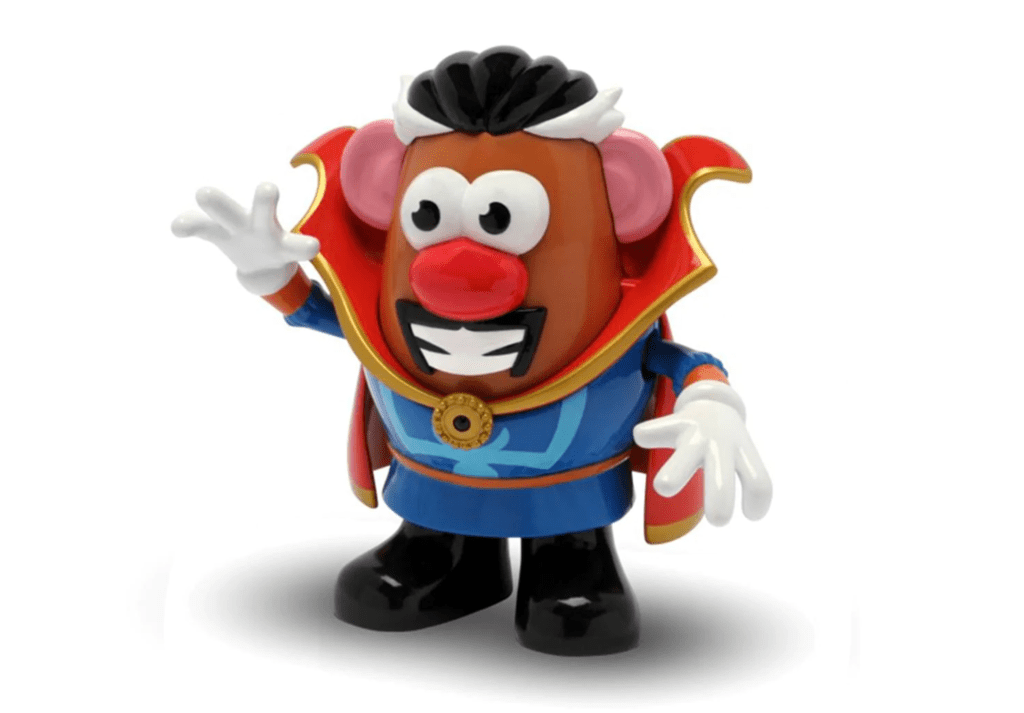 Ya'll, I've been giggling for 45 minutes. Look at him! The hair with the touch of white! His little cape! There have, of course, been plenty of iterations of the Potato Head homie made over the years, but the idea of him being the Sorceror Supreme — casting magic and spells to protect not just Earth, but the entire universe — is hilarious.
Plus, it's a great gift for kids!
We're all familiar with the dad spending time in the garage doing his little tinkering. We love tinkering; there needs to be a lot of respect for the tinkerer's out there. So here's to the toolbox heads, as this Mjolnir replica can hold 44 (!) different tools for whatever task is needed.
And also, it's Thor's hammer, enough said. You can practically feel the power just looking at it, you know?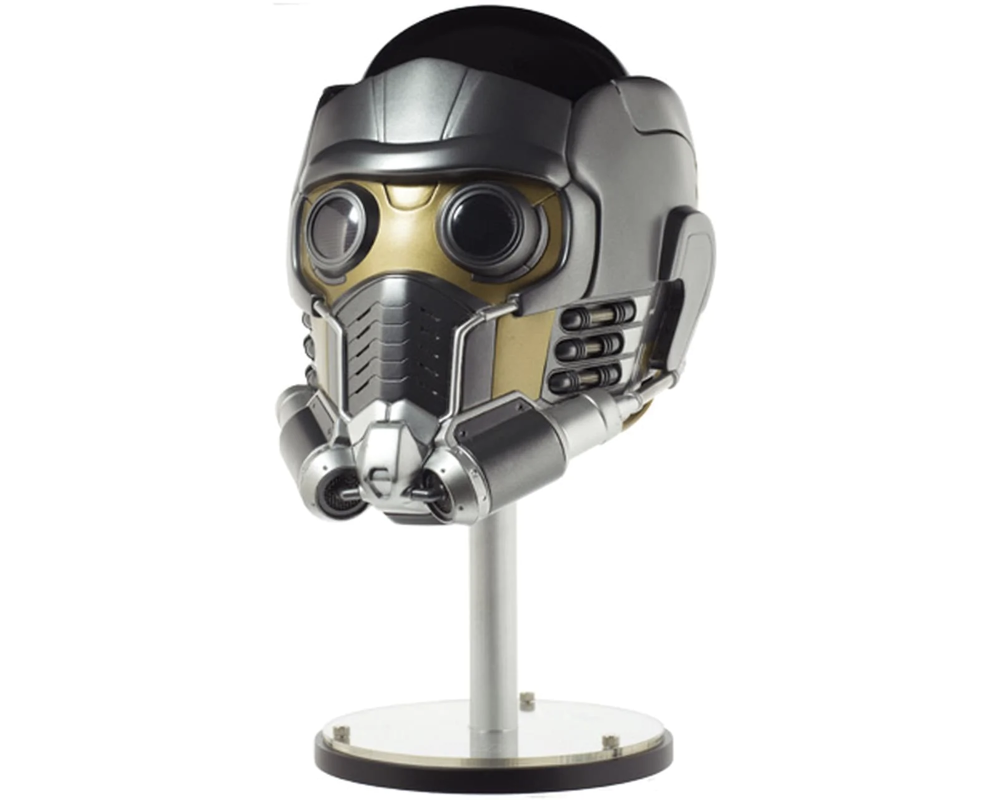 Continuing with the galactic misfits, let's focus on the lord of the stars for just a second. While this is probably the priciest collectible on the list, it's a must-have for fans of Star-Lord's great adventures. This collectible makes a statement. You're not just here for cute little references, you're practically geared up and ready to go on an intergalactic adventure yourself.
It's a super high-end item that works as a definitive display piece and perhaps some cool photos for Halloween. It's also a limited edition piece, so you'll get the added benefit of simply being better than everyone else for having it.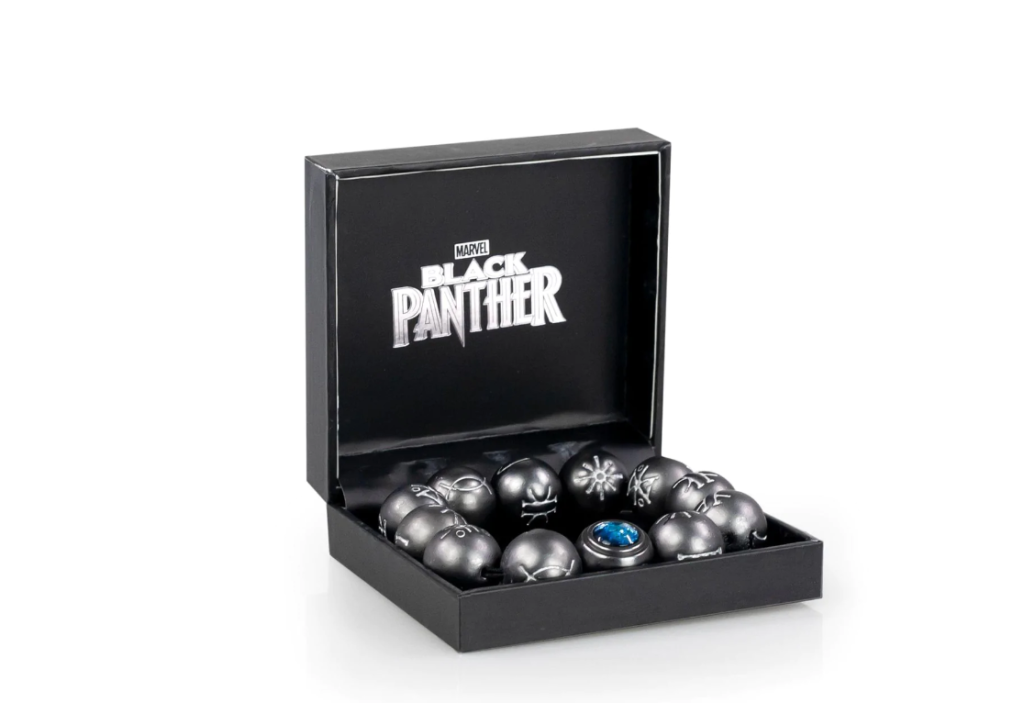 If you're wanting to really go crazy for the nerd in your life, these Black Panther beads do the job. Officially licensed replicas seen from the movie, they're both stylish and finely detailed to perfection. The symbols on each bead are lovely and, quite simply, there's no going wrong with anything resembling Wakanda.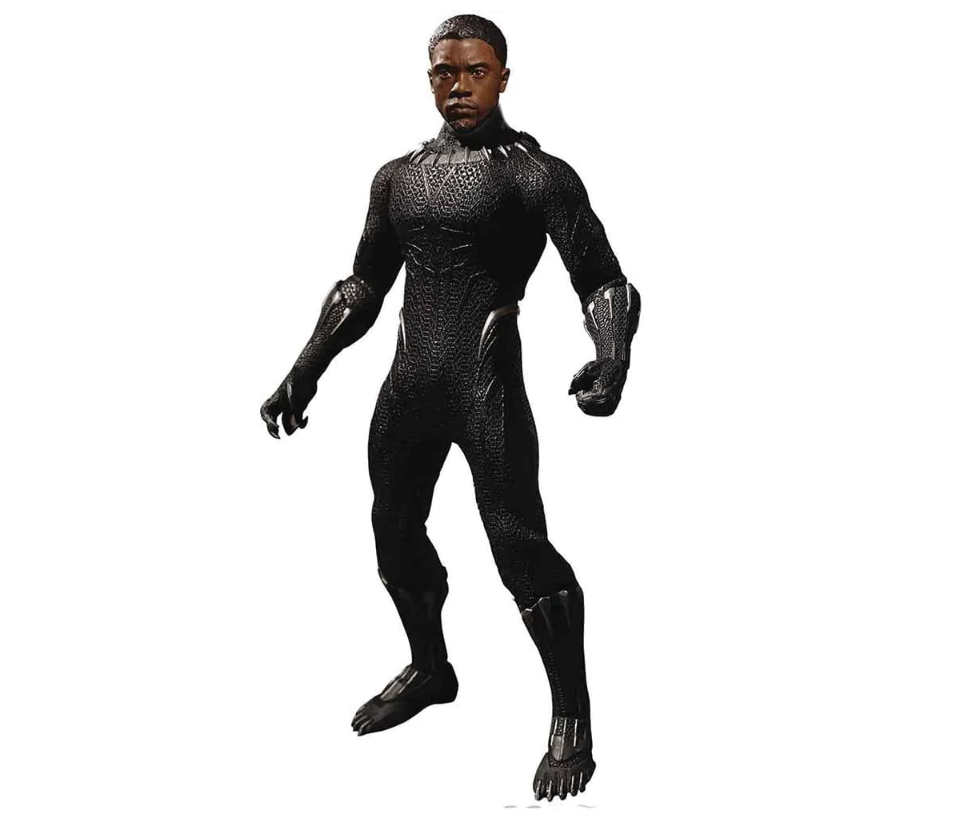 This list wouldn't be complete without him. On top of the obvious sentimental value attached to it following the late, great Chadwick Boseman's passing, the adage of an alternate head, claws, and spears make it a more complete package. It's a little pricier than most of the items on this list, but few characters, I'd wager, justify it more.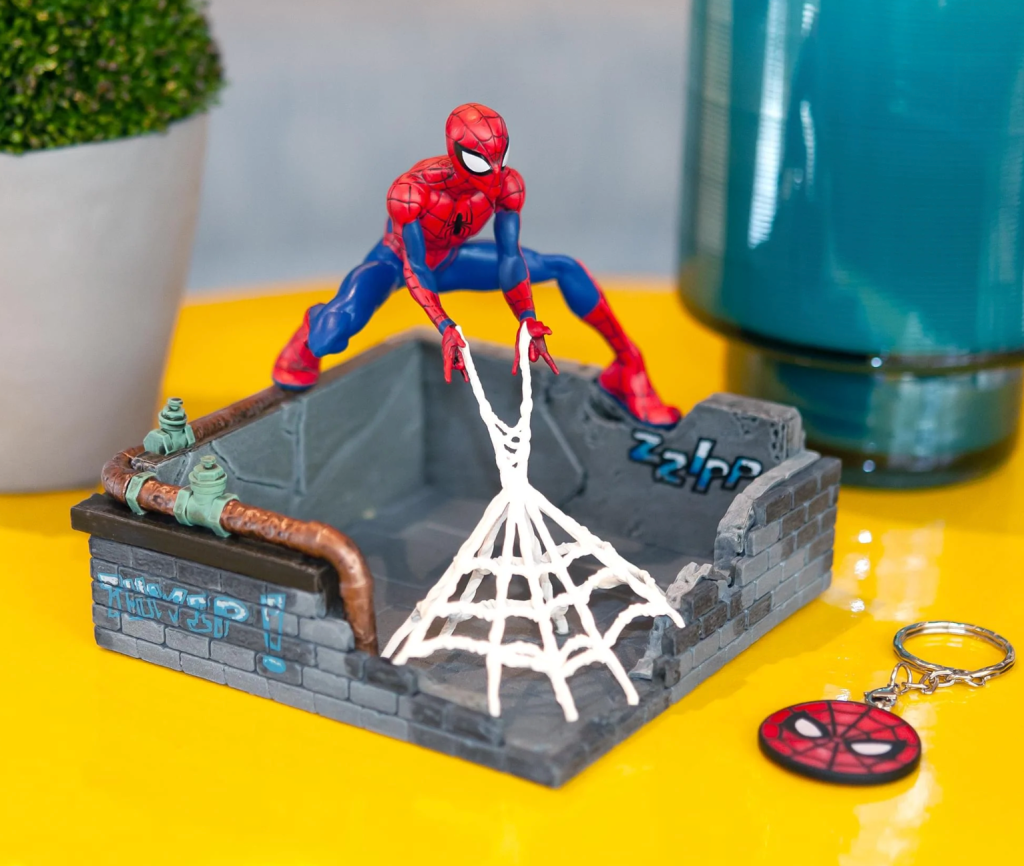 One of the things about hot takes is that they inspire genuine debate because of how they can go either way. There's room for options. But in this case, there's no room for any doubt, because Spider-Man IS the best superhero. Forget the chump that dresses like a bat, or the dude that gets terrified of a green rock, because Spidey is, indeed, the boy.
But with such popularity, it can be tricky finding the best Spidey collectibles, because there's just so many! But this key holder caught my eye, as it's both useful as a display piece and as a way to, well, hold your keys! Never want to lose those things. You can even use it to hold the aforementioned Stormbreaker keychain, too!
Continuing with Deadpool — as well as the overall theme of cuteness, which is really what matters most — is another pin featuring him riding a unicorn. They even gave Mr. Pool a mustache. I am sincerely asking you, the reader: what more could you possibly ask for?
Concluding the list is yet another take that isn't really hot at all. The best X-Men character, with perhaps only Magneto and Wolverine having a say (apologies to my sister, who is a huge Rogue fan, if she's reading this) is Katherine "Kitty" Pryde. The youngest member to ever join the X-Men is certainly popular among the right fans with the best of taste.
There aren't a ton of cool Kitty collectibles out there (yet, just wait till the X-Men hit the big screen again, hurry up Marvel!), so this one stands out the most. Not only are the details splendid, with Kitty showcasing her trademark phasing ability, the destroyed Sentinel head having X's over its eyes, and the wiring scattered on the floor, but it's also pretty cheap considering the quality!
And, yes, you heard that right: she has a pet dragon. Lockheed is not only vicious but adorable, too. What a duo. The Jenner's WISH they could compete.