Features
The Beatles: Get Back – Do Beatlemaniacs Get What They're Looking For?
We look at all the rarities, covers, and future solo songs in Peter Jackson's epic The Beatles: Get Back.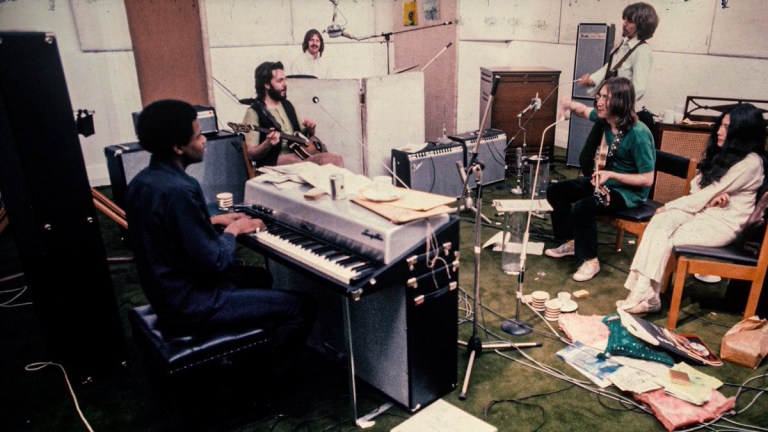 There's no mania like Beatlemania, and Peter Jackson's The Beatles: Get Back is both proof of that, and a direct consequence of it. A lot of the reviews said it was an overlong and unnecessary affair. Well, Disney+ let Jackson include swearing in the documentary, so, fuck them. He prefers his own 18-hour cut to this just-under-eight-hour documentary series, and he's "right and will be proved right," to paraphrase John Lennon. 
Is it an important document? Yes. Does it give Beatlemaniacs everything they want? Of course not, nothing will.
For one thing, he doesn't give us a full version of  Paul McCartney's "Teddy Boy," which came close to making the playlist. We also don't get the satisfaction of hearing entire versions of "The Long and Winding Road," "Let It Be," or any of the other final album songs not performed on the roof. We get two versions of each of those. The rest we get to see unfold in slow motion, like one of the films Lennon made with Yoko Ono during this period. 
Sure, he could have cut it into a precise race-against-the-clock musical comedy like A Hard Day's Night. He even gets in the "Who's that little old man/He's very clean, though" joke. But to be honest, even if this wasn't halfway this pristine, Beatle aficionados would be satisfied.
Yes, not enough can be said about the cleanup. There is a clip from the Cavern club which has been so cleaned up, you can see individual beads of sweat on the band, and on the walls. This clip was in Anthology and the Malcolm McDowell-narrated The Compleat Beatles, and it always looks like it was shot through a dirty lens on used film stock from across the street. Jackson makes it look like yesterday's news, not 52-year-old footage. But some of us would watch eight hours of the crappy footage, especially cut right. Remember, most of us have only seen and heard this on shitty board mix bootlegs.
Which brings us to the audio, which is equally superb. Forget the songs we all know, the ones on the album and which were given on the Anthology compilations. The snippets of covers the band plays have never been this clear and fully produced. Most of what's gotten out to the public sounds like the original film is reputed to make people feel, but the sonic redemption here is a wonderful tease of fun performances. Jackson only doles out the best bits, but with the cleanup, his 18-hour director's cut becomes a must-do. You already cut it, Mr. Jackson, there is an audience for it. Give with it.
THE COVERS
The snippets of the band running through Bob Dylan's "Mighty Quinn" and "I Shall Be Released" should be released, in full, or as far as the Beatles got into it. The other thing the bootlegs made clear is the band might jump into a number for a few bars, and either merge it into something else or just drop it outright. What the documentary does show, however, is how much they were listening to the music which was going on at the time. During several segments we see Lennon holding The Rolling Stones' Beggar's Banquet album.
The Beatles jam through quite a few unexpected popular contemporary and traditional numbers. They perform "You Are My Sunshine," "Queen of the Hop," revisit Jerry Leiber, Mike Stoller and Richie Barrett's "Some Other Guy," and even their own "Help!." Jackson skips the wonderful rendition of Mario Lanza's hit "Besame Mucho," which is a shame, especially since we've only seen Lennon's happy reaction to it. Paul is an expert vocal mimic, and besides his standard Elvis turn, gives spot on impressions of Canned Heat, down to the country feel, and up to vaudevillian voices. He and Lennon fall easily into some of the harmonies of their favorite teenage pop platters. 
Lennon and McCartney obviously remember every single Everly Brothers harmony they probably sang to each other on tour buses to pass the time. They do a lot of wop bop a loo bop, but dip into enough diversity of the rock and roll and rhythm and blues covers to let us know they were serious students of the music, and avid listeners.
Lennon always bent a knee to Chuck Berry, co-leading with George on "Johnny B. Goode," taking "30 Days" all to himself, and performing "Rock and Roll Music" at the same tempo as their performance at Budokan, and yes, I know this Beatlemaniac wrote it was overlaid to Shea Stadium, but it was eight hours after I saw it, it hit the proper emotional note better, and I was on a deadline. Jackson's entire film is about deadlines, and The Beatles show how musical mistakes can be capitalized on and added to the mix. There's a rushed guitar on "Dig a Pony" which made the final cut. The Beatles also know when to skim well-worked-out arrangements that get too busy, as they do with the "all I want is" intro and outro of the song.
THE ABBEY ROAD WORKS-IN-PROGRESS
Jackson gives us both, in equal and almost satisfying measure. Again, obsessives will point to still other examples. The classic scat Lennon sings when he forgets a line in "Don't Let Me Down" is well known, but his improvisations about a guitar going out of tune, Band-Aids on his playing finger, and "40 days in the desert and he couldn't find his balls" are a great add to the mix. On a related note, "cauliflower," the word he throws out as a placeholder word to Harrison's "Something," does sound phonetically closer to "like no other lover" than any of the fillers George was riffing. Hey, he paid a ton of money for unconsciously tributing "He's So Fine" on "My Sweet Lord," so we know he is a sponge to musical influence.
It warms a Beatle fan's heart to see how encouraging Lennon and McCartney are on some of Harrison's songs, even before the walkout. In Episode 1, Jackson finds the take of Harrison's "All Things Must Pass," which sounds most like a Beatles' rendition. Lennon and McCartney's harmonies aren't quite there in the early attempt, but we can already imagine how it would sound as a Beatles song. The band gives a very nice early sounding performance of "Something," along with a few other songs which will work their way on Abbey Road.
McCartney introduces "Maxwell's Silver Hammer" and "Oh Darling." Lennon's "Across the Universe" gets a full band treatment. We hear "Golden Slumbers" just waking up. We learn that the song "Carry that Weight" was originally written for Ringo to sing and already has the recognizable chorus, but also includes verses about "normal kinds of troubles everyone has," as Paul puts it, which are later cut. Starr brings out "Octopus' Garden," which gets a full chordal resolution treatment from George, free of charge.
Quite a few of Lennon's medley songs are almost finished here already, and it's good to see the fingers match the notes. Plus, we hear an early, fully musically worked out version of "I Want You (She's So Heavy)," envisioned as a civil rights riff. This is a musical, and emotional highlight. In the documentary, Lennon's already called Martin Luther King, Jr. a poet who should have been president, which foretells his future commitment to radical change, and then we get a radical change. Billy Preston sings lead on one of the verses.
This is appealing to Beatle fans on so many levels. A non-Beatle singing with the Beatles on a song which will become a staple, it also reinforces Lennon's enthusiastic revelation that the band found its "fifth Beatle." Preston is a friend from the Hamburg days who'd backed up Little Richard, while the Beatles were an opening act. Each individual Beatle has said the first time Ringo sat in for Pete Best on drums in a Hamburg club, they could feel the magic. This gives us a taste of what that moment must have been like. It doesn't take but a few bars for Lennon to nominate Preston for full-time membership. George overdoes it by bringing up Bob Dylan, Paul says four Beatles are hard enough to deal with, and we have a classic film and musical moment.
We've always heard it was George who brought Preston into the sessions because it would ease the tension, like Eric Clapton made everyone behave during the recording of "While My Gently Weeps," and he does mention he saw Preston backing Ray Charles in an earlier sequence, and how Charles lets this young organist shine. Then he does the same for the sound, and work progresses at an intense pace. Preston brings so much promise, the band dips into the future to whip out songs that won't see release until the solo years.
THE EARLY SOLO MATERIAL
Day 1 opens with Lennon playing the song which will become "Jealous Guy," and his guitar fills are amazingly textured, all naked there by themselves in the huge film studio rehearsal space. Now called "Child of Nature," it gets reintroduced as "The Road to Marrakesh" later. Episode 1 closes on a delicate version of George Harrison's "Isn't It a Pity" which grows slowly, occasionally the only backing is Harrison's guitar and a single bass note from Paul, and it's perfect, while still distinguishable in character from the final release.
We also get a version of the band working on "Gimme Some Truth," where McCartney knows the words better than Lennon. McCartney is playing "Another Day," which will be one of his first solo singles, on the day he brings Linda into the studio. It is also a treat to hear McCartney playing "Martha, My Dear" exactly as it sounded on The White Album, while talking about the instrument itself. "That's the great thing about the piano," he enthuses. "There it all is. There's all the music ever. All that's ever been written ever." There's a reason Ringo Starr says he can watch Paul play piano all day.
It is fun to see the two lefties join in on the piano for a positively giddy version of "I Bought a Piano the Other Day." It's even a bigger kick to see them switch instruments in a later jam. Ringo plays bass while Paul's on drums. But their most satisfying scene, for fans of the musical process, happens during the section where Paul writes "The Long and Winding Road." He doesn't only write it in front of Ringo, who throws out lyrical fill-ins just to keep it going, but he does it in front of the camera. Jackson tightly highlights the transitions so the song's birth has a recognizable story, but he also tickles fans with a glimpse into the comradery of the Beatles inner circle.
THE SONGWRITING PROCESS
We actually see Paul almost raise an eyebrow at the Beatles' most trusted and beloved employee, Mal Evans. The road manager/personal assistant/best mate-since-Liddypool asks Paul how some Beatle business went, just as the songwriter is deciding between two chord changes. The eyebrow goes halfway up in annoyance, and McCartney's mind recognizes Mal as, well, good old Mal, smiles until the chat ends naturally, letting Paul get back to those two chords. They each have possibilities, and it is just fun to watch him hearing them all in his own head.
We also see Ringo keep time to the great Lennon-McCartney writing team in action. John used the phrase "eyeball-to-eyeball" when describing in interviews how he and Paul wrote, and it comes as a happy jolt to hear Lennon throw suggestions to McCartney as he works on the words to "Get Back," which goes from an inspirational kickstart to a protest song against white nationalism and ends up as the album and event's first single. It's also just fun to know Paul set the song in Tucson, Arizona, because "that's where they film High Chaparral," a western TV series which was popular at the time.
THE NEW RARITIES
We are also gifted with snippets of songs which have never seen the light of day, even on bootlegs. Ringo plays a song he wrote called "Taking a Trip to Carolina," accompanying himself on piano. McCartney and the band bash through a number called "You Wear Your Women Out," and we get a snippet of a song called "My Imagination." But it is extremely satisfying to see the group's process, and the ear for perfection which is really at the bottom of most of their arguments and their reconciliations. They fully work out harmonies on "Don't Let Me Down," including a call-and-response which merges the combined feel of their backups on "Twist and Shout" and "Happiness is a Warm Gun." It is on the verge of veering into something they are known for and excel in.
After it's arranged, George casually mentions, if they heard it back on tape, they wouldn't like it, and the whole part is dropped. He's right, of course, McCartney's harmony on the final version does with one voice what the whole harmony part works too hard at.
BEHIND-THE-SCENES REVELATIONS
We also hear the band discuss what every fan has read about in books and seen in documentaries: their lack of access to the latest audio technology. They note the Beach Boys have an 8-track because they're American, and they have to make do with what they got, which isn't much at the moment, and takes twice as much work to do with limited facilities. For fans of extreme trivia, we get a taste of Magic Alex's inaction in action. If you know his reputation and the story behind what he always promises but never delivers, the non-functioning recording console and the bass/rhythm guitar combo with the revolving neck are satisfying real-life representations, and if you don't, tell me to write an article on it.
On another personal note, it's nice to hear George tell Paul his beard suits him, but nowhere near how good it is to overhear the true empathy John and Paul feel for the underserved guitar-playing songwriter which gets caught on the hidden mic. It's also comforting to hear Paul call John boss, and complain how he's miffed about having to take the lead so often, but also be understanding enough to know "obviously if it's a push between Yoko and the Beatles," John would choose her. He fully supports the "young lovers." And while it's a shame that any song he writes when Yoko is in the room has to do with "white walls," Paul does not want history to say the Beatles broke up because "Yoko sat on an amplifier." Jackson's film also shows why people compare Ono to the B-52s, and reminds us Linda Eastman was a master rock photographer long before she changed her name to McCartney and joined Wings.
The running gag Lennon makes out of his introduction to the Rolling Stones' performance in their Rock and Roll Circus is also a satisfying nugget. Like watching him attempt juggling with Ringo or singing "my rock and roll finger is bleeding," it captures the throwaway humor fans of "the witty Beatle" want to see. Not that the others don't get in their share of the quick one-liners which made them favorites with the press corps.
Regarding the actual time frame of the film itself, the most satisfying moment of The Beatles: Get Back is when it appears Jackson unearths the exact frame which captures the precise moment Lindsay-Hogg and Glyn Johns tell Paul the perfect venue for the project, and he goes through the roof.
The Beatles are mostly known as a recording act, but Lennon, McCartney, Harrison, and Starr got famous by playing live. It was how they were trained. Even when they had Stu Sutcliff on bass and Pete Best on drums, the band knew the importance of grabbing and keeping an audience. When someone walked into a ballroom while The Beatles were on stage, they were there to stay. The Beatles worked hard to keep them there. Here we get closeups of each Beatle making contact with an audience member. The most satisfying thing to come out of The Beatles: Get Back, is a reminder they could still pull it off.
Now, about that 18-hour cut. When, Mr. Jackson?