Features
The Beatles: New I've Got a Feeling Deserves a Closer Listen
Peter Jackson captures the first run-through of a classic, but "I've Got a Feeling" is unique in The Beatles catalog.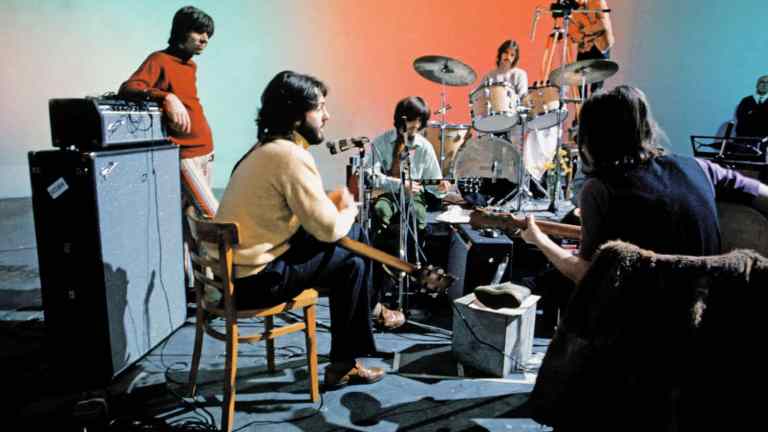 Peter Jackson's upcoming The Beatles: Get Back is poised to reframe the breakup of "the greatest show on the earth, for what it was worth," into a race-against-the-clock musical comedy. Good Morning America dropped a video showing the serious business of hitting the right notes. 
It's obviously an early take, none of the nuances which will come to define the sound of it are yet in play. Paul McCartney is still shouting out chords, ad-libbing and scatting lyrics, most prominently the refrain which holds the piece together.
A deadpan George Harrison asks if the song is called "I've Got a Feeling?" During the song, John Lennon backtalks and improvises melodic possibilities to fill in the as-yet-unfinished piece. Ringo Starr keeps a steady beat with an intense focus on his two songwriting bandmates. Harrison appears to already be looking for licks and fills to complement the chords Lennon strums.
"In never-before-seen footage, this Disney+ original docu-series is an inmate look into the creative process behind The Beatles' 1970 album Let It Be," reads the official YouTube description on the clip.  Jackson's cleanup of the footage is immaculate.
You can see the video here:
The band comes to a stuttering stop on a measure which will later be arranged for the instantly-recognizable downward falling guitar break that makes the song an aural standout. The other sonic specialty of the tune has not yet been introduced.
In Apple Corps' 240-page hardcover standalone companion book The Beatles: Get Back, which comes as one of the many side pieces to Jackson's documentary series, we get another inspired Lennon quip, which winds up going into the song. After one too many "I've got a feelings," Lennon sings "I've got a hard-on." This would develop into the defining bridge between a song and its classic status.
Lennon and McCartney often finished each other's songs, especially during their "Fab" period. Lennon added the waltz-time dissonance to McCartney's "We Can Work It Out," for instance. They also strung song bits together to make for complete songs. "Happiness is a Warm Gun," is actually three songs pieced together through the arrangement. McCartney wrote the upbeat break to Lennon's pensive classic "A Day in the Life." For "I've Got a Feeling," Lennon was inspired to amend his half-finished "Everybody Had a Hard Year" to break up McCartney's verses and chorus. The combination of the songs and how they blend into each other gives the song a unique feel and structure.
Lennon previously recorded two different versions of "Everybody Had a Hard Year," prior to its reincarnation into the duo's composition of "I've Got a Feeling." He demoed it in early December 1968 on a portable cassette tape at his Kenwood estate, and was filmed performing it in December 1968. The footage was later used in the Yoko Ono art film Rape: Film No. 6 (1969). One of a series of experimental movies John and Yoko directed throughout 1968, it was broadcast on Austrian National Television on March 31, 1969.
"Everybody Had a Hard Year" was initially played, using the same kind of fingerpicking style used on "Julia," and later on "Look at Me," with a capo on the fifth fret. The lyrics have not yet fully developed and include lines like "everyone had a facelift," and "everybody got the wrong time." Lennon hadn't had a "wet dream" yet.
Lennon and McCartney wrote "eyeball-to-eyeball" as a young songwriting team, but had since gone on to write their own songs and rely on the other to polish the rough edges. According to the Barry Miles' McCartney biography Many Years From Now, "John brought his section round to Cavendish Avenue and they finished the song together as an equal 50-50 collaboration," sometime in December of 1968. "I've Got a Feeling" was their first equal compositional collaboration since "Baby You're A Rich Man," and would be their last.
Like "We Can Work it Out," and "Getting Better," John and Paul take opposite sides. McCartney is optimistic, positively giddy when he gets to "All these years I've been wandering around, wondering how come nobody told me, all that I was looking for was somebody who looked like you." He'd met Linda Eastman, they would be married on March 12, 1969, and he had a very good feeling.
Lennon had a hard year, and wasn't feeling great. He'd moved into the hospital room with Yoko when she had a miscarriage. He'd been arrested for drug possession, was sniffing heroin to numb his mental pain, and had divorced his first wife, Cynthia, distancing him from his son Julian.
Paul and John assembled the other Beatles at Twickenham Studios on Jan. 2, 1969, with the full arrangement, including harmonies and vocal counterparts. They ran through it 20 times, especially rehearsing the descending guitar riff. Ringo initially switched to a swing-style rhythm during the ascending and descending triplet chords in the instrumental sections.
The band ran through it six times the following day, to tighten the performance. It was the same day Lennon introduced the song which would become "Gimme Some Truth" off his Imagine album. On Jan. 7, Paul gave Ringo a note to pound his toms in 4/4 during the descending triplets, rather than swinging the beat naturally to accommodate the triplets. This is similar to when Paul and Ringo keep a straight-four-time to Harrison and Lennon's triplets in "Happiness is a Warm Gun," and provides amazingly subtle tension. Further tweaking was done on the guitar parts a few days later in the studio, with Paul stressing "there shouldn't be any recognizable jumps."
George quit the Beatles briefly during these sessions, which will make for a dramatic highlight in Jackson's The Beatles: Get Back. The band responded with impromptu renditions of the Who's "A Quick One, While He's Away," and Bobby Darin's "Mack The Knife."
George returned 11 days later, having written the scathing "Wah-Wah" to commemorate his anger. He also insisted the band move rehearsals to Apple Headquarters basement studio on Savile Row in London. Billy Preston joined the sessions on January 22. His addition further tweaked the ascending and descending chord patterns.
Lennon's two-measure opening guitar riff is instantly recognizable. Harrison and Preston don't come in until the ninth measure, which bolsters the energy. The verse/chorus patterns are unusual because the song is a hybrid, and John and George further embellish the arrangements with alternate bridges. When Paul's "I've got a feeling" and "everybody had a hard year" are simultaneous, a new kind of group unity is achieved.
The Beatles performed "I've Got A Feeling" twice during their lunchtime rooftop performance on Jan. 30, 1969. The first was chosen for inclusion in the film and soundtrack album, even though Lennon sings "everybody put the fool down" instead of "foot down." But it was an adlib targeting their friends, the design team which called themselves The Fool, and the Beatles loved in-jokes. The second version catches McCartney giggling as Lennon improvises lines like "everybody got an obscene."
The version of "I've Got a Feeling" which was released on Let It Be was recorded during the rooftop concert. The studio take was released on the 1996 Anthology 3. Let It Be… Naked, which was a remix album that came out in 2003, patched two different rooftop concert takes. This year, Giles Martin and engineer Sam Okell returned to the master tapes, and created a stereo mix of the "take 10" recorded on Jan. 27, at Apple Studios.
The new clip is a fun rarity, which will now be among the most visible Beatles output. Bootleg collectors, such as myself, can't wait for more clips.
The Beatles: Get Back documentary series hits Disney+ on Nov. 25, 26, and 27.