Features
How The Beatles Break Up Happened
The Beatles broke up 50 years ago. Here's the story of how it happened.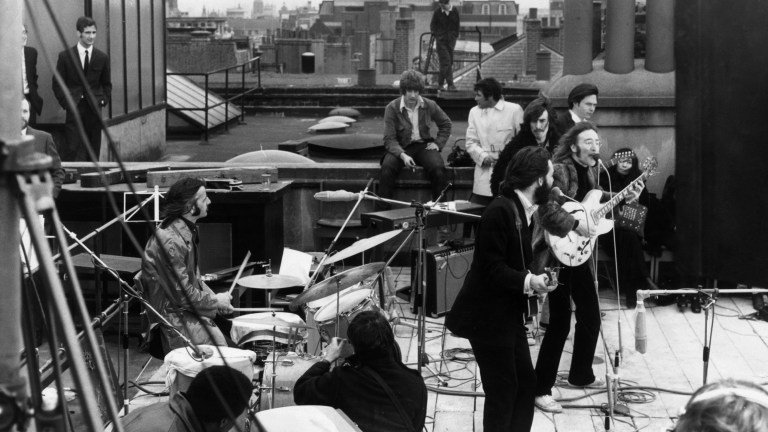 "Do you want to know a secret," the Beatles asked in an early hit. But one of them never promised not to tell. The Beatles' private breakup became public when Paul McCartney issued a press release on April 10, 1970, saying he no longer saw himself working with the band or writing with John Lennon.
Much like the Beatles' single "We Can Work It Out" was structured around a verse call to a middle-eight response, McCartney's announcement was formatted as a Q&A and didn't include a chorus.
Q: "Is this album a rest away from the Beatles or the start of a solo career?"
PAUL: "Time will tell. Being a solo album means it's 'the start of a solo career'…and not being done with the Beatles means it's just a rest. So it's both."
Q: "Is your break with the Beatles temporary or permanent, due to personal differences or musical ones?"
PAUL: "Personal differences, business differences, musical differences, but most of all because I have a better time with my family. Temporary or permanent? I don't really know."
Q: "Do you foresee a time when Lennon-McCartney becomes an active songwriting partnership again?"
PAUL: No."
Over the previous few months, all the members of the group had quit and come back, usually with new material. Ringo Starr took a trip and wrote "Octopus' Garden" when McCartney re-did some drums on the White Album sessions. George Harrison hid in Eric Clapton's garden and wrote "Here Comes the Sun" during the Let It Be sessions. Lennon, who started the group, had said he wanted a divorce at an Apple headquarters meeting with the other members present, back on Sept. 20, 1969, effectively disbanding the Beatles. But like what happened when he got married to Cynthia Powell when the quartet was first conquering the world, he was told to keep it quiet. After all, there were records to sell.
Lennon accused McCartney of using the breakup announcement to sell his solo debut album, McCartney. He also kicked himself for not doing the same for himself. By this point, Lennon had already issued three experimental albums with Yoko Ono and the live album Live Peace in Toronto 1969, which he recorded onstage with Eric Clapton, future Yes beat-keeper Alan White, and longtime friend Klaus Voorman. John Lennon/Plastic Ono Band wouldn't debut until December 1970.
"I don't believe in Beatles," Lennon sang on his song "God," from the 1970 Plastic Ono Band album, and he couldn't believe how his bass player undermined his trebly lead. "He can't have his own way, so he's causing chaos," Lennon told Rolling Stone in the May 14, 1970 issue. "I put out four albums last year, and I didn't say a fucking word about quitting."
The Beatles breakup was a long time coming, and the cracks had begun to show when the band was at their artistic and harmonious peak. The band's manager Brian Epstein died shortly after the release of Sgt. Pepper's Lonely Hearts Club Band and Lennon said he knew "we've fucking had it." Their company, Apple Corps, was losing money. McCartney wanted his wife Linda's father and brother, entertainment lawyers Lee and John Eastman, to manage the band's finances. The other three wanted Allen Klein, who managed the Rolling Stones and Sam Cooke and successfully handled deals for the Kinks and the Animals, to be their manager.
Lennon, who released the single "Give Peace a Chance" during the period, wasn't the only Beatle doing things on his own. Harrison was the first of the group to drop a solo record, Wonderwall Music, the soundtrack to the 1968 film Wonderwall, which he followed up with Electronic Sound in May 1969. Harrison was also racking up hits producing Apple Records artists like Jackie Lomax, Billy Preston, and London Radha Krishna Temple. Starr made movies and had his own solo record in the can. McCartney's upcoming release wasn't even his first foray into music without his band-mates. He'd written the soundtrack for the 1966 film The Family Way.
But McCartney's true solo debut meant a lot to him. He'd recorded it in the home studio on his farm while dealing with Lennon's divorce pronouncement. After the Abbey Road sessions, Lennon recorded "Cold Turkey," a song the Beatles rejected, with the Plastic Ono Band, who backed him at the Toronto Rock and Roll Revival show on Sept. 13, 1969. Lennon decided to end the Beatles on his flight back to London after the performance. He told McCartney, Starr, and Klein on Sept. 20, the same day the band renegotiated their Capital Records contract at a higher royalty rate. McCartney was scheduled for release April 17, 1970, which would crowd out the release of the Let It Be album, which faced legal action from United Artists because it had been delayed so long, and Starr's Sentimental Journey. Ringo went to Paul's farm to ask him to hold the record back and was angrily asked to leave.
After Paul's announcement, the Apple Corps office at 3 Savile Row was besieged by fans and the press. Starr said "this is all news to me." The "witty" Beatle, Lennon, pointed Rolling Stone to a cartoon of "four guys on a stage with a spotlight on them; second picture, three guys on stage breezing out of the spotlight; third picture, one guy standing there shouting 'I'm leaving.'" Lennon also joked it "was nice to find that he was still alive. Anyway, you can say I said jokingly, 'He didn't quit, I sacked him.'" George refused to speak to the media. Derek Taylor, the Beatles' publicist who also helped draft McCartney's Q&A, put out a press statement saying the band "seem to cramp each other's styles."
Harrison was about to record his solo album All Things Must Pass, with Phil Spector as producer, but said the Beatles would probably work together again after a few solo projects. McCartney was invited to join Lennon and Harrison for sessions on Starr's song "Early 1970," but declined the offer. The "cute" Beatle, who'd bemoaned "chasing papers" on Let It Be's opening song "Two of Us," served his own "funny papers." McCartney sued the other three Beatles in London's High Court of Justice on December 31.The lawsuit dissolved "the partnership business carried on by the plaintiff and the defendants under the name of The Beatles & Co.," according to the writ issued by the High Court's Chancery Division.
At the trial McCartney's lawyers cast Klein as disreputable, and McCartney testified the Beatles were no longer a functioning band and their differences were irreconcilable. Lennon, Harrison, and Starr submitted affidavits saying McCartney could be hard to work with but there was no reason the band couldn't go on. High Court judge Blanshard Stamp found in McCartney's favor on March 12, 1971.
After the trial the other Beatles were soured on Klein. Harrison thought he mismanaged the Bangladesh aid project. Lennon said Klein didn't back him on his and Ono's political music. Lennon, Harrison, and Starr legally broke with Klein in March 1973, leaving the band to work things out between them. "The Beatles Agreement" officially ending the band was signed in December 1974. The paper basically distributed the Beatle Empire into parts each could live with. There were a few minor kinks to work out. Lennon wanted a change to a tax provision, because he was living in America. But it was a formality. It didn't change anything the world and the band already knew. They weren't a band. They were free to play with whomever they chose, and Harrison, who was playing Madison Square Garden that week in support of his Dark Horse album, chose to have his old rhythm guitarist join him on stage.
The signing was set to happen on Dec. 19, 1974, at the Plaza Hotel, where the band stayed on their first trip to the U.S. in 1964, and not too far from where Lennon lived. Legal teams for Apple's U.S. and U.K. arms were there. Starr phoned in from England, and had his lawyer and business manager attend. Harrison showed up with his lawyer and business manager. McCartney brought his own lawyers, and wife Linda, who brought a camera to document the final dissolution. Lennon's lawyer was there, waiting for his client. A call was put through to the absent Beatle, and his personal assistant and constant "Lost Weekend" companion May Pang told the assembly Lennon was skipping the meeting because "the stars aren't right." Harrison told Pang to let Lennon know he could skip the Garden show too. The astrology worked in Lennon's favor because, with the Beatles finally over, he decided to go to Disney World. By the time he got there, his tax adjustment was made, and he signed on Dec. 29, 1974. Yoko took a picture to commemorate.
So what broke up the Beatles? Why would the biggest band on the planet call it quits? Was Harrison writing too many songs? Lennon hammered that out at a Sept. 8 meeting where he proposed he, Paul, and George get three songs each per album, with two from Ringo. Did Yoko, who attended Abbey Road session on a double bed Harrod's delivered to EMI, snore during recordings? Was it the strings Phil Spector put on "The Long and Winding Road?" Lennon probably summed it up most accurately when he explained in The Beatles Anthology, "It's because you got the tambourine wrong that my whole life is a misery."