News
The Beatles: Get Back Will Show Uncensored Swearing on Disney+
The Beatles still push boundaries as Peter Jackson convinces Disney to let them curse in The Beatles: Get Back.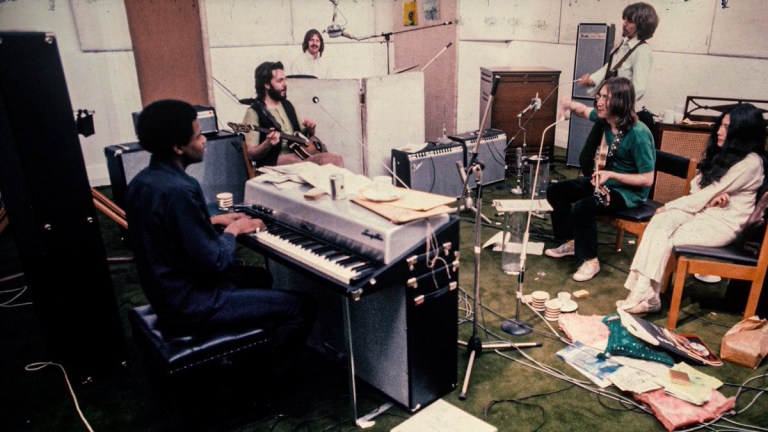 When The Beatles first appeared on American television, Ed Sullivan thanked them for "being four of the nicest youngsters" he had ever met. He called them talented, professional, and very polite. Peter Jackson had to get special dispensation from the Mouse to let the band loosen their tongues for The Beatles: Get Back.
"We've had to have a discussion with Disney about the swearing," Jackson told Radio Times. The six-hour documentary follows the band writing and rehearsing 14 new songs on a tight deadline. They were planning their first live show in over two years. Things get said. As John Lennon paraphrased this period of the band's intensity in Anthology, "it's because you got the tambourine wrong that my life's a misery." The documentary doesn't censor the long-time friends.
"The Beatles are Scouse boys and they freely swear but not in an aggressive or sexual way," Jackson said. "We got Disney to agree to have swearing, which I think is the first time for a Disney channel. That makes them feel modern, too. Obviously, people did swear in the 60s but not when they were being filmed."
Jackson worked his magic restoring previously unseen footage filmed by Michael Lindsay-Hogg for Let It Be. That documentary has the reputation of being the film about the Beatles' breakup. It wasn't. They performed live on the roof of their Apple Corps headquarters at 3 Savile Row, on Jan. 30, 1969, with keyboardist Billy Preston fully part of the musical arrangement. The film ended with the Metropolitan Police turning them down, but The Beatles didn't actually break up. They went on to record Abbey Road.
That doesn't mean things didn't get said, and the group had a history for getting in trouble for their words. John Lennon's quip about the Queen "rattling her jewelry" was considered cheeky, but his 1966 observation that The Beatles were more popular than Jesus set off a string of record burnings and protests, leaving the band in fear of their lives. Some countries banned The Beatles' entire catalogue for that. "If I'd said television was more popular than Jesus, I might have got away with it," Lennon later explained.
It wasn't just what they said, but what they sang. The BBC banned the song "Being for the Benefit of Mr. Kite," because one of the acts at the circus was called "Henry the Horse," which they took as a reference to heroin. They banned "Lucy In the Sky With Diamonds" because it sounded like an acid trip. They were also quite cross when Lennon and Paul McCartney sang "I'd love to turn you on," in "A Day in the Life," all off their 1967 album, Sgt. Pepper's Lonely Hearts Club Band.
"I Am the Walrus," from Magical Mystery Tour, was banned because John sang "let your knickers down" and hailed a "pornographic priestess." "Come Together" was banned just because it mentions Coca-Cola. "Christ, you know it ain't easy," Lennon sang on "The Ballad of John and Yoko," and that got him banned as well.
While there are still fans who believe the final count before "I Saw Her Standing There," was Paul dropping an F-bomb, Lennon did it twice in one song without any ambiguity. "Working Class Hero," off Lennon's Plastic Ono Band album, includes the lines "'til you're so fucking crazy you can't follow their rules," and "but you're still fucking peasants as far as I can see." The song, recorded at EMI Studios on Sept. 27, 1970, is truly a solo outing. Lennon sings, while accompanying himself on acoustic guitar. It is as scathing as Bob Dylan's "Masters of War," but Lennon's enunciation is quite refined.
Most radio stations wouldn't play it. WGTB, a college radio station at Georgetown University did, and in 1973 US Representative Harley Orrin Staggers lodged a complaint with the FCC against the station. Looking at a year in prison and a $10,000 fine, station manager, Ken Sleeman, responded "The People of Washington D.C. are sophisticated enough to accept the occasional four-letter word in context, and not become sexually aroused, offended, or upset." The charges were dropped, but the song was still banned by most U.S. radio stations.
Jackson's victory in The Beatles: Get Back isn't merely personal, it is one for history. He is documenting a momentous moment in a sprawling way, and his dream director's cut would still be 18 hours. He is allowed to use footage Lindsay-Hogg was told to leave out of Let It Be. He is even including the moment George Harrison quit the band. The Beatles didn't mince words, except artistically.
"Anyone thinking this is going to be a whitewash think again," Jackson told The Guardian. "I didn't want to hold back or sanitize anything, but there was a very positive reaction from everyone, even if some of them said parts of it were stressful to watch."
The Beatles: Get Back documentary series hits Disney+ on Nov. 25, 26, and 27.