Reviews
The Beatles: Get Back Review – Peter Jackson Presents A Crystal Clear Story of Legendary Band
In spite of all the danger, Peter Jackson's The Beatles: Get Back puts a veritable microscope on Let It Be.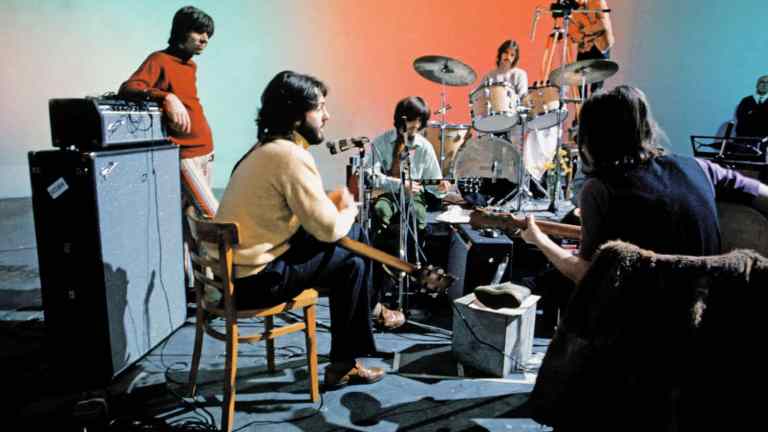 Peter Jackson doesn't care about his audience. He's having fun. He made a six-hour documentary about The Beatles, and he wishes it could be 18 hours. He's having such an obvious blast he doesn't have to worry if anyone else will think it's the least bit entertaining. 
That's exciting. It's infectious, and it means he has nothing to be concerned about. He's given us a wild ride and stepped out of the way. The Beatles: Get Back is a long and winding road, but it is told at a brisk pace which barely slows for ballads.
John Lennon, Paul McCartney, George Harrison, and Ringo Starr have to write and rehearse 14 songs to be played live in two weeks for a live album and TV performance. They come in with nothing. The first song Lennon is playing on Day 1, which is how the episodes' chapters are broken up, won't see a release until his Imagine album. To be clear, Get Back is not a long version of the infamous Let It Be film. With very few exceptions, Jackson avoids any of the footage of Michael Lindsay-Hogg's 1970 documentary associated with the band's breakup.
"Six hours, it can't be that long," we hear about a trip to Tripoli, one of the many venues open to a live recorded show of such magnitude. But Jackson has too many toys to play with. He cleaned up almost 60 hours of video to the point of invasiveness, but he has nearly 120 hours of previously unheard audio recordings. Jackson and his team's restoration of the original 16-millimeter 1969 film brings out every color, shade, and haze. Smoke swirls from cigarettes and badly grounded microphones in vivid detail. Jackson finds light in the darkness of Twickenham film studios.
He keeps it watchable by imposing a new storyline, reminiscent of the films the Beatles made while still mop tops. It could very easily be cut into a two-and-a-half-hour madcap race to a finish line. It certainly has the jokes for it.
The group has a Jan. 2 start date to be ready for a Jan 18th dress rehearsal, and are slated to do two live shows on the evenings of the 19th and 20th. Where they are doing it, no one knows. The project director, Lindsay-Hogg, is set on a show at a huge and ancient coliseum in Tripoli. Paul wants to trespass somewhere very public and play until the cops take them away. The Lindsay-Hogg envisions them being beaten while getting thrown out at an impromptu gig at the House of Parliament, and suggests a show in Manila, where the group barely made it out with their lives. He asks what is the biggest charity event they could play. George says charity begins at home, and they all decide to do the show at his place. But the roof is closer.
If only it were that easy.
The story was built into the existing footage, Jackson just digs it out differently, finding one of many storylines buried in the mix. The premise comes from real events filmed in cinema verité time. Jackson's vision has incredible subtleties of plot. At one point, film artists are trying to push the musicians to do their show on a boat. They include the price tag for the passengers. The filmmakers don't care, they actually say any amount of money is worth it. But George gets upset, because he knows the Beatles are ultimately footing the bill, and they still haven't gotten back the money they paid for the film stock for Magical Mystery Tour.
To be sure the audience knows Jackson intends to nod towards a story worthy of the Beatles' classic comedies, he drops an exchange from A Hard Day's Night to introduce the band to the setting. Lennon gets to ask "Who's that little old man," about a quiet Hare Krishna devotee friend of George, who Paul observes is "very clean, though." 
There are nuggets for musicians, like Harrison's discussion of improvisation. It builds not only on the character who is caught on camera, but the student of music stuck in a famous band. George details Eric Clapton's approach, how his patterns are formed, how the force of the musical lines are sustained. He discusses practicing fast fingering, and how a guitar solo has a journey. This is what we want to hear, all of this. These revelations are as important as the cleaned-up film stock.
By including this, Jackson not only appeases the music geek, but expands on the motivations of why George will step away from the project, and what it will take to bring him back. Jackson lets this add flavor to the underlying plot of a race against time, without calling overt attention to itself. Along the way, we see why Paul's girlfriend and future Linda McCartney stands as a master rock photographer, and hear very good mixes of unreleased songs.
Jackson shines by interspersing the Beatles running through Chuck Berry's "Rock and Roll Music," overlaid on their performance at Shea Stadium. It gives the feeling of the band rallying for a concert. But we also hear snippets of the band running through Chuck Berry's "Johnny B. Goode," and Bob Dylan's "Mighty Quinn" and "I Shall Be Released," as they get used to the sound in the room.
The documentary, of course, includes musical teasers for bootleg lovers as well as future releases in their infancy. McCartney introduces "Another Day," "The Long and Winding Road" is composed and structured, and we hear "Golden Slumbers" just waking up. We learn that the song "Carry that Weight" was originally written for Ringo, already has the recognizable chorus, but also includes verses about "normal kinds of troubles everyone has," as Paul puts it, which are later cut. Ringo plays a song he wrote called "Taking a Trip to Carolina," accompanying himself on piano, and self-deprecatingly mocking himself throughout. The clearer images bolser the intimacy, and the easy humor.
One of the most brilliant, stylistically and conceptually, sequences of the limited series is when Lennon and Apple Films executive Denis O'Dell are talking about artwork while Paul writes "Let It Be." Jackson lets this story play out subversively. The camera is never on Paul as a subject. We see him in the background, occasionally looking around to see if anyone is responding to what's happening musically. We can actually see him composing it, checking which chord progressions sound better than the last. It is so well done and never calls little enough attention to itself as to be considered sublime.
But Jackson never plays a full song until he gets to the title tune. "Get Back" starts out while Paul is trying to kickstart himself into a new idea. Over the course of the first episode, we will see the song transform into a protest against white nationalism. Jackson intersperses newspaper clippings for context to denote how important this was while it was happening. But he also transmits this particular song as special. He details why by showing it refined in the tiniest of ways. He has an ear for detail, and an eye for shortcuts. We hear how important something so simple as an occasionally enhanced backbeat can be in a performance.
Each song has a story, like each character, and "Get Back" is the lead. It is the first song the world hears from the session, and the first played from beginning to end in the documentary. Jackson presents great footage of revealing moments, but never unpackages the whole thing until it's ready. Just like the Beatles. Jackson reinforces this when he shows the Beatles deciding to follow their early tradition by rushing it out as a single. It is also a declaration of the upcoming show, wherever that will be.
And then there's the rooftop show. We've only seen excerpts of The Beatles' final public performance on Jan. 30, 1969. The Beatles: Get Back turns that cold winter's day into a warm, relaxed, and very witty lunchtime performance.
The film, as a whole, is an honest exploration of the recording sessions, and Jackson doesn't shy away from mixing his metaphors to make a comment. He includes a scene where Paul asks why John hasn't written anything for the sessions yet. Lennon says he will come through in the end, and we see Paul getting more upset. Meanwhile Ringo is playing with the echo on the PA system, and the two have to speak their most intimate thoughts louder and louder. Jackson almost presents it as a play within a play. It is very reminiscent of a story from Ray Davies' X-Ray: The Unauthorized Autobiography, where he recounts hearing the Beatles having heated arguments on stage in front of tens of thousands of fans who couldn't hear them. Jackson captures that microverse where the band are alone in a crowd, while still isolated.
Above all, The Beatles: Get Back is equally fun and poignant. It doesn't shy away from uncomfortable vantage points, and offers nuanced interpretations of both the band and the music they are making. It doesn't retell history, it just cleans it up, but only so we can see it more clearly. Each episode is magnificent, and the overall picture is pristine. Peter Jackson is right, though. These episodes run slightly longer than two hours each, and if he does a director's cut, Beatlemaniacs will still want more.
The Beatles: Get Back documentary series is now streaming on Disney+.