Features
All Things Must Pass Remix Brings Out George Harrison's Voice
The "quiet Beatle" found his voice on All Things Must Pass, and it made history.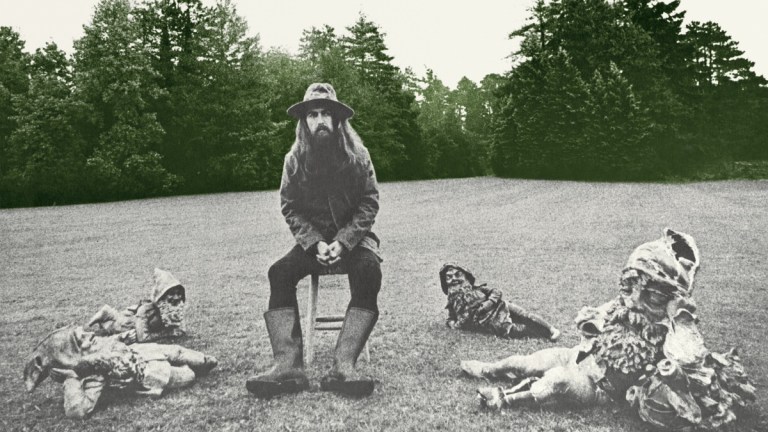 The new remaster and full remix of George Harrison's All Things Must Pass highlights why it was such an important record. Not just as an album, but of the time it was made. Besides the lead guitarist for the biggest act in showbiz history, it boasted players and a producer who each made an impact on the course of modern music. It's been celebrating its 50th anniversary for a while now and it's earned it. It was the first triple album by a single artist in rock history (the Woodstock concert album, released six months earlier, included a compilation of acts), and set the standard for longer long-playing albums.
Harrison set quite a few standards, including the first rock benefit project, The Concert for Bangladesh. As the Beatles guitarist, he demonstrated melodic and harmonic possibilities which hadn't been explored in rock and roll, often changing the entire feel of songs with a single riff. As their in-house tonal experimentalist, his sitar-led songs didn't just use the eastern stringed instrument as an exotic guitar. They captured the structure, atmosphere, tonality and shifting rhythms of Eastern music. The opening of "Love You To" can barely be classified as western commercial music, but had a universal appeal. As the band's somewhat lesser-known songwriter, Harrison composed musical standards which eclipsed even the mighty songwriting team of John Lennon and Paul McCartney.
The consistent hitmakers made for a competitive compositional atmosphere in the band. "I had such a lot of songs mounting up that I really wanted to do, but I only got my quota of one or two tunes per album," Harrison admitted on The Dick Cavett Show in 1971. Even after a new arrangement was worked out for the group's output, Harrison had quite a backlog of songs when the Beatles broke up. At least two of the best known songs from All Things Must Pass were written in 1966.
While still in the Beatles, Harrison released Wonderwall Music, which was a soundtrack to a film, and Electronic Sound, which saw him as one of the early experimenters on the synthesizer. According to the press statement for the remaster, George, along with Ringo Starr and bassist Klaus Voorman recorded fifteen songs at EMI Studios on the first day, May 26, 1970. The demo included "What Is Life," "Awaiting on You All," and "My Sweet Lord." The next day Harrison played 15 more songs for co-producer Phil Spector, who covertly recorded them. The songs "Everybody, Nobody," "Window, Window," "Beautiful Girl," "Tell Me What Has Happened to You," "Nowhere To Go," and "Don't Want To Do It" never made the album. The whole session did come out on the bootleg Beware of ABKCO set.
The 50th Anniversary re-issue of All Things Must Pass includes versions of "Mother Divine," and "Cosmic Empire," which have never been officially released. The official music video reveals "Cosmic Empire" as a melodically catchy piece, with an instantly recognizable acoustic guitar run, and a change into a deep blues false ending.
You can see the video here:
The Wall of Sound
Remixed from scratch, the deluxe 50th Anniversary Edition is executive produced by Harrison's son Dhani, and his first order of business was to pull back on Spector's reverb-heavy production. Spector was the man Lennon brought in to produce the song he'd written for breakfast, wanted to record for lunch and have out for supper: The Plastic Ono Band single "Instant Karma!," which Harrison played on. Spector also produced the final mix of the Beatles' Let It Be, as well as Lennon's Plastic Ono Band and Imagine albums.
Spector was a legend in the studio. He created the "Wall of Sound" with the top session players of the early 1960s, and Harrison tasked him with doing it again with the current cream of the musical crop. This included two of out of three members of the band Cream. Ginger Baker drums on a jam, and Eric Clapton's guitar gently weeps all over All Things Must Pass. Crying on the inside over his unrequited love for George's wife Pattie Boyd Harrison, Eric was getting ready to wail about her on Layla and Other Assorted Love Songs. Harrison co-wrote "Badge" with Clapton for Cream's Goodbye album, and played on Derek and The Dominos' debut single, "Tell The Truth" backed with "Roll It Over." Spector recorded it. It went so well, much of the band stuck around to be bricks in the contemporary Wall of Sound.
"Phil was in full control of this whole bunch of musicians playing," Voorman remembers in Simon Leng's book, While My Guitar Gently Weeps. "We played all at the same time – we didn't record one on top of the other; it was all six people playing acoustic guitars and five keyboard players playing the piano all at once. It was crazy!"
The Players
To fill seats in the rock orchestra, Harrison dipped into the players he'd been on stage with since the waning days of the pre-breakup Beatles. Harrison, credited as "Mysterioso," toured with Delaney & Bonnie and Friends. He was a backing guitarist beside Clapton, in a band which included Dave Mason, Bobby Whitlock, Carl Radle, Jim Gordon, and Leon Russell, who would prove invaluable for The Concert for Bangladesh.
Also called in for sessions were Procol Harum's Gary Brooker, Badfinger's Pete Ham, Tom Evans and Joey Molland; Spooky Tooth's Gary Wright, sax player Bobby Keys; and trumpeter Jim Price. Besides Starr and Gordon, drums and percussions were played by Alan White, who was then the drummer for the Plastic Ono Band and would go on to drum for Yes, and Phil Collins. Peter Frampton played guitar on much of the album. Nashville player Pete Drake played pedal steel. Drake pioneered the use of the talkbox, and Frampton caught it first-hand during sessions before using it as the hook for his hit "Show Me the Way." John Barham, a pianist and arranger who had worked with Harrison's sitar guru Ravi Shankar, wrote orchestral scores.
Keyboardist and longtime Beatle associate Billy Preston is a major influence on the album. All Things Must Pass is a spiritual celebration. Harrison set up a small altar in the studio, and devotees of the Hare Krishna movement brought the players vegetarian food. Harrison was as much a spiritual student as a musical one of sitar maestro Ravi Shankar. The same could be said of Preston.
The Songs
Harrison made a special study of the structure and composition of gospel music for his work with soul singer Doris Troy, who he produced and co-wrote songs with. He delved further to co-produce Preston's fourth studio album That's The Way God Planned It, and wrote "What Is Life" for it. George also co-produced Preston's fifth album Encouraging Words, which came out two months before All Things Must Pass, and included versions of the title track and "My Sweet Lord."
You can hear several versions of the Beatles running through "All Things Must Pass" on bootlegs. Though not as many passes as the famously unreleased "Not Guilty" got. It might have been too pointed a self-reference for the group to deal with. The title comes from a passage of chapter 23 of the Tao Te Ching: "All things pass, a sunrise does not last all morning. All things pass, a cloudburst does not last all day." It is more philosophical than spiritual, but is as uplifting as its chordal ascension. "Beware of Darkness" is lyrically devotional and cautionary, but its structure is a mystery of faith. It's all over the place harmonically, as the key aimlessly wanders into melodic transcendence.
"Awaiting On You All" is one of the most blatant spiritual proclamations of the album. It describes Japa Yoga meditation, the repetitive chanting of a mantra, which is mystical energy itself, inside sound. "Chanting the names of the Lord and you'll be free," explains the lyrics. Though Harrison does get in a dig at the Catholic Church. "While the Pope owns fifty one percent of General Motors, and the stock exchange is the only thing he's qualified to quote us," the last verse opens. Harrison's deep understanding of the spiritual music he was producing was most fully realized on the album's most recognizable song.
"I thought a lot about whether to do 'My Sweet Lord' or not, because I would be committing myself publicly and I anticipated that a lot of people might get weird about it," Harrison wrote in I Me Mine. Towards the end of the Delaney & Bonnie tour in December 1969, Harrison heard and fell in love with Edwin Hawkins' piano-driven, modern gospel rendition of the 18th century hymn "Oh Happy Day." Inspired by the joyful energy, Harrison wanted to merge the buoyantly devotional "Hallelujah" invocations with the "Hare Krishna" Maha Mantra of the Hindu faith. The subconscious mix evoked some not-so-instant karma when Harrison was sued for "unconscious plagiarism" by the royalty owners of The Chiffon's "He's So Fine," which could be interpreted as a devotional invocation.
"My Sweet Lord" is also the song which best establishes and exemplifies Harrison's signature, post-Beatles, slide guitar playing.
The album's opener, "I'd Have You Anytime," was co-written with Bob Dylan when Harrison spent the Thanksgiving 1968 weekend at Dylan's home in Woodstock. They also co-wrote the song "When Everybody Comes to Town." Harrison played on Dylan's April 1970 New York City sessions for the album New Morning, performing uncredited on several songs, including "If Not for You," the second of All things Must Pass' vagabond troubadour trilogy. Dylan had spent a lot of time off the road after his motorcycle crash of 1966. Harrison encouraged the reclusive artist to make his comeback performance at the Isle of Wight festival in 1969. "Behind That Locked Door," which comes later on the album, is part of that encouragement.
The Beatles passed on including "Isn't It a Pity" on Revolver, so George gifts us with two fully realized versions of it for All Things Must Pass. "Wah-Wah" was the first song recorded for the album, which is fitting because it was written on the day Harrison walked out of the "Get Back" sessions. It's a great, angry song, in the tradition of "Taxman," though not as pointed as Lennon's "Sexy Sadie," or "How Do You Sleep," which Harrison played on. "Let It Down" has some great vocal backing by Clapton and Whitlock.
Hearing Clapton's opening guitar screams squeezed through his wah-wah on "Art of Dying" makes you wonder how the Beatles rejected it in 1966. Although the lyrics George brought to the band at the time might have sealed its fate: "There'll come a time when all of us must leave here, then nothing Mr. Epstein can do will keep me here with you," Harrison admitted singing at his bandmates in I Me Mine. "Art of Dying" is the hardest Harrison rocks on the album and Spector lets the band explode. Coming after the intimately amorous "I Dig Love," it is suspense reincarnate. Listen for Phil Collins' bongos on the remix.
Harrison brought "Hear Me Lord" to the Beatles when they were recording at Twickenham Film Studios in January 1969. It is as confessional as anything Lennon cops to on his debut album Plastic Ono Band, but primal in an entirely different way. "Apple Scruffs" is Harrison's personal gift to the group of fans which used to camp outside the Apple Corps offices for a glimpse of the four when they was fab. Performed live by a solo George with Beatles roadie Mal Evans tapping along, it is acoustic fun with a wild and wayward harmonica.
The Jams
But not as much fun as the band had after Spector went to bed for the night. Harrison initially thought it would take just two months to record the album, but had to take a break in the middle to care for his mother, Louise, who was ill with cancer in Liverpool. Louise bought George his first guitar and encouraged all things musical, including allowing the early Beatles to rehearse at their house. She passed away in July 1970.
Bored with the lag time, Spector was drinking heavily, bracing himself with Cherry Brandy just to sit in the booth, and ultimately breaking his arm in a fall. He left the sessions in July 1970, and Harrison produced overdubs at London's Trident Studios and Apple Studios. But most of the album's backing tracks were recorded onto eight-track tape at Abbey Road, with the musicians normally playing live.
When Spector left the studios, Harrison and the other musicians would jam into the early hours. "Thanks For the Pepperoni," pulls the toppings off Chuck Berry riffs. It was recorded along with "Plug Me In" on July 1, 1970, with Harrison, Clapton and Dave Mason on guitars, Radle on bass, Whitlock on keyboards, and Jim Gordon on drums. "Out Of the Blue" must get its title from how it comes in. It sounds like the band was in the middle of a fun run, and someone rushed to turn on the tape. But listen for Voorman's lead guitar part.
"I Remember Jeep" is named for Clapton's dog, and Preston and Baker bring out the jazz while Harrison's Moog playing breaks traditions. "It's Johnny's Birthday" is a mockup of Cliff Richard's song "Congratulations," which the band warbled to Lennon for his 30th birthday. These afterhours jams were the kinds of musical driftwood routinely collected by bootleggers before box sets made them standard extras.
Demos and extra tracks, like "Mother Divine" or "Nowhere to Go," underscore the greatest flaw of the original album: George's vocals. Even gruff, weak and not-yet-familiar with the songs, Harrison's voice is a beautifully emotive instrument. During their solo careers, he and Lennon drenched their voices with effects. Even Spector complained in production notes how Harrison's voice is buried on too many songs. The new mix brings the voices forward. It doesn't completely take away the reverb, because some of it is artistically correct, like the slap back echoes which evoke a specific sound. It is very well used on "Going Down to Golder's Green," an outtake which finds Harrison channeling his inner Elvis. One of the deluxe editions of the All Things Must Pass reissue includes a 96-page scrapbook evoking the time.
The album cover shows Harrison at home in Friar Park. Photographed by Barry Feinstein, George is surrounded by four garden gnomes, which could be taken as an in-joke on his days with the Beatles. All Things Must Pass was released Nov. 27, 1970, as a triple vinyl album. To accommodate the extra disc, Tom Wilkes of Camouflage Productions designed a box with a hinged lid, similar to the packaging of classical music and operas. It is presciently fitting, as the record is a modern masterwork of a timeless artist.
All Things Must Pass 50th Anniversary Edition will be available on Aug. 6.