Reviews
McCartney 3,2,1 Review: Hulu Doc Examines a Beatle
Rick Rubin separates the tracks to reveal the backing in an intimate conversation with Paul McCartney in McCartney, 3,2,1.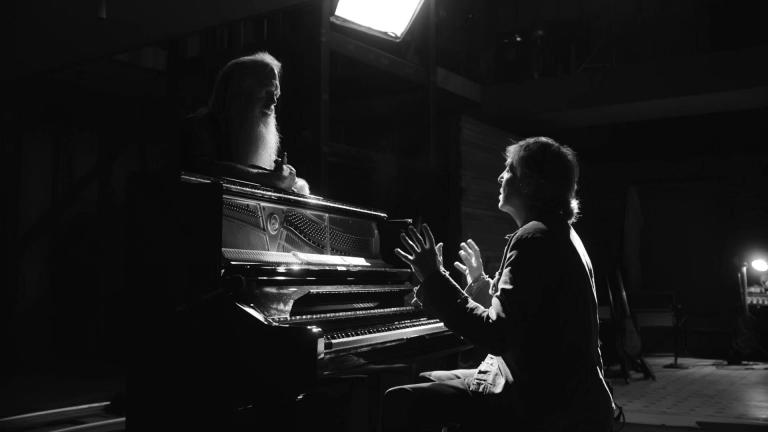 Hulu's Original Docuseries McCartney 3,2,1 is a laid-back sit down with Paul McCartney, the man who believed in yesterday, reminiscing about all those years ago. Long-time Beatles fans will have heard most of the stories before, though there are a few new tidbits which have been buried in the mix. The casual conversation provides a wealth of tonality when McCartney talks about the sounds behind the music.
For the chat, McCartney sits down with Rick Rubin in the most familiar of settings: a recording studio, with easy access to the songs being discussed. The six-episode series explores McCartney's work with The Beatles, Wings, and solo releases. Directed by Zachary Heinzerling, the interview is relaxed, although Paul is often very animated. He fiddles with console buttons, pops up for quick runs at a piano or guitar, and air drums throughout. The black and white filming makes the conversation feel intimate and timeless. It also calls attention to the splashes of color which come in archival footage and photographs. Some are so rare, they might be exclusive.
Besides footage of the Beatles and McCartney, we see clips of the artists who influenced the band, or who were with them at the start, like Little Richard or Roy Orbison. Most of this footage is used in service to a musical point. One clip, for example, compares two-part harmonies performed by McCartney and John Lennon with a performance by Phil and Don Everly.
The first episode, "These Things Bring You Together," focuses on the early days. While we don't get deep information on Paul's early relationship with his songwriting partner, we get something from omission. Paul talks about his loving home, and how different his childhood was from Lennon's. He points out that John lost his mother at 17. Paul lost his mother at 14, and most books on the Beatles emphasize this bond between the two.
Paul adds some depth to what we know about his pre-Beatle bond with George Harrison. The public knows they met on the bus to school, and connected over music when they were kids. But we didn't know they cooked pudding on the side of the road. Paul also pulls out one of his pre-Beatles songs, "Thinking of Linking."
One unexpected revelation comes with the song "Michelle," which Peter Brown's book The Love You Make categorized as McCartney's attempt to class up his act for his then-girlfriend Jane Asher. Paul brings the song back to the parties he attended with Lennon while he was still at art school. Paul says he would put on a turtleneck and pretend to be a French coffee house singer. Sometimes it worked as far as connecting with the older, more sophisticated women, he says, humbly. It apparently made an impression on Lennon, who Paul remembers telling him to finish years later.
In "The Notes That Like Each Other," McCartney admits that what made his musical styling unique was a combination of his influences from Bach, Fela Kuti or the tunes his father played at the piano, and lucky accidents. He also talks about keeping it all rock and roll. A studio musician would be too sensible to do the bass line on "While My Guitar Gently Weeps." Most of his innovations come through the energy of quick takes.
McCartney lays out structural lessons. He explains how to use a pick to bring out more treble in the bass. He points out how three fingers, evenly spaced, make a chord no matter where you put them on the piano, and why the possibilities are endless. He demonstrates his first song, an instrumental which begins with musical counterpoint, which was written before he knew what counterpoint meant.
"The People We Loved Were Loving Us!" highlights McCartney's influences but also talks about why the Beatles needed to take the trip to India. The band met most of the artists they were listening to as they were coming up through the different levels of entertainment. But Paul also noticed his contemporaries. He's told the story about seeing Jimi Hendrix ask Eric Clapton to tune his guitar before, but it's a different whistling of the melody.
It is a special treat to hear Paul talk about the Kinks, who were a supporting act during some of the Beatles performances in 1965. Ray Davies spoke about enjoying his very privileged view of the band in his book X-Ray: The Unauthorized Autobiography. So, hearing that the Beatles stood on the side of the stage to take in their opening act is especially satisfying.
"Like Professors in A Laboratory" lets McCartney explain some of the experimentation which went into the output. The Beatles were allowed to break boundaries because they had success. If there was a way to get more treble on Harrison's lead on "Nowhere Man," they had the clout to ask the engineers to bounce a track for it. Paul also gets into what made him and Ringo Starr special as a rhythm section.
As always, Paul gives credit to the Beatles' longtime producer George Martin, including one piano part which has gone heretofore uncredited. Martin did more than help the band translate their sounds, he often played on tracks, and as an in-house arranger, was invaluable. Paul has spoken about the intercontinental rivalry which saw the Beach Boys' Pet Sounds spurring him on to undertake Sgt. Pepper's Lonely Hearts Club Band. But, until now, he hasn't slipped in the bit about getting the title from mishearing someone ask him to "pass the salt and pepper."
"Couldn't You Play It Straighter?" gets to the bottom of the beat. McCartney admits he has been accused of overplaying, and has no regrets. The bass can lead a band, as he shows in the isolated tracks of "Come Together" and "Something," or it can function as squarely as a tuba. Paul then demonstrates how he gets that effect on "Maxwell's Silver Hammer," through strict staccato playing. He also discusses how Mal Evans had a heavy hand when playing the anvil.
One of the most musically meaningful revelations is how McCartney's playing was freed by listening to James Jameson, who played bass for Marvin Gaye, among others. Another interesting note is how McCartney intentionally juxtaposed older, more traditional melodies with the new sounds afforded by technology. He admits it was fortuitous to have Robert Moog on hand in EMI studios with one of the first synthesizers.
There were no portable phones, and most recording devices which were available during the Beatles' most creative period were bulky devices. This forced the songwriters to write memorable songs. This is the basis for "The Long And Winding Road," where McCartney focuses on the craft of songwriting and how he worked with Lennon. The duo's earliest bond was creative communication. They spoke chords, not sports. He also discusses the importance of developing a separate musical vocabulary as a solo artist, and how he wouldn't even Beatles songs onstage for years. The most important skill, he says, is knowing when to stop.
Every time a new interview special with a former Beatle is hyped, it makes me think of the David Letterman joke about a special edition of Anthology coming out because Ringo remembered a new anecdote. It is fun to hear McCartney retell the "Lucy in the Sky with Diamonds" story again, as if he's telling it for the first time. It's been told so many times, even Julian no longer buys it, and he's the one who drew the picture.
Paul has never been a forthcoming public figure, historically. He has always been less communicative about his personal life than the other Beatles. It's not that he's being cagey, though he certainly can be when he wants. His song "Got to Get You into my Life" is his love song to marijuana, and who knows what he was carrying in "I'm Carrying." But he is more practiced at the art of self-presentation. When John Lennon gave his Playboy interviews, the transcripts even caught Yoko asking if he might be sharing a little too much.
McCartney never had that problem. All the Beatles knew how to hide even the most controversial of themes behind humor. In a vintage press conference clip, when the media asked about prostitutes in "Day Tripper" and lesbians in "Norwegian Wood," McCartney said he just liked writing songs about prostitutes and lesbians. He learned an invaluable lesson when he copped to taking LSD in front of a TV camera, even telling them not to air it. Paul sticks to too many known talking points.
The intimacy of McCartney 3,2,1 is deceptive, however. Each episode runs about 30 minutes, and the stories are shallow by necessity. Peter Jackson's upcoming cinematic remastering The Beatles: Get Back will provide a much deeper dive into the mechanics and backgrounds of the band's process. McCartney 3,2,1 feels like a countdown to something bigger.
McCartney 3,2,1 debuts July 16 on Hulu.