Features
The Beatles: The Strange History of Sexy Sadie
John Lennon could turn a bad mood into great song. He worked out some instant karma for a giggling guru for The Beatles' White Album.
"Well, if you're so cosmic you'll know why," John Lennon explained to Maharishi Mahesh Yogi as the final two Beatles left his Ashram before fulfilling their Transcendental Meditation regimen. "And he gave me a look like 'I'll kill you, you bastard,'" Lennon told Jann Wenner of Rolling Stone in December 1970, which was later published as the book Lennon Remembers. Inner peace is as much a bitch as karma, which bites the asses of rock stars and gurus alike. Maharishi was accused of sexual misconduct during the Beatles' sojourn to India for enlightenment, a journey which may have culminated in the band teaming with the Beach Boys in spreading the movement. But it darkened Lennon's vibes so bad he banged out the holy rocking roller "Sexy Sadie."
Of course, Lennon's original version called the enlightened one a "cunt" and a "twat," and asked "who the fuck do you think you are?" until George Harrison, who was the real reason the pair were making a hasty exit due to production commitments for a Ravi Shankar film, suggested a better rhyme scheme. And a much hotter title. "Sexy Sadie" from The Beatles ("White") album preceded "How Do You Sleep?" as one of Lennon's signature tunes of personality bashing, and gave murderess Susan Atkins her signature alias.
read more: John Lennon's 'How Do You Sleep?' Footage Reveals Unrest
Lennon has a reputation of taking his personal frustrations out in rhyme and chord scheme to produce classic sides of sarcastic acoustics with melodies that get caught in your head. He could turn a bad mood into a great song. He woke up angry at Paul McCartney one morning and had George Harrison doing slide leads by the afternoon to produce "How Do You Sleep?" for his otherwise peaceable Imagine album. He flipped the bird at rich groupies after a bad one-night stand in "Norwegian Wood" from The Beatles' Rubber Soul. He slapped Peter Fonda for ruining a good trip in "She Said, She Said" from Revolver. After about nine revelations, Lennon wanted to wipe the grin off the face of the giggling guru.
Harrison and McCartney have gone on to publicly apologize to Maharishi. Pattie Boyd, then-wife to Harrison and perennial rock muse, intimated Lennon wanted to leave the ashram to be with Yoko Ono. "Everybody's Got Something to Hide, Except for Me and My Monkey," Lennon sang. Come on. Peace is such a joy.
The Latest and Greatest of the All
The Beatles brought Indian spirituality to everyday awareness. Harrison was already heavily influenced by Hindu thought, opened by his reverence for the sitar maestro Ravi Shankar. For the iconic cover of the Sgt. Pepper's Lonely Hearts Club Band album, Harrison suggested the band include images of Paramahansa Yogananda, the author of the 1946 book Autobiography of a Yogi who introduced westerners to Kriya Yoga through his Yogoda Satsanga Society of India and Self-Realization Fellowship; Shyama Charan Lahiri, known as Yogiraj and Kashi Baba; Swami Sri Yukteswar Giri, a Kriya yogi, Vedic astrologer and Bhagavad Gita and Upanishads scholar, considered to be the "Incarnation of Wisdom." The Beatles also included Mahātmā Mohandas Karamchand Gandhi, the civilly disobedient leader of the Indian independence movement, known as the Father of India.
Maharishi Mahesh Yogi was born Mahesh Prasad Varma on January 12, 1918, in the Panduka area of Raipur, India. He studied physics at Allahabad University, and became a disciple of Swami Brahmananda Saraswati, or Guru Deva, in 1941, which he remained until Saraswati's death in 1953. In 1955, Maharishi began to teach a meditation technique called Deep Meditation, which later became Transcendental Meditation. He began the Spiritual Regeneration Movement in 1957 in Madras, India. Maharishi Mahesh Yogi became known in the United States in 1959. Funded by a $100,000 donation from American heiress Doris Duke, Maharishi's ashram was built in 1963, covering 14 acres of forest.
Pattie Harrison heard Maharishi was giving a series of talks at the London Hilton on August 24, 1967, and George got them front row seats. They brought along Lennon, McCartney, and Jane Asher because "we always seemed to do everything together," Harrison said in The Beatles Anthology. Starr's wife Maureen had given birth to their son Jason on August 19, 1967, and didn't know they were continuing on to Wales until after the trip was booked.
On August 25, The Beatles, along with the Rolling Stones' Mick Jagger, and Marianne Faithfull left London's Euston Station for Bangor, north Wales for a Transcendental Meditation seminar. Lennon's wife Cynthia was held back by a security guard who thought she was a fan after she couldn't keep up with the frantic Beatle-cartoon pace the band learned through years of touring. The Beatles spent two nights in Bangor, sleeping in bunks in college dormitory rooms with the other students.  The band figured maybe the Maharishi could give them what LSD couldn't, and what banana skins no longer provided for Donovan, and held a press conference saying so.
Tragedy struck when their manager, Brian Epstein died of an overdose of the barbiturate Carbitral, mixed with alcohol, in the locked bedroom of his London home on August 27, 1967. Epstein had purchased the Saville Theatre in London and was promoting a series of Sunday concerts. On the day he died he was promoting two shows by Jimi Hendrix. Epstein was supposed to follow the Beatles to Bangor after the August Bank Holiday and learn TM from Maharishi there. The band was told of Epstein's death by Peter Brown. They credited meditation for helping them withstand their grief. They cut their visit short, and planned to go on a full retreat after they could clear their schedules.
The Road to Rishikesh
The Beatles traveled to Rishikesh, India, in February 1968 to take part in a meditation course at Maharishi Mahesh Yogi's retreat. George and Pattie Harrison, her sister Jenny, and John and Cynthia Lennon, and Mal Evans, the Beatles' longtime roadie and personal assistant, arrived on February 16. Paul McCartney, Jane Asher,  Ringo Starr and his wife Maureen came on the 19th. Rishikesh is situated where the Ganges river flows out of the Himalayas into the plains between the mountains and Delhi. Ringo brought "fifteen Sherpas carrying Heinz baked beans" because of his allergies, Harrison remembered in Anthology.
Donovan, The Beach Boys' Mike Love, along with jazz flute player Paul Horn, sometimes known as founding father of New Age music, also came. Maharishi had taught Mike Love meditation in Paris after The Beach Boys played a UNICEF benefit. They were also joined by socialite Nancy Cooke de Herrera; Tim Simcox, an actor who appeared on Bonanza and Gunsmoke; Saturday Evening Post journalist Lewis Lapham and photographer Paul Saltzman. Actress Mia Farrow and her sister Prudence and brother John were already at the ashram. Lennon's former guru, the former TV repairman Alexis "Magic Alex" Mardas arrived weeks later. The Beatles had just gotten back from a trip to Greece where they were looking for an island they could all live together and build a recording studio.
Apple Films head Denis O'Dell stopped by the ashram to pitch The Lord of the Rings as the next Beatles movie project. He wanted John to play Gollum, Paul to play Frodo, George as Gandalf, and Ringo as Sam. O'Dell asked Lennon to read The Fellowship of the Ring, McCartney to read The Two Towers, and Harrison to read The Return of the King. Possible directors included Stanley Kubrick, Michelangelo Antonioni, and David Lean.
read more: Beatles vs. Stones and Two Unmade Stanley Kubrick Movies
Peter Brown's 1983 book The Love You Make claims the Beatles left India because Maharishi hit on Mia Farrow, which McCartney and Harrison have since denied, and common wisdom says is a story concocted by Magic Alex. Dr. Susan Shumsky, who has been teaching meditation for 50 years, served on Maharishi's personal staff for six years. According to her memoir Maharishi & Me: Seeking Enlightenment with the Beatles' Guru, this is merely legend.
Before The Beatles went to India, they were concerned about two things. The first was the Maharishi using them to promote himself. The other was what seemed to be his focus on money, unexpected by them in a spiritual teacher or holy man. Peter Brown's book The Love You Make asserts the Maharishi started using the Beatles without their permission. He even dropped an album as "Maharishi Mahesh Yogi, the Beatles' Spiritual Teacher." The Maharishi told the American Broadcasting Corporation the Beatles would appear in an upcoming ABC television special he was doing. Peter Brown told the lawyers at ABC the Beatles hadn't agreed but the Maharishi was insistent.
"In fact Peter Brown flew to Stockholm with Paul and George for the express purpose, only for the one purpose of telling him to stop talking to the TV stations, and stop promising that they would do a special for ABC," Shumsky, who was mentored by Maharishi Mahesh Yogi for 22 years, tells Den of Geek. "They were angry." The Beatles were also surprised to find Maharishi expected them to put between ten and twenty-five percent of their annual income in a Swiss bank account in his name. The fool on the hill saw more than the eyes in his head and the sun coming down, he haggled over an extra two and a half percentage points on a film the Beatles wanted no part of after their idyllic and private hideaway was encroached on by the Four Star Productions film crew.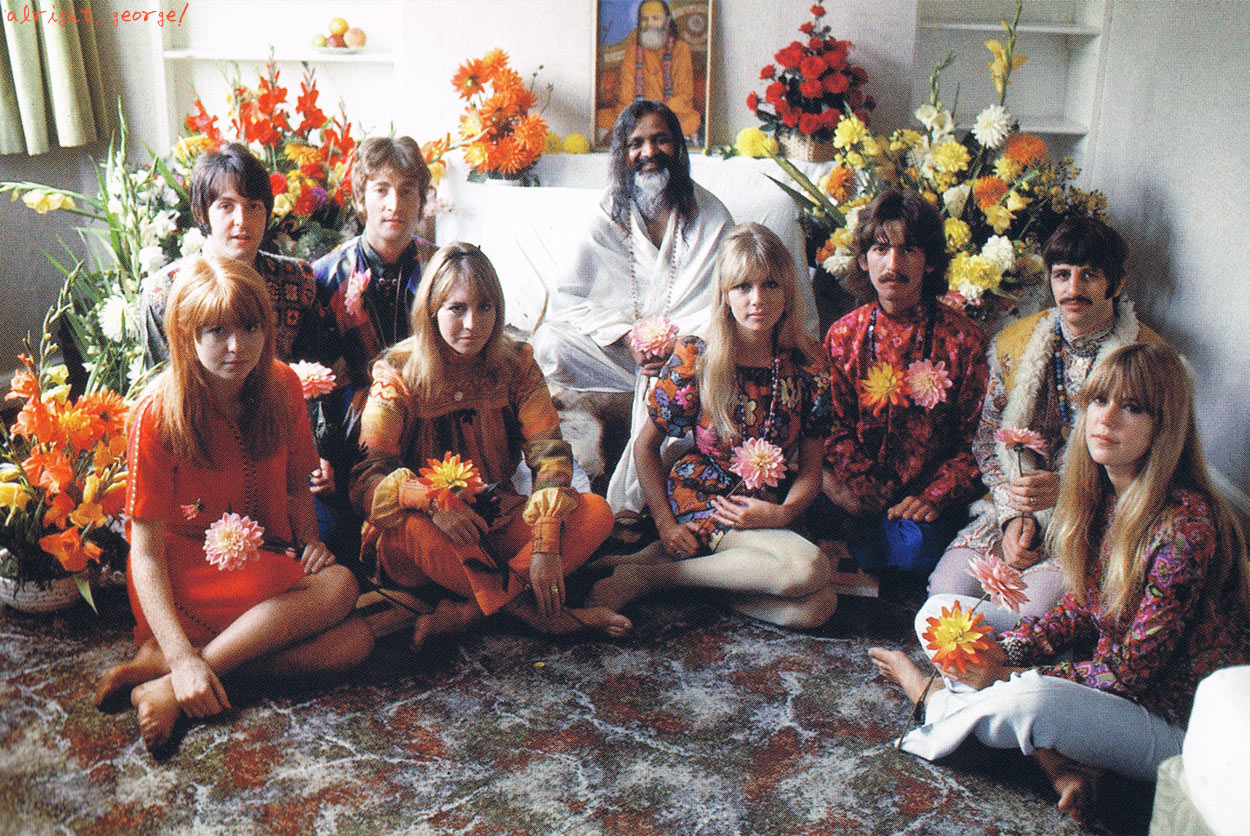 The World Was Waiting for a Lover
The book Maharishi & Me: Seeking Enlightenment with the Beatles' Guru cites witnesses saying Farrow told them he made a pass at her, and stroked her hair. She even came up with a memorable line, "Listen, I know a pass from a puja." By the time Lennon remembered it for Lennon Remembers, the hullabaloo turned into a game of telephone with stories of Maharishi "trying to rape Mia Farrow or trying to get off with Mia Farrow and a few other women, things like that." Magic Alex was the operator. The Beatles were happy writing songs in spiritual solitude. "Then everything went horribly wrong," Pattie Boyd wrote in her memoirs Wonderful Tonight: George Harrison, Eric Clapton, and Me. "Mia Farrow told John she thought Maharishi had been behaving inappropriately. I think he made a pass at her."
Shumsky confirms the incident with the Rosemary's Baby star but says it was not the primary cause. "It was on her birthday, February 9, 1968," Shumsky tells Den of Geek. "The Maharishi would always do Puja for people that were close to him." The Puja is a ceremonial invocation of the spiritual lineage, in this case to Guru Dev, Maharishi's guru Brahmananda Saraswati. "After the Puja, he stroked her hair. That's what she reported." In Farrow's autobiography What Falls Away, she writes the Maharishi also put his "hairy arms" around her.
"That same night, she reported it to a group of people who were at a party," Shumsky says. Farrow told "my friend Ned Wynn, who was the son of Keenan Wynn and grandson of Ed Wynn, famous actors from the 20th century, personally that Maharishi definitely tried to get her to lie down with him. … Later on, she said in her autobiography that because of her state of mind at the time, even if Jesus Christ tried to hug her, she would have misinterpreted it."
read more: The Beatles' Help Movie is More Influential Than You Think
Like so many Beatles songs, there is a lot to interpret in the motives and mysteries we find across the universe. Deepak Chopra wrote in the Times of India in 2006 that Harrison claimed Maharishi asked them to leave because the musicians were still doing drugs at the ashram.
"He asked them to leave because some people in their party were taking drugs and alcohol," Shumsky claims. "I believe that because it has been verified by Mike Dolan as well. Dolan was living in the room right next to Rosalyn [Bonas], and every night he would listen to Magic Alex and Rosalyn having sex, and apparently Magic Alex smuggled alcohol into the ashram. I don't know about hashish. The only hashish stories I know about is the one about Donovan and the one about John Lennon."
Rhaghvendra, a brahmacharya or personal assistant to the Maharishi, told Dolan the guru was "'going to ask Rosalyn to leave,'" Shumsky says. "I believe that it wasn't John and George that were being asked to leave. I believe it was Rosalyn and Alex, and once they found out they all got in a big huff over it, because Maharishi had made a pass at Rosalyn, and they decided to leave. That everybody should just leave. That's what I think happened."
read more: The Beatles: In Defense of Revolution 9
Regardless of who was smoking the hashish, Alex began working his magic. "What we do know is that Rosalyn and Magic Alex told the people at the ashram, spread the news, that Maharishi had made a pass at her," Shumsky says. "I believe it's true is because I know eight women personally who Maharishi made a pass at, and either had sex with or were bidden to have sex with."
According to Lennon Remembers, John and his fellow meditators "stayed up all night discussing, was it true or not true. And when George started thinking it might be true, I thought, 'Well it must be true, 'cause if George is doubting it, there must be something in it.'"
read more – The Beatles "Happiness is a Warm Gun" Still Triggers Debate
"John threw a hissy fit.  'Come on, we're leaving,'" Boyd wrote in her memoirs Wonderful Tonight: George Harrison, Eric Clapton, and Me. "Then Magic Alex claimed that Maharishi had tried something with a girl he had befriended. I am not sure how true that was. I think Alex wanted to get John away from Rishikesh. … Perhaps John had been waiting for an excuse to leave – he wanted to be with Yoko. Whatever the truth, they left."
Mardas remembered looking through the window of Maharishi's villa one night and seeing the guru hugging a teacher. Harrison was, by all accounts, "furious" at Mardas and didn't believe "a word" of the allegation. Lennon would recount the conversation in an early demo of "The Maharishi Song" he recorded at Esher, which never made The White Album. "John Lennon and I went to the Maharishi about what had happened. He asked the Maharishi to explain himself," Mardas, who died in 2017, told the New York Times in 2010. The guru turned out to be merely human.
"So we went to see Maharishi, the whole gang of us the next day charged down to his hut, his very rich-looking bungalow in the mountains," Lennon told Wenner in Rolling Stone. "And I was the spokesman – as usual, when the dirty work came, I actually had to be leader, whatever the scene was, when it came to the nitty gritty I had to do the leading. And I said, 'We're leaving.'"
The guru stopped giggling. "He said, 'I don't know why, you must tell me,'" Lennon remembered in Rolling Stone. "And I just kept saying, 'You know why' – and he gave me a look like, 'I'll kill you, bastard.' He gave me such a look, and I knew then when he looked at me, because I'd called his bluff. And I was a bit rough to him."
Harrison reminded Maharishi he would be leaving before the course relocated to Kashmir, to film Raga, a documentary about Ravi Shankar, in the south of India. "That's when John said something like, 'Well, you're supposed to be the mystic, you should know,'" Harrison remembered in the 2000 book The Beatles Anthology. "Poor Maharishi. I remember him standing at the gate of the ashram, under an aide's umbrella, as the Beatles filed by, out of his life," Boyd wrote in Wonderful Tonight: George Harrison, Eric Clapton, and Me. "'Wait,' he cried. 'Talk to me.' But no one listened."
Run for Your Life
Perhaps the darker aspects of the divine energies were keeping an ear out. Boyd also wrote that Magic Alex was "convinced that Maharishi was evil. He kept saying, 'It's black magic.'"
"He was always intimating, and there were all his right hand men intimating that he did miracles," Lennon remembered in Rolling Stone.
Vengeful forces may have been unleashed. The entourage couldn't leave because their taxis kept breaking down on the way from Rishikesh to Delhi. Lennon was deserted by the driver after his taxi got a flat. He said they waited for hours, and began to feel he didn't even want to go. Shumsky references Pete Shotton's book John Lennon: In My Life quoting Lennon as saying Maharishi "sent out so much energy he was like a magnet, drawing me back to him. Suddenly I didn't want to go at all, but I forced myself before it was too late."
"Maharishi was incredibly magnetic, incredibly charismatic," Shumsky says. "He was the most powerful, magnetically charismatic person I've ever met. He was also the happiest person I ever met, and he was filled with this energy that you wanted to be near him all the time. That transfer of energy you just get if you're close to him, you get it by osmosis, by sitting close to him, but if he looks at you and puts his attention on you, it's amplified tremendously. You're feeling these waves of bliss and waves of love, this unconditional love, this love that you've never experienced anything like it before." This energy is much the same as a devotee might feel receiving shaktipat from the Hugging Saint or Mother Meera.
Harrison later mused the incident may have caused the dysentery he caught in Madras which was cured by some amulets Ravi Shankar gave him. Lennon's instant karma kept flowing as he confessed to his wife Cynthia all of times he slept around. In her 2005 book John, Cynthia explains that she initially viewed the India visit as a second honeymoon and this litany was a shattering end. It was a long flight.
When they landed in Delhi, Lennon and Harrison told reporters they had business in London and wouldn't appear in Maharishi's film. Harrison jetted to Los Angeles, spent time at Ravi Shankar's Music School and his Hollywood Bowl concert, checked out a Mamas and the Papas studio session, hung out in San Francisco, and wrote "Blue Jay Way" before flying home to London on August 9.
read more: The Beatles' Blue Jay Way Is a Hidden Masterpiece
When Lennon told McCartney about the "big scandal," he wasn't so clear on why it didn't gel with the free loving attitudes of the swinging sixties. Lennon told McCartney the Maharishi was "just a bloody old letch just like everybody else. What the fuck, we can't go following that!,'" Paul remembered in Anthology.
Maharishi "claimed to be Bal Brahmachari, which means 'life celibate' and he was not. Also, he encouraged his disciples to be celibate. He told his skin boys to be celibate," Shumsky explains. "He even told married people that they should have celibate marriages. I mean, he was really strong on advocating celibacy, and so people got angry because they thought that he was a hypocrite."
McCartney called the Maharishi a nice fellow the band "wasn't going out with anymore." Harrison told reporters he thought the Spiritual Regeneration Movement was "too much of an organization." "We believe in meditation, but not the Maharishi and his scene," Lennon told The Tonight Show host, Joe Garagiola on May 14. "We made a mistake. He's human like the rest of us." He added, "I don't know what level he's on, but we had a nice holiday in India and came back rested."
And with a lot of songs.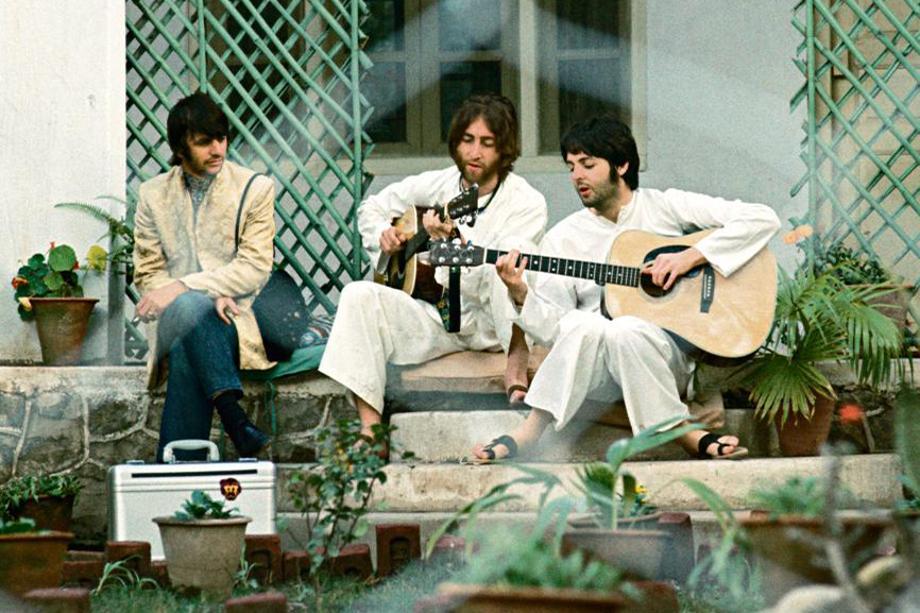 A Songwriting Retreat
The Beatles wrote "48 songs in seven weeks" during their visit to Rishikesh. "I was in a room for five days meditating," said Lennon in The Beatles Anthology. "I wrote hundreds of songs. I couldn't sleep and I was hallucinating like crazy, having dreams where you could smell. I'd do a few hours and they you'd trip off, three- or four-hour stretches. It was just a way of getting there, and you could go on amazing trips."
"Songwriting came easy," Donovan wrote in The Autobiography of Donovan. "Paul Mac never had a guitar out of his hand. He let us all get a few songs in though, and you can hear the results on the records that followed, the Beatles' White Album, and my own The Hurdy Gurdy Man."
Donovan showed Lennon the fingerpicking style he used on the songs "Happiness is a Warm Gun," "Julia," and a song about the sister of the future star of Rosemary's Baby. Prudence Farrow was the inspiration for the song "Dear Prudence." Mia's sister, who went on to become a meditation instructor, spent hours alone in her room "trying to find God quicker than anyone else," Lennon told Rolling Stone. "That was the competition in Maharishi's camp: who was going to get cosmic first." Lennon even bumped McCartney out of his seat on a helicopter ride because he thought the Maharishi might slip him the answer, the Holy Grail, on the sly. The Beatles weren't in a popularity contest with Jesus, who spent forty days in the desert, though they spent little over a month in Rishikesh.
In 2015, Prudence Farrow told Rolling Stone "The Beatles being there – I can honestly say – did not mean anything to me. But those two people that I met, John and George, I really liked them, and they were very much up my alley."
"The Continuing Story of Bungalow Bill" came from a conversation John and Paul overheard American college graduate Richard A. Cooke III tell the Maharishi. Cooke and his mother Nancy Cooke de Herrera traveled by elephant on a tiger hunt in Nainital. Richard shot and killed a tiger, just like in the song. The band wrote so many songs, a lot didn't make it to the "White" album, or to the Beatles catalog itself. Lennon wrote "What's the New Mary Jane?," "Child of Nature," which he later reworked as "Jealous Guy" for 1971's Imagine. McCartney wrote "Junk" and "Teddy Boy" which found a home on his 1970 solo debut McCartney. Harrison wrote "Not Guilty," which the Beatles recorded in August 1968 but never saw the light until the 1979 solo album George Harrison, and "Circles," which came out on Gone Troppo in 1982. Harrison also wrote "Sour Milk Sea," which was It's based on Vishvasara Tantra, from Tantric art. The song was recorded by Jackie Lomax for the Beatles' Apple Records. The Beatles also recorded the song "Spiritual Regeneration" which remains unreleased.
The Song
Lennon started writing "Sexy Sadie" while waiting for the taxis in Rishikeshi. The Beatles' publicist Derek Taylor reportedly remembered Lennon scratching the lyrics onto some wood in the Apple Corps office. Maureen Starkey saved the piece, which ultimately got into the hands of a Beatles collector.
The original lyrics were far more scathing before Lennon changed the protagonist of the song to Sadie. Lennon credited the Smokey Robinson & the Miracles song "I've Been Good To You" for the opening line, "Look what you've done, You made a fool of everyone." But it could also be a sly reference to McCartney's "Fool on the Hill," which was written on Sept. 2, 1967, weeks after the band first met the guru.
The Beatles recorded a demo of "Sexy Sadie" with the final lyrics onto an Ampex four-track machine on May 29th, 1968, at George Harrison's Esher bungalow "Kinfauns." The cut catches Lennon's double-tracked acoustic guitar and vocals, with a beat held on hand percussion by Paul and Ringo. 
The Beatles first recorded "Sexy Sadie" at EMI Studios' Studio Two on July 19th, 1968 at about 7:30 p.m. John played electric guitar and sang lead vocals, Paul played organ, George was on acoustic guitar and Ringo hit the drums.  The first track improvised lyrics about Brian Epstein and his brother Clive. The band also jammed on the George Gershwin classic "Summertime," for six minutes. The Beatles recorded 21 takes of "Sexy Sadie." Take six was released on the 1996 album Anthology 3.
The band recorded 23 more takes on July 24, using none. On August 13, they recorded eight takes, John played acoustic guitar and vocals, George played an electric guitar through a rotating Leslie speaker, Paul played piano through an echo effect, and Ringo played drums.  The band used the last take, numbered 107, for the basic tracks. The instrumental fade-out was longer and featured a breakdown based on the bridge. This was edited out prior to mixing. On August 21, Lennon recorded a lead vocal and the Hammond organ. The band added bass, tambourine and two sets of backing vocals. George double-tracked the lead guitar on the ending.
"Sexy Sadie" opens with a slightly distorted piano regally inverting six measures of the song's G C F# B minor D chord progression before Ringo kicks it in with one of his impeccably timed runs. Ringo didn't take solos. He didn't have to. His sound, the timing, the breaths, or cigarette puffs if the studio takes in the film Help! are any indication, is immediately identifiable. The spaces he puts between beats on a run are drum solos by themselves. His bass drum and McCartney's bass strings invariably extend on each other to provide a solid foundation for slippery material. They didn't learn this on retreat in India, this came from a practice as regimented as daily meditation: rehearsal and performance.
Paul McCartney jauntily rises through the spiritual promise of the chords in the bridge, G Am7 Bm7 Cmaj7, as the band gives away everything to sit at her table. The glimpse fulfillment when the chords end on the C major chords as Sadie's smile lightens everything. Only to be let down by the "latest and the greatest" through the descending chromatics of A7 G# G F#7.
read more: The Beatles' Magical Mystery Tour Could Have Been a Great Prog Rock Classic
Lennon's vocals come in intimately, but not quite lovingly. He can't believe how far Sadie's foolishness has spread. The harmonies come in as he repeats himself in falsetto, creating a soft netting. We don't know the singer is laying a trap, until Lennon warns "you'll get yours yet, no matter how big you think you are," as the piano tinkles backed with a high vibrato on the guitar. By the second bridge, the harmonies are calling to Sadie, at first seductively, but it turns into a heckle. As George's guitar riff takes over for the outro musical bridge, Lennon's voice becomes taunting, more distorted guitars join in. The vocals seem to mock the giggling of the giddy guru with the head in the clouds.
The Beatles "may have given everything they owned just to sit at her table," but they delivered a tasty just desserts as the song wound up on side 3 of The White Album, cuddled between "Everybody's Got Something to Hide Except Me and My Monkey" and McCartney's thrasher "Helter Skelter." According to Vincent Bugliosi's book Helter Skelter, Charles Manson rechristened Susan Atkins, who he had already nicknamed Sadie Mae Glutz, as "Sexy Sadie" while the family was living at the Spahn Movie Ranch in the Santa Susana Mountains. 
The Beatles played a bit of "Sexy Sadie" on January 29th, 1969, during the Let It Be recording sessions. Ringo mentions "Sexy Sadie" in the song "Devil Woman" from his 1973 album Ringo, and the song "Drumming Is My Madness" from Stop And Smell The Roses, his album from 1981. Harrison mentions the title in his song "Simply Shady" from the 1974 album Dark Horse. Maharishi may have been coyly lampooned as Jeremy Hillary Boob, the nowhere man in the animated film Yellow Submarine.
However big you think you are
After the Beatles left the Ashram, critics tagged them as eccentric faddists. Lennon continued to look for himself through Primal Therapy sessions with Dr. Arthur Janov, but ultimately found solace in the girl with kaleidoscope eyes, Yoko Ono. Harrison embraced Krishna Consciousness under A.C. Bhaktivedanta Swami Prabhupada, recording the mantra for the Hare Krishna movement and including it as the centerpiece of his song "My Sweet Lord." In 1991, Harrison offered a private apology to Maharishi. "It was done in private in Vlodrop Holland where Maharishi was living," Shumsky says. "No one besides Deepak witnessed it. Harrison also gave a benefit concert for Maharishi's Natural Law Party in 1992. The Natural Law Party asked Harrison, McCartney and Starr to run for parliament representing the party for for Liverpool in 1994.
read more: The Beatles Got Back Where They Belonged In Rooftop Swan Song
McCartney continues to quietly meditate in a dome in his home, reportedly on a round bed he got as a gift from Alice Cooper, who had gotten it from Groucho Marx. McCartney and his daughter Stella visited Maharishi in the Netherlands in 1997. McCartney, Starr, Donovan, and Horn reunited at a concert held at New York's Radio City Music Hall to benefit the David Lynch Foundation, which pays for schools to teach Transcendental Meditation.
Maharishi Mahesh Yogi died in Vlodrop, Netherlands, on February 5, 2008, the 45th anniversary of the Deep Space Network. He was 90 years old. "He was a great man who worked tirelessly for the people of the world and the cause of unity," McCartney said in a statement at the time. "I will never forget the dedication that he wrote inside a book he once gave me, which read: 'radiate, bliss, consciousness' and that to me says it all. I will miss him but will always think of him with a smile."
On the day Mahesh died, the Lennon song "Across The Universe," was broadcast in space. The song itself turned 40 that day. Jai Guru Deva om.
Culture Editor Tony Sokol cut his teeth on the wire services and also wrote and produced New York City's Vampyr Theatre and the rock opera AssassiNation: We Killed JFK. Read more of his work here or find him on Twitter @tsokol.