Reviews
This Is Pop Review: Netflix Documentary Unpacks Pop Music
This Is Pop dissects ear worms and deconstructs the record machines in a fun overview of the hits we sometimes miss.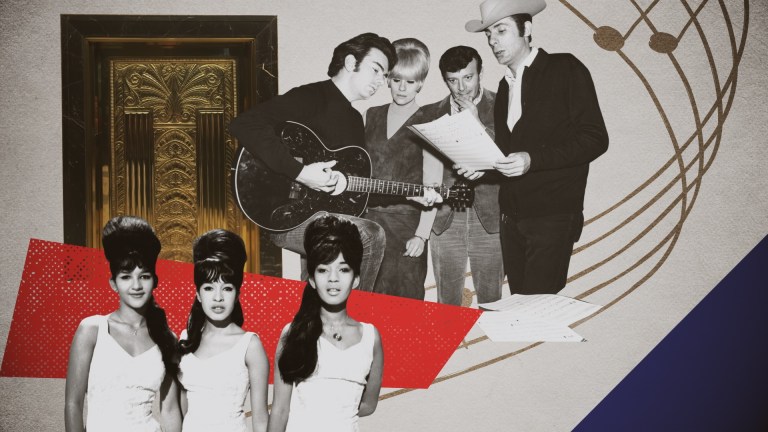 It doesn't matter how pure a sound is when it catches the ear's attention, someone in the music industry will find a way to infect it. Pop music is infectious by design, and Netflix's This Is Pop, reveals the delivery system. The eight-part docuseries focuses on some of the less unexamined moments of the most scrutinized genre in music. It is as depressing as it is exhilarating, and it barely skips a beat.
Much like the recent Apple TV+ series 1971: The Year That Music Changed Everything, This is Pop shows how pop music reflects and influences culture. Music has always been a great unifier, both for listeners and musicians. Regardless of race, faith, or sexual preference, everyone has a favorite song, and people are drawn to the art of music from every background. What starts as a neighborhood sound moves beyond the streets, and for every Boyz II Men, there's a new kid on the block. They may not always be in sync, but they know how to make money off it.
Even the Brill Building, located on 1619 Broadway, which trained a generation of young composers to match melodies with danceable beats, turns out to be just another machine in "The Brill Building in 4 Songs." The gathering place for all that young talent, from Neil Sedaka, who speaks in the series, through Carole King and Gerry Goffin, Burt Bacharach and Hal David, Lieber and Stoller, was molded on the structure of Ford Motors. The songwriters were just factory workers churning out hits on an assembly line.
When big money trickles down to create an international happening like the US Festival, it is a misstep on a road to gauge concert-goers. "Festival Rising" begins with a young voice almost audibly rolling her eyes at the not-so-innocent innocence of the early music gatherings. Jefferson Airplane's Jack Casady and The Mama & the Papas' Michelle Phillips explain how counterculture happenings like the "Human Be-In" at Golden Gate Park led to the loving unification of Monterey Pop. The arc of the Glastonbury Festival is fascinating. The demise of Woodstock is sadly inevitable. Altamont isn't mentioned.
Most of the stories are fun, and unexpected. Who knew a well recorded demo on a shitty cassette could go on to become an international sensation? The strangest things happen when a song gets stuck in your head or a tape gets stuck in the deck of a car stereo. Record deals are made that way. Every episode opens with an innocent telling of an origin story. A kid who wants to be an athlete gets stuck in a gifted school and learns to score harmonies instead of field goals. A bunch of bikers and hippies go looking for a place to hear music without ceilings. A song hook gets perfected on the dance floor of a disco. Someone turns a knob all the way down on a program that wasn't designed for it. Hey, if Spinal Tap can put their amps to 11, why can't Cher turn the automatic tune correction down to zero? That's not rock and roll, but it does pop.
The 1971 documentary adhered to the Homer Simpson sentiment "rock stars, is there nothing they don't know?" No one expects this from pop stars. But it's not like This Is Pop replaces the Vietnam War with the Oasis vs. Blur battle. Every episode includes sequences dealing with real issues and social injustice. Even if it's just T-Pain getting razzed on a plane by Usher for destroying the art of singing. "What Can A Song Do?" showcases how the 1991 Anita Hill hearings led to Bratmobile, and Bikini Kill created the first safe space when Riot Grrrls directed "girls to the front" at shows. Gay rights suppression in Russia gets translated into an anthemic hit in America.
Racism, sexism, queer politics, and classism fill beats in every aspect of Pop music. Shoegaze legend Lush is told to show up at a photoshoot in a bikini with a champagne glass when being fitted for Britpop. Lil Nas X breaks the country music industry's achy breaky hearts when he has a hit with "Old Town Road." Public Enemy's Chuck D vividly recounts how he reached back to the Isley Brothers for "Fight the Power." When he says he wanted to capture how that song made him feel, he makes you feel it. "You can scream as much as you want," Chuck D says, "but until you start breaking windows, that's when they say 'oh you gotta do something about this. It's like American Pie."
When Noel Gallagher breaks through George Harrison's "Wonderwall," it's only because he needs the right word to finish a line. A song can't change the world. "Music has no agency, only people have agency," we are told as archival footage presents conflicting conclusions. During the late 1940s, while Woody Guthrie was a traveling troubadour from California to the New York island, Americans found strength in their proud use of Mexican labor. People wanted to do things together, his son Arlo Guthrie tells the camera. This flashback cuts to more recent footage of calls to build a wall between the two countries, and the weakness at its center. For every step forward, there is a pirouette backwards, except in country line dancing.
"When Country Goes Pop" sums up the basic premise of every genre highlighted. Country Music is supposed to be all about authenticity. Willie Nelson and Dolly Parton are labeled authentic, even as they consciously move toward the mainstream. Shania Twain made country music more popular than ever, but old school Nashville cats are too hypnotized by her belly button to recognize her genuine songcraft. Steve Earle ushers in the Integrity Scare, until Garth Brooks starts flying over audiences at concerts like he's the Thin White Duke. The deepest visual representation of the genre's authenticity comes in black and white photographs of members of Nirvana and Alice in Chains looking at Johnny Cash like he is god when he's recording with Rick Rubin.
But is Ace of Base's Ulf Ekberg any less authentic when he remembers playing the backing track of "All That She Wants" on a dance floor every night to ensure it got people moving before putting vocals on it? Blur arrives in America the day Nirvana lands. They decide to re-Brit themselves. What's more authentically British than three chords and a Union Jack? Arlo Guthrie sums it up succinctly when he remembers his dad saying "the job of the songwriter is to disturb the comfortable and comfort the disturbed."
"Auto-Tune" is the only episode which truly blurs any idealistic version of authenticity. Invented in 1997 by Dr. Andy Hildebrand as a way to measure oil deposits, the episode about the automatic tune correction function leaves more sludge than the Exxon Valdez. We actually hear an appreciation for the idea that singers no longer have to be able to sing, just look good. These words are said. Out loud. By a second-hand source, but they are there. For all the talk of social injustices thrust on artists, this may be the most infuriating. Because it is an imposition on the art itself. It is not a social wrong which can be righted by song. The song is the culprit. But, like "Stockholm Syndrome," it shows how the entire industry goes from captivated to captive. They even explain how great jazz stylists of the past would need autocorrect if they were recording against the synthesizer-perfect, quantized music of today.
One segment recognizes Billie Holiday's "Strange Fruit" as an invitation to mourn, not a call to unite. It is not considered a protest song because it personally invites people who do not know the pain of racial violence to understand it from the inside. While Motown is generating top tens, and its Berry Gordon wants nothing controversial within the walls of Hitsville USA, "Ball of Confusion" by the Temptations brings revolution to the mainstream. A Tribe Called Red brings traditional indigenous dances and music, officially banned by the Canadian government, to the dance floor as a technical protest, proving you can find the groove in any revolution.
"The Boyz II Men Effect" shows how the purity of the mix of Motown and Philly Sounds set a new standard for R&B in the 90s. Nate Morris, Wanya Morris and Shawn Stockman look back on keeping it real, truly expressing their desire to be listed among the great singing groups of the past based on ability. They want to be the Temptations, the Miracles, or the Moonglows, serious artists with strong voices who know how to structure songs and layer harmonies. They wind up creating the Boy Band genre, as we hear 98 Degrees' Nick Lachey and New Edition's Michael Bivins reverently recall how they wanted to be Boyz II Men. Record companies gave them the chance, replacing the Black artists with white pop stars for greener pastures.
"Hail Britpop!" is absolutely the wittiest of the installments. Blessed be the cheesemaker. Blur's Alex James is hysterically sardonic. Miki Berenyi from Lush still rolls her eyes over people's reactions to a Flange pedal. Sonya Madan from Echobelly rips the entire scene from the inseam. None of the episodes really take themselves seriously, but in this one, they tear themselves apart, even more than the Swedes, who never say nice things about themselves.
Of course, the best part of This Is Pop is searching for the songs after they are mentioned. The documentary is very generous with samples, but they really just serve as appetizers. Even the songs which make you switch stations on the car stereo or get left on the dance floor are time capsules. The docuseries can't encapsulate everything, but is a good representation of how perceptions are at this exact moment in time. Just like any good song.
This is Pop is available to stream on Netflix now.