News
Scream 5: David Arquette Interested in Seeing New Sides of Dewey
Exclusive: David Arquette, who is about to star in Scream 5, tells us how Dewey Riley is like a second life he's lived and that he doesn't begrudge the character's defining role in his career.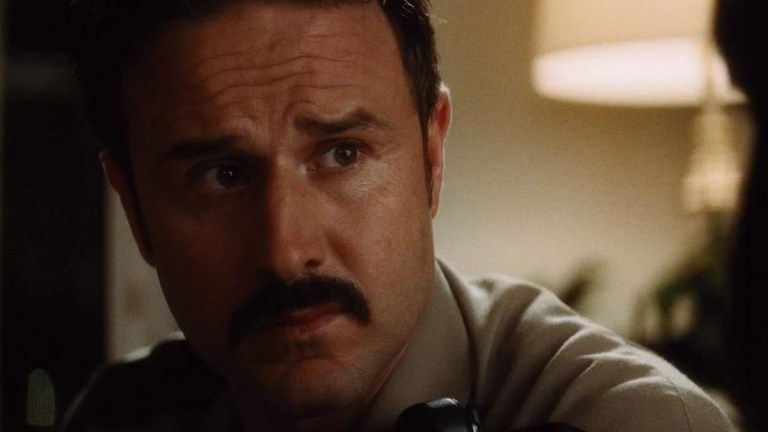 David Arquette has known the character of Dewey Riley for a long time. Originally a lovable goof that's introduced in Scream (1996) as a bumbling deputy archetype, Dewey was intended to die at the end of the movie before director Wes Craven got a look at Arquette's performance.
Filled with enough good cheer, Arquette's turn convinced Craven to spare Dewey in case there was a sequel… Arquette's been playing the character on and off ever since. That includes Scream 2 (1997) and Scream 3 (2000), as well as semi-reboots like Scream 4 (2011) and next year's anticipated Scream 5.
The fifth film will be the first to neither be directed by the late Wes Craven or written at least in outline by Kevin Williamson (the latter is still attached as an executive producer). It's bittersweet for Arquette after all these years, but also a chance, perhaps, to show new sides of the character once mocked as "deputy doofus" by his younger sister. The prospect of showing new dimensions to the character, and what Dewey has meant to Arquette's life and career, came up when we sat down with the actor to discuss his new documentary You Cannot Kill David Arquette.
"The main thing now though is it's not with Wes," Arquette says when the subject of returning to Scream comes up. "There's that aspect of carrying on his tradition of something he built."
Yet there is the chance to do something new in Scream 5 with a character Arquette knows as well as Dewey.
"It will definitely be interesting to see," says Arquette. "I had some comments for the directors about the way I saw Dewey, and who I think he is, and stuff like that. It makes it kind of easy because I have played him so many times, he's kind of this other life I've lived in a way."
With that said, Arquette is quick to point out that what he wants most for Scream 5 is Neve Campbell to return to the role of Sidney Prescott. Campbell has played Sid in all four previous Scream movies and has had talks with new franchise directors Matt Bettinelli-Olpin and Tyler Gillett. But unlike other franchise leads like Arquette and his ex-wife Courteney Cox, Campbell has yet to sign onto the fifth movie.
"I just hope that Neve comes back too, so we can all be in it together. She's such an important piece to this, she's really the heart and soul of it."
Still, there's a lot of openness about what the role of Dewey has meant to Arquette, both on screen and in his life away from the film set as the years passed. At one point in the film You Cannot Kill David Arquette, his wife Christina McLarty says he's sometimes been frustrated with the typecasting he experienced after Scream. But when the subject comes up in our interview, Arquette is sure to note the role has been a blessing for the opportunities it's afforded him, even if he's seen other setbacks.
"That's more my wife saying that, and I think it came from me having a big 'woe is me' attitude toward it all," Arquette says. "Doing a whole bunch of AT&T commercials probably hurt my career more than Scream. Scream was one of the great parts of my career. It's a film that people love, it was highly successful, it allowed me a lot of advantages. Wrestling too. I never blamed wrestling at all for the trajectory of my career."
He continues, "If films perform really well, they're a success; if they don't, they're not. It's not like you can blame any of them, necessarily. There are bad choices you can make, and I always made these random little choices. So people would just not know what to think of me. I don't blame that really [on Scream], and it didn't make it hard to go back and do Scream."
Indeed, Arquette goes back to do Scream when production begins in Wilmington, North Carolina. You Cannot Kill David Arquette premieres on VOD on Friday, Aug. 28.