Features
Altered Carbon Season 2: Anthony Mackie on Becoming Takeshi Kovacs
In Altered Carbon season 2, Anthony Mackie picks up where Joel Kinnaman and several others left off.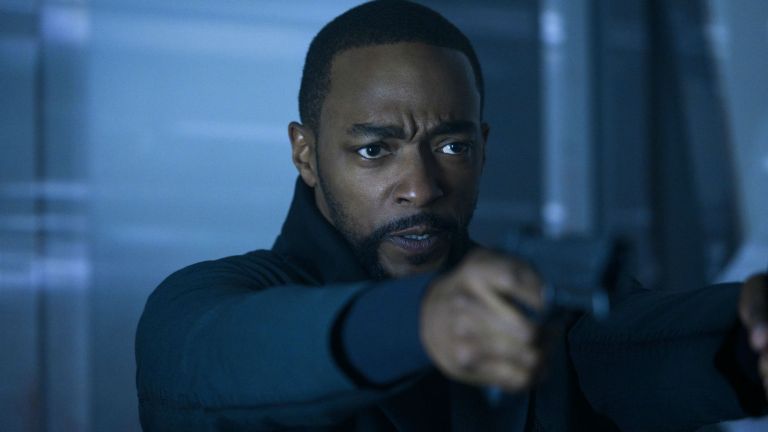 This Altered Carbon contains spoilers. Read our spoiler-free review right here.
Though it has been popularized on television by the mighty Doctor Who, the premise of keeping a character alive through new actors has not been utilized by enough productions. The world of Altered Carbon is the perfect setting to take on this task of continuing a story, with several faces attached to one soul. The character of Takeshi Kovacs already had three faces in the first season alone, and with season two there comes a fourth. Anthony Mackie (Sam Wilson/Falcon from the Marvel Cinematic Universe) steps into the sleeve of this former mercenary, turned rebel fighter, turned detective.
With a wealth of thematic plot lines to lift from Richard K. Morgan novels on which the show is based, season 2 finds itself moving even further away from the specifics of the original work. What the new run of episodes delivers is much more of a new patchwork built from scaffolding made out of Morgan's original pages. Expanding on the already poignant metaphors of life, persona, and mortality, Altered Carbon season 2 creates new pockets of theoretical and philosophical exploration for fans to dig through and discuss after they finish the eight-episode run of season 2.
Here we chat with Mackie about what it means to step into Takeshi Kovacs skin.
DEN OF GEEK: With any character you take on, you're going to make it your own, but in this instance, did you find it necessary to go back and see what other actors did with the character?
ANTHONY MACKIE: With this one, definitely. I felt like Will [Yun Lee] and Joel [Kinnaman] did such a great job in the first season of Altered Carbon, creating Kovacs. The first season was more about revenge, so they gave him this darkness, this introverted kind of subtleness. I wanted to capture that and bring it into the beginning of the season, so you can see him evolve into the person he is by the end of the second season.
By the time you start the show, thirty years have passed since we last saw the character. Does that help make it easier for you to deliver your version of Takeshi, beyond what is on the page?
Definitely. I knew the character was going to be different, and I knew there were certain things I could bring to the character that weren't there in season one. I was interested to show a different facet of him, a different side of him. Working with Alison [Schapker] and the rest of the team, we had a clear idea of what we wanted the second season to be and when I first heard the story, I was very excited to show a 360 degree Kovacs that loved, and cried, and showed emotion. 
By the time your version of Tak stands in front of Will's version, he already knows that the man he's looking at didn't live the same life, that he is a different person. But in the back of your mind, are you thinking, "I'm looking in a mirror"?
Well, for me with that scene, once I run into that younger version of myself; it's more of a realization that there are people who know where I am, and those people are coming to get me. So, I knew I had more experience and more depth than he did, only because I've lived longer. The thing about this show that I find so amazing is how it looks at eternal life. If you live eternally, you have to deal with the problems, and mistakes, and shortcomings that you created in your entire life. It was more important to capture that aspect of it and show the bitterness of not having an out, by living forever.
What about your version's attachment to Poe? Do you think Tak sees him more as an aide, compared to a real companion?
They're definitely companions. I feel that even though Poe is A.I., what Chris [Conner] did, which is really beautiful– he made him human. That relationship is real, it's tangible. We fight, and get most angry with the people we love the most. So at no point does he treat Poe like he's A.I., he treats him like he's a person; his companion and best friend.
If you've never experienced reconnecting with a loved one after let's say, 60 years, you could probably quickly fathom what that feeling would be like to see each other again. But when you first see Quell again, that is over 300 years in waiting. Is that an easy headspace to get into?
You definitely have to prepare for it. I'm 40 years old. I've been looking for love for 25 years of my life. So I can only imagine the frustration and bitterness that comes with trying to find your love after 350 years.
Do you think there was more to what you wanted to explore about Tak compared to what was just on the page?
Yes, definitely. I think, if we were going to do another season, there is so much growth to the character now that he and Quell are back, and now that he has this newfound relationship and understanding with Poe. I feel like the third incarnation of Kovacs would be a very different person. He'd be a more understanding and compassionate person, because he once again got back to that original place of his happiness. All of us, everyday, look for happiness and he's finally found that place where his happiness is.
Of course, in the same breath, the way we leave him at the end of this season is a perfect metaphor for his ultimate redemption, and a very fitting way tie up this section of his journey.
When we see him achieve his ultimate goal, it's a very difficult position to be in. The season and the character were written so well in these episodes, and now, just selfishly I'd much rather do it again, than this be the end of it. 
I think it is an expectation that every season we are going to be present with a new actor portraying Tak. But are you ready to jump back into this sleeve if the script calls for it?
Oh, definitely. I've never done episodic television, I've never done streaming. We worked on this for six months, and I can honestly say, this is the one time I never had a bad day at work. Every single day was great. You form bonds, you form relationships with the people that you work with, it almost becomes your own little family. Just to be able to work with this group of people again, I would definitely do a third season.
This may be your first episodic TV venture, but we will see you soon in The Falcon and Winter Soldier. Marvel has built this empire that you're a part of, and I have to feel they do things differently than everyone else. Does it feel like there are different worlds when it comes to productions like Marvel, or Netflix? Or is it just the case that any and all productions will always be a new experience?
Every job is different, every opportunity is different. With this compared to the Marvel series; Marvel is just such a big machine, such a working instrument on its own accord. Altered Carbon is its own little thing. It wasn't so much about me trying to keep the engine going, it was more about me trying to pick up and create something from where they left off.
With big budget films using so many green screen techniques was it just a thrill to be on a set with so many practical objects and settings?
It is a wonderful atmosphere. Our production team did an amazing job with the set design itself. With Marvel, so much is CGI and bluescreen, and here we have these actual sets. It makes like so much easier and it makes the performance that much better when you have the ability to come in and have the actual actor that you're working with there in front of you, while you're standing in the actual place your character is supposed to be in. That added to our performance tenfold. We were lucky to have the cast that we did, and the script that we did, but to have those tangible aspects of the world that we were living in really made it a lot easier.