Features
Always Sunny Season 15 May Feature New Philly Landmark Four Seasons Total Landscaping
It's Always Sunny in Philadelphia co-creator and star Glenn Howerton has heard your Four Seasons Total Landscaping jokes...and they just might make it into season 15.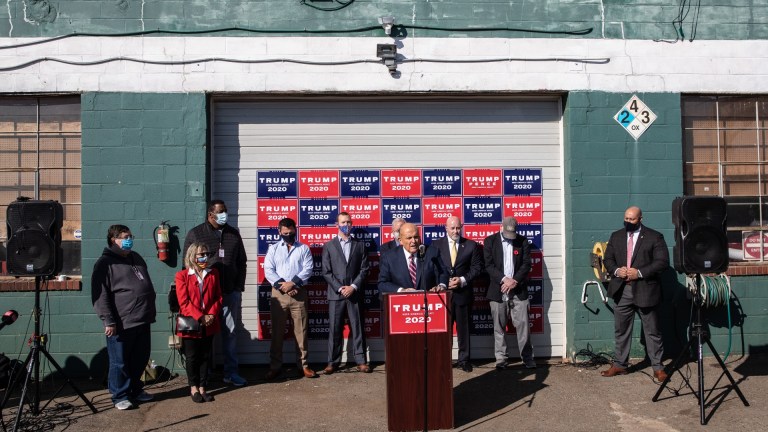 They say that reality is stranger than fiction. While there's definitely some truth to that old adage, reality is thankfully not often stranger than FX's long-running classic comedy It's Always Sunny in Philadelphia.
Through 14, soon-to-be 15, seasons, the codependent Paddy's Pub gang have engaged in some truly outrageous behavior. From staging an entire musical around an incident of possible child abuse to thoroughly ruining the life of poor Rickety Cricket, Dennis, Mac, Charlie, Dee, and Frank usually stand alone when it comes to Philadelphia madness.
But that, of course, was all before the miracle of Four Seasons Total Landscaping. Just in case you missed it (which you almost certainly did not), back in early November, as President Trump's legal team mounted a doomed campaign to overturn the results of the election, his personal attorney (and breakout star of Borat Subsequent Moviefilm) Rudy Giuliani decided to hold a press conference. Reporters were invited to the Four Seasons…not the hotel, mind you, but rather the landscaping company in Northeast Philadelphia, right next to a sex shop.
Rudy Giuliani accidentally booking Four Seasons Total Landscaping for a press conference instead of the Four Seasons Hotel may be the funniest thing I've ever seen. pic.twitter.com/TRuSOK384v

— Hamish Mitchell (@H_MitchellPhoto) November 8, 2020
The event was so strikingly bizarre that the Internet launched into breaking it all down immediately. Did they mean to book the hotel? If not, why did they roll with it? And most importantly: where can I get some Four Seasons Total Landscaping merch? One of the more consistent observations from Internet commentators, though, was how much this doomed press conference felt like an episode of It's Always Sunny in Philadelphia.
Has anyone mentioned that Four Seasons Total Landscaping in Philadelphia looks like it is in the same neighborhood as Paddy's Pub in It's Always Sunny in Philadelphia, even though the real Paddy's exterior is in Los Angeles? pic.twitter.com/vlcw3wXuY4

— That Guy (@ThatGuy3002) November 8, 2020
While Paddy's Pub is canonically in South Philly, it's not hard to imagine the bar's dismal alley existing right across the street from Four Seasons or at least the gang stopping by to play a role in the wild scene.
Well good news, It's Always Sunny fans. Glenn Howerton (writer, producer, and Dennis Reynolds portrayer) has heard your Always Sunny/Four Seasons jokes and theories, and he's very much into them.
"Immediately on social media I got hit up and people were like 'this looks like this would be right down the street from Paddy's," Howerton told Den of Geek. "I sort of fall into the camp that someone thought they had booked the Four Seasons (Hotel). Right? And then they showed up and were like 'Are you kidding me? This is nuts.'"
What's even better is that, according to Howerton, there's a distinct possibility that It's Always Sunny season 15 will fulfill fans' wishes and incorporate Four Seasons Total Landscaping in some way.
"That has been discussed," Howerton says. "Normally we would not do something like that because it's something the audience has already thought of and it's too obvious but man … that's some good low-hanging fruit. I don't know. We'll see. But it's tempting, it's very tempting."
Sometimes low-hanging fruit is low-hanging fruit for a reason. Though it does not have a release date, It's Alway Sunny in Philadelphia season 15 will make the show the longest running live-action comedy in television history. While it's making history, it might as well pay homage to one of the strangest moments in modern American history as well.