Features
Henry Golding Lives the Guy Ritchie Dream in The Gentlemen
Henry Golding talks growing up on Guy Ritchie movies and then living it in The Gentlemen.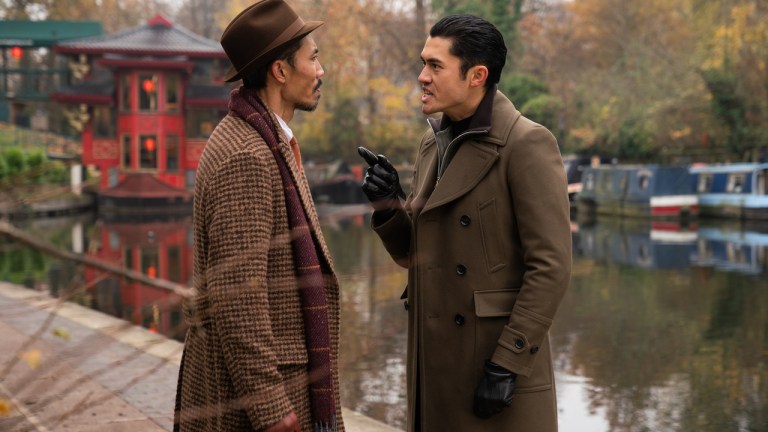 Henry Golding is on a surefire fast track to super stardom. The one-time TV personality entered a new stage of his career when he went from travel show host to leading man with his role in the world wide phenomenon, Crazy Rich Asians. While his subsequent roles have seen him playing different character types, his turn as the young, cocky Dry Eye in Guy Ritchie's The Gentlemen allows Golding to take on a very different persona.
We had the chance to speak with the rising star and discuss what it's like to take on a role in a Guy Ritchie crime caper after being a fan of the filmmaker from a young age, and just how the experience measured up to his expectations. 
This portion of your career has really exploded, quite quickly. Did you want to be a part of this film simply because it is a Guy Ritchie picture or did you feel it was a great way to show your range?
Henry Golding: You know what? Both. Really, as soon as they told me "Guy Ritchie was like, 'I want you over at the house,'" I said to myself, "WHAT!? Okay, whatever he wants, I'm in." I grew up with that guy. Lock Stock and Snatch shaped much of my childhood. It's weird saying that, but it's true with [Michelle] Dockery as well. We were lamenting about how I used to get drunk with friends at house parties, and at two in the morning put on Snatch, and we'd all watch it. And the amount of times I watched it in that scenario, we'd all be yelling out the one-liners, or the catchy sort-of name calling.
So when they said, "Guy wants you around for a quick chat," I… was in London for the Crazy Rich Asians screening, and it was just before the actual screening. I was there, in this beautiful suit, ready to go to the premiere and they brought me round. It was this beautiful house in London, and we just talked about movies, and his love of them, and all of a sudden he says, "Do you drink whiskey?" "Yeah, I do drink whiskey," and he opens these double doors, and there is this library of whiskey. There's a ladder actually and he goes, "Hold the ladder." I grab the ladder, up Guy goes and he asks, "Do you like 25 or an 18?" I just tell him it's dealer's choice. So he says we'll take both.
We sat, we had a whiskey, and near the end of the meeting, my manager says, "You know, if you want to see any of Henry's work, he has two movies coming out; I can get you links." And Guy waves his hands, "I'll stop you right there. He's got the job, this is just an excuse to drink whiskey." This is amazing. I think Guy is like that, he works with who he wants to work with, and just wants to know if they would have any issues, or if they would be a problem on set, or will be flexible and on their toes.
read more: How the Oscars Were Reinvented in the 21st Century
It seems like he had you in mind for a while. Did the final product follow what was in the script or were you able to give your input into the character?
No, it definitely changed. Things always change, as I'm sure you know. You get that first draft, and then all of a sudden those markings come up. The yellow, the blue, the salmon, the gold… there are so many iterations it goes through. But the craziest thing about Guy's stuff is that it changes on the day. Hugh [Grant], Colin [Farrell], Charlie [Hunnam], [Matthew] McConaughy, they'll all say the same: you can turn up as prepared as you want to be, but on the day it'll change in the moment.
You'll get a little call from behind the monitor, "Henry! Say something like this!" Then it is straight into action, and you have to remember what he just said. That's the atmosphere Guy wants and creates, and that means you become a participant and not just a mouthpiece or an observer.
It's interesting too, going back to that story of you watching his films and reciting the one-liners and best lines, because this time around, you got the best piece of dialogue with that, The "absolutes, no absolutes," bit. 
Yeah, that's actually something we came up with on the day. It's one of those moments. Even with the scene when we're at the canal, and I'm having that face off with my boss and I say, "There comes a time when the young proceed the old," that's something we brought on the day. Coming up with those fantastic one-liners, you can't think of that in your room: you have to be in the environment; you have to have the energy of that young dragon on set, and be in that frame of mind. "Right, this is what I want to say to this guy," and how do I make it into the book of quotes for Guy Ritchie movies.
Even beyond just the quotes, the style of a Guy Ritchie movie is so well known, especially to someone like you who grew up on his films. Was the on set experience completely different than what you expected?
Hmm, It was exactly as I thought it would be and dreamed it would be. [Laughs] That's the thing though, Matthew sat into it real quick, but it would be interesting to see an American's take on it. Would they understand the little subliminal nods to British culture? Because we grew up with it, it's second nature. We know[Guy's] cadence, his beats in his movies, so we're able to just flow with it. We're on the same wavelength, just because we've been bred on it, literally milk fed on it.
This film is a little different though because, especially for you and Matthew, technically you're portraying another character's vision of your own character.
Yeah, that's the interesting thing… Did all of this happen? We're taking it from Fletcher's [Hugh Grant] point-of-view. We all know he's mistaken some of the facts in his storytelling. It gives us license to be larger than life. That's what some people might not understand, wondering why we are being so wild or even racist in the film. That's coming from this weevil of a character spinning this story.
But no one really went that overboard with their performances, even though they had the leeway to do so.
Everyone really owned their individual characters and had a strong sense of who they were. You could take any one of those characters and make a whole movie about them. An anthology, rather, and people want that. No one went overboard because it made them more watchable in a sense. Even as outrageous as Colin Farrell was, people wanted more of him. They wanted more of Hugh Grant being that weasel that you just want to love to hate. 
I wonder what it would have been like if you were forced to be tame. 
It wouldn't be the same. I mean, it wouldn't be a Guy Ritchie film. Even that opening montage with all the names accompanying that montage of characters, each time a face would pop up, you would see their story through their character creation. From their outfit and their look, you see their individuality. I'm just so happy to be in an ensemble like that.
That's another thing too. You get to be part of this massive cast but don't get to share screen time with everyone. So is it important to you to know all those other names are part of this project?
Of course you knew who was cast in its entirety, but for as much as I did, I never got to meet the "Sweeny Toddlers." I would have loved to been there with them. Trust me, at Halloween and bachelor parties this year, you're gonna see a lot more of those tracksuit bottoms.
read more: Must See Movies of 2020
What about Dry Eye's backstory? Did you flesh it out for yourself?
I went through a few iterations of what I thought and expected Dry Eye's journey to be. I kind of fell upon what his ultimate goal is, and that's power. Him being so young, naive, and so inexperienced, is his greatest folly. So much so, that he launches himself into a war that he can't back up. He takes steps prematurely and he shows his cards, specifically to Mickey.
So for my character creation it was mainly about his heritage, it plays a big part in that. As a young Asian, you have such strong familial bonds, especially when it comes to organized crime or family crime. You're always trying to outdo or prove yourself in that sense. He grew up in that environment and his whole goal was to show that he was worthy of perhaps his family's acceptance. It fuels him to make stupid mistakes that Mickey is far too wise and experienced to deal with. 
The Gentlemen is in theaters on Friday, Jan. 24. Snake Eyes opens on Oct. 16.