Features
Yellowstone: Wes Bentley Teases Season 5 Jamie and Beth Showdown 
Is a Jamie and Beth Dutton confrontation in Yellowstone season 5 inevitable? Wes Bentley seems to think so.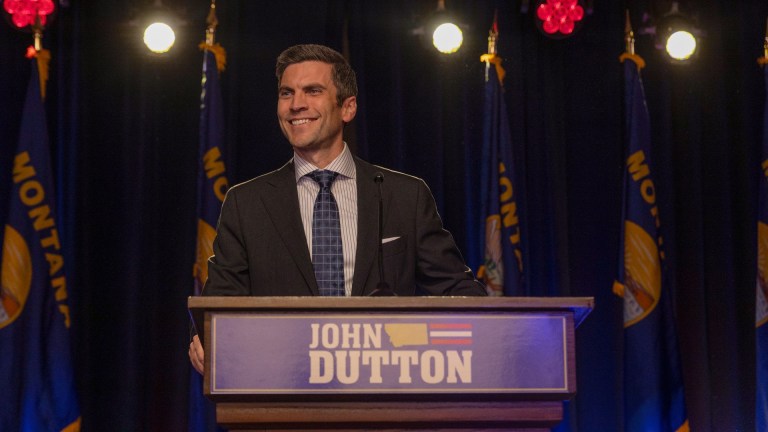 There's no such things as a quiet day on Yellowstone – but as we head into season 5, there's nothing short of all out war brewing between the battling Dutton family members. It's just a case of whether everyone is going to make it out of their latest squabbles alive.
Jamie Dutton, played by Wes Bentley, went through the wringer by the end of season 4, with a revenge mission set by adopted sister Beth (Kelly Reilly) resulting in him shooting his biological father Garrett (Will Patton) in the head.
Considering Beth has photographic evidence of his involvement in the murder, and is using it as leverage over Jamie going forward, it's clearly something he is very clearly not too happy with – and a dire situation he doesn't want lasting too long.
But of course, since when does a Dutton take anything lying down?
Speaking to Den of Geek at the New York premiere of season 5, Bentley teased Beth has essentially created a ticking timebomb with her actions. It's just a case of when it's going to explode.
Bentley explained of Jamie: "His energy at the beginning of season five is he's lost. For the first time ever, he doesn't have a plan. He's been checkmated by his sister, which alone crushes him. But on top of that he's killed his own father. He's lost his dream job to his other father. He's got nothing. Nowhere to turn. All he's got is the anger he feels and the intense hatred he now has for Beth is boiling. He's got no options, and that's going to pop."
While he played coy about whether or not that means either Jamie or Beth's days are numbered on the ranch-based drama, he did promise that blood will be shed in some way.
"There is a fight. There's a fight but I don't want to say much more than that, because I'd love for the fans to discover that and what that means," he said.
"But there's an inflection point… Something's gotta give, right?
"If [Jamie] can survive, I see him having to fight," he concluded. "Yeah. You know, his life's at risk, she's threatened his life. So it's either dead or fight."
Bentley's teases prove that the somewhat peaceful facade the siblings put on for father John's (Kevin Costner) political campaign in the season 5 trailer isn't to last. On top of having to shoot his bio-dad in the head, he's also got to contend with the fact his adopted-dad has taken over his political aspirations, and is now relying on Jamie to tell him what to do next.
This asserts Jamie straight back into the family fold, whether he likes it or not.
As the new Governor of Montana, John is proving to be in way over his head in a political game he had very little intention of being so heavily involved in. In teasers alone, we know he fires everyone and brings Beth into the fold as his chief of staff – which we can't imagine going swimmingly considering how ready for war Beth is.
At least former governor/lover Lynelle Perry (Wendy Moniz) is somewhat on his side, as well as a host of new characters including enigmatic aide Clara Brewer (Lilli Kay), right?
Let battle commence.
Yellowstone season 5 premieres Nov. 13 on Paramount Network in the U.S. and on Nov. 14 on Paramount+ in the U.K.