Features
Yellowstone Season 5: Josh Lucas Dreams About John Dutton
Veteran actor Josh Lucas admits that it can be a challenge to share the character of John Dutton with the renowned Kevin Costner.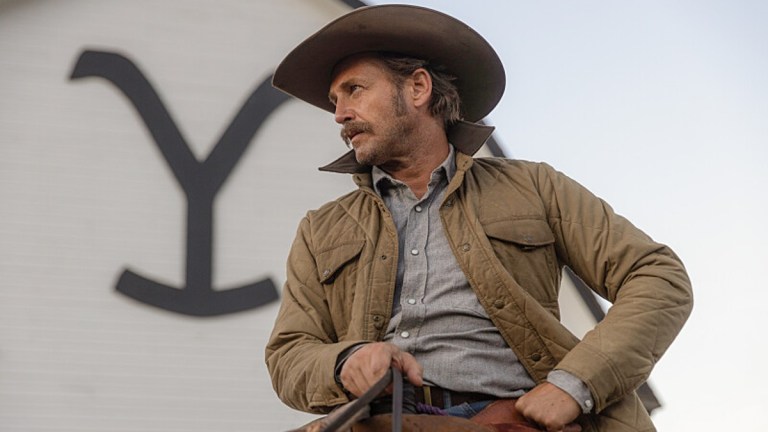 This interview contains spoilers for Yellowstone seasons 1-5.
When Josh Lucas first appeared via flashback as a young John Dutton in only the third episode of Yellowstone, it seemed like a bold choice. The show had yet to establish itself as the Montana-avalanche of television it is today. Yet here was an extremely accomplished actor with American Psycho, Sweet Home Alabama, and A Beautiful Mind already in his filmography, now playing a younger version of Academy Award winner Kevin Costner's leading role.
Lucas has recently shifted to become much more of a prominent part of Yellowstone, originally only appearing sporadically, but in season 5, appearing in almost every episode so far. Shortly after Costner won the Best Actor Golden Globe for his work, Den of Geek had a chance to talk to Lucas about not simply following in Costner's footsteps, but creating his own footprint on the show and the role. 
Den of Geek: What can you say about Kevin Costner and his big Golden Globe win?
Josh Lucas: You know, I'm sure Kevin won the Golden Globe because I'm doing half of it. (Laughs)
I think Kevin just absolutely deserves that [win]. The thing that obviously is strange about Yellowstone is the lack of critical respect that it's gotten or awards that it's won. A lot of critics have started to weigh in about how it almost seems unfair, but I know that Taylor [Sheridan] doesn't give a shit. I, frankly, don't know that Kevin does either. At the same time I think everyone loves the moment that you actually do get that respect. So I was very happy for Kevin that night.
You were in Yellowstone from the beginning, but season five has been an amazing opportunity for you as you've really become part of this role. Did you get an opportunity to speak to Taylor Sheridan before the season started to discuss how you wanted this iteration of John Dutton to grow this season?
If you go back, which I did before we started season five and watch all 40 episodes, part of it was to see how Kevin evolved into John. When you start the first season, he's a lot more Kevin Costner than he is at this point. Kevin and John Dutton are very different people, I think Kevin is a gentle, good soul, and, I don't know if that's true with John Dutton.
I really took that shift or evolution that you see in the first few seasons of Kevin's performance, and felt a really intense responsibility to get the weight of what I felt Kevin had created with John. I think John Dutton, at his core, is the most ferocious, alpha wolf that there is in his territory, and that he doesn't have to prove it, but that he will prove it at any moment. So I really wanted to get that right.
Then I got to go to cowboy camp for the first time with the rest of the group which is down at Taylor's ranch, and I was able to talk at length with Taylor about it. Taylor even alluded to the fact that Kevin has become much more John Dutton. I think Taylor, in some ways, has also become much more John as the show has evolved.
If you think about Yellowstone, it was a fledgling in the beginning, and Taylor had not created or done anything at that point [in terms of television]. Now look at where he is, and who he is. The power and responsibility and the weight that's on his shoulders has had a profound impact on him. I feel that that's somewhat evident in the John Dutton that he's writing, and that the way he's building the show.
So, we had really interesting conversations about who John Dutton was, 20-plus-years earlier. Was he lighter? Was he heavier? Was he angry? Was he gruffer? Has John Dutton, as he's aged, become more gentle the way men often do? Or has he become bitter? I asked a lot of questions. I couldn't just do what we did in the beginning because I felt I had all these episodes and the work that Kevin had done, and I wanted to bring a lot more complexity to it.
The experience of playing [John] is incredibly layered. I dream about it. I dream about it probably once or twice a week. I dream about John Dutton, I dream about Yellowstone. I dream about Taylor. It's fascinating to me and I don't think I'm alone in that. I think that the people who make the show – the passion involved with the actors, I've never seen anything like it. I'm almost envious of what they've had over these last five years, they're pouring their hearts and souls into it, and yet, at the same time, you have the added weight of the extraordinary success of the show, which adds a different layer to it. But it matters to them.
There's a bit of dramatic irony that as Josh Lucas, you have insight into the future of your character. Are you open to allowing the writing and Kevin's performance to fill the gaps of your character since it's in the past, or do you need to ignore that to have a more authentic younger John, who doesn't know what's down the road?
Lucas: I do think I try to ignore it. It doesn't necessarily inform the way that I'm attempting to honor Kevin or even play John in a different phase of his life. I do think the weight of the death [of his wife, Evelyn] is so heavy on John at that point. I think it's lightened up over the years but I think, at the younger point in his life, he's a broken man.
I hope Taylor writes some stuff for Gretchen [Mol], and me, or the family in that pre-death mode, because I think it would be extraordinary to see them when they weren't damaged. The damage of that death was a nuclear bomb to that family.
I think this season, through the character of John, Taylor is trying to show the audience that this world is changing, and the old cowboys no longer fit into it. Because we can see that with John in season five, how he's not necessarily long for this world, in your opinion, how does revealing the past John, prepare us for John's future?
I think the thing that's so unique about what Taylor's doing, and even what you're seeing with me as John Dutton in a different phase of his life, is it makes you care for him.
It makes your relationship to him that much deeper. People really love seeing this relationship between Beth and Rip evolve, right? They love seeing these characters go through the heartbreak and pain that they go through.
I think what it does is it just makes people feel like they truly know the person. If they know the person, and they know them at different phases of their life, it's one reason why television is unique compared to film. Film is a standalone experience, but television is in your house every week or every day if you binge it, and you grow a different relationship with characters.
Well, that authenticity definitely comes through. We've seen some fantastic scenes this season between you and Kyle Red Silverstein who plays young Rip, and we get a chance to see the relationship build between the two. Do you think there is an era of younger John or a dynamic you want to explore with a younger version of one of the other characters of modern Yellowstone?
I guess I imagine seeing John Dutton in his late teens or early 20s, maybe when he meets his wife, who would obviously become the matriarch of the family. I would be fascinated to see that, I really would, because I think you're going to see the joyful side of John.
Maybe with John Dutton you would never call him joyful, but to see the man who has dreams and all of it is still off in the horizon I think would be a fascinating thing to watch. I would love to see that.
I'm intrigued to see if [Taylor] goes further with Beth and Rip at this teenage age, but I guess I do kind of yearn to see John Dutton, falling in love and in his early 20s, and, you know, the happy period?
Could you simply shave off the mustache or use CG to play the part?
(laughs) That's what Kevin wanted to do with me.
Really?
Oh, absolutely. Kevin did not want [me] to do that, and rightfully so. He owns John and he doesn't want anyone else playing John Dutton. Actors are very proprietary to the characters that they play and I think John is embedded deep in his soul.
Can you tell us anything about the second half of season five?
Wish I could. I haven't seen anything. I heard rumors that maybe a couple of the actors know what's coming, but then I've spoken to those actors and they say they don't. (Laughs)
I would be surprised if they did, frankly, because Taylor is a closed book. Again, he is more John Dutton than any of the rest of us. He's a man who has very few words, he speaks very softly. He has great power and he doesn't need to share anything for anybody, but he's a fascinating dude.
Yellowstone returns from hiatus sometime this summer, on Paramount+.