Features
Ghosts: Mathew Baynton On Becoming a Second Pete
Original Ghosts star and producer Mathew Baynton discusses crossing over from Button House to Woodstone Manor.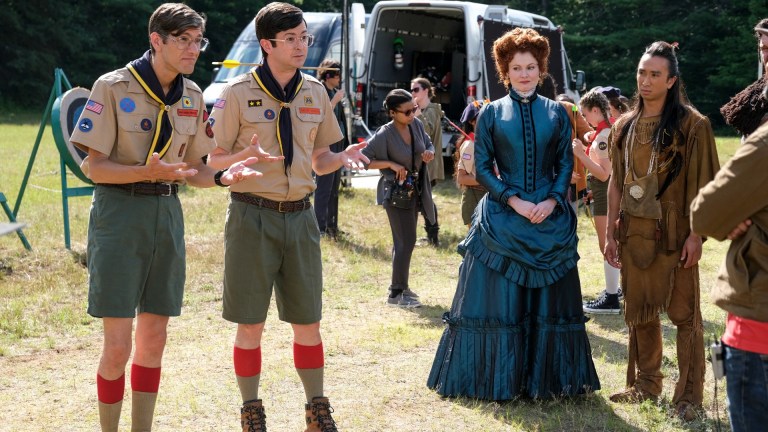 This article contains spoilers for Ghosts season 2 episode 7.
This week's episode of Ghosts is a reminder that the series is at its heart a love letter to the original BBC Ghosts series.
Isaac (Brandon Scott Jones) and Nigel (John Hartman)'s conflict this week also reminds the audience that our common histories outweigh our cultural and political differences. Sam (Rose McIver) informs both of them that the bitter divide between the American colonists and the British was left behind after the Revolutionary War. In a way, their conflict is also a reminder to the fandom that there's plenty of room to appreciate both series of Ghosts.
While Issac and Nigel debate the merits of the Stamp Act, a documentary television crew from the in-universe series "Dumb Deaths" wants to highlight Pete's (Richie Moriarty) archery accident. Sam and Jay agree to the film crew taking over Woodstone Manor because they want to advertise the history of the house to potential guests. Pete overhears the documentarians discussing how they believe alcohol influenced his death. He doesn't want his relatives to see him portrayed that way. UK series fans will also recognize the "documentary recreating the death of a ghost" plot but the setup and payoff is tailored to fit Pete's character development.
Mathew Baynton plays an over-the-top British method actor cast as Pete in the documentary. This is also the first time he's playing a living as he plays Thomas Thorne in the UK series, a poet who failed to achieve stardom. Thomas died about 50 years after Issac and Nigel in the mid-1820's. He is also known for acting in and producing Horrible Histories and several other U.K. comedy series. Baynton spoke to Den of Geek about what it was like to film the U.S. series as a U.K. writer and actor, his thoughts on adapting the Ghosts concept to the United States, and why American Ghosts fans should sample U.K. Ghosts if they haven't already.
DEN OF GEEK: When was your part in "Dumb Deaths" filmed? What was it like meeting the U.S. cast?
MATHEW BAYNTON: I have such a bad memory, but it was sometime during the summer holidays because I took my kids out to Montreal with me, and it was great. It was such a privilege to be the first [of the U.K. Ghosts cast] to get the chance to go play with our American cousins. I got to absorb all of the love from those guys for us creating the original. Everyone was lovely. The vibe we have on the set in the U.K. is a real supportive, friendly, family vibe. We really like to try to make sure that everyone in the cast and crew feels part of the team and wants to come to work every day and enjoy themselves. And it felt like it was exactly the same atmosphere out there on the CBS version, so I felt right at home.
Where did the idea for the obnoxious actor role come from?
They [U.S. Executive producers Joe Port & Joe Weisman] had written this storyline about an actor coming in to play Pete in a reconstruction of his death, and that's what I was first sent. The main point was that it's a story about Pete. It's about Pete and his realization that he's going to be portrayed as this kind of idiot who ignored health and safety measures and was a fool. [Pete] doesn't want his living relatives to see this thing that sort of disrespects his memory. The first version of the character was more like an old school hammy stage actor.
We spoke about it and I felt that it would be fun to play with a more modern acting stereotype and the irony of someone who claims to be obsessed with being a method actor and getting to the absolute truth of the character. The irony of using the word truth again and again when you're portraying someone like a million miles away from what the truth of what they were like. That was the most fun to be beside Richie just playing the game of being as disrespectful as possible to his character right in front of him.
What was the most challenging aspect of your guest star appearance, besides the fact that it's such a short time to bond with everybody?
That aspect was not challenging at all because they were also so, so lovely. The most challenging thing was that I've shot four series of this show in the U.K. playing a ghost and I've never had to do the thing that in our show Kiell [Smith-Bynoe] has to do every day and various other guest roles, and in the American version, Utkarsh [Ambudkar] has to do every day, which is pretend that you can't see or hear these people who are right in front of you. I've come back to our version with a newfound respect for those guys, because it's tricky, harder than it looks.
Another hard thing for me is if someone does something just particularly funny or spontaneous, it's very hard for the eyes not to just flicker or for there to just be a flicker of a reaction. I'm quite a bad corpser as it is, and so if I have to not only hide the fact I'm finding it funny, but that they're even in the room.
You are credited as an executive producer on U.S. Ghosts, can you share some insights into that side of the creative collaboration process?
We [the British executive producers] really wanted Joe [Port] and Joe [Weisman] to take ownership of the show. In the process with the pilot being made, we were looking and giving notes on drafts and looking at the rushes and stuff. When you've been a producer and writer yourself, you have absolute sympathy for people who are trying to do that job and how much of a nightmare it is to have a thousand different opinions thrown at you. So we tried to make sure that we all agreed with each other before we threw any notes their way, and kept it as simple as we could and tried to stay out of their way as much as possible.
We were convinced very early on that they knew what the heart of the show was, and the point really I think of anything being adapted, if it's going to be successful, is that it has to have a reason to exist in a different territory and to speak to a different culture. And so regardless of the debate about whether Americans and Brits find different things funny or anything like that, it's just literally going, "This show is about a house full of ghosts, and therefore it's kind of about the history of a country." We know intimately the stereotypes and archetypes of British history that we're taught through our lives and infuse our culture, but we can't get that right for America because we're not American. We're just really proud of their version and really just utterly delighted for the success of it.
If you were invited to write a U.S. Ghosts episode, what would the plot be?
Well, if you're willing to pay me the fee for the script, I'll give you the script. Maybe when our version has run its course and we've finished, if the U.S. version is still going, it could be fun to do exactly that. I really like writing those kind episodes where you're not relying on guests and a knock on the door, and here's a new person for the week. Those are always the ones I find really fun, the challenge of tearing it all down to just the core cast. I'd probably try and come up with a story that allows me to just focus on the core gang, but I don't know what that would be, but I could come up with it if you give me a chance.
How would you describe Thomas Thorne for American fans who haven't watched the U.K. version on HBO Max yet?
Thomas sees himself as a renowned poet. The truth is that he wasn't renowned at all. He saw himself as a rival to [Lord] Byron, but the world has not remembered the poems of Thomas Thorne. If you see the ghosts as a family, in our family he's like the moody teenage son. He's very much caught up in himself and his own feelings, and he died heartbroken, and so he latches onto, in our version Allison, in the American version it would be Sam. So he latches on to the woman who entered the house and decides to project all of his unrequited love onto her. He spends a lot of his time just either pursuing her or feeling heartbroken and rejected by the fact that she doesn't return those feelings. He's ridiculous and great fun to play.
If Thomas Thorne moved from Button House to Woodstone Manor, who would be his bestie and who would he end up fighting?
I'm literally rolling through each of them and thinking. I think maybe he and Flower would get on. He's probably too similar, it's tricky because Thomas is one of our characters that doesn't really have a direct proxy in the American version. He's probably too similar to Isaac to get on with him, but maybe they'd be peas in a pod. I think he wouldn't get on with Thorfinn as he's [loud and] crass. Thomas is artistic and aesthetic. He wants life to be full of poetry and art, and Thorfinn is [the exact opposite]. But they're all multifaceted.
We know the ghost rules would likely prevent Kitty from meeting up with her U.S. counterparts Alberta and Sassapis but can we expect more crossover episodes with the UK cast either as guest stars?
I hope so. It was so fun to go out and be part of it and I hope that there'll be opportunities for some of the other guys to enjoy that experience too. And it's so nice of Joe and Joe to want to do that and to celebrate and draw attention to the original rather than try and hide the fact that there was one, that there was this other version that this is based on. It depends on them having roles I guess that they could offer and then on whoever is asked, if they're free and if the timing works out. We all hope that the US version, and I'm sure it will, it's so successful, will go on for long enough that there'll be other opportunities.
The BBC is bringing the U.S. Ghosts to U.K. audiences for the first time on BBC Three on Nov. 20 at 8:30 PM BST and will stream on iPlayer afterward. U.S. Ghosts airs on CBS Thursdays at 8:30 PM and on Paramount+.