Features
UK TV Premiere Dates: 2023 Calendar
Here's a handy guide to release dates on UK television in 2023.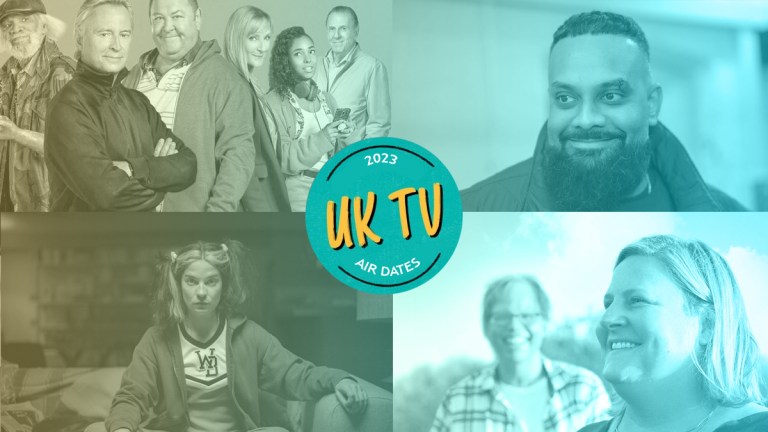 You could go outside. Stick your face in the sunshine, watch a seagull peck at a bin in the park, do the awkward no-after-you dance with a fellow human being on a narrow pavement. But really, is it worth the bother? Inside is where it's really happening. Inside is where the television lives.
On that television currently in the UK, there's new comedy to enjoy, not least the return of Guz Khan comedy Man Like Mobeen, the BBC debut of Staged series three feat. David Tennant and Michael Sheen, and Disney+'s follow-up series to The Full Monty. US-import-wise, don't miss extremely fun Natasha Lyonne-starring detective series Poker Face, from Knives Out creator Rian Johnson, and the second series of excellent comedy-drama Somebody Somewhere.
If you missed it when it aired, you can catch up on the eighth series of Reece Shearsmith and Steve Pemberton's Inside No. 9 on BBC Two, and while you're on iPlayer, run, don't walk to Neil Forsyth's brilliant Scottish comedy thriller Guilt, all three series of which are available to stream now. All that, plus five brand new episodes of Black Mirror arriving on Netflix on the 15th of June.
We'll update this list of TV highlights weekly with more shows, dates and times as the release announcements arrive. If you're based in the US, here's where to look for the relevant info.
| DATE | SHOW | CHANNEL/STREAMER |
| --- | --- | --- |
| Monday, June 5 | the Goldbergs series 10 (22 episodes) | E4 |
| Monday, June 5 | The Idol (six episodes) | Sky Atlantic |
| Monday, June 5, 9 p.m. | Vicky McClure: my grandad's war (one-off) | ITV1/ITVX |
| Monday, June 5, 9 p.m. | For Her sins (4 episodes, airing Mon to Thu) | Channel 5 |
| Tuesday, June 6 | somebody somewhere series 2 (7 episodes) | Sky Comedy |
| Tuesday, June 6, 7 p.m. | digging for britain (4 episodes, weekly) | BBC Two/BBC iPlayer |
| Tuesday, June 6, 8 p.m. | the british soap awards (one-off) | ITV/ITV+ |
| Tuesday, June 6, 9 p.m. | steeltown murders: hunting a serial killer (one-off documentary) | BBC One/BBC iPlayer |
| Thursday, June 8 | man like mobeen series 4 (4 episodes) | BBC Three |
| Thursday, June 8 | Significant other (6 episodes, box-set) | ITVX |
| Thursday, June 8, 9 p.m. | Davina McCall's pill revolution (one-off) | Channel 4 |
| Thursday, June 8, 9 p.m. | Michael tippett: the shadow and the light (one-off documentary) | BBC Two/BBC iPlayer |
| Friday, June 9 | human resources series 2 (10 episodes) | Netflix |
| Sunday, June 11, 6.30 p.m. | soccer Aid for unicef 2023 (one-off) | ITV |
| Tuesday, June 13 | the ark series 1 (12 episodes) | Sky Sci-Fi |
| Wednesday, June 14 | the full monty (8 episodes) | Disney+ |
| Wednesday, June 14, 10.40 p.m. | staged series 3 (6 episodes) | BBC One/BBC iPlayer |
| Thursday, June 15 | black mirror series 6 (5 episodes) | Netflix |
| Thursday, June 15 | Star Trek: strange new worlds series 2 (10 episodes) | Paramount+ |
| Thursday, June 15 | Count abdulla (box-set) | ITVX |
| Friday, June 16 | outlander series 7A (8 episodes) | Lionsgate+ |
| Friday, June 16 | the grand tour: eurocrash (one-off) | Prime Video |
| Wednesday, June 21 | Secret invasion (6 episodes, weekly) | Disney+ |
| Thursday, June 22 | Significant other (box-set) | ITVX |
| Thursday, June 22 | Ruby Speaking (box-set) | ITVX |
| Thursday, June 22, 9 p.m. | and just like that… series 2 (11 episodes) | Sky Comedy/NOW |
| Friday, June 23 | I'm a virgo (8 episodes) | Prime Video |
| Sunday, June 25 | titans series 4 (12 episodes) | Netflix |
| Wednesday, June 28 | Hijack (7 episodes) | Apple TV+ |
| Thursday, June 29 | The witcher series 3 part I (5 episodes) | Netflix |
| Friday, June 30 | jack ryan series 4 (6 episodes) | Prime Video |
| Friday, June 30 | The last leg series 28 (weekly) | Channel 4/All4 |
| Wednesday, July 12 | The afterparty series 2 (10 episodes) | Apple TV+ |
| Friday, July 14 | The great series 3 (10 episodes) | Lionsgate+ |
| Friday, July 14 | foundation series 2 | Apple TV+ |
| Friday, July 14 | the summer i turned pretty series 2 (8 episodes) | Prime Video |
| Wednesday, July 19 | the bear series 2 (10 episodes) | Disney+ |
| Thursday, July 20 | all american series 5 (20 episodes) | ITVX |
| Wednesday, July 28 | good Omens series 2 (6 episodes) | Prime Video |
| Wednesday, July 28 | Heels series 2 | Lionsgate+ |
| Thursday, August 3 | Heartstopper series 2 (8 episodes) | Netflix |
| Tuesday, August 8 | Only murders in the building series 3 | Disney+ |
| Wednesday, August 16 | the chosen one | Netflix |
| Sunday, August 20 | the winter king (10 episodes) | ITVX |
| Friday, September 1 | Wheel of time series 2 (8 episodes) | Prime Video |
| Thursday, September 7 | virgin river series 5 (12 episodes) | Netflix |
| Thursday, October 5 | Lupin series 3 | Netflix |
| Friday, October 6 | loki season 2 (6 episodes) | Disney+ |
| Wednesday, November 29 | Echo | Disney+ |
TBC