News
The Walking Dead Season 10: "Extra" Episodes Will Explore New Mysteries Set Up in "A Certain Doom"
The Walking Dead season 10 finale will be followed by six "extra" season 10 episodes. Showrunner Angela Kang teases what those episodes will be about.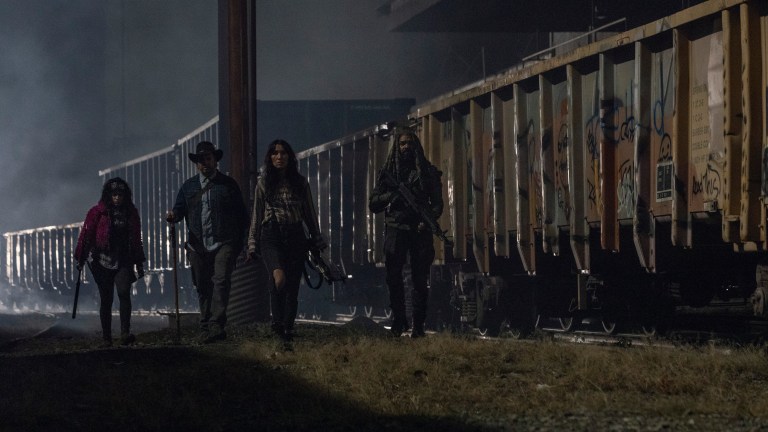 The ending is truly only the beginning when it comes to The Walking Dead season 10. The long-awaited season finale, "A Certain Doom," will bring to a close the war between our heroes and the Whisperers. But from the ashes of the finale will bloom six "extra" season 10 episodes scheduled to air in early 2021 in lieu of a brand-new season this October.
What will the extra episodes be about? As we've written in our own spoiler-free review of "A Certain Doom," the finale feels like a true ending to the creepy Whisperer story the show has been telling for the last two years. So where can season 10 go from here? We've made our own educated guesses as to what might be in store for The Walking Dead in 2021, but now we've had a chance to ask the source.
Talking to showrunner Angela Kang ahead of the premiere of the season 10 finale, she gave us the tiniest of hints of what the extra episodes will be about. She also explained how the idea to add new episodes to the season came about.
"There are some things that get set up at the end of season 10, which was our intended ending, [and] we will start to dive into some of those mysteries that we've left behind," Kang says of the extra episodes, which are currently in pre-production.
As you might have guessed, Kang's team didn't originally set out to extend season 10. Lockdowns and delays caused by the Covid-19 pandemic forced AMC and The Walking Dead crew to rethink its approach for the next run of episodes. Kang says that the team had been preparing to shoot a more traditional season of the show when the pandemic hit and changed everything.
"We had been getting ready to shoot one of our typical really big scopey first episodes that has hundreds of zombies and people in really close quarters with each other, crammed into little spaces, and it didn't feel like that was really feasible or safe or responsible in this time," Kang says.
But the show, as they say, must go on. Earlier this year, AMC asked Kang's team to "pivot" and write these six new episodes that "would creatively really feel like The Walking Dead and be satisfying from an emotional and story standpoint, but that are also just a little more possible to make from a production standpoint."
So does that mean fans should expect something a bit less ambitious than "big scopey" episodes featuring "hundreds of zombies" when the show finally returns in earnest next year? That seems likely, but Kang promises that "there's still twists and turns and scares and tears" in the new episodes.
"We're loving getting to dive into some of these characters in a really deep way," Kang says of how the team is approaching the rest of season 10. "It all flows right into what we're planning for season 11. It's all in service of the story. Hopefully it will feel like these lead us right into those episodes and that we get to have fun along the way."
Following the six new season 10 episodes will be The Walking Dead season 11, which will span 24 episodes and will premiere in 2021 and run through late 2022. It'll be the show's final season.