News
The Walking Dead Rick and Michonne Set Photos Confirm a Moment We've Been Waiting For
The latest set photos from The Walking Dead's Rick and Michonne spinoff reveal a big moment for the duo.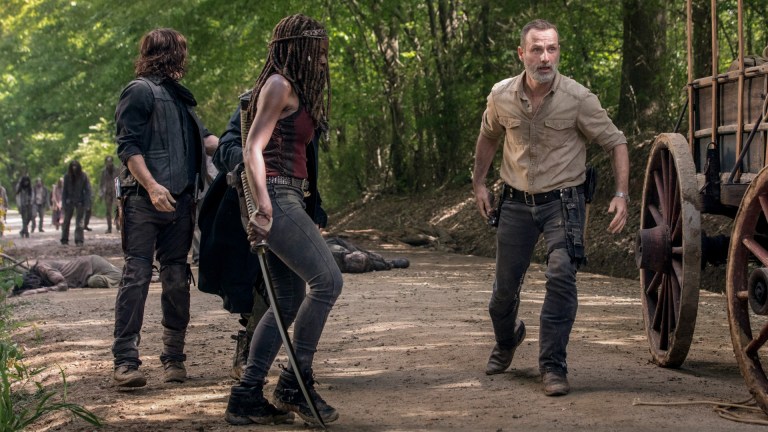 It's been four years, four months, and 29 days since Rick Grimes and Michonne Grimes née Hawthorne last appeared together…depending on when you're reading this, of course. Point is: it's been awhile since Andrew Lincoln and Danai Gurira shared the screen on The Walking Dead.
While both characters popped up separately in the final moments of The Walking Dead series finale, the franchise stopped short of reuniting its two leads and most popular characters. Thankfully, however, we know that reunion is certainly coming in the upcoming untitled Rick and Michonne spinoff. Now that filming is underway on the Rick and Michonne show (and has been since February), set footage has begun to leak out.
The latest imagery of the set will be of huge importance for fans of the star-crossed lovers. Check it out below if you don't fear spoilers. Though, in this case, it's probably not revealing anything that the the concept of the show didn't already promise…
Look! Rick and Michonne are back together. And they're doing their favorite activity: running for their freaking lives. And you see that yellow pickup truck in those pictures? It looks like Rick and Michonne use it to make a quick escape from the walker horde. You can the duo rushing to hop into their new ride before zooming off to parts unknown:
We doubt that this footage captures the very first moment that Rick and Michonne find each other onscreen. It's a bit too chaotic for that. But it is still significant that this is the first time fans have gotten to see them together in quite some time. So enjoy it, everyone!
There are also some other subtle plot clues we may be able to derive from the video. For starters, the on-location suburban set appears to match set photos that we've seen previously from what we presumed to be the show's Civic Republic Military set. Now, however, the once supremely secured location is now crawling with walkers, suggesting that this could be a fairly climactic moment in the upcoming series' six episodes.
For those in need of a reminder (and we don't blame you, it's been awhile) the Rick and Michonne TV show is likely to spend at least some of its time within the Civic Republic Military, or "CRM." The CRM was first introduced on The Walking Dead flagship series through a helicopter bearing its enigmatic three-circle logo. Its backstory was then further filled in a bit in Fear the Walking Dead and then extensively through The Walking Dead: World Beyond's two seasons.
Like the Commonwealth before it, the CRM is a massive militants society devoted to maintaining a post-apocalyptic order at all costs while also trying to find the cure to the zombie virus. In Rick Grimes' last episode of The Walking Dead, the character known as "Anne" and "Jadis" (Pollyanna McIntosh) brought an injured and unconscious Rick into the CRM's clutches. Based on the final scene of The Walking Dead and the bits of set footage we've seen thus far, it seems likely that escaping from the CRM will be a big priority for Rick and Michonne.
The Rick and Michonne spinoff does not yet have a release date but is aiming for a 2024 premiere. AMC's description of the series reads:
"This series presents an epic love story of two characters changed by a changed world. Kept apart by distance. By an unstoppable power. By the ghosts of who they were. Rick and Michonne are thrown into another world, built on a war against the dead… And ultimately, a war against the living. Can they find each other and who they were in a place and situation unlike any they've ever known before? Are they enemies? Lovers? Victims? Victors? Without each other, are they even alive — or will they find that they, too, are the Walking Dead?"