Features
The Walking Dead Series Finale's Biggest Easter Egg Wasn't What We Expected
The most unexpected surprise in The Walking Dead finale didn't even occur in the episode itself.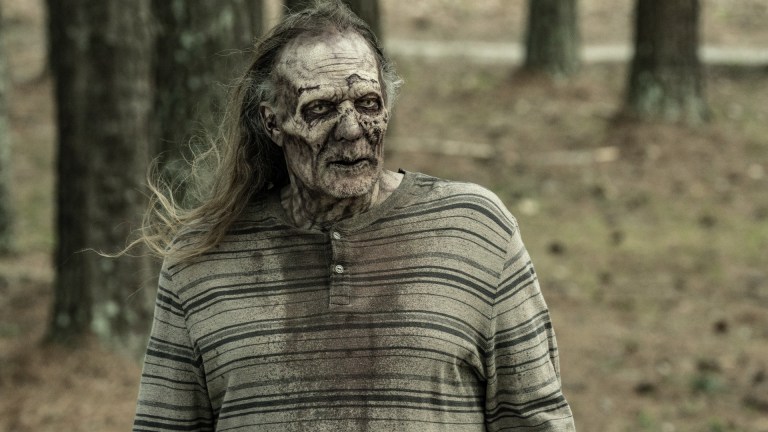 Many shows use their series finale as an opportunity to bring back characters from the past and "Rest in Peace," the last episode of The Walking Dead, was no exception. The zombie drama's final hour indeed brought back some familiar faces both in flashback form and in the present. You can read about that particularly thrilling latter passage over here so you don't get spoiled in this space. But the finale came with some other cameos that you may have missed.
No, we're not talking about the fact that Chandler Riggs (formerly Carl Grimes) turned up on set and got to be a background extra in an Alexandria scene. Nor are we talking about the fact that series producer and this episode's director Greg Nicotero portrayed a zombie yet again (you can see him in the image accompanying this article). We're talking about some cameos that didn't technically even occur with the episode itself!
Folks who watched the finale live on AMC were treated to some additional former Walking Dead character cameos. The commercial blocks for The Walking Dead finale included four separate ads that all just happened to include the zombified version of deceased Walking Dead characters. These characters were original main cast member Andrea (Laurie Holden), season 3 Woodbury scientist Milton (Dallas Roberts), season 5 antagonist Gareth (Andrew J. West), and Hilltop youth Rodney (Joe Ando-Hirsh) in ads for Deloitte, MNTN, Autodesk, Ring, and DoorDash, respectively.
You can watch all the ads below. There are five in total, with Andrea appearing in two of them (and in the second of which she eats Ryan Reynolds' brain).
The series of ads served as fun little Easter eggs for fans who don't take bathroom breaks during commercials or watch the commercial-free experience on AMC+. And according to Variety, that was the plan all along. It wasn't a happy coincidence that four individual companies all reached out to former Walking Dead actors to play dead version of their characters. It was a coordinated effort from AMC Networks' Content Room and Ryan Reynolds' film production company Maximum Effort.
AMC's Content Room is an initiative started at the network to produce fun little in-universe companions for its shows along with a handful of new original features. The division was behind the Rhea Seehorn-starring Cooper's Bar and the digital shorts Better Call Saul Presents: Slippin' Jimmy. Maximum Effort has had a hand in Ryan Reynolds' many tongue-in-cheek commercials for his products like Aviation Gin and Mint Mobile along with his other entertainment properties like Deadpool and Welcome to Wrexham.
"Ads should be fun," Reynolds told Variety. "The Walking Dead has generated more cultural conversation over the last decade than any other property and we wanted to honor that by bringing a few characters back from the dead in some fun contextual ads." 
Ultimately, AMC and Maximum Effort settled on a pretty diverse variety of former Walking Dead characters to include. Andrea is obviously the crown jewel of the campaign and is recognized as such with her two commercial appearances. It was also nice to catch up with an all-time underrated cannibal in the form of Gareth. If we have but one regret here it's that there apparently wasn't enough room for T-Dog.