Features
The Walking Dead: What's Next for Rick, Michonne, Daryl, Maggie, and Negan
Miss your favorite Walking Dead characters? They're all coming back soon!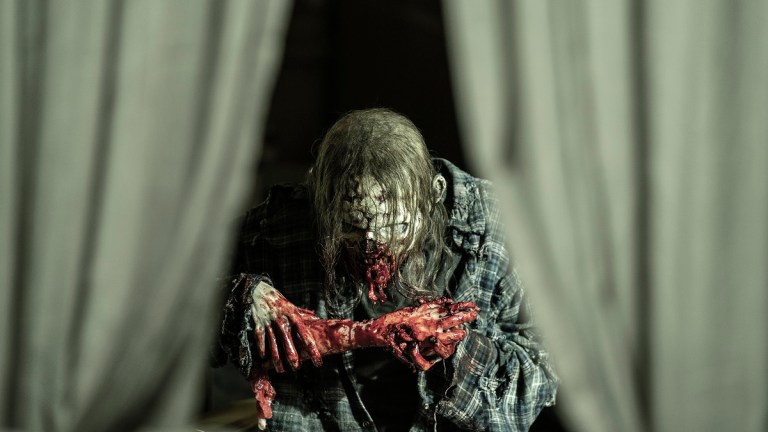 The end is only the beginning when it comes to AMC's Walking Dead universe. Although its flagship zombie series came to an end in 2022 after 11 seasons, there's more walker drama to be had in 2023 and 2024. Beyond the final season of Fear the Walking Dead and a potential renewal for the anthology series Tales of the Walking Dead, AMC has lined up three more spinoff shows starring the franchise's most popular characters. Yes, that means you haven't seen the last of Rick, Michonne, Maggie, Negan, or Daryl.
Here's a breakdown of the new Walking Dead series launching in 2023 and beyond:
Maggie and Negan in Dead City
The Walking Dead's most unlikely duo are getting their own six-episode spinoff but it isn't another zombie-filled rampage through Virginia. Maggie (Lauren Cohan) and Negan (Jeffrey Dean Morgan) are going on a road trip to the Big Apple for the appropriately named Dead City. But why are they headed to New York City? We have no clue. The Walking Dead series finale gave us zero hints as to what their business might be in the city that never sleeps.
That said, the official synopsis released by AMC (via Screen Rant) offers up a few more details about their next adventure:
Years have passed since we last saw Maggie and Negan and they must now form a tenuous alliance in order to accomplish a dangerous mission. Maggie and Negan journey to the island of Manhattan, which, having been isolated since the beginning of the walker apocalypse, has developed its own unique threats.
While in the city, Maggie and Negan encounter native New Yorkers, evade a marshal with a troubled past, and hunt down a notorious killer. But as the pair moves deeper into the gritty depths of the walker-infested city, it becomes apparent that the traumas of their tumultuous past may prove just as great a threat as the dangers of the present.
So, a time jump? Check. Enemies forced to work together to track down a common foe? Check.
Gaius Charles, Željko Ivanek, Jonathan Higginbotham, Mahina Napoleon, Trey Santiago-Hudson, and Charlie Solis round out the cast of characters living in a post-apocalyptic (and seemingly war-torn) New York City.
Filming wrapped in New Jersey last October.
Release Date: June 2023
The Walking Dead: Daryl Dixon
Norman Reedus' Daryl Dixon is going on a road trip too for another six-episode spinoff. This one's even more far-out than a vacation to New York City. You see, Daryl's crossing the Atlantic to practice his French. AMC president Dan McDermott confirmed to EW that the spinoff will "follow Daryl as he wakes up and finds himself somewhere on the European continent and tries to piece together what happened. How did he get here? How's he going to get home?"
While sending Daryl all the way to Europe seems a bit random, The Walking Dead universe actually set this twist up a few years ago. World Beyond, another Walking Dead spinoff that concluded in 2021, teased that French scientists may have been responsible for the zombie outbreak, and that before their lab was wiped out, they were studying "variant" walkers (basically, these walkers can run, as teased in the World Beyond finale, or climb walls as in The Walking Dead). It's possible Daryl will answer once and for all what the hell caused this mess in the first place.
Originally conceived as a two-hander starring both Reedus and Melissa McBride as Carol Peletier, McBride dropped out due to scheduling issues, so it's all about Daryl now. The cast also includes Clémence Poésy as Isabelle, "a member of a progressive religious group who joins forces with Daryl on a journey across France and finds herself confronting her dark past in Paris," and Adam Nagaitis as Quinn, a "displaced Brit who has become powerful in post-apocalyptic Paris as a black marketeer and the owner of the Demimonde, a sexy underground nightclub."
Filming began last October in Paris, France.
Release Date: 2023
The Rick and Michonne Series
For many fans, this is the big one. Originally planned as a trilogy of Rick Grimes movies that would go to theaters, this untitled spinoff is now a six-episode series that continues the stories of Rick and Michonne as they search for each other across the zombie-infested wasteland. The Walking Dead finale actually set up this spinoff quite nicely.
In one of the final scenes of "Rest in Peace," we learn that Michonne is still searching for Rick, even taking on an entire horde of walkers by herself just to get a little closer. Meanwhile, Rick's somehow managed to escape the CRM (another big post-apocalyptic faction like the Commonwealth, but these folks have helicopters and are even more evil) after first being taken captive by them in The Walking Dead season 9. He's recaptured here but not before he can leave another message/clue for Michonne to follow.
An official synopsis from AMC asks more questions about what's next than it answers: "This series presents an epic love story of two characters changed by a changed world. Kept apart by distance. By an unstoppable power. By the ghosts of who they were. Rick and Michonne are thrown into another world, built on a war against the dead… And ultimately, a war against the living. Can they find each other and who they were in a place and situation unlike any they've ever known before? Are they enemies? Lovers? Victims? Victors? Without each other, are they even alive — or will they find that they, too, are the Walking Dead?"
Filming will begin this month. No additional castings have been announced, but we should hear some very soon!
Release Date: 2024