News
How The Walking Dead: Daryl Dixon Will Resemble the TWD Pilot
In a new interview, Norman Reedus has revealed some key details about The Walking Dead's Daryl Dixon spinoff.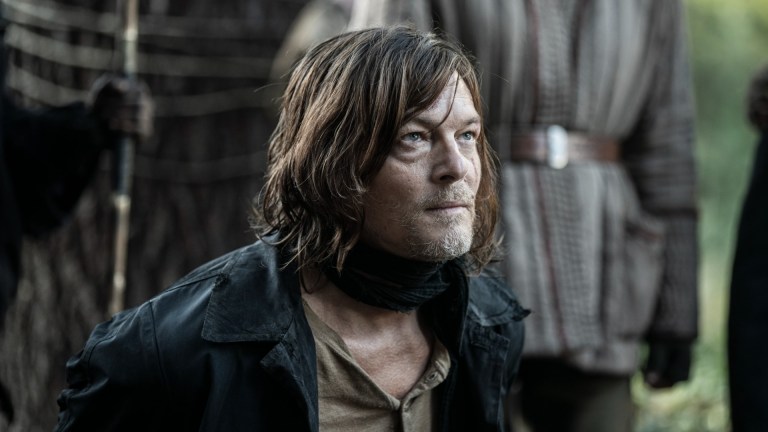 However one feels about 11 seasons of The Walking Dead (and the many spinoffs to come), it's hard to deny that its pilot is a thrilling hour of television.
"Days Gone Bye," which first aired on Halloween night 2010, adapts the first issue of Robert Kirkman's zombie comic of the same name on a nearly panel-by-panel basis, following Kentucky sheriff Rick Grimes (Andrew Lincoln) as he wakes up from a coma in a hospital to a world overrun by the dead. The suddenness of it all is a real treat for viewers as they're taken aback and given the opportunity to discover a terrifying new post-apocalyptic reality right alongside Rick.
Given that The Walking Dead as a television franchise is now more than 12 years old, has three spinoffs to its name (Fear the Walking Dead, The Walking Dead: World Beyond, Tales of the Walking Dead), and several more to come (The Walking Dead: Dead City and The Walking Dead: Daryl Dixon to start), it's going to be really hard to recapture that sense of madcap discovery and menace. So why even bother trying, right?
Well, if a new set dispatch from EW is to be believed, The Walking Dead: Daryl Dixon is going to try to recapture the magic of the classic TWD pilot anyway.
Back in September of this year, EW published a set visit for the final season of The Walking Dead. Tucked in the many details of what to expect from the flagship series' last go-around was an interesting nugget of information regarding the Daryl Dixon spinoff starring Norman Reedus as the title character.
AMC President Dan McDermott confirmed that the France-set spinoff would "follow Daryl as he wakes up and finds himself somewhere on the European continent and tries to piece together what happened. How did he get here? How's he going to get home?"
Follow Daryl as he "wakes up" you say? Interesting. From that quote alone, it sounds like Daryl Dixon would try to capture some of the in media res spirit of "Days Gone Bye." Perhaps not by having Daryl wake up from a coma as that's been done, but by having him wake up from some sort of sleep and immediately thrust into a foreign new world. Now, in a fresh new set visit article from EW, Reedus himself has chimed in with his perspective on Daryl Dixon, and it supports McDermott's vision of a fresh start.
"It's a reset," Reedus told EW. "You learn a lot of things after 12 years of doing a show, and there are certain paths that you inevitably have to go down because [there is such a big cast]. We don't really have that over there. It's kind of a fresh start for us, with all the things that we loved doing, and just a whole bunch more."
A little later on, Reedus clarifies that he's not just talking about this being a spiritual reset for him as an actor but that the circumstances Daryl is thrust into will feel refreshingly confusing.
"People are speaking French around me, and part of my story is me trying to figure out, 'Is this good or is this bad? Are we about to get into a fight or are we friends right now?' I'm trying to read lips with the language that I don't understand and I'm reading body language, I'm reading tone. I'm reading all sorts of things, and it's confusing and I'm figuring it out. I figure out how to get out of it, and how do I get to the next step. It's all part of the story. So is it weird? Yeah, it's weird, but that's the show we're making. So it's working really well."
Of course, recapturing that sense of unease and confusion isn't the only way that Daryl Dixon will seek to resemble the first season of The Walking Dead. As World Beyond viewers know, France just happens to be the location of a handful of scientists who were in correspondence with Dr. Edwin Jenner (Noah Emmerich), the CDC researcher from The Walking Dead season 1 finale. Jenner and the French put a lot of work into understanding the ultimate cause of the zombie virus before things went really bad.
With that in mind, Daryl Dixon could be an interesting combination of early season Walking Dead wonder and latter season Walking Dead lore.