News
The Walking Dead: Rick and Michonne Set Photos Show Off Andrew Lincoln's New Look
Filming is underway on The Walking Dead Rick and Michonne spinoff and now we have some revealing set photos to prove it.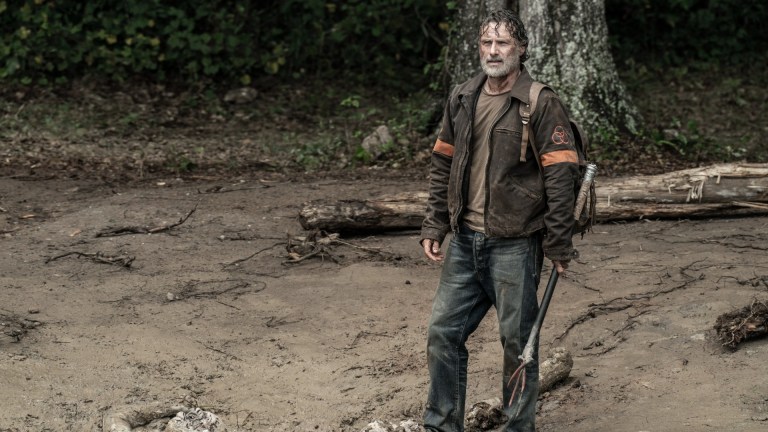 Though the original Walking Dead series came to an end with the season 11 finale in 2022, real Deadheads (that fandom name's not taken, right?) know that the story can't really be finished without checking in on Rick Grimes (Andrew Lincoln).
Thankfully the powers that be at AMC agreed and quickly commissioned a six-episode spinoff series that will continue (and maybe conclude) the arcs of both Rick Grimes and his long lost lover Michonne (Danai Gurira). While two other Walking Dead spinoffs (Dead City featuring Maggie and Negan and Daryl Dixon featuring you-know-who) are set to premiere first, production is now officially a go on the still untitled Rick and Michonne show. And you know what they say: once the cameras start shootin', the internet starts, uh … scoopin'.
Filming began in February in Jersey City, New Jersey under the temporary production name of The Walking Dead: Summit. Now the first photos and videos from the "Rick and Michonne" set have trickled out and they contain some useful information for Walking Dead fans in the know. Take a look below to see Rick in a familiar jacket, walking around an urban environment with his distinctive, purposeful Rick Grimes-ian stride.
As previously seen in the final coda of The Walking Dead finale, the interlocking three circle logo on Rick's jacket confirms what showrunner and TWD czar Scott Gimple has already made clear: our boy is likely in the clutches of the Civc Republic Military (CRM). Prior to that final postscript, we last saw Rick in The Walking Dead season 9 episode 5 when Jadis (Pollyanna McIntosh) summoned a helicopter with an identical logo to haul Rick off to parts unknown. And speaking of Pollyanna McIntosh as Janis…get a load of this.
That's right: the long-haired woman we see Rick walking alongside and then verbally dressing down is indeed the character formerly known as Jadis. We say "formerly known as" because Jadis ended up being one of The Walking Dead's most prolific chameleons. After first being introduced as a leader of a trash cult on the flagship series, Jadis would go on to have a Civic Republic Military career of note as Warrant Officer Stokes on The Walking Dead: World Beyond.
Given that this imagery features Rick out and about and not at one of the CRM's many zombie-culling prison camps, it seems likely that this moment occurs shortly after Rick arrives at the totalitarian Civic Republic. Factoring in the many post-Rick time jumps on the show, Rick and Michonne's story in this spinoff could cover as many as six years.
The character of Rick Grimes was first announced to be receiving a trilogy of Walking Dead films before those plans were re-adapted into the Rick and Michonne TV spinoff.
AMC's description for the series reads: "This series presents an epic love story of two characters changed by a changed world. Kept apart by distance. By an unstoppable power. By the ghosts of who they were. Rick and Michonne are thrown into another world, built on a war against the dead… And ultimately, a war against the living. Can they find each other and who they were in a place and situation unlike any they've ever known before? Are they enemies? Lovers? Victims? Victors? Without each other, are they even alive — or will they find that they, too, are the Walking Dead?"
The Walking Dead's Rick and Michonne spinoff is expected to premiere in 2024.