News
The Walking Dead: Maggie and Negan Spinoff Will Explore Manhattan
Isle of the Dead will star Lauren Cohan and Jeffrey Dean Morgan as Maggie and Negan in a zombie-infested New York City.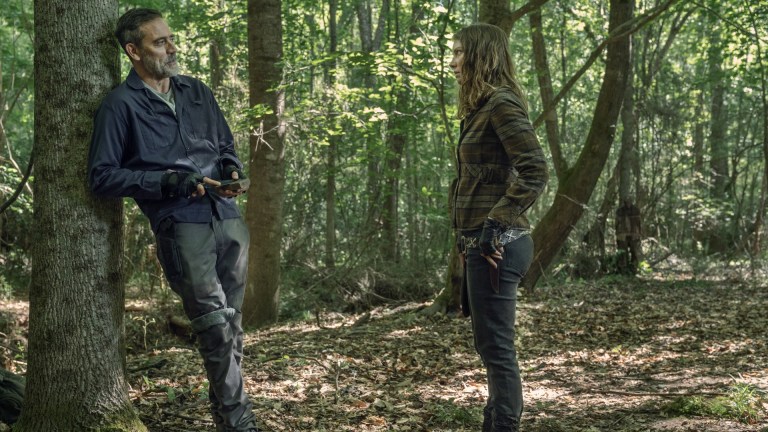 Move over Carrie, Miranda, Charlotte, and Samantha, The Walking Dead is coming to the big city!
AMC announced today that it has ordered a new series set in The Walking Dead universe, with Lauren Cohan and Jeffrey Dean Morgan reprising their TWD roles of Maggie and Negan. The series, titled Isle of the Dead, will be set in a crumbling post-apocalyptic Manhattan. Long cut off from the mainland, the Big Apple is now occupied by only the dead and a handful of denizens trying to survive.
Isle of the Dead season 1 is set to premiere in 2023 on AMC and AMC+ and will feature six episodes. Walking Dead writer Eli Jorné will serve as showrunner. TWD franchise czar Scott Gimple will executive produce, as will Cohan and Morgan.
"Eli has created a chaotic, beautiful, grimy madhouse of the dead for Negan, Maggie, and fans of the show eager to discover an unseen and insane world of the TWD Universe," Gimple said in a statement. "Lauren and Jeffrey have always been fantastic collaborators and now, we bring that collaboration to the next level with a series that will take these characters to their limits with the world — and each other. All of us are thrilled to take you on an all new, all different TWD epic for the ages."
Maggie Rhee née Greene and Negan (surname unknown in the comics but recently revealed as "Smith" in the TV series) are two of The Walking Dead's most popular characters. Maggie was introduced all the way back in season 2 as a simple Georgia farm girl. Her father, Hershel, owned and operated the farm that would serve as a home to Rick Grimes' group for the majority of the season (much to fan's chagrin). Since leaving the homestead, Maggie has blossomed into a capable survivor and natural leader. Maggie briefly exited The Walking Dead midway through season 9 to join Georgie's group of helpers offscreen (and so Cohan could pursue other acting opportunities). As of the 11th and final season, however, Maggie is back as a series regular. 
Negan, meanwhile, entered The Walking Dead universe in the season 6 finale. For more than two seasons, Jeffrey Dean Morgan's character served as the most imposing antagonist the show's heroes have ever faced. Armed with a barbed-wire bat named Lucille and an iconic black leather jacket, Negan ruled his group, The Saviors, with an iron fist and entered into war against Alexandria and its sister communities. Since his Saviors were defeated, Negan has stuck around the series, first as a prisoner and then as an uneasy ally.
The fact that Maggie and Negan are getting a spinoff isn't particularly surprising. Though Negan appears to have exited The Walking Dead flagship series for now, the show has enjoyed pairing him with Maggie. The two share a tense dynamic since Negan made his introduction on the show by violently bashing Maggie's husband Glenn's brains in. The Walking Dead is also not currently shy about greenlighting new spinoffs. Isle of the Dead joins the previously announced Tales of the Walking Dead and the untitled Daryl and Carol series as new stories set in The Walking Dead universe. What is unexpected and interesting about this announcement, however, is its setting. 
Zombie stories generally like to avoid New York City, perhaps because it's difficult to figure out the logistics of a zombie virus outbreak on an island of seven million people. In his original Walking Dead comic series, writer Robert Kirkman shied away from major cities for the most part. Aside from the first few issues set in Atlanta and one brief sojourn to Pittsburgh (mostly to shout out zombie legend George Romero), The Walking Dead has preferred rural environments.
Moving the world of The Walking Dead to Manhattan is a big step for the franchise and something that AMC is clearly eager to highlight in its marketing material.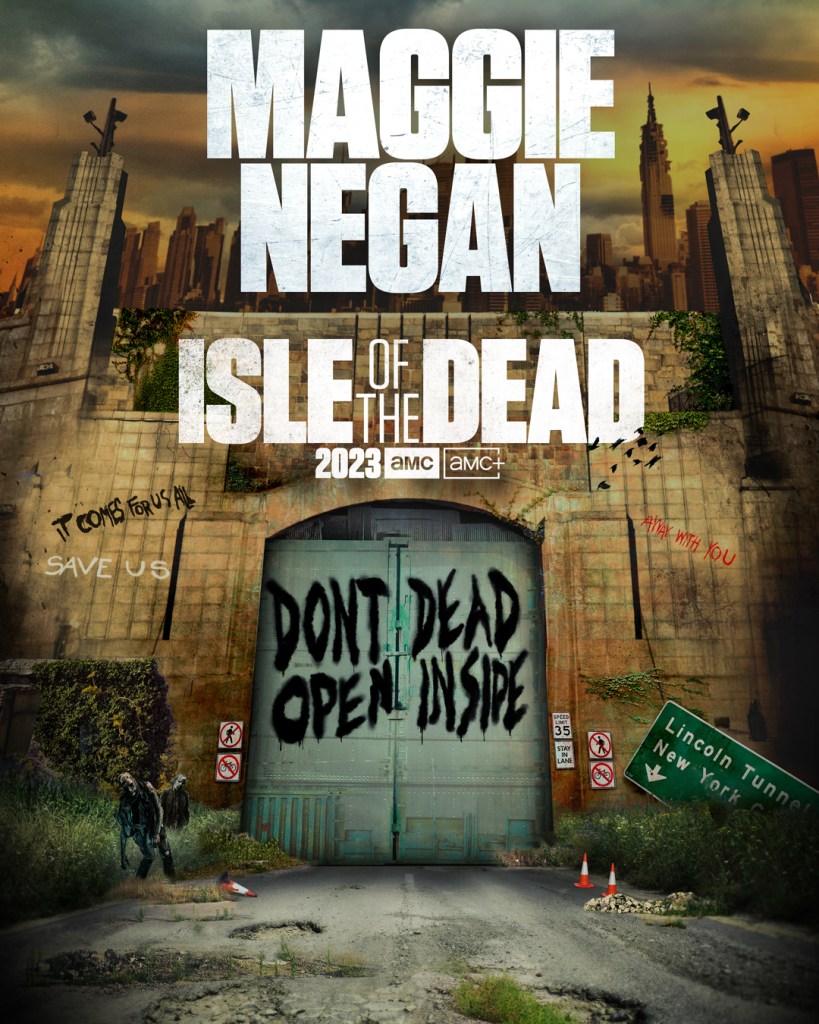 Morgan also focused on the New York setting in his statement to the press about the series, saying: "I'm delighted that Negan and Maggie's journey continues. It's been such a ride walking in Negan's shoes, I'm beyond excited to continue his journey in New York City with Lauren. Walkers in an urban setting has always been such a cool image, but 5th Avenue, Empire State Building, Statue of Liberty? The greatest city in the world?? The backdrop is amazing, but it's the story that Eli Jorné cooked up that is even better."
The Statue of Liberty surrounded by walkers would certainly be striking imagery. It's a shame though that the zombie apocalypse of The Walking Dead occurred in 2010, before the creation of some other notable NYC landmarks. Imagine Isle of the Dead getting to pack some zombies into Guy Fieri's Midtown restaurant.