Features
The Walking Dead's Sebastian Milton Would Have Liked to Take Out Rick Grimes
The Walking Dead's Sebastian Milton actor, Teo Rapp-Olsson, discusses what it's like to be mean to people for a living and why Rick Grimes was lucky to escape his clutches.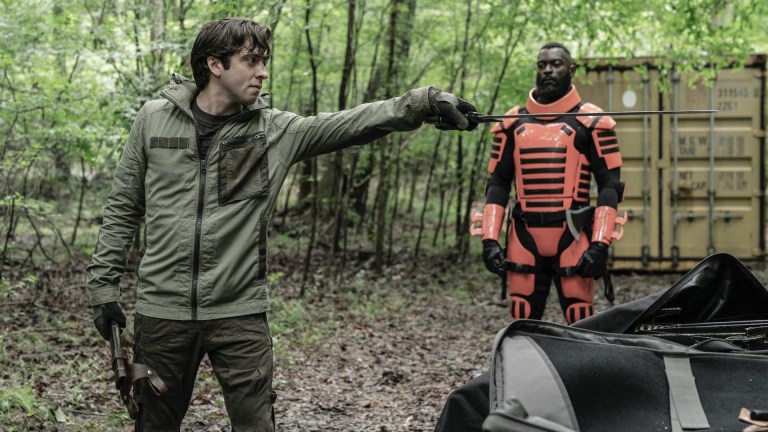 In the Western pop culture canon, there's a loathsome character archetype that could best be described as a "little shit."
Sniveling mama's boy and inbred King of Westeros Joffrey Baratheon (Jack Gleeson) on Game of Thrones is undoubtedly the most recent popular example. The archetype, however, goes even further back with Biff Tannen, Draco Malfoy, and Johnny Lawrence (pre-Cobra Kai) all making audiences' skin crawl with their spoiled, privileged brand of banal evil.
Now, in its final season, The Walking Dead has officially introduced its own entrant into the little shit canon. Sebastian Milton is the pompous son of Commonwealth governor Pamela Milton and he's just the absolute worst. First seen in the seventh episode of season 11, Sebastian reached new heights of awfulness in this week's "New Haunts." Sebastian uses his political connections to tie up valuable Commonwealth resources and sport-shoot some walkers in the woods, all under the watchful, indignant eye of supersoldier Mercer. Sebastian already got Eugene in major trouble and now none other than Daryl Dixon seems to be next in line for the awful lad.
Embodying such a hateable character can sometimes take a toll on the actors portraying them. The aforementioned Jack Gleeson quit acting after Joffrey exited Game of Thrones (though it must be noted he never indicated it was for Joffrey-based bullying). How then does the actor behind Sebastian feel about portraying such a titanic dickhead?
"It's honestly a blast," Sebastian actor Teo Rapp-Olsson says.
Though Rapp-Olsson has previously appeared in television projects like Blue Bloods, The Deuce, and Law & Order: SVU, Sebastian is his biggest TV role yet and he's relishing the opportunity.
"Rarely do you get to go to work and be an asshole to people you work with and then they thank you for it."
The appeal of Sebastian to Rapp-Olsson is partially that the character isn't a preternatural monster but rather the logical result of a lifetime of privilege and coddling. Anybody could break bad like Sebastian, it just so happens that he was the one who got to be born into a powerful political family.
"I think there's a human in there. For anyone in this kind of position I don't think it's as simple as 'I'm just evil for the sake of being evil.' I think there's something behind that."
Longtime fans of The Walking Dead comic know that even if Sebastian isn't pure evil, he does commit one of the most unforgivable acts in the series' run. Yes, incompetent lil' Sebastian is somehow the man to finally take out uber-hero Rick Grimes. After Rick gently deposes Sebastian's mom Pamela from her leadership position in The Commonwealth, the youth lashes out and shoots Rick in the gut. He immediately regrets his decision but the damage is already done. Rick Grimes is dead and The Walking Dead series at large ends two issues later.
Fortunately for Rapp-Olsson, Rick Grimes is no longer a part of The Walking Dead TV show. Actor Andrew Lincoln departed the series midway through season 9 to take some time off from the dead and prepare for a Rick Grimes film franchise that has yet to come to fruition. Still, would Rapp-Olsson have liked to take a shot at Old Man Rick?
"Absolutely. Just for the positive feedback from all the fans, of course I would have wanted to kill Rick Grimes," Rapp-Olsson says.
With six more episodes in season 11 part 2 and then eight more episodes after that until The Walking Dead's conclusion, it remains to be seen whether Sebastian will get to sate Rapp-Olsson's bloodlust with a replacement victim. The actor notes that the show can still make room for nods to the comics despite how disparate a path the plot has made to this point. And who know – perhaps Rick Grimes will make a special appearance down the stretch just to meet a bullet, non-lethal or otherwise. Andrew Lincoln sure does seem to enjoy taking trips to Atlanta…
The Walking Dead season 11 airs Sundays at 9 p.m. ET on AMC.