Features
Ghosts Series 5 Pays a Touching Tribute to Katy Wix's Mary
Gone gone, but not forgotten.
Warning: contains spoilers for Ghosts series 4 (but none for series 5)
For Ghosts' first four series – or for 400 years in the world of the show – Button House was home to Mary. Played by Katy Wix, Mary was a 16th century peasant woman who'd been killed in a witch trial and would give off a smell of burning to any "livings" who passed through her ("Tis a most noxious stinks").
A devotee of watching both Loose Women and Button House resident Mike in the bathroom, Mary's superstitions, nonsensical grammar, wobbly voice and basket-weaving expertise made her a fan-favourite. And then in the opening minutes of 2022 episode 'Gone Gone', Mary ascended up to the mysterious next phase of the afterlife – or to use the official Ghosts parlance, she was sucked off.
A touching episode followed in which Mary's fellow ghosts dealt with their grief, and two instalments later, the series wrapped up. Now Ghosts' fifth and final run is here, with the ghosts team still one member short. Katy Wix's character may be gone gone, but she's far from forgotten.
Look closely at the opening credits for series five, and instead of removing Mary from the roll-call of ghosts who flicker in the rooms of Button House during the 20-second intro sequence, she's still there but instead of standing still next to the fire and emitting smoke, she's shown glowing and ascending.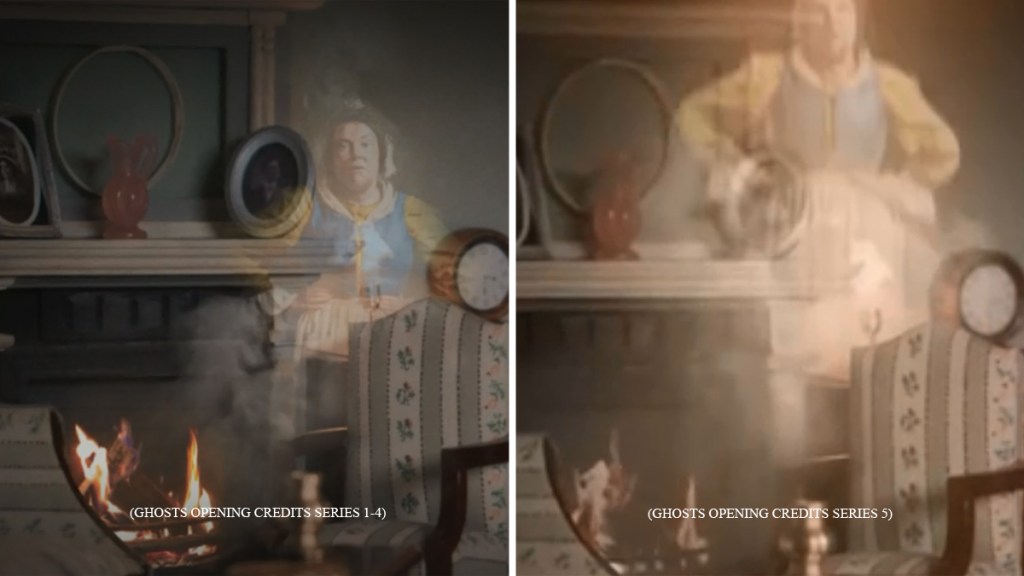 Next, in the opening credits' final shot – a cut-through of the Button House dollhouse that traditionally showed one ghost per room with Alison and Mike standing in the doorway – Mary's old spot has been left empty in tribute.
Between series one and four, we always saw (from L to R), Kitty, Lady Button, Julian and Thomas in first floor rooms, and then The Captain, Mary, Robin and Pat in the ground floor drawing rooms and kitchen. Each one is wittily introduced with a reflection of their character: Kitty next to a moving rocking horse signifying her childish innocence, Robin the caveman making the light bulb flicker to show his affinity with electricity, Julian with a falling teacup to show his power to push objects, and Pat's arrow being shot into the room first before he appears.
In the new opening credits, the others are all still in place, but Mary's drawing room is unoccupied. It's a tiny detail, but a sweet homage to a beloved character.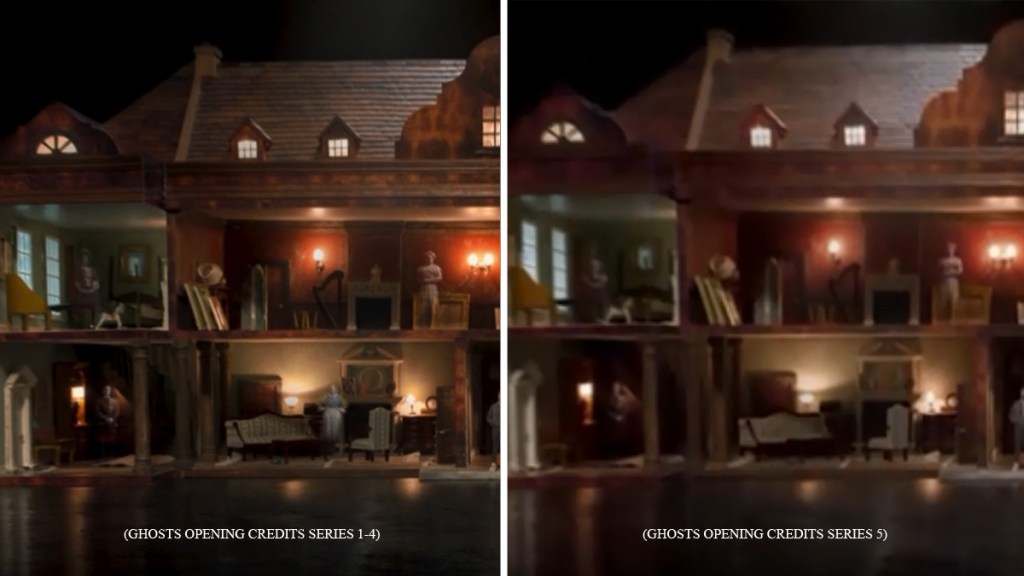 As those who've made the pilgrimage to West Horsley Place, Ghosts' Surrey location will know, that very dollhouse is now on display as part of the filming tour, but only thanks to the work of a West Horsley volunteer and Ghosts fan.
In October 2021, just after series three aired, Diane Whiting spotted that Light Creative, who made the show's opening credits was selling the dollhouse and props on eBay. The company was moving offices and no longer had room to store the bulky item.
Whiting contacted Light Creative and secured the dollhouse for £1000, an agreed price that was lower than several of the original bids, because of her plans for the piece. She intended to donate the dollhouse to go on display at West Horsley Place for the enjoyment of Ghosts fans.
After using her own money to purchase the model, over £800 of the cost was reimbursed to her by grateful fans of the show via a Just Giving page. Now anybody can visit and photograph the opening credits dollhouse, thanks to Diane and the fans.
Ghosts series five airs on Fridays at 8.30pm on BBC One. All episodes are available to stream on iPlayer now.