Reviews
The Suspect Episode 3 Review: What's Going on With Jack?
It suddenly seems like Jack hasn't been entirely honest with Aidan Turner's accused psychologist in ITV drama The Suspect.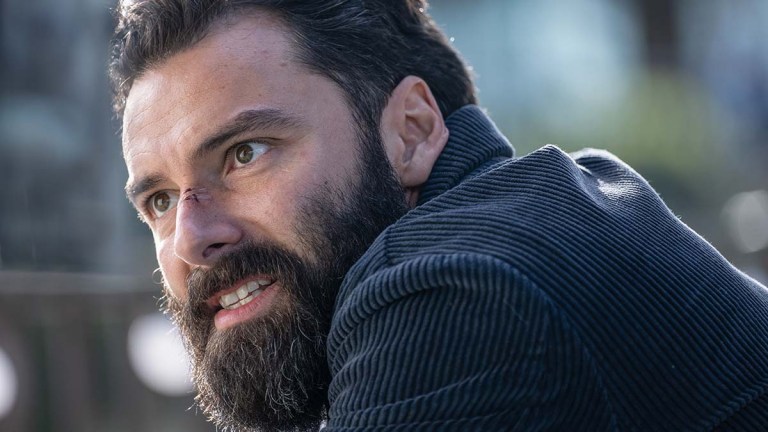 Doctor Joe O'Loughlin might not be a murderer, but he can certainly be a bit of a dick. In episode three of ITV's prime time crime drama The Suspect, the psychologist accused of murder, played by Aidan Turner, launches his own further investigation into who might have killed Catherine, by trying to persuade fellow professionals to break their ethical code of conduct by revealing confidential patient information.
If you're with the show this far you will recall that Catherine, a former patient of Joe's who accused him of sexual assault in the past, but withdrew the complaint, was found murdered on the same day that Joe and his family were visiting the cementary where her body was dumped.
Joe proceeded to act extremely suspiciously, withholding fact after fact from detectives Ruiz (Shaun Parkes) and Devi (Anjli Mohindra), and with a lot of circumstantial evidence stacked against him he immediately became the prime suspect.
Episode three introduces two new major threads – and alternative suspects. The first is Bobby Moran, who police had completely ruled out in episode two because he has an alibi. Joe discovers that Bobby Moran is actually Bobby Morgan, from Liverpool (where Catherine lived), and though many of the things he told Joe in their sessions weren't completely true, in context of Bobby Morgan's records there's a lot more to go on. Off to Liverpool with Joe, then, where he learns that Bobby's dad actually took his own life after being accused of abusing Bobby. We also discover that Joe met young Bobby as a boy for one session when he stood in for a colleague.
Is Bobby seeking revenge on the people who accused his dad? If so it seems unlikely he's working alone. And what's Catherine got to do with it?
That's where the other major plot line kicks in. Jack. Or Dr. Gerald Owens (Adam James)
as is his actual name. This is Joe's best mate and the doctor who gave him his Parkinson's diagnosis. Turns out Jack was having an affair with Catherine. He encouraged her to apply for the receptionist job and put himself down as a reference, and it was he that was the "J.O." she had planned to meet that night. Only Jack never showed up because he was with Joe's wife!
So Jack is firmly in the frame but apparently not in the eyes of the police. Jack has been cooperating with them and volunteered information about the affair himself. Also, sorry Devi and Ruiz, we are not completely convinced you are especially good cops.
We were pleased to see lovely plumber DJ (Tom McKay) back in the show, this time sharing his coffee and some sexual chemistry with Joe's wife. He also chases away an intruder who he says has broken into the O'Loughlin's front room. It is starting to seem like a bit of a longshot that the plumber is actually anything to do with anything, but we have two episodes left so there's everything still to play for. We're sure there are more twists to come.
If you've stuck it through three eps we're sure, like us, you're staying until the end. And while this show is certainly tropey and stretches credulity pretty thin, by episode three it is still somewhat addictive.
This episode also boasts two of the strangest 'burns' we have heard in a while.
"You should hang a sign around your friend's neck: Warning: incapable of love or affection" comes the zinger from a woman Jack has dumped. Hell has no fury, etc.
Then later: "Fuck off home, your mum's got custard waiting!" is the disgusted response from one of Bobby's dad's working class colleagues to Joe's admission that he's a psychologist. Is this a common Liverpudlian insult? Let us know in the comments.
By the end of the show Joe is a sad sack in the rain, while dastardly Jack hangs about in the O'Loughlin family home. Joe might have told a load of lies, cheated on his wife with a sex worker, made his wife give him a fake alibi, tried to make the sex worker give him a fake alibi, harassed a patient with mental health issues and got him wrongfully arrested, and broken a whole load of ethical standards, but, awww, it sure does look chilly out in the cold.
Tune in next week for more from wet Joe, Jack the lad, and the incidental plumber.
The Suspect airs on ITV on Mondays at 9pm and is available to watch on ITV Hub.