Features
The Flash Series Finale Brings Back the Show's Greatest Villain One Last Time
The Flash's Tom Cavanagh weighs in on playing the Arrowverse's greatest villain one last time in the series finale.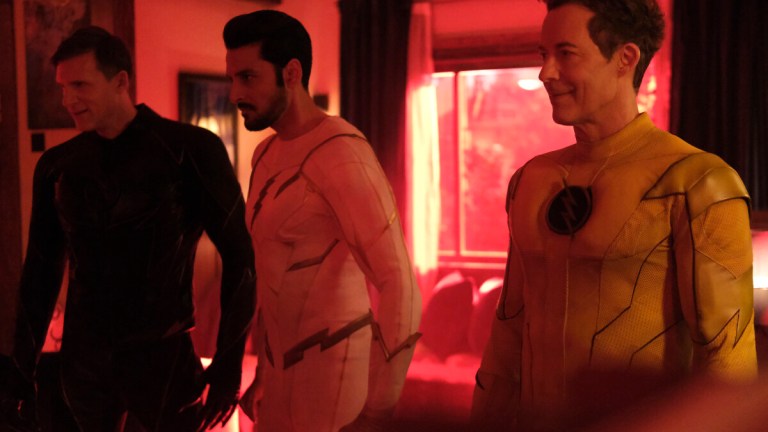 The following contains major spoilers for the series finale of The Flash.
The Flash Season 9 Episode 13
It's the end of an era. After nine seasons, over 180 episodes, half a dozen major network crossovers, and countless rogues, The CW's The Flash has completed its final run (and most likely wrapped up the current incarnation of the DC TV universe as we know it along with it). Though the show's shortened final season certainly had its issues—the random introduction of a third Snow sister instead of just giving Caitlin an actual story, way too much Cecile, the awkwardness of the "Chellegra" romance—the four-part series finale "A New World" did attempt to bring the story of The Flash full circle, resurrecting Rick Cosnett's Eddie Thawne and using him to bring balance to the Speed Force; showing us the birth of Barry and Iris' daughter, Nora; and expanding the world of Central City speedsters to include comics favorites Avery Ho, Jess Chambers, and Max Mercury.
Though it had to serve many masters, "A New World, Part Four" is an emotional and heartfelt, if not entirely complete, end to the show. Caitlin lives! Eddie makes the hero's choice we all knew he was capable of! Barry and Iris finally start their family! But of course, there's no way we could say goodbye to Barry Allen's Flash without seeing his greatest nemesis one last time, and the show does not disappoint in that regard. "A New World, Part Four" not only brings back the Reverse-Flash, but every dark speedster from the series' past for one last battle for the future of the Speed Force, complete with lots of creative special effects and callbacks to previous seasons.
"Of course, I had to come back for the finale!" Tom Cavanagh, who has played Barry's nemesis Eobard Thawne over many years and arcs since The Flash's first season tells Den of Geek. "You can't have light without a dark to put it in. And Reverse-Flash is the darkest of the dark when it comes to the Flash story. So, good, yes, let's beat up on Tom and bring him in again. But, again, and I've said this line before, it's always a privilege to put on that suit."
Cavanagh has already adjusted to life outside of Central City, having officially left the show in 2021 alongside fellow original cast member Carlos Valdes (who sadly was not able to make it back for the series finale.)
"I think it's more emotional for you and for others that have been invested in the show for nine seasons," he says of the series' conclusion. "Not that I'm not invested in the show as the villain! Reverse-Flash and the Flash is the Joker to the Batman, after all—obviously, I'm incredibly invested. But I think, because of leaving after six seasons, when they rang the bell on season 9, it was a lot different for me having been gone than it would have been for Candice and Grant, for example. I think their emotions were a lot more on the surface than mine." 
It also doesn't hurt that Cavanagh and The Flash star Grant Gustin are real-life besties, who regularly hang out outside of their shared world of superheroes. (When we spoke, the two were making plans to go to a baseball game together.)
"Grant is a good friend of mine. I married him. I mean, I didn't marry him, but I was the officiant at his wedding. I texted him like three times this morning—so it wasn't as momentous, maybe, to see him on set again, because I talk to him all the time," Cavanagh says.
There's also the fact that even though the actor officially departed The Flash at the end of season 6, his Reverse-Flash still managed to pop up several times over subsequent seasons.
"I was fortunate, in that I was in the position—by being Joker to the Batman, you're going to need that guy to come up and destroy Central City every four or five months. And I was more than happy to put on the suit and do that!" Cavanagh says. "In a strange way, it's kind of a perfect gig: If you're going to depart a full-time role with job security, make it so you're still going to get invited back to play alongside your friends regularly, which is how that kind of played out for seasons 7, 8, and 9."
Cavanagh's Reverse-Flash is not the only villainous speedster to return for one final face-off with Barry and his friends. Teddy Sears' Zoom, Karan Oberoi's Godspeed, and hulking time remnant Savitar are all back thanks to new Negative Speed Force avatar Cobalt Blue and the group begrudgingly joins forces to attack their mutual enemy.
"It was so enjoyable," Cavanagh says. "I know they look like a tribe of villainous people, but they're all such great human beings. I remember a very cold night when we were shooting some of the face-off stuff at four in the morning in Vancouver, and we just couldn't stop laughing. When you get an opportunity to do something you love with people you love what's better than that?"
In one of the series' finale's best surprises, Cavanagh's return is not limited to simply playing the show's most memorable Big Bad one last time. He also gets one last hurrah as the original Harrison Wells, whose body was stolen by Eobard Thawne so long ago and who now exists as sort of an amalgamation of all various Wells-es the show has created in the years since, a twist that the actor says felt like a "full circle" moment.
"It was so great. And I want to credit the writers' room for doing that. Obviously, I had agreed to play Reverse-Flash and I wouldn't have been back if it wasn't Reverse-Flash. But I hadn't thought about…I'd sort of closed the book on the myriad Wellses," he explains. "And annoying though many of them may be, they were a big part of the journey for, I think, a lot of the audience that was invested in the show's storytelling. So the fact that those numerous Wellses had a representative there [at the end], I think that was a generous thing and a good thing for the people who've come along with us for nine years. But it also felt right: Jesse's there and Danielle's there, and Grant's there and Candice is there, and Rick Cosnett, just a bunch of the OG people. And, oh, look, there's a Wells too."