Features
The Flash: Why Dreamer Is More Important Than Ever
Supergirl star Nicole Maines on her The Flash guest appearance and why a character like Dreamer still matters so much right now.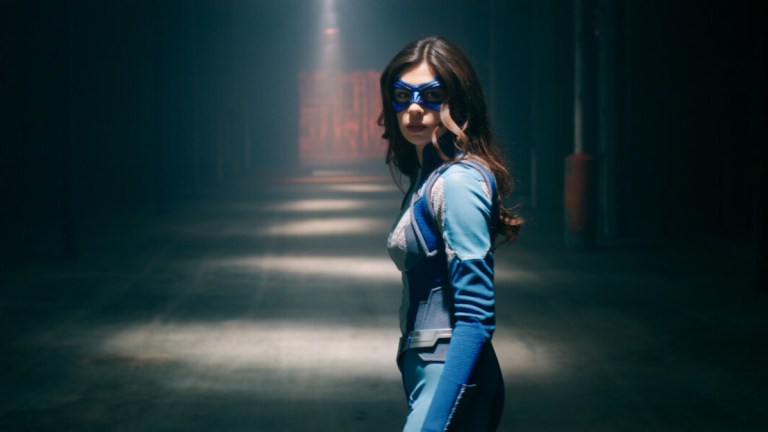 The following contains The Flash spoilers
The Flash Season 9 Episode 7
Although we're well into The Flash's final season, the show appears to be taking a breather before gearing up for its last run (pun absolutely intended) with a handful of what showrunner Eric Wallace likes to call "interludes," quieter installments that tend to focus on smaller stories or highlight the show's supporting characters. "Wildest Dreams" isn't an hour that necessarily moves the plot of the season forward all that much—though it does touch once again on Iris' emotional discomfort with the idea of her future being a set path that doesn't allow her to make her own choices—but it's a great example of the deft interconnectivity that has always been a hallmark of The CW's Arrowverse.
With The Flash concluding with season 9 and the futures of shows like Superman & Lois uncertain, there's much about this final outing that feels like a goodbye to something much bigger than a single show. So the fact that it's managing to include characters from across the small-screen superhero universe feels both important and incredibly satisfying.
In "Wildest Dreams," Supergirl's Nia Nal arrives in Central City, disturbed by a dream that featured Iris's death and frustrated by the loss of her own powers. And the end result is a guest appearance that actually has something satisfying to say about the characters we're watching and the journeys they're both on.
"She's so intertwined with my identity at this point," actress Nicole Maines, who plays Dreamer, tells Den of Geek when asked about returning to her Supergirl role. "And it felt, honestly, like I never really left because …I've been writing her in the comics since the show wrapped. So I've stayed in that headspace of Nia Nal, and it was very easy to step back into that [onscreen]. Exciting nonetheless, though, because it'd been a minute since I wore the suit!'
According to Maines, she didn't get to keep one of Dreamer's suits following Supergirl's wrap, though she still deeply wishes that wasn't the case.
"No, the suits are way too expensive for them to just give me. I wish I got to keep it!" she laughs. "And at this point now that the Arrowverse is ending, I'm like, I know you guys have more than one. I know you won't miss it if I take one! Just imagine the TikTok game—it would be popping if I had my own suit!"
(For the record, she has, she says, considered having one of her own commissioned.)
But what makes Nia's return to The Flash so interesting is how little time she actually spends in Dreamer's suit over the course of this episode. Instead, "Wildest Dreams" is a story that lets her investigative skills shine as she and Iris find themselves trapped in the Dream Realm, desperate to suss out what it is about their dreams that's keeping them there (as well as the identity of the strange being that appears to keep following them both).
For Maines, guest starring on The Flash meant getting a chance to explore a story that was solely about Nia's journey, something that presented a refreshing opportunity, after multiple seasons of Supergirl that primarily focused on Dreamer's romantic relationship with Jesse Rath's Brainy.
"Nia is such a phenomenal character and I loved everything we got to do on Supergirl with her and Brainiac's relationship," Maines says. "And I've been trying so hard to get them back together in the comics! I love that duo. But a lot of her story on the show was about that relationship and we didn't get to see Nia as an individual as often. And that's what was really exciting about coming back for The Flash. It was Nia by herself, Nia coming to help Iris and not having that [interaction] defined by whatever relationships they're in. It's easy on a big cast to lump people together, like, oh, this character's story is the same as this character's story because they're in a relationship. So getting to have her come back and just be Nia, by herself, was really rewarding."
Let's be real: Guest star appearances are rarely about the character making a surprise stop on a show they're not normally part of. As a general rule, they're primarily intended to draw in new audiences, with the occasional added benefit of providing a frisson of excitement to the storylines of existing characters on whatever show they're visiting. The fact that Nia gets a genuine arc of her own over the course of "Wildest Dreams" is a rare—and extremely good—thing.
"Her journey over the course of Supergirl was really about 'Hey, I have these powers that I was not prepared for, that I didn't even think it was possible I would inherit and I have no way to understand or control them,' Maines explains. "Her journey has been one of trying to find agency in these powers and trying to find her control and her authority. And that's also what she's been up to in the year after Supergirl. She's been delving deeper and deeper into these powers and trying to better understand their nature and their origin."
And, much like Javicia Leslie's recent guest turn as both the Red Death and Batwoman's Ryan Wilder earlier this season, Maines' visit to Central City is used to say something meaningful about her character and her journey.
"Now, on The Flash, she's being thrust into a position where she no longer has control. She no longer has access to the powers the same way she usually does. So it feels a lot like being back at square one for her," Maines explains. "She has worked so hard—both on Supergirl and after Supergirl—to become worthy of these powers and to become the Dreamer that she knows she can be. And now it's frustrating for her because it feels like she's lost all the progress she's made."
Maines is particularly enthusiastic about the onscreen dynamic the episode explores between Nia and Iris West-Allen, two characters who have never technically met on screen but who have a lot in common.
"It feels a little bit like Nia and Kara, doesn't it?" she says. "It's very similar energy—two reporter gals, one of which Nia's a huge fan of, putting their noses to the ground and solving a mystery. It felt very classic. I loved it."
In fact, the pair now apparently has monthly boozy brunches in National City together with several of the Arrowverse's other favorite female characters, and the fact that we don't see this onscreen is a travesty. But the easy camaraderie between Maines and The Flash star Candice Patton is apparently the product of their in-person interactions at various events.
"Candice and I had done SXSW together. We did iHeartRadio together. So she and I already have a relationship. And going into The Flash, it was like 'Wow this is the first time we're actually working together!" Maines laughs. "We had a great time. We were just goofing around and it was really fun. It was great getting to work with her finally."
Even though the CW's Arrowverse is winding down, fans haven't seen the last of Nia Nal or Dreamer. The character made her DC Comics debut last year—much the same way that Arrow's John Diggle and Batwoman's Ryan also made the jump from screen to page—and Maines is looking forward to writing more of her adventures in comic book form.
"Here's the thing: I will always, 100%, no matter what, no hesitation, say yes to Dreamer, and say yes to Nia Nal," Maines declares. "I am this character's number one fan. I love her so much and I am always advocating for her. I just put in another big pitch over at DC on the comics side of things. She's just chugging away steadily, and so, in the comics, I know she's going to have a role moving forward."
It's also hard to overstate the importance of Dreamer's groundbreaking status as a trans superhero in a world where anti-trans sentiment is uncomfortably on the rise and bills restricting trans people's rights seem to be popping up in almost every statehouse across the country. And Maines, who is herself trans, understands the necessary cultural role that her character occupies at this precise moment.
"My biggest concern leaving Supergirl was—this is a trans superhero. She's so important right now. Trans people are having their humanity stripped away, their power taken away, and any ounce of agency stripped away. And it's feeling like a really powerless time. Having this character is important now more than ever. Having her in the comics is really reassuring and really empowering and being able to give this hero to the community and fight for her and make sure she's continuing to be seen and heard and felt is really rewarding."
But the actress would also love the chance to play the character again, in whatever form the new DC onscreen universe takes under its new leadership.
"I would love to see her in whatever James Gunn is cooking up. I don't know what he's cooking up—you know that they don't tell me," Maines laughs. "But I hope someday Dreamer gets to play a part in it and I hope that means I get to play a part in it. A real part of me is just like—whatever you do please don't recast her!"