Features
The Continental Cast: Meet Colin Woodell and the New Stars of the John Wick Universe
Get to know the cast and characters of the John Wick spinoff series, The Continental.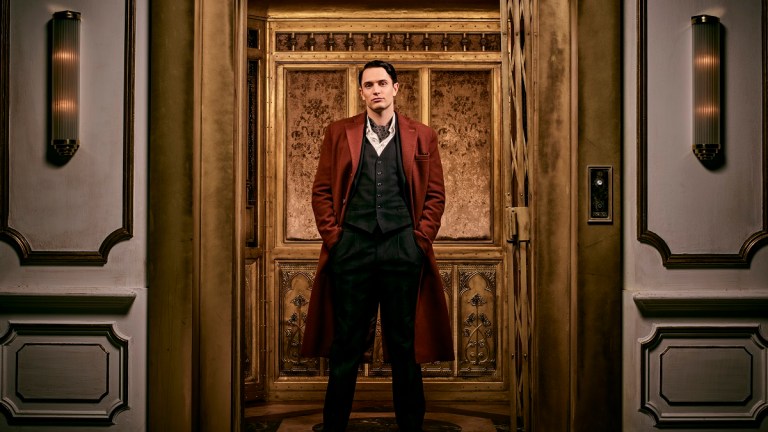 The extremely successful John Wick universe is expanding! Brand-new TV prequel series The Continental lands on Peacock in the US and Prime Video in the UK this September with a mission to take the world of John Wick beyond the ultra-violent adventures of Mr. Wick himself, but they'll still need guns – lots of guns.
Unfortunately, John Wick star Keanu Reeves does not appear in The Continental, but there are lots of new and familiar characters checking into both the notorious New York hotel and the intricate lore of the franchise in this big budget streaming TV series. If you need to know more about those characters and the actors behind the roles, we're here to help.
Colin Woodell is Winston Scott
Winston Scott should be familiar to fans of the John Wick franchise, but even if you've only seen one of those movies before, you'll have already met him as the cunning manager of The Continental hotel! In John Wick 1-4, Winston is played by Ian McShane, but as The Continental is set long before those films, a younger actor has been hired to play him during an era when he wasn't yet the manager, and that's Colin Woodell.
Woodell is indeed incredibly good at being a young Winston, with uncanny line delivery and the same wily air about him as McShane, and although Woodell is American and not British, he does a good job of balancing that tricky accent. The actor is best known for starring as Rick Betancourt in the TV series of The Purge and as Aiden in The Originals, but he has also fielded roles in Designated Survivor and Masters of Sex. No stranger to the horror genre, Woodell has also appeared in scary films like Unfriended: Dark Web and Unsane.
Ayomide Adegun is Charon
Earlier this year, the world was devastated to learn of the sudden death of actor Lance Reddick. The 60-year-old actor died from heart disease in March of 2023, having had a long career in shows like The Wire, Fringe, and Bosch, while on the big screen he had starred in all four films of the John Wick franchise as the concierge of the Continental hotel, Charon.
In The Continental, a younger version of Charon is played by Ayomide Adegun, an actor from South London with only two credits to his name, this very TV series and the upcoming movie The Hunger Games: The Ballad of Songbirds and Snakes, where he features as the character Pliny 'Pup' Harrington.
Mel Gibson is Cormac
Cormac (Mel Gibson) is a feared New York crime kingpin and the current manager of The Continental hotel in this era of the John Wick timeline. He had some early dealings with Winston and his brother Frankie as children, and in the decades since this initial encounter Frankie has come to work by his side. However, as The Continental gets underway, we see that Frankie has had enough of Cormac, and plans an operation to steal something very important from him, which then drags Winston back into the pair's orbit.
Gibson is a household name, having starred in blockbusters throughout the 1980s and 1990s like Mad Max the Lethal Weapon series. He has also notably stepped behind the camera for a handful of films, including the historical movie Braveheart, for which he won Best Director and Picture statues at the Oscars. His career took a downturn in the 21st century after several controversies and legal issues came to light and he was blacklisted in Hollywood for some time as a result of these events.
Ben Robson and Nhung Kate are Frankie and Yen
Frankie is Winston's older brother, but they have become estranged. While Winston has progressed to become a successful businessman, Frankie has fallen into a life of crime after coming home from the Vietnam War. He and his wife Yen are fiercely in love but now find themselves on the run from Cormac and The High Table after Frankie steals a very special item from The Continental vault.
Winston's brother is played by Ben Robson, who played Kalf in Netflix's popular historical epic series Vikings, but he is better known for his role as Craig Cody in the TV show Animal Kingdom. Yen is Nhung Kate, a martial artist and actress who once won the reality competition show Vietnam Superstar and since has gone on to lead over 10 Vietnamese TV series of note, while taking roles in acclaimed movies such as The Housemaid.
Mishel Prada and Jeremy Bobb are KD and Mayhew
KD is an anti-corruption NYPD officer having an affair with her superior, Mayhew. They butt heads in The Continental when KD goes further in her investigation of the hotel than Mayhew advises. The pair are played by Mishel Prada and Jeremy Bob respectively. You may have previously seen Prada on TV in the lead role of Emma Hernandez on the Starz series, Vida, whereas Bobb has appeared in a string of notable shows in the past, including Hostages, The Knick, The Drop, and more recently Netflix's hit series Russian Doll.
Jessica Allain and Hubert Point-Du Jour are Lou and Miles
Lou (Jessica Allain) and Miles (Hubert Point-Du Jour) are a brother and sister team who run a dojo left to them by their father, but who run guns on the side with the likes of Frankie to keep their business afloat. Allain is an actress and model who has been seen in the movies Thriller, The Laundromat, Texas Chainsaw Massacre, and Fear. Meanwhile Point-Du Jour has starred in The Good Lord Bird as Bob and in Dr. Death as Josh Baker.