Features
John Wick: How a Simple Idea Turned into a Massive Action Movie Mythology
Chad Stahelski looks back on the unexpected evolution of John Wick, which started as his and Keanu Reeves' dream one-off action movie and which has turned into a dense mythology ready to rival Tolkien.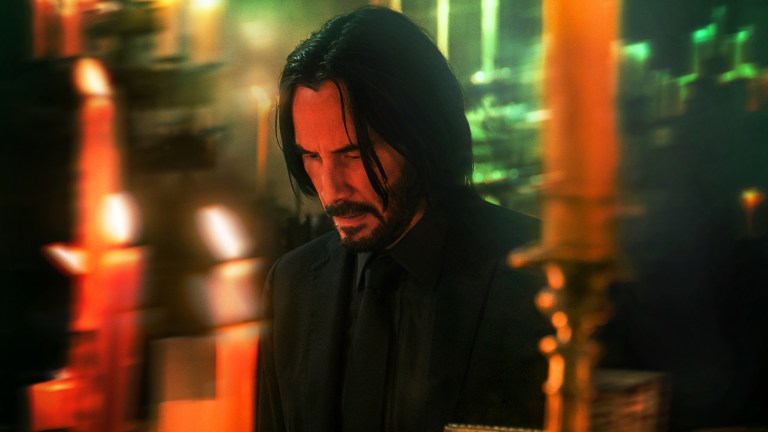 This article contains JOHN WICK: CHAPTER 4 spoilers.
Chad Stahelski's filmmaking career began 30 years ago when he performed some stunts for a direct-to-video ninja flick called Brain Smasher… A Love Story starring Andrew Dice Clay. Some 18 films later, and Stahelski had worked his way up the stunt-person ladder to serve as the stunt double for Neo, aka Mr. Keanu Reeves himself, in The Matrix. It was the beginning a beautiful friendship. He continued to work with Reeves for the second and third Matrix installments, rising to martial arts stunt choreographer's chair, and then the two reunited for Constantine in 2005. It was a fruitful collaborative relationship, however it would become something else entirely when less than a decade later they partnered again, now as director and star, for Stahelski's directorial debut, John Wick (2014).
According to Stahelski, neither he nor Reeves thought John Wick would become what it is today.
"We were just happy to have a gig," Stahelski tells Den of Geek. Originally titled "Scorn," John Wick was only the third script that screenwriter Derek Kolstad had ever sold. Reeves suggested the title change, and given Stahelski's history with stunts, the emphasis quickly became about unabashed and gratuitous action. They envisioned an action film that would showcase what the genre demands—incredible stunts and hardcore fight choreography. However, they conceived of it as a one-off, an opportunity to showcase the thrilling action that they both loved in cinema.
As Staehelski concedes: "We didn't even think about other Continental [hotels] or anything like that" back in 2014. That didn't change overnight either since, at first, the reactions were far from positive. "We screened it for a couple of friends and family. And you know, it didn't go well. Very quiet."
Fortunately, John Wick was redeemed at the box office. With a worldwide take of $86 million. When coupled with an even more robust performance on home media, Lionsgate knew they were on to something. Says Stahelski, "We were asked to do a second one. I think that's when Keanu and I got together and went 'Oh, we have a world here.'"
Reeves and Stahelski imagined what it might be like if there was a Continental in every major metropolis, which became was the impetus for John Wick: Chapter 2. "That was the key that unlocked the door," Stahelski reflects. They strove to create a hidden world that they thought was fun and fascinating, adding a little Greek mythology into their international assassin syndicates to create a modern-day fantasy film.
"I'm a big Tolkien fan," Stahelski confesses. "Sure there's Lord of the Rings, The Hobbit, and all this sword and sandal stuff…. [but] there's a lot of great sci-fi. Dune, Blade Runner, Altered Carbon, just name it. There's so much." But as Stahelski sees it, there's isn't much modern-day stuff. "Give me a modern-day fantasy that has mythological realms. Okay. We'll make one."
For action movie buffs, the John Wick franchise is packed with homages to other classic actioners. For example, John Wick: Chapter 4 adds a female radio DJ living in Paris and who gives clues about John Wick's status to the assassin community. All we see is the DJ's lips speaking into the station microphone. It's a clear tribute to Walter Hill's 1979 classic The Warriors where a female radio DJ informs the street gangs to pursue the film's heroes throughout that picture.
But this goes deeper than that when she mentions the station's call letters: W.U.X.I.A.
"No one knew what I was talking about," laughs Stahelski while discussing how he came up with that easter egg. "Even the screenwriters were like 'What are you talking about?'" Wuxia is the genre of fantasy-themed Kung Fu films, novels, and comics. Like Tolkien and sci-fi, wuxia influenced John Wick.
"In Japan, it's Chanbara, you know, the samurai movies—just slang for Clang! Clang! Clang! Clang! Clang!" Stahelski says. The idea came out of discussions between the director and star Donnie Yen, who plays blind Caine in John Wick: Chapter 4. Yen has starred in dozens of Wuxia films throughout his career and just finished directing and starring in Sakra, a film based on a classic Wuxia novel. Yen and Stahelski wanted to give Wuxia a subtle nod. "No one's getting us, so I'm just gonna name the radio station and see if somebody gets it."
Assembling the Assassins
Along with Yen, Stahelski tapped some of the best leading men of action in the business for John Wick: Chapter 4. For authenticity's sake, he sought actors who were genuine martial arts practitioners. The choice is in keeping with 2019's John Wick: Chapter 3 – Parabellum, which saw the inclusion of Mark Dacascos (Zero), Yayan Ruhian (Shinobi #2), and Cecep Arif Rahman (Shinobi #1). For Chapter 4, Stahelski reached out to old friends and actors he's been a fan of for years, veteran martial arts actors like Yen, Hiroyuki Sanada for the role of Shimazu, Marko Zaror to play Chidi, Scott Adkins to become unrecognizable under mounds of makeup as Fat Killa, and Bill Skarsgård for the villainous Marquis. Additionally, he added some fresh blood in the mix, bringing on Shamier Anderson as the anti-hero Tracker and Rina Sawayama to play Akira, a daughter who quickly finds herself in need of revenge. 
The filmmaker found Anderson though another project he produced.
"I'd worked with on this little movie that I knew through Halle Berry called Bruised. And he had this small part, kind of a dirtball promoter." Initially, Stahelski approached Anderson covertly, downplaying the movie he was casting for. He told Anderson that he was working on something akin to The Good, The Bad and the Ugly, and he was looking for someone to be like Eli Wallach's character, but he was going to have a dog. "I didn't tell him what it was for and he was like, 'Wait, is it John Wick 4? I'm in! I'm in! Whatever!' He didn't miss a beat." Anderson has a background in Boxing and Wing Chun, plus he stands at six feet and two inches, so he's built for action. 
The lead female assassin was something completely different. Rina Sawayama is a reigning pop music singer who had never acted prior to John Wick: Chapter 4 beyond her music videos. "I found Rina Sawayama on a YouTube video. I just liked the way she looked, and then I went down the rabbit hole of all her videos…" Stahelski cold called her in London from Berlin and asked her to come for an audition. She thought he was a little crazy, but Stahelski offered to fly her over and introduce her to Reeves. "It was one of the best auditions I've ever seen," he claims. "She went from never having acted in anything other than music videos to massive scenes with Hiroyuki Sanada, Donnie Yen, and Keanu Reeves and she nailed it in the stunts. We couldn't have been more happy."
He adds, "And those guys really popped. I mean Rina, she really popped. So I got very, very lucky and very fortunate."
John Wick: Chapter 4 is in theaters now.