Features
Ted Lasso Season 3 Just Gave the Game Away With Nate
A small detail in the Ted Lasso season 3 premiere indicates that Nate Shelley's heel turn might not stick.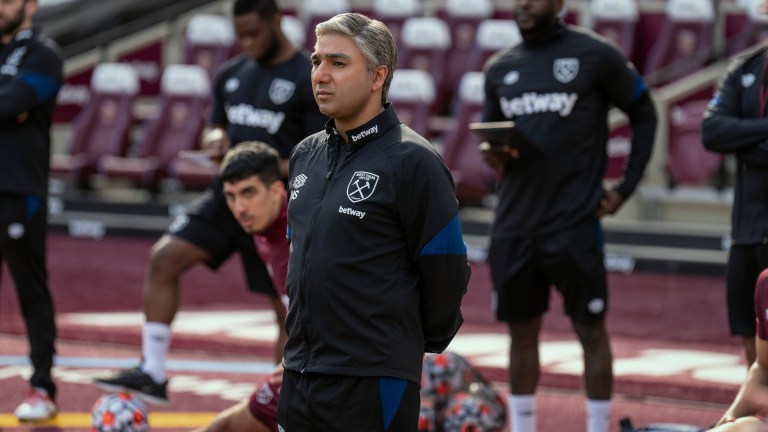 This article contains spoilers for Ted Lasso season 3 episode 1.
Before we get started, a disclaimer: however thin you think the premise of this headline might be, let me just assure you … it's somehow even thinner than that. But stick with me here anyway as we both just might learn something about Nate Shelley, Ted Lasso, Apple TV+, and the healing magic of television.
As Ted Lasso season 3 episode 1 "Smells Like Mean Spirit" confirms, this happy-go-lucky show about an American optimist in London now has an arch villain. And his name is Nathan "Nate the Great" Shelley (Nick Mohammed). Despite some growing pains here and there, Nate has adapted to his role as manager of West Ham United under villainous owner Rupert Mannion (Anthony Head) quite comfortably. It all culminates in a cruel pre-season press conference where "The Wonder Kid" (though Nate himself prefers "Wunderkind") has nothing but mean things to say about his old boss at AFC Richmond.
Once the lowly kit man for AFC Richmond, Nate's tactical brilliance was recognized by Richmond coach Ted Lasso (Jason Sudeikis) and he was elevated to a coaching position in season 1. The move had some unintended consequences, however, as throughout season 2, Nate took to the power Ted instilled in him poorly, becoming increasingly petty and vindictive before ultimately betraying AFC Richmond and signing with West Ham. Per, Ted Lasso co-creator Bill Lawrence, Nate's devolution into an insecure rage monster reflects some unfortunate instances that the writer has observed in real life.
"One of the disheartening things we spoke about way back in the first year in the writers room is that when people that were crapped on and mistreated finally get some power, success, money, leverage themselves, they often go one of two ways," Lawrence told The Hollywood Reporter's TV Top 5 podcast in 2021. "It's either I'm never going to be that bad example that was the cause of some of my trauma and abuse. Or, now it's my turn because my self-esteem sucks."
The upshot of it all is that Nate Shelley is now well and truly the bad guy of Ted Lasso … or is he?
There are certainly some subtle signs that Nate might return to the Light Side at the conclusion of Ted Lasso's third and likely final season. In this episode alone, Ted hesitates to remove the little LEGO figurine that represents Nate from his LEGO diorama of the AFC Richmond "Dog Track" stadium because he know he one day might win him back. Additionally, there's the fact that the three-season arc of this series appears to closely hew to the story of the original Star Wars trilogy. As the very first promotional photo from this season revealed, Ted Lasso, Nate Shelley, and and Rupert Mannion are all giving off Luke Skywalker, Darth Vader, and Emperor Palpatine energy. If Darth Vader could ultimately be redeemed then why can't Nate Shelley?
But the real reason why we think Nate Shelley could one day return to the good guys isn't any of those things. No, it is something far, far dumber. The real reason Ted Lasso may have given the game away on Nate's ultimate fate is because of the mobile phone he uses.
As you are certainly aware, Ted Lasso is produced and distributed by Apple Inc. streaming service Apple TV+. As one of the largest and most successful companies in the world, Apple is understandably protective of its brand. In a 2020 interview with Vanity Fair, Knives Out director Rian Johnson revealed that Apple is happy to provide free Apple products for TV shows and movies to use, provided production abides by one very important stipulation.
"Apple, they let you use iPhones in movies, but—and this is very pivotal—if you're ever watching a mystery movie, bad guys cannot have iPhones on camera," Johnson said.
This is one of those pop culture facts that, once you learn it, it becomes hard to ever unlearn it or unsee it. Sure enough, Johnson's Knives Out would have been spoiled by viewers in the know who clocked that only one character used an Android cellphone … and wouldn't you know it, it was the ultimate villain.
Now this obviously only applies to films and TV shows that Apple provides paid product placement via free devices for. Any movie or series that doesn't accept Apple's offer is free to have any character it wants use an Apple product. But that brings us to the quandary that Ted Lasso presents. As a series created with Apple's active involvement, would Apple prefer that each and every character use an iPhone or does it still preserve its "no iPhones for baddies" policy?
If it's the former, then the type of phone Nate uses doesn't matter. But if it's the latter (and the only thorough investigation on the matter from The Wall Street Journal suggests it might be) then … Nate uses both a MacBook Air and iPhone in "Smells Like Mean Spirit." Return of the Jedi redemption arc confirmed!
Thank you for reading. And also sorry.
Ted Lasso season 3 premieres new episodes each Wednesday on Apple TV+.