News
Ted Lasso Star Brett Goldstein Reveals Unexpected Marvel Meeting Details: "Is This a Wind-Up?"
Ted Lasso breakout Brett Goldstein wasn't sure what to expect from his call with Marvel, but now he's the MCU's Hercules.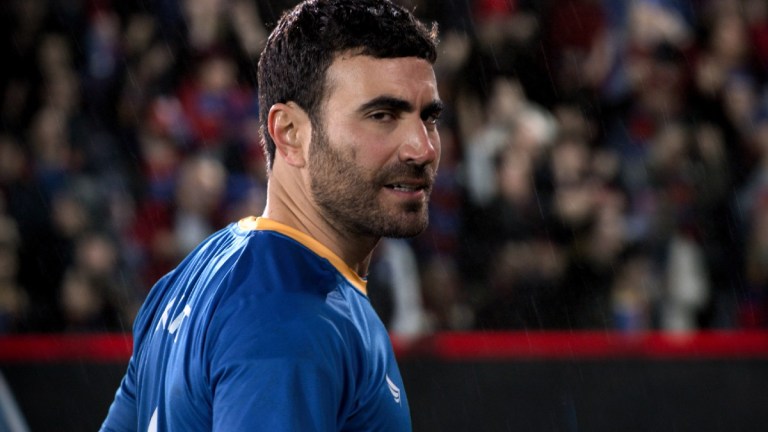 This article contains Thor: Love and Thunder spoilers
Taika Waititi's Thor: Ragnarok follow-up Thor: Love and Thunder ended up being a surprisingly divisive movie when it bowed last month, but one thing that most fans agreed on was its perfect casting of Ted Lasso star Brett Goldstein in the film's post-credits scene. While Love and Thunder largely eschewed the idea of setting up other MCU projects for the most part, and rounded up characters we already knew and loved instead, the fresh casting of Russell Crowe as Zeus led to an opportunity for Marvel to introduce, albeit briefly, a Marvel Comics fave in his son, Hercules.
In a new interview with The Playlist, Goldstein has been opening up about his hectic career, the "surreal" Marvel meeting that first opened a door to both Thor: Love and Thunder, and the ever-expanding MCU.
"I didn't know what it was for," he explained. "I was told that some Marvel people would like to have a Zoom with you, and I met with them, and it was just so surreal because…it was literally out of the blue one night, and I was very busy, and it was like, 'Can you make time for a Zoom?' 'Yes, sure.' And they go on Zoom, and they just told me what you see in the film, which is the sort of opened with, 'So Russell Crowe is Zeus,' and I'm like, 'Yeah, OK, go on.' And blah, blah, blah. And then they turn around, and they reveal, 'It's Hercules; it's you.' And I went, 'What?' Just like, 'Are you serious? Are you fucking with me? Is this a wind-up?' So yeah, it was as surprising to me as I think it has been to other people."
With just a fortnight to prepare for his appearance as Hercules in Thor: Love and Thunder, Goldstein was seemingly hyperaware that he hadn't exactly been on the physically punishing Marvel training schedule leading up to the day of filming. "When I spoke to Taika, I said, 'You know I'm basically like a skinny comedian?' I said, 'When is this filming?' It was like in two weeks, and I was like, 'I mean, I'll do my best, but two weeks feels …' I said, 'He doesn't have to be as big as Thor, does he?' And look, on the day, I mean, I'm doing 400 pushups that day. I was fit to explode. I did the best I could on that day, yeah."
Though Goldstein is coy, and claims that he doesn't know if he'll return as Hercules, fans are pretty convinced he has a big future in the MCU after "Hercules: Rise of the Gods" was trademarked by Marvel along with other big project names like Avengers: Secret Wars, Avengers: The Kang Dynasty, Captain America: New World Order, Multiverse Saga, and Thunderbolts, that were then quickly announced at this year's SDCC. It's unclear whether Hercules: Rise of the Gods will turn out to be a live-action project or simply a new title at Marvel Comics, but Waititi has hinted that there is a project in development for the character that he is not involved in.
"It would be a real bummer if people weren't interested," Goldstein admits. "Of course, I care. I have to say I was surprised and delighted, as in it seemed to get a real positive response. And that, it's amazing. I just, I'm not in charge of what they're doing or what they want to do. And in a way, that was an experience that I hadn't had for a long time, where I had no involvement in the behind-the-scenes of it. Look, you're in fucking good hands. They make really good shit. You know what I mean? And Taika Waititi's fucking brilliant, so it was like, 'I'm in the best hands possible.' But, it's amazing. Who knows if anything will come of it, who knows, but it was a fun thing to do, and I'm pleased that people seem to have enjoyed it… I'm going to eat 30 chickens a day from now on; it will be fine."
No need to worry about lack of interest, Brett! We can't wait for more Hercules in the MCU.