Features
Is Ted Lasso Supposed to Be Darth Vader?
The first image from Ted Lasso season 3 all but confirms the show is in its Return of the Jedi era.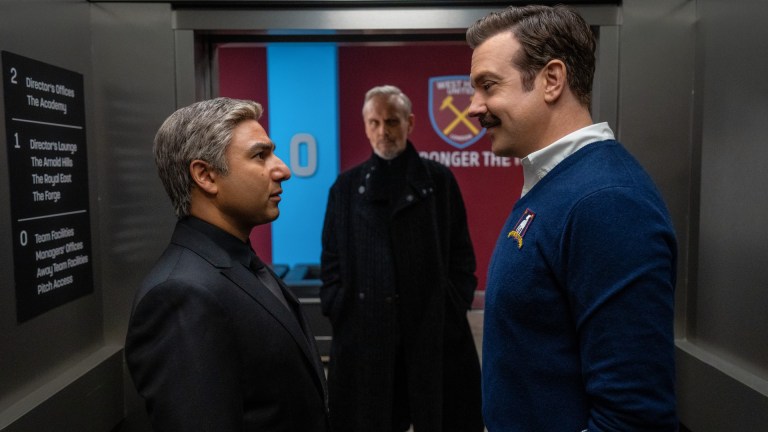 Somehow, Rupert Mannion returned.
If that was your initial thought upon seeing the first official image from Ted Lasso season 3, you're not alone. The press photo for Apple TV+'s sports comedy hit sees three major characters in very pop culturally provocative positions.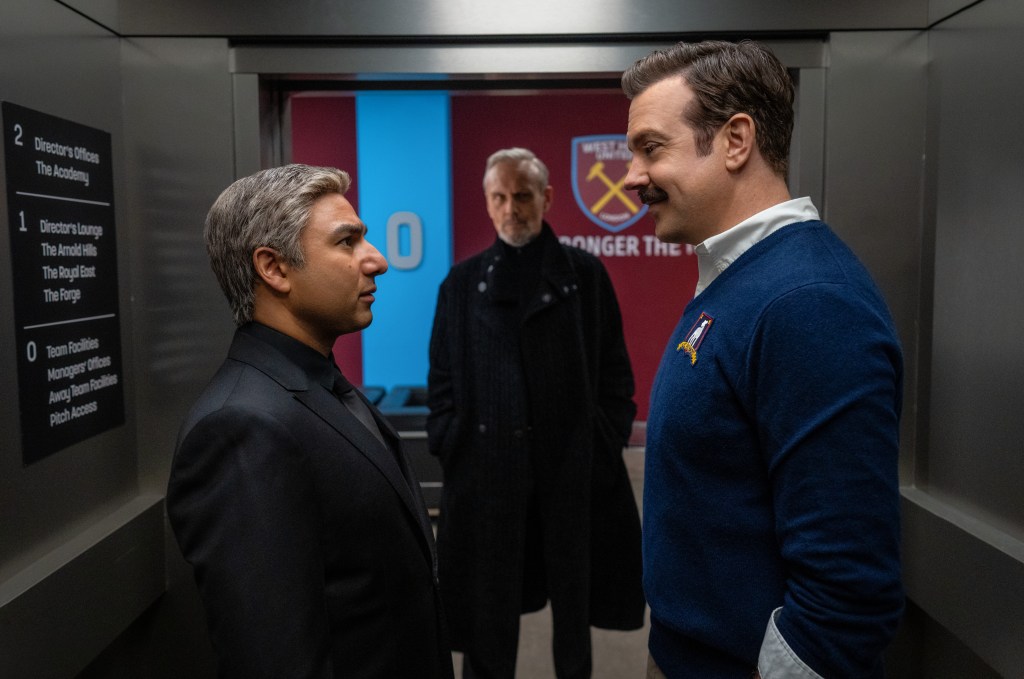 A fatherly figure (Jason Sudeikis's Ted Lasso) looks down upon his metaphorical son (Nick Mohammed's Nathan Shelley) who finds himself on the other end of a conflict much older than them both, all the while the author of all this familial misery (Anthony Head's Rupert Mannion) looms in the background shadows, darkly content at the discord he's caused. Remind you of anything? Ted Lasso fans across the internet were eager to point out the "galaxy far, far away" of it all.
Despite being a cheerful sitcom about a fish-out-of-water American football coach trying his hand at coaching the "other" football across the pond, Ted Lasso has become inextricably linked to Star Wars, a nearly 50-year-old space opera. As we've pointed out, Ted Lasso season 2 had more than a little in common with Star Wars middle chapter, The Empire Strikes Back, with the first episode of the season going so far as to mention the Star Wars trilogy to prime viewers for all the daddy issues to come.
On one hand, Ted Lasso's Star Wars homages aren't that much of a surprise. All of the show's key decision-makers (producers Sudeikis, Bill Lawrence, and Brendan Hunt) are in the perfect age demographic to have had their pop culture brains permanently altered by the release of Star Wars in 1977. On the other hand though, what could those decision-makers possibly see in the story of a galactic civil war that reminds them of their story about a little English Premier League team that could?
The truth is that the storytelling forces at play in Star Wars could be applied to … well, just about everything. George Lucas was deeply inspired by the works of mythologist Joseph Campbell and as such the themes and inspirations behind Star Wars are ancient and quite literally elemental. It probably didn't take long for the Ted Lasso writers to realize that there was more than a little bit of Star Wars flavor in their conception of an American hero traveling to a distant land to find himself in an old conflict. So they just leaned into it.
Still, even with Ted Lasso being so open and honest about its Star Wars inclinations, this first season 3 image so closely resembling Return of the Jedi feels like a real escalation. That photo is really something to behold and it raises some fascinating questions about the series' ultimate end. While most fans have consistently clocked Ted, Nate, and Rupert in that image as Luke Skywalker, Anakin Skywalker a.k.a. Darth Vader, and Emperor Sheev Palpatine a.k.a. Darth Sidious, who is who exactly?
Rupert Mannion as Emperor Palpatine is pretty clear, given his positioning in the photo and his role in tearing wunderkind coach Nate Shelley away from AFC Richmond to manage his newly-owned West Ham club. But where does that leave Nate and Ted, exactly? As the hero of this story (and one of the most fundamentally pure characters on television), Ted seems like he'd be the Luke Skywalker figure. Why then, is the turncoat Nate the one giving off more Luke vibes? His all-black suit is nearly identical to Luke's all-black look in Return of the Jedi. He's also gazing intently up at his much taller "father" as Luke did with Darth Vader. Does that mean that Ted Lasso is … Darth Vader?
As far as Nathan Shelley is concerned, he is! Don't get us wrong: Ted Lasso is about as unambiguously good a character as they come. From Nate's perspective, however, there is indeed a little bit of Darth Vader to be found in the mustachioed American. For starters, Ted imbued Nate with great power without properly teaching him how to use it. Then, while Ted also far from a space fascist, there is something at least slightly emotionally oppressive about his relentless optimism. We know there's some darkness in Ted, as he's never been able to fully process his own father's death, leading to panic attacks that he kept secret from the people in his life for an extended period of time.
It's not hard to see how someone like Nate could see Ted Lasso's personality as one grand facade. In Nate's mind, Ted must feel small and frustrated … just like him. Regardless of what happens with AFC Richmond in season 3, the only conflict that really matters is whether Ted and Nate can reconcile and realize the real enemy has been Emperor Rupert this whole time.
Ted Lasso season 3 will premiere in Spring 2023 on Apple TV+.