News
Taskmaster Series 10: Channel 4 Release Date & Line Up Confirmed
Here's all the latest news on series 10 of Taskmaster, airing on Channel 4 this October…
Without comedy panel show Taskmaster, the world would be a worse place. There'd be no Tree Wizard, no Bob Mortimer-designed pork pie presentation unit, a great deal less footage of the brilliant weirdness of Sally Phillips, Josh Widdicombe wouldn't have a Greg Davies foot tattoo and the mayor of Chesham would never have been presented with the rare gift of 42 Calippos.
Created by Alex Horne and developed for television from his 2010 Edinburgh Fringe show, Taskmaster brings extreme and silly joy; it is to be cherished.
Nine series of the show that pits comedians against absurd and pointless challenges to see just how their minds work have aired on Dave since 2015. This year, it's packing up and moving to a new home on Channel 4, a move confirmed in November 2019 with these words from Alex on the official website:
'I promise the show won't change & there'll be the same amount of personal and professional humiliation. Thank you to everyone at UKTV for looking after us so brilliantly for 9 series. Very excited. But now I have to go and clean the house.'
Here's everything else we know about series 10 and beyond.
Taskmaster series 10 – The Geek Lowdown
How many series are there? Nine full series plus the Champion of Champions special, with six more on the way
Renewed or cancelled? Renewed for series 10-15 in November 2019
Next series air date confirmed? Yes! Thursday the 15th of October at 9pm
Where to watch? Channel 4 from series 10 onwards, previously Dave
Created by: Little Alex Horne
What happened last time: loads of stuff. See clips and more on the official YouTube channel.
Taskmaster: six new series coming to Channel 4
The Channel 4 move came with a commitment to six new Taskmaster series to air over the next three years. That will take the grand total up to 15 series. After a little break while the show moves broadcasters, we can expect it to return to airing the usual two series a year between 2020 – 2022.
The show will continue to be filmed in the same famous Taskmaster house in Chiswick, West London (apologies for previously locating it in Chesham, Bucks. It doesn't move. It's not a TARDIS). Series 10 is currently being filmed without a studio audience, in line with COVID-19 regulations. Here's the first series 10 trailer. Series one to nine will soon be available to stream on All 4.
Taskmaster series 10 release date: 15th October 2020
On the official @taskmaster Twitter account, it's been promising for weeks that the new series is "coming soon", and now, it's finally telling the truth: it's confirmed that series 10 will start on Thursday the 15th of October at 9pm on Channel 4. Huzzah!
Read our latest interview with Alex Horne here.
Taskmaster series 10 contestants: stars of The IT Crowd, This Country and Two Weeks to Live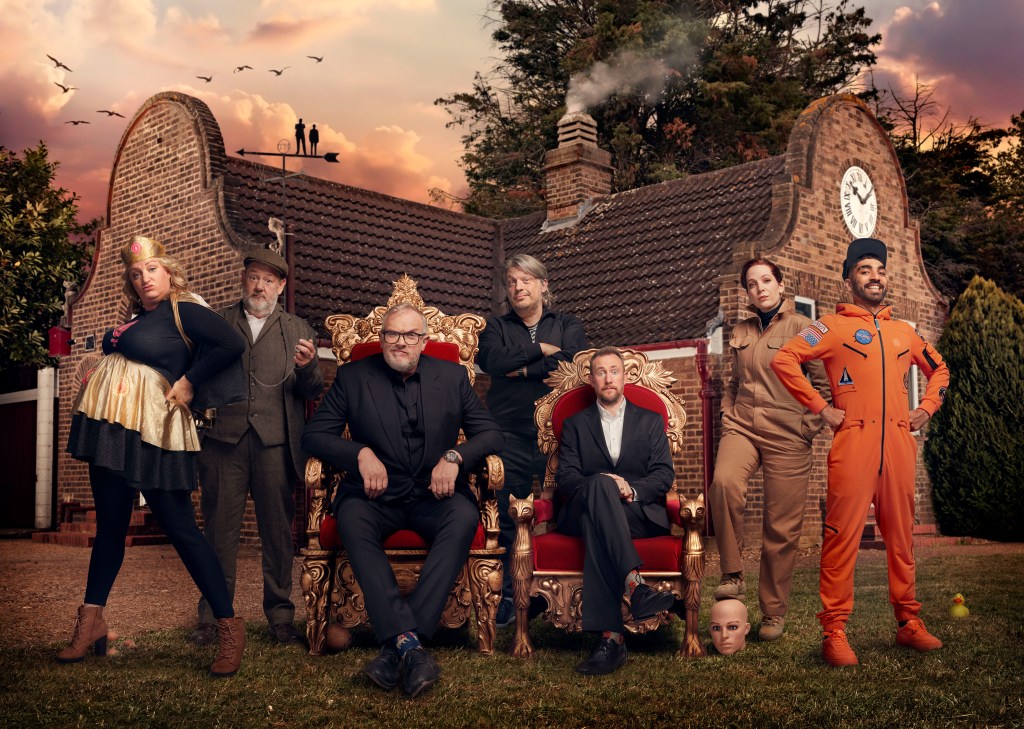 It was confirmed on Wednesday the 29th of July that the new series 10 line-up is: Daisy May Cooper, Richard Herring, Mawaan Rizwan, Katherine Parkinson and Johnny Vegas. Read more about the comedians here.
With series 11 already underway, potential candidates for the next line-up may well include comedians signed to Avalon, the production company that makes Taskmaster. Of the 45 previous contestants, 14 have been represented by Avalon including Alex Horne, Greg Davies, Frank Skinner, Joe Wilkinson, Dave Gorman, Al Murray, Paul Chowdhry, Russell Howard, Phil Wang, Iain Stirling, Lou Sanders, Rose Matafeo, Ed Gamble, David Baddiel and Reggie Watts, who presented the now-defunct US remake.
Comics represented by Avalon who've yet to appear include Richard Herring, Jenny Eclair, Jayde Adams, Rob Delaney, Josie Long, Lee Mack, Andy Zaltzman and well, all this lot, take your pick.
Alex Horne's much-cited dream contestant is Jack Dee, while fans have been clamouring for years to see Richard Ayoade on the show. The latter's Channel 4 links make that even more likely now, as Ayoade is of the Channel 4 stable.
Read more: here's our pick of the top 11 tasks between series one and five.
Taskmaster: will there be a Loser of Losers special?
They've done a Champion Of Champions special for series one to five, and could well repeat that for series six to ten, but isn't competence just a little bit dull? What fans really want to see is a Loser Of Losers special series featuring the lowest-scoring contestants of all time.
They are, in reverse chronological order: David Baddiel, Paul Sinha, Phil Wang, Alice Levine, Nish Kumar, Lolly Adefope, Paul Chowdhry, Joe Wilkinson and Roisin Conaty.