News
Superman & Lois: New Details on Smallville Setting & Characters
Lois and Clark will be returning to Smallville in the new Superman & Lois TV show. Here's everything we know...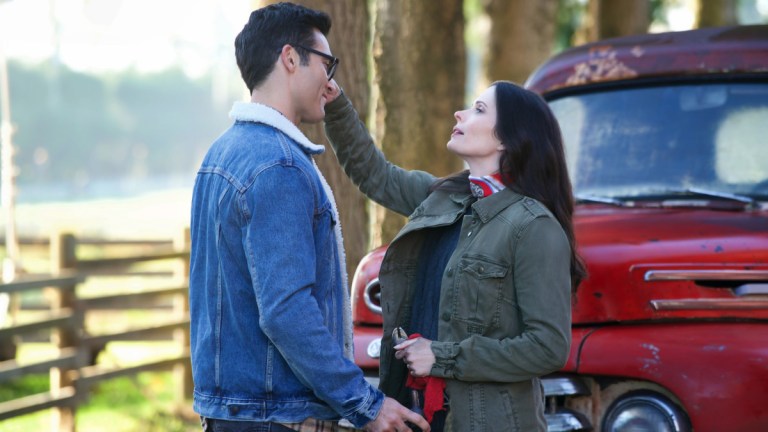 "This family needs Smallville… as much as the world needs Superman." That was one of the featured Superman & Lois lines in the new trailer for "The CWverse," which dropped earlier this month. The superhero spinoff—which will see Tyler Hoechlin and Elizabeth Tulloch reprising the roles of Clark Kent (aka Superman) and Lois Lane, respectively, which they have previously only ever inhabited on a guest star basis—is one of the big premieres for The CW in 2021. At today's DC Fandome panel, we got some insight into what to expect from the family drama, including details on that Smallville setting.
Superman & Lois will see Lois and Clark moving from Metropolis to Smallville with their two post-Crisis-retconned twin teens Jonathan and Jordan. The move is prompted by a mysterious "tragedy" that showrunner Todd Helbing would not go into specifics about, as well as a desire to escape the hectic nature of life in Metropolis.
"The story of Superman has taken place in Metropolis for [a] very long [time]," said Helbing. "Obviously, there was the Smallville series. But I came from a small town in the midwest and the town that I grew up in had a business leave that sort of affected everybody in the town, and the town started to dry up, and it felt very current with recent years after 2008. So we wanted to tell a story where you have the parents, after this tragic event happens, move back to Smallville and really find that it's easier maybe to raise kids in a place where life isn't so hectic, as it is in Metropolis."
Emmanuelle Chriqui has been cast as Clark's high school sweetheart Lana Lang, and Helbing teased that Superman & Lois will delve into the complicated dynamic between Lois, Clark, Lana, and Lana's husband, Kyle, saying: "I think it's fun, when they go back, that Lana Lang is there. Lana was Clark's first love, and I think it's an interesting dynamic as an adult how you deal with that relationship."
Helbing made it clear that this is not a show in which Clark would cheat on Lois, which prompted Tulloch to add, "But [Lois] should know that, you know what I'm saying," implying the lack of communication may cause some misunderstandings in Lois and Clark's marriage.
In addition to creating the original character of Lana's husband Kyle Cushing (Erik Valdez), Superman & Lois has also given Lana a daughter, Sarah Cushing (Inde Navarrette), who "gets sort of wrapped up with the boys and they have their own love triangle," said Helbing.
Dylan Walsh will portray General Lane, aka Lois' father, on Superman & Lois. Speaking about the character, Helbing said: "He's a very military guy so he sort of looks at Superman as his soldier. His relationship with Lois is a little fraught because of the way he took his job when he was a parent vs. the way that Clark is doing his job. So all of that messiness is really fun."
We'll have to wait and see…
Superman & Lois is slated to premiere in 2021 on The CW.