News
Doom Patrol Season 3 Confirmed
Doom Patrol Season 3 is a go on HBO Max. So long, DC Universe...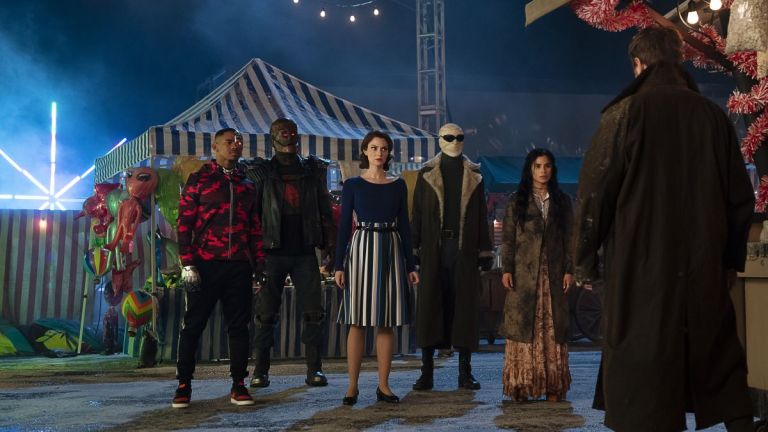 Look. I get it. The world is absolutely terrible right now. Hell, depending on where you are, it might even literally be on fire. But that just means we have to take the good news wherever we can find it, right? So let's take a little good news.
Doom Patrol Season 3 is happening. The renewal was officially confirmed minutes before the Doom Patrol panel at the second day of DC FanDome was supposed to go live.
Of course, as with anything involving this crew of misfit heroes, there is something slightly bittersweet about the announcement. Doom Patrol season 3 is officially an HBO Max show now, making this perhaps the final nail in the coffin of the DC Universe app as a destination for original streaming content. Season two premiered simultaneously on HBO Max and DC Universe, but season three will be exclusive to HBO Max, mirroring what happened with Stargirl and its exclusive move to the CW for its second season.
"On behalf of the wonderful cast, writers and crew, we are thrilled and grateful for the opportunity to return to Doom Manor. And we are especially thankful for our partners at Berlanti Productions, Warner Bros. Television, DC UNIVERSE and, of course, HBO Max," Doom Patrol executive producer Jeremy Carver said of the renewal.
"Doom Patrol came to HBO Max with an already deep and passionate fan base and has risen to
the top as one of the most watched Max Originals on the platform," said Sarah Aubrey, head of
original content, HBO Max. "The series sits well in our portfolio and we are glad to greenlight a
third season to continue this distinctive style of storytelling that resonates so well with critics and
fans alike."
Doom Patrol Season 3 will have a little bit of cleanup to do from the end of its COVID-shortened second season. But that's ok, as long as we get to spend more time with the weirdest group of misfit superheroes on TV, we'll take it.
If you haven't seen Doom Patrol yet, now is the time. Both seasons are currently available on both DC Universe and HBO Max, and the show is an utterly bonkers delight. No word yet on when we'll get that third season, but given the aforementioned state of the world, it probably won't begin filming until early 2021, so we have to wait a little while. All the more time for you to get caught up on it!