News
Legends of Tomorrow Season 6 Picks Up An Alien Expert
Lisseth Chavez boards the Waverider as the Legends' resident alien expert and maybe telepath?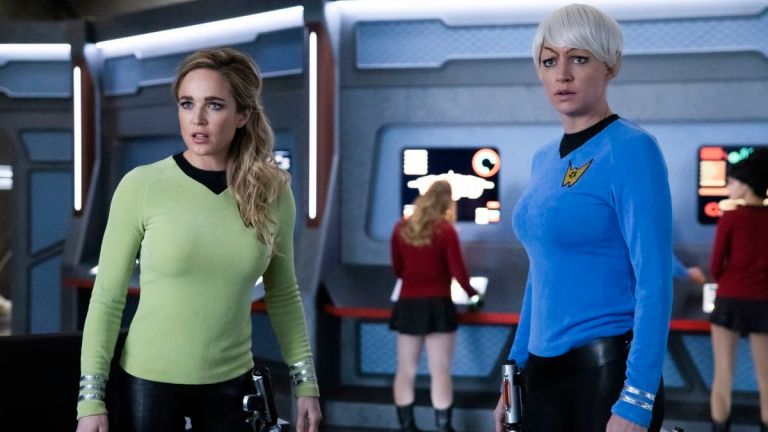 Legends of Tomorrow ended season 5 with a little bit of space, and the promise of more space, and now the first big casting announcement of season 6 fulfills some of that promise.
At the Legends of Tomorrow panel at DC FanDome day 2, Lisseth Chavez was announced as joining the crew of the Waverider in the upcoming season. Chavez will be playing Esperanza "Spooner" Cruz, a tech whiz with a history of alien abduction who "believes she has the ability to communicate telepathically with aliens." That part is quoted because one gets the sense that this is an open question that will be part of the mystery of Legends of Tomorrow season 6.
Chavez most recently played Officer Vanessa Rojas on Chicago P.D., and had roles on Murder in the First, The Fosters, and The OA prior to that.
Spooner has no immediately obvious comics counterparts, and we don't get much info on how she makes her way to the Waverider. The announcement says she survived a childhood alien encounter and now spends her life making tech to combat the extraterrestrial threat. So what we can tell now is that the show is moving away from goofy fantasy send ups to goofy sci-fi send ups.
You will recall that season 5 of Legends was spent with the team hunting down the Loom of Fate. Charlie and her sisters eventually parted ways, and after the team won and set the world right, they went back to 1974 to party with Charlie's punk band. As they left the club, Sara Lance was abducted by aliens. And now, at least to start season 6, the team needs to find her and beat the ruthless alien dictator who took her. I don't know about you, but the first thing *I* think of when I hear "ruthless alien dictator dc comics" is Manga Khan.
Chavez' new gig on the Waverider was officially announced as part of the Legends of Tomorrow panel at DC's Fandome day 2 (or Second Fandome, as we're calling it 'round the Den), the big comic convention replacement that the company instituted as a pandemic replacement to the in-person experience. While day one was mostly focused on the biggest news from DC's cinematic offerings, day two is hyping up the comics and small screen events, with panels on everything from Joker War to Rorschach to the best CW shows (cough cough this and Batwoman) and a free comic lead in to the return of the Milestone Comics universe.