News
Superman & Lois Casts Emmanuelle Chriqui as Lana Lang
The CW spinoff series, Superman & Lois, will see Emmanuelle Chriqui play the Arrowverse's version of Lana Lang.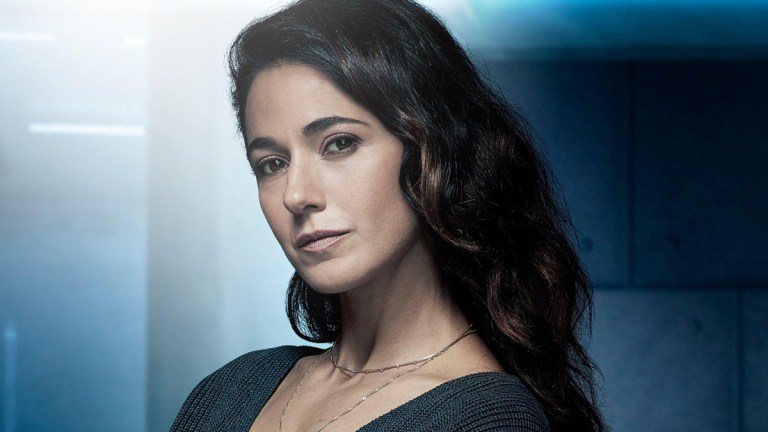 Superman & Lois has officially found its Lana Lang in Emmanuelle Chriqui.
The CW's developing Supergirl spinoff, Superman & Lois, has cast Canadian actress Chriqui as a series regular, set to play the classic Superman comic book presence and frequent live-action-adapted character for the small screen Arrowverse shows, reports Deadline. The main cast role will see her join Tyler Hoechlin and Elizabeth Tulloch, who co-star as the titular couple.
Chriqui will portray a version of the character, named Lana Lang-Cushing, who's described as "the loan officer at Smallville Bank who stayed in Smallville when others left for something bigger and brighter. Lana reestablishes her friendship with her old friend, Clark Kent, during one of the most difficult periods in her life."
Of course, the addition of Lana to the mix implies a major component to the series dynamic, since she is famously known as the first love of Clark Kent/Superman's life back in his youthful years in Smallville, thus hinting at prospective tension between Clark's wife and his (apparently married) ex. Indeed, the character—introduced in the pages of DC Comics in Superboy #10, dated October, 1950—is iconic in her own right, and was most famously played by Kristin Kreuk on The WB/CW's Smallville throughout most of its 2001-2011 run. Yet, Kreuk was hardly the first to portray Lana, having been preceded by Stacy Haiduk in the 1988-1992 syndicated Superboy series opposite John Haymes Newton, and Annette O'Toole (Smallville's eventual Martha Kent), who played the role opposite Christopher Reeve's Man of Steel in 1983's Superman III after the character was portrayed briefly by Diane Sherry in 1978's Superman: The Movie.
Chriqui, a Montreal-born actress, has been a perennial presence on the television and film scene, and was most recently seen last year as a regular on Fox's short-lived vampire/outbreak drama, The Passage, and Netflix holiday feature The Knight Before Christmas. She's fielded other notable small screen runs on Shut Eye, Murder in the First, Cleaners, The Mentalist and Entourage, along with roles in films such as Super Troopers 2, You Don't Mess with the Zohan and Wrong Turn.
However, the presence of Chriqui's Lana on Superman & Lois will also contrast with the show's family dynamic, with DC's first couple now dealing with their two very different twin teenage sons, Jonathan and Jordan, played by Jordan Elsass and Alexander Garfin, respectively. The existence of said twin teens came about after events of the recent continuity-spanning mega-crossover event, Crisis on Infinite Earths, which altered the couple's initial parental path of having one infant son, sparing the series from the early Full House-esque task of working around an infant in exchange for a double dose of the increasingly complex perils of adolescence.
Setbacks notwithstanding, Superman & Lois will operate under the purview of showrunner Todd Helbing, a former executive producer of fellow Arrowverse series The Flash. He will be joined in the show's creative coalition by (the small screen continuity's main maestro,) Greg Berlanti and Sarah Schechter (representing Greg Berlanti Productions,) and DC's Geoff Johns. Warner Bros. Television will produce the series alongside Greg Berlanti Productions.
Superman & Lois doesn't have a release date to cite as of yet. The pilot—initially greenlit back in late October—was designed to film during pilot season (conventionally the first quarter of the year,) to kick off a 13-episode inaugural season run. However, the COVID-19 pandemic proved to be the industry's Kryptonite (for now, anyway), halting those plans. Consequently, as with anything in the world right now, it is uncertain as to when we'll get to see the series launch. Yet, the casting of Emmanuelle Chriqui for this crucial character clearly proves that The CW is still optimistic enough about its temporarily-halted plans.