News
Lucifer Season 5: Devilish First Footage From Musical Episode Revealed
The cast bust some moves and flex their vocal chords as Lucifer unveils a sneak peek at Season 5's upcoming musical episode.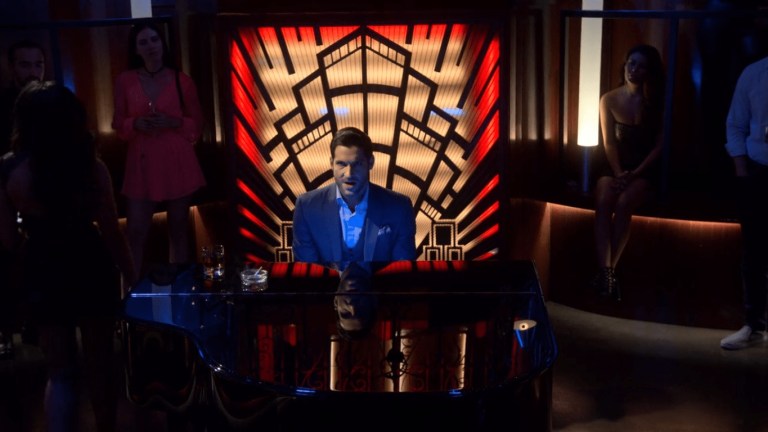 The cast and crew of Netflix's Lucifer have been hyping up Season 5's forthcoming musical episode for months now, and the first clip doesn't disappoint!
Thanks to this weekend's DC FanDome event, we've been offered a sneak peek of Lucifer (Tom Ellis), Chloe (Lauren German), Dan (Kevin Alejandro), and Ella (Aimee Garcia) all singing and dancing to 'Another One Bites the Dust' by Queen in footage from the tenth episode of Season 5, which is called 'Bloody Celestial Karaoke Jam'. Of course, it wouldn't be Lucifer without a mysterious murder victim being the one whomst bit said dust, and during this football-themed investigative opening number Mr. Morningstar initially tries to work out just what in the Hell is going on, while the Detective is more interested in twerking all up in his business.
Here's the clip that debuted at DC FanDome, ripped by a good samaritan and slapped onto YouTube. If it gets taken down, we'll add an official replacement video asap!
Take a look…
In a brand-new panel discussion, Lucifer showrunners Ildy Modrovich and Joe Henderson admit they've been wanting to do a musical episode for years, and are overjoyed to finally make that dream a reality.
"It's been a slow burn," said Modrovich (via EW). "In my heart, it began to blossom after the Vegas episode [in season 2], when Tom and Aimee did 'Luck Be a Lady.' I remember coming into rehearsal for that and crying because it was such a dream come true and it was so exciting to me. If there's any show you could do a musical on, it's this one."
No one will spill the beans on why Lucifer and the gang are acting this way in 'Bloody Celestial Karaoke Jam', but Henderson assures us there's a solid reason for all the performances they've got lined up for us.
"To me, in these musical episodes you've got to have the story-based reason that everyone breaks into song," he said. "Our show has people breaking into song all the time, but it's because they're at Lux or reasons like that. So, one of the challenges was, 'What element could we introduce that is organic to our story that allows all of our cast to burst into song?' And when we found that… that's when it came together."
Netflix hasn't yet set a release date for the back half of Season 5, but the cast are due to complete work on the final episode this month, and the sixth and final season is set to start filming straight after that.
Watch this space…