News
The Mandalorian Season 3 Almost Brought Back a Classic Prequel Trilogy Character
Star Wars almost shocked the world with a massive Prequel Trilogy character cameo in The Mandalorian season 3.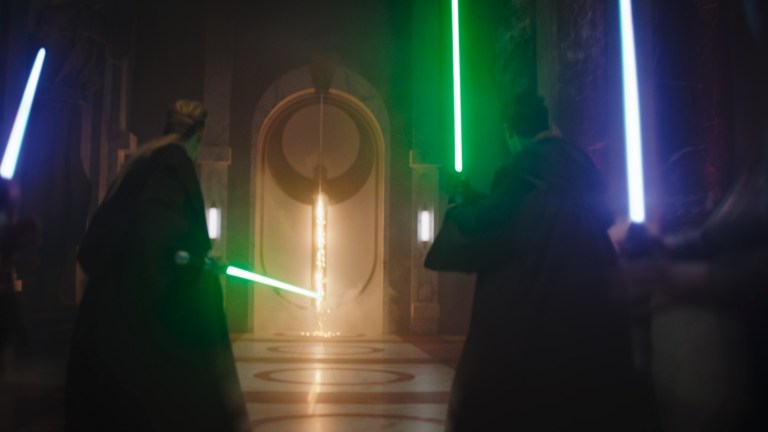 This Star Wars article contains spoilers for The Mandalorian.
The Mandalorian season 3 has taken a deeper dive than ever before into the galaxy at large. From exploring what life is like under the New Republic to venturing back to the abandoned wastelands of Mandalore, the series has really taken its time fleshing out its lore this year. The same can be said about the show's approach to its signature character. Now that Grogu is back with Din and training as a Mandalorian foundling, season 3 is excavating the little guy's backstory and answering some very important questions about his past.
Case in point: we finally know who saved Grogu from the Jedi Temple during Order 66. We learn in "The Foundling" that it was none other than Ahmed Best's Jedi swordmaster Kelleran Beq who helped Baby Yoda escape the siege and get off Coruscant, just as the clone troopers were closing in.
But Grogu's experiences during Order 66 have raised a big question about his final night in the Jedi Temple: how close did he get to running into the Sith lord leading the massacre? What if he'd run into the newly-christened Darth Vader, a dark side Anakin Skywalker who had no problem slaughtering Jedi younglings in Revenge of the Sith?
Well, according The Mandalorian executive producer Dave Filoni, the team did briefly consider bringing back Hayden Christensen for this flashback sequence.
"I discussed it with [showrunner Jon Favreau] briefly and I said, you know, there were some opportunities there. We always have to kind of look at every possibility," Filoni told Insider during the PaleyFest LA TV festival. Ultimately, the team decided against an Anakin cameo for two very specific reasons.
"At the end of the day though, a character like Anakin, one of George's characters, we have to be very careful how we utilize those characters. It's very special when we do. So, I think we quickly moved away from that," Filoni explained. They also didn't want the surprise return of Anakin Skywalker to eclipse what was a very important moment for Grogu: "We wanted Grogu to have his own story and tell it a slightly different way."
Like many fans forming their own headcanon, Filoni does find it very interesting that Anakin and Grogu were both at the Jedi Temple at the same time, and may have crossed paths at some point during Anakin's early training.
"It's interesting to think that they were that close to each other," Filoni said. "And interesting to think that even when Anakin was a little boy, that he was there at the temple at the same time as Grogu. So there's all kinds of weird things to melt your brain and wrap your head around, but, in a fun way."
Does this mean there could be a way to show Anakin meeting Grogu at some point before Order 66, perhaps even before Anakin left Coruscant to fight in the Clone Wars? We've already seen Lucasfilm de-age Christensen to play an Attack of the Clones-era Anakin in Obi-Wan Kenobi, so it's not an impossibility. Since Grogu is already 50 years old during The Mandalorian, and Anakin joined the Jedi Order about 40 years before the start of the show, that's plenty of time for the two characters to have run into each other at some point on the Star Wars timeline. Maybe they met right after The Phantom Menace?
The Mandalorian executive producer and director Rick Famuyiwa also spoke to Insider about why they chose to bring Kelleran Beq into the show.
"I think it was important for us to sort of really establish Kelleran Beq as the one who would be that person to save Grogu," Famuyiwa said. "We knew that Kelleran Beq was a part of our canon and really wanted to sort of use that as a way to solidify the story and connect it to a lot of storytelling in 'Star Wars' that isn't always just about the movies and television."
Kelleran is certainly a great fit for the part as the Jedi Master who was tasked with guiding Padawans through the Jedi trials on their way to Knighthood. But more importantly, it's brought back Best to the forefront of Star Wars.
"Honestly, I had to think about it. I've been in the Star Wars world for such a long time and my story is such a rollercoaster ride of emotions. So coming back to Star Wars wasn't an easy decision for me. It wasn't something I could have immediately said yes to. I did have to marinate over it for a bit," Best told StarWars.com about his return. "I mean, I was excited. I don't think people really understand how much I care about Star Wars. I really, really care about the storytelling, about the mythology, about the fans. I really want Star Wars to deliver, and if I become an obstacle to that, then I shouldn't be in it. I don't want to be bigger than the story. I don't want to be bigger than the mythology. I want to contribute, I want to add to it. So it took me a minute."
Best revealed it was talking Filoni and Favreau that convinced him to bring Kelleran to the larger Star Wars story: "I was still nervous, but it was really Jon Favreau and Dave Filoni, and being with them, that made me want to come back."
The Mandalorian season 3 streams Wednesdays on Disney+.