Features
Star Wars: Ahsoka Is Much More Than a Rebels or Mandalorian Sequel
Exclusive: Ahsoka star Rosario Dawson tells us what to expect from the new Disney+ series that spans generations of Star Wars storytelling.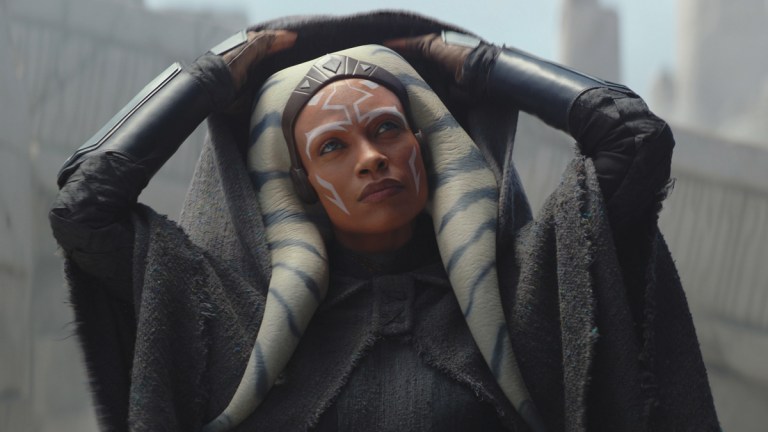 This article appears in the new issue of DEN OF GEEK magazine. Get your copy here.
Rosario Dawson is having the time of her life. In fact, when we call to chat (in June, before the SAG-AFTRA strike) about her starring role in Star Wars: Ahsoka, she's literally on a Ferris wheel in New York City, enjoying a little downtime with family before the rollercoaster ride that will be her latest foray into the galaxy far, far away.
When you ask Dawson about Ahsoka, this is what you get: pure, unabashed excitement. Every single second she spends talking about this universe, you get the sense Dawson is absolutely mesmerized by the grandeur of Star Wars and all the work that goes into making it. One moment in particular comes to mind for Dawson when describing that special bit of Lucasfilm magic she discovered on Ahsoka.
"We're shooting on the Volume [Lucasfilm's cutting-edge LED soundstage] and the camera's behind me. My sabers light up and I'm looking at just Star Wars. Literally ceiling to wall – classic, proper Star Wars. And my head was exploding. I remember the director called action and I just kind of…didn't move? I was just so transfixed by the moment."
Although she first guest-starred as the lightsaber-wielding Togrutan hero on The Mandalorian and The Book of Boba Fett, this spinoff finally allows Dawson to dive much deeper into the character: "This one is really taking the story on in a different way. It's really living with a character for such a long period of time, over several episodes."
Storywise, Ahsoka is arguably the most ambitious live-action Star Wars series to date. On the surface, it follows the space adventures of one of the most popular characters in franchise history—and one of the last co-created by George Lucas before he sold his studio to Disney—but it covers a lot more ground than that. It picks up from both The Mandalorian and Rebels, an animated series about the heroes who fought the Empire years before Luke Skywalker ever hopped into an X-wing. It also takes inspiration from the classic '90s Star Wars novel Heir to the Empire by Timothy Zahn, complete with the live-action debut of another fan-favorite character: Grand Admiral Thrawn (Lars Mikkelsen). And like every Star Wars project before it, Ahsoka is hiding plenty more secrets to be revealed across the eight-episode first season.
But for Star Wars fans who have only watched the movies and recent Disney+ shows, all you really need to know to get into the series is that Ahsoka is searching for Thrawn, an Imperial warlord who threatens to destroy everything the Rebellion (now the New Republic) fought so hard for in the Original Trilogy. When Ahsoka is reintroduced on The Mandalorian, she's traveling the galaxy as a lone warrior out for justice. Dawson describes the Ahsoka of this era as a "wanderer." Yet, to find Thrawn, Ahsoka will need some help from her old band of freedom fighters. Enter Mandalorian Rebel Sabine Wren (Natasha Liu Bordizzo) and New Republic general Hera Syndulla (Mary Elizabeth Winstead). But getting the band back together is easier said than done, according to Dawson.
"That's going to be the interesting thing to kind of figure out what's truly going on with all these characters. There's real tension there," Dawson reveals. Indeed, the trailers have already revealed that Ahsoka and Sabine became estranged at some point before the new series, and Dawson teases there will be plenty to unpack when the duo are eventually reunited: "Yes, we can be part of the hero team that helped to get to where we are now, but it did not come without sacrifice. We're going to be able to see that explored."
Rebels fans know that one of those sacrifices was Ezra Bridger, the Jedi Padawan and Rebel fighter who sabotaged Thrawn's ship in the cartoon's series finale, sending them both hurtling into hyperspace to parts unknown in order to save his friends from the Empire. Neither hero nor villain has been seen for years, although we know they're both out there, as evidenced by the fact that Eman Esfandi is set to play Ezra in live-action. Just how important is Ezra to the new series? At the end of Rebels, Ahsoka and Sabine made a pact to find their lost friend, and he's "still very top of mind" on the new Disney+ show, Dawson says.
Meanwhile, Thrawn's return to challenge a fledgling New Republic is straight out of Heir to the Empire, and the series isn't shy about referencing that inspiration. Showrunner Dave Filoni, who co-created Ahsoka for The Clone Wars and also made Rebels, even consulted Timothy Zahn on the game-changing villain the novelist first introduced to Star Wars in 1991. While the Thrawn we'll meet on this show isn't exactly like the one in Heir, which is no longer part of the official canon, he is still the terrifying mastermind who is always several steps ahead of the heroes. Thrawn can outsmart just about anyone, and unlike most Star Wars antagonists, he doesn't even need the dark side of the Force to do it. Worst of all for Ahsoka, he's had plenty of time to plan his comeback.
Ahsoka not only continues a story Filoni has been telling since The Clone Wars but places Thrawn back in his rightful spot as the "big bad" of this era of Star Wars. "I could see that joy in Dave's eyes on a regular basis from seeing these characters relate to each other and where they are now," Dawson says.
But lest you think Ahsoka is only focused on established characters, the series also introduces two new Force users: the hulking Baylan Skoll, a mercenary who works for Thrawn, played by the late Ray Stevenson, and his ruthless apprentice Shin Hati (Ivanna Sakhno). The duo made headlines out of this year's Star Wars Celebration due in no small part to the color of their lightsabers, a reddish-orange that suggests their allegiance is more complicated than light and dark sides. They're billed as villains, but Baylan's history as a survivor of Order 66—the event that resulted in the extermination of most of the Jedi in the galaxy—implies he and Ahsoka might have a little more in common than we know.
"[Baylan and Shin] are very powerful Force wielders. Very curious, right? Because there aren't very many people who can at this stage in history," Dawson says. "For a lot of us, it's just very exciting, the idea of what these characters suggest. I will just say that Shin and Skoll are quite formidable."
All of these characters are on a collision course that will set up the next phase of Star Wars storytelling not just on Disney+ but in theaters, too. After Ahsoka, Filoni will next direct a Star Wars movie that "will close out the interconnected stories" told across The Mandalorian, Boba Fett, and Ahsoka, according to StarWars.com. That means there's a very good chance Star Wars fans will finally get to see Ahsoka and Thrawn on the big screen.
It's just as well as Dawson is having too much fun to stop now. When asked if she'd like to be in Filoni's movie, she doesn't hesitate: "Obviously!"
Star Wars: Ahsoka will premiere on Disney+ on Aug. 22.