Features
Harlots: A Witty Blend of History and Fiction
With series one starting on BBC Two today, Harlots starring Samantha Morton and Lesley Manville is an excellent period drama with a top-notch cast...
Like all the best TV opening titles, Harlots' comical, brazen credits sequence announces its personality in miniature. A collage-style animation set to modern music, it shows cut-out characters from William Hogarth's 18th-century painting series A Harlot's Progress clustered around a giant, luridly colored female nude. They tuck into her crevices, canoodle on her mountainous behind, nestle between her buttocks, and peep out over the top of two plump hillock breasts. In the shadow between her thighs, female prisoners toil (just another day at the mine), and finally, she's on her back, legs spread wide as the show's title appears dead centre: Harlots. Come on in.
It's a bold start that announces Harlots' defiantly effervescent approach to a period and industry – sex work in the 18th century – that could in other hands be wall-to-wall syphilis and woe. It uses Hogarth's instructive moralism (the six paintings of A Harlot's Progress depict an innocent girl falling under the wicked spell of a city bawd, becoming a courtesan and a streetwalker, going to prison, and dying of the pox) for its own ends, wittily repurposing a historical cartoon as the entryway to a rich human drama.
'The whore's eye view'
"Everything from the whore's eye view," is the rule on Harlots, says producer Alison Owen. Nudity and sex acts are obviously central to the show's premise, but it presents them from a new angle. Literally.
Having noted how often sex scenes on TV are filmed with the camera looking down on a supine woman, Harlots wanted to show things differently, co-creator Moira Buffini told The Frame. Key to that approach was the use of female directors, led by head director Coky Giedroyc.
"We knew right from the word go that this would really work seen from a female gaze," says Buffini. Unlike elsewhere on TV, Harlots' brothel scenes wouldn't offer titillation; they would show a workplace at work.
After the first and second seasons went out, co-creator Alison Newman was delighted with positive feedback received from viewers in the sex industry who said they recognized their own working lives and experiences on screen. Harlots is set two and a half centuries ago, but its themes are timeless.
Buffini has described the role of sex in Harlots as the same role played by violence in The Sopranos – it's the characters' job, which is what makes them unusual, but not what makes them interesting. Just as The Wire's focus on the drug trade widened to explore its impact on politics, education, and the press, Harlots' focus on the sex trade widens to explore justice, religion, the aristocracy, and, at the root of it all, money.
'The only safety is in money'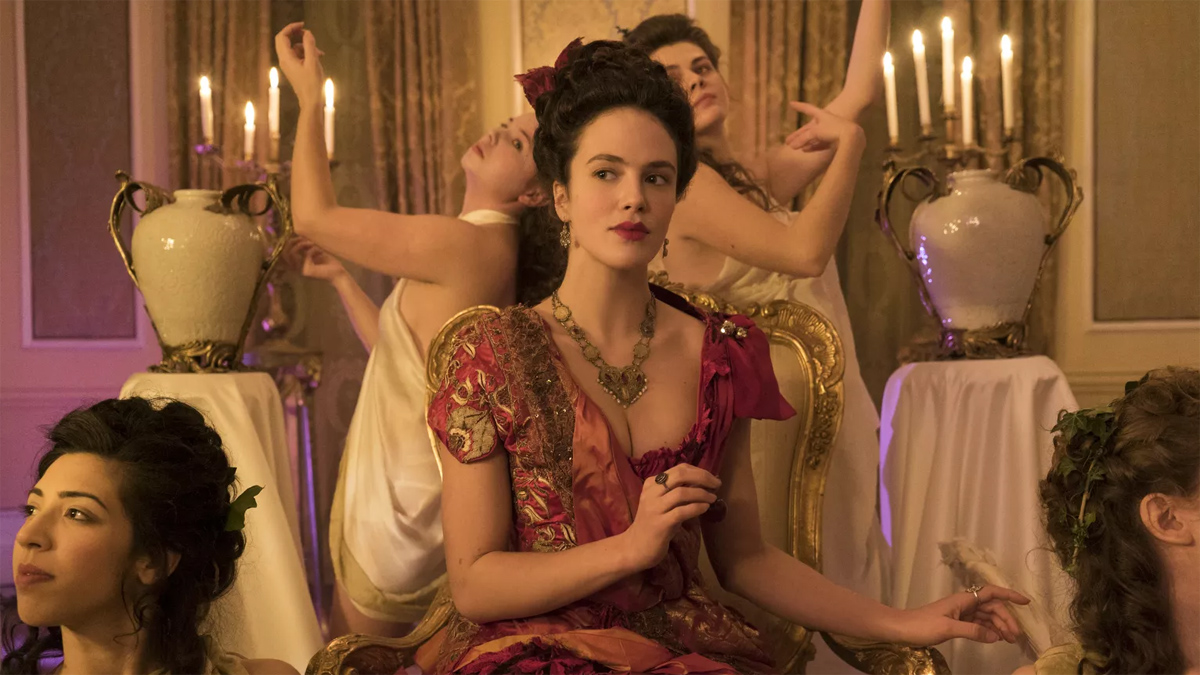 That's the mantra of Margaret Wells, former harlot, now a bawd who runs her own "Disorderly House." Played by Samantha Morton, she's mother to celebrated courtesan Charlotte (Jessica Findlay Brown) and her beloved new-to-the-game Lucy (Eloise Smyth). Despite a backstory as terrible as they come, Margaret has emerged a fighter with a keen sense of how to survive in a world where even aristocratic women have little economic power.
Economics is Harlots' real subject, says Buffini. The sale and purchase of sex, its fluctuating value (virginity, real or fabricated could be auctioned off to aristocrats for £50 – closer to £1000 in today's money – while others made shillings standing up in alleyways) and the short lifespan of those who sold it isn't just a backdrop to these characters' lives, it's the fabric of them.
Keenly aware of what her girls are up against in 18th century London, Margaret teaches that "money is a woman's only power in this world," and only lasting wealth can make them free. It's a shrewd perspective from a strategic thinker. Margaret Wells is certainly no hero, but her resolve and gumption make her fascinating to watch.
Equally fascinating is Lydia Quigley, played by Lesley Manville. The owner of an exclusive and fashionable brothel, Quigley is a monster shaped by her own abusive start in life. A sadist and kidnapper who profits from feeding corrupt appetites, she's a villain. And yet … Manville makes her human, and between them, she and Morton make the Quigley/Wells rivalry darkly layered and involving.
Elsewhere, Holli Dempsey is vibrant and thrillingly unpredictable as the headstrong Emily Lacey. Findlay-Brown is captivating as Charlotte. Dorothy Atkinson, Dougie McMeekin, Bronwyn James, Hugh Skinner… It's a strong cast, packed with entertaining characters each on journeys of their own.
The Covent Garden Ladies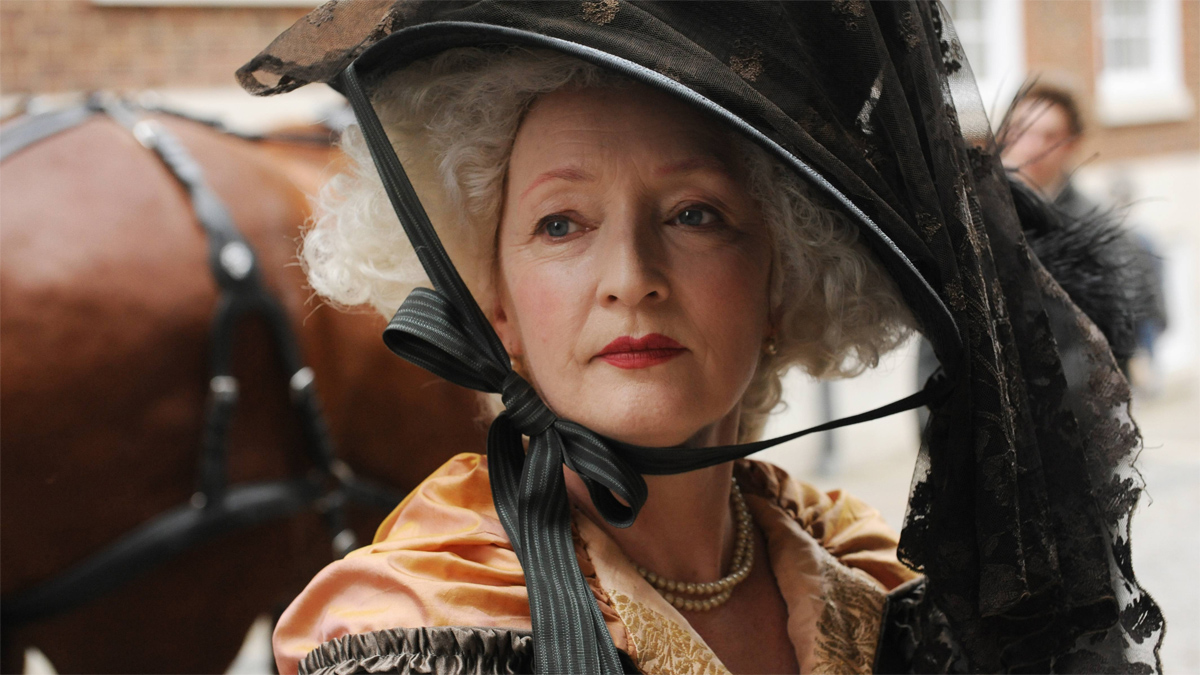 Harlots doesn't feature real historical characters, but its ensemble is drawn from a variety of real-world sources. When Buffini and Newman began to research the period, a starting point was historian Hallie Rubenhold's 2005 book, The Covent Garden Ladies: The Extraordinary Story of Harris's List. The list in question was an annual directory/review compendium of London's brothel workers that's been described as the equivalent of an 18th-century Yelp for the sex trade. Among its entries is courtesan Charlotte Hayes, who, along with the infamous Kitty Fisher, provided inspiration for the character of Charlotte Wells.
The Old Bailey trial records provided another source of real-life cases tried against bawds and sex workers – like Ann Duck, the inspiration for Violet Cross (Rosalind Eleazar). Merely touching on real-world inspirations leaves Harlots free to rewrite history to suit the needs of the story, and not to slavishly follow a prepared path for any of its characters.
Buffini and co. found a paucity of surviving 18th-century writing by women in the industry, so were forced to make several leaps of the imagination while planning the series. The autobiography of sex shop owner Teresia Philips offered some help. Lydia Quigley's real-world counterpart – Elizabeth Needham – who was notorious enough to feature as a caricature in the Hogarth paintings used in Harlots' opening credits (she's the woman luring the freshly arrived innocent to her sordid doom) offered a little more. The inspirations that fed into the characters of Nancy Birch, Harriet Lennox, and Mary Cooper are all discussed in this excellent and detailed article by historian and Whores of Yore curator Dr. Kate Lister.
'The flip-side of the Jane Austen novel'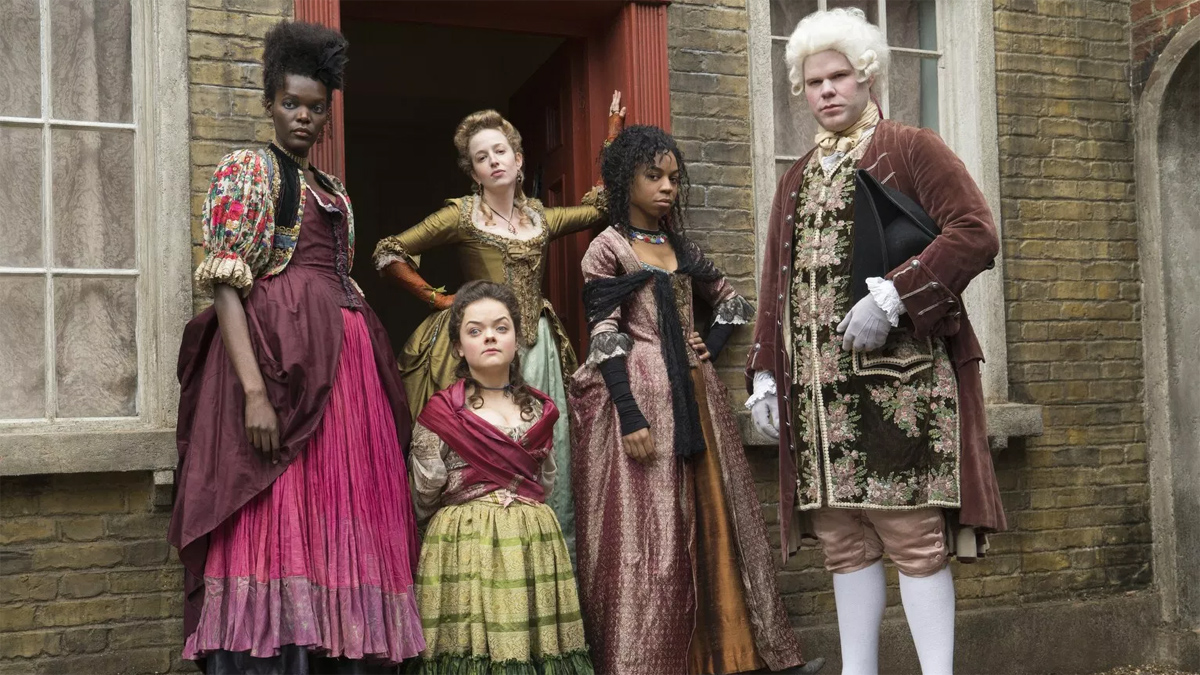 It wasn't only real life that provided inspiration for Harlots, but also the literature of the age. In this interview, Buffini explains that the character of Anne Pettifer, a young woman in Quigley's employ, was inspired by one of Jane Austen's creations. "Our idea for Anne Pettifer was that she's Lydia Bennet," explained Buffini.
In Austen's Pride and Prejudice, the Bennet family experiences a scandal that, if not resolved, would stop all four of Lydia's sisters from marrying well. 15-year-old Lydia runs away to London with an older man who has no intention of marrying her until he's paid to do so by a wealthy benefactor.
"What would have happened to Lydia Bennet without a shadow of a doubt (if she hadn't been rescued) is that she would have ended up in a house like Mrs. Quigley's," Buffini said. "Our drama is about the Lydia Bennets of this world, who don't get rescued by men, and the girls who have even fewer economic choices than Lydia Bennet."
'Dancing on the edge of an abyss'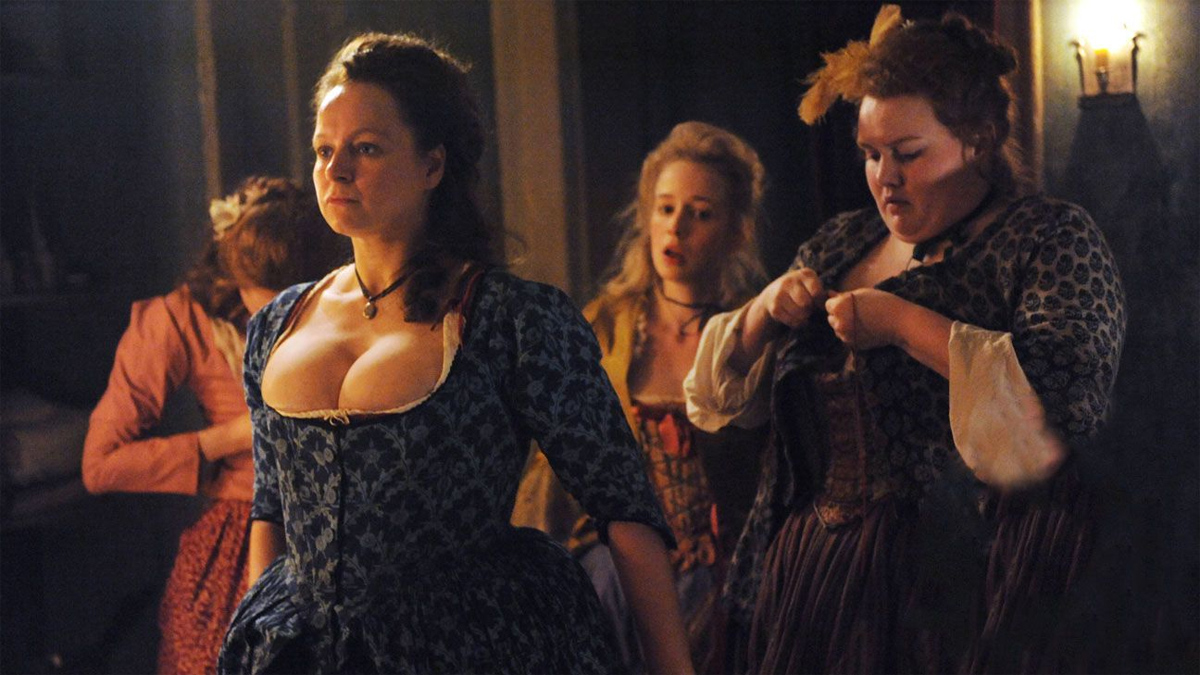 If that makes Harlots sound bleak, it isn't. Yes, its historical period was a desperate time for many. Its characters face unmentionable hardships and almost perpetual existential threats – from the law, from poverty and disease, from their "culls," and from each other – but this isn't a drama mired in woe or pity. It's about survival. Its world, just like ours (because in many ways, it still is ours), is awful and funny, terrible and warm, sad and joyful at the same time.
That combination, pitched somewhere between high drama and comedy, is part of what made Harlots a peculiar sell. As Buffini explained to The Frame, the channels they took it to before landing on US streaming service Hulu struggled to grasp its tone. They didn't understand the role of humor and wit in hardship. After three series, Hulu cancelled the show, after which point the BBC bought the UK airing rights.
"We think it's about women who are dancing on the edge of an abyss," Buffini said, "But they are dancing on the edge of an abyss. Right from the word go, we thought that we would show them dancing."
Harlots series one arrives on BBC Two on Wednesday the 5th of August at 9pm with a double-bill