Features
Netflix's Treason Ending Explained: Exploring the Charlie Cox Thriller's Shocking Finale
With major spoilers, we unpack the ending of Charlie Cox's new Netflix thriller Treason.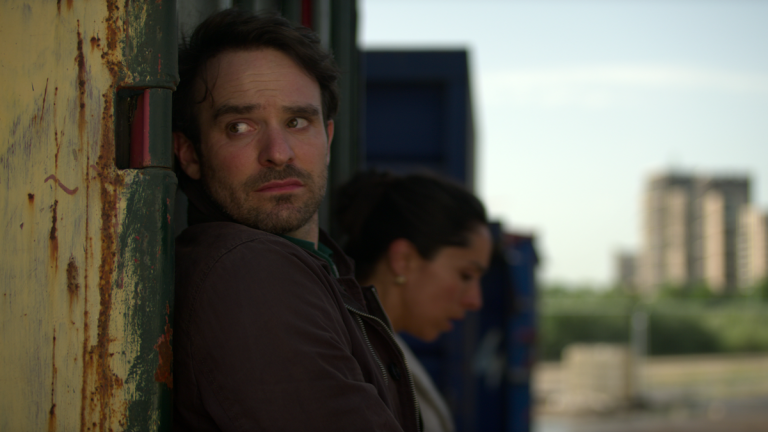 Warning: contains finale spoilers for Netflix's Treason
Netflix's five-part limited series Treason was released on Boxing Day and has a promising pedigree, as creator Matt Charman was Oscar-nominated for co-writing the screenplay for Steven Spielberg's 2015 film Bridge of Spies. With just five episodes of about 45 minutes each, it's a quick series to consume and digest over a couple of cold winter evenings, but it did come with something of a surprise in its tail… Spoilers ahead.
The Fate of Adam Lawrence
Halfway through the final episode, the show's apparent protagonist, Adam Lawrence (Charlie Cox) is unexpectedly shot dead. CIA agent Dede Alexander (Tracy Ifeachor) has been convinced by corrupt Control of MI6 Sir Martin Angelis (Ciarán Hinds) that Adam is the double agent code-named 'Dorian' that everyone is trying to track down. Dede confronts Adam and holds him at gunpoint, demanding that Adam's wife Maddy (Oona Chaplin) give her the files that will clear Adam's name and expose Angelis.
Adam's death is really a bit of a mistake. Kara (Olga Kurylenko) assures Maddy that Dede will not pull the trigger, and she is probably right that Dede does not particularly want to shoot Adam. As far as we know Dede herself is not corrupt, so if the files really did prove Adam's innocence (as far as it goes – see below), while she will certainly want to get her hands on them, she is unlikely to jump to immediate execution. Assuming she still believes he is guilty, she will also want him to stand trial, and the CIA will want to question him and get as much information as they can out of him before sending him off for punishment.
However, Maddy reminds Kara that she herself knows Dede a lot better than Kara does, as they served together in the army, where Dede saved her life. She knows that Dede will not hesitate to shoot to kill if she has to, which is what she has been trained to do and which would also be her instinctive reaction, having spent time under fire in a war zone.
But despite knowing that, Maddy panics as the 30 seconds Dede gave her run out, and she rushes forward. Presumably she is intending either to give Dede the files, or to throw herself in front of Adam. But she is too late to do either. Dede is startled by the sudden commotion and her training takes over – she shoots Adam dead on the spot. She was clearly willing to kill him, but whether she actually intended to do so in that moment is more of a grey area.
Why Kill Off Charlie Cox's Character?
Actor Oona Chaplin told The Independent that this was not the original ending of the series. Although she could not clearly remember how the story originally concluded, she remembered a phone call in which the producers told her that they were making a change to the series finale and killing off her co-star, in what she called "the more interesting option".
Killing off a series lead is a rare move that is always bound to get tongues wagging. It is not completely unprecedented, and the series was unfortunately released just a year after another prominent spy series did the same thing.
Provoking some kind of water-cooler conversation is usually beneficial to a TV show, as the more people talk about it, the more friends they are likely to encourage to watch it. Since it was released on Boxing Day it's questionable how many people immediately gathered around their office water coolers to discuss it, but luckily the internet provides a virtual watercooler at the touch of a phone. The death also led to what is probably the series' best dramatic scene; Maddy's silent, tearful walk across the Millennium Bridge to embrace the children, the look on her face telling them everything.
And there may be another, more pragmatic, reason for this character's death. Adam Lawrence is played by Charlie Cox, who played Daredevil in the Netflix TV series that ran 2015-2018. Cox is now back and officially playing Daredevil in the MCU; he has already reprised the role in Spider-Man: No Way Home and She-Hulk: Attorney-at-Law and is set to appear in Echo before his own series is revived in a new, MCU form. We have no idea what went on behind the scenes, but we would bet quite a lot on the idea that Cox was offered an increasingly big role in the MCU, told the producers he would not be available if a second season was ordered, and they decided to kill him off to give him a dramatic exit.
So, Treason Killed its Protagonist for Shock Value?
Yes and no. Adam is a main character, sure, but is he really the show's protagonist?
At the beginning of Episode 1, it looks like Adam is the protagonist of Treason. We are introduced to him early on and we follow his point of view pretty closely right up to the point he is killed off.
But, right from Episode 1, we also follow the point of view of Maddy, his wife. Maddy is an Army veteran, a physiotherapist, and has friends (or rather, she used to have friends) in the CIA. As the series progresses, we see more and more of her point of view, as well as Adam's.
After Adam is shot dead, Maddy takes over the job of getting the files to Audrey Gratz (Alex Kingston), the MP and wannabe Prime Minister who can clear Adam's name. Thanks to her military training, she is more than capable of holding her own in a physical fight, and she has the intelligence to spot the real mole when she catches him in a lie. By the end of the series, it is Maddy who is the protagonist, not Adam.
Which means, of course, that if the series is successful Netflix can order a second season without having to find a new protagonist.
Was Adam Guilty of Treason?
Yes. He was not the double agent known as "Dorian" that everyone was looking for, and he had no idea that Kara had been secretly manipulating and controlling his career behind the scenes. But he did keep in touch with Kara, a Russian agent, without telling anyone. And more to the point, in Episode 2, Adam gave Kara a file containing compromising information on the Prime Minister in order to get his daughter Ella back. Were his actions entirely understandable and exactly what any of us would do to save our children? Yes. Were they also high treason? Also yes.
Where Have You Seen the Cast Before?
Treason assembled a pretty spectacular cast, some of whom you probably recognised, others might have had you scratching your head and turning to IMDb to work out where you'd seen them before.
As we've already mentioned, Charlie Cox is best known as Netflix and the MCU's Daredevil, but you might also have seen him in his younger days as the lead in Stardust, based on the Neil Gaiman novel, or as the gay man who was only interested in Lady Mary's money in Downton Abbey's first episode. It's also likely you already recognised Alex Kingston who is, of course, the Doctor's wife River Song, and for her long-running regular part on ER back in the day, and more recently she appeared, putting on an American accent, in A Discovery of Witches.
Ciarán Hinds is an extremely well known actor with a very long credit list; you might have seen him as Julius Caesar in the BBC/HBO Rome, and he played another MI6 agent in the 2011 film of Tinker, Tailor, Soldier, Spy. But you might also know him as Albus Dumbledore's goat-obsessed brother Aberforth from Harry Potter and the Deathly Hallows Part 2. Olga Kurylenko has also been in spy dramas before as she is a Bond girl, having played the female lead in Quantum of Solace, but more recently you might have seen her as Taskmaster in Black Widow (her second mostly silent role, after Etain in 2010's Centurion – we're glad she got more of a chance to speak in this part!).
Oona Chaplin is best known for being involved in another famously shocking scene – she played Robb Stark's wife Talisa on Game of Thrones (and yes, she is related to Charlie Chaplin and to Doctor Zhivago star Geraldine Chaplin, who are her grandfather and mother respectively). Tracy Ifeachor is less well known but her credits include The Originals and Legends of Tomorrow, while Adam James (who plays Patrick Hamilton, the man eventually revealed to be the double agent "Dorian") has been in Deep State and I May Destroy You.
I Liked Treason, What Should I Watch Next?
Treason adopts lots of little ticks and elements and bits and pieces from other spy dramas we've seen over the years, so if you're relatively new to the genre, there's lots to explore. If you liked the hunt for a mole in MI6, all the shady shots of men in suits in bare rooms, the importance of "Control" and "the Centre", not to mention Ciarán Hinds giving another quality performance, check out one of the screen adaptations of John le Carré's novels, especially Tinker, Tailor, Soldier, Spy (there's a 1979 BBC TV series starring Alec Guinness, or the 2011 film starring Gary Oldman).
If you liked the family in peril, complete with kidnapped daughter, and the shocking death, try Fox TV series 24, which ran 2001-2014, starring Kiefer Sutherland. If you liked the brutal but sympathetic Russian agents, check out The Americans, which aired on FX 2013-2018. Or if you like a bit of British government conspiracy alongside your spies, watch the BBC's Spooks (known as MI5 in the US), which aired 2002-2011.
If you're already familiar with all of these, just hang tight and check out Daredevil while you wait for the new James Bond…
Treason is available to stream now on Netflix.