Features
She-Hulk Just Cleared Up Daredevil's MCU Canon
With Charlie Cox returning to role of Daredevil in She-Hulk: Attorney at Law, questions have been lingering over whether the three seasons of his Netflix series will be MCU canon.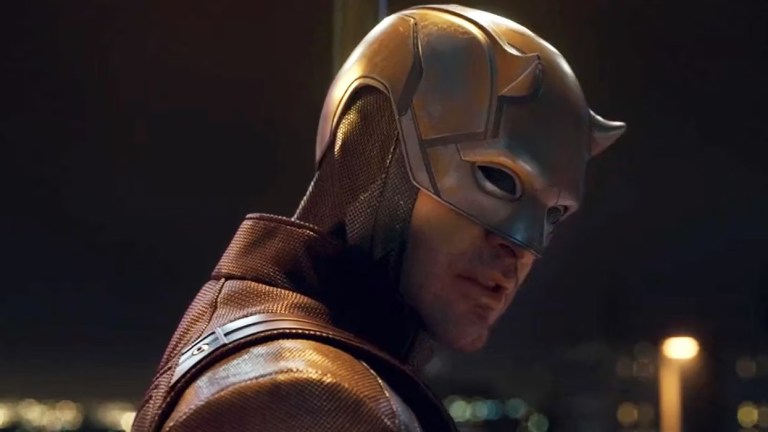 This article contains spoilers for Marvel's She-Hulk: Attorney at Law episode 8
Ever since the first trailer for Jessica Gao's She-Hulk: Attorney at Law came out, there's one talking point that's been dominating the conversation. In fact, ever since Netflix cancelled the last of its Defenders shows in 2019, there's been talk about when Daredevil, Jessica Jones, Punisher, and all the rest will be superhero landing into the mainline Marvel Cinematic Universe.
When it comes to She-Hulk, the trailer didn't bother wasting our time by trying to hide Matt Murdock like Spider-Man: No Way Home did. Still, after a tantalising tease at the end of episode 5, we were more than a little bummed it took another three weeks before we got Daredevil's introduction. The return of Charlie Cox's Man Without Fear was music to our ears (quite literally) in the latest episode of She-Hulk, and if you were listening carefully, you might've heard a familiar sound that cemented his place in the MCU.
During Oct. 6's "Ribbit and Rip It," Cox pulled double duty as the mild-mannered Matt Murdock and his brutal vigilante alter ego. Even though Jennifer Walters (Tatiana Maslany) was originally against Murdock in court by representing Eugene Patilio/Leapfrog (Brandon Stanley), it didn't take long for She-Hulk and DD to put their differences aside. This dynamic duo launched a rescue of the comedically camp Luke Jacobson (Griffin Matthews) when he was kidnapped by Leapfrog – leading to some typically gritty Daredevil scenes. 
When Walters first learns it's Murdock under his new mask, there's a riff on the Daredevil theme tune we heard for three seasons on Netflix. This isn't the first time the MCU has pulled this kind of trick recently. When Ms. Marvel. delivered its big mutant twist, we heard a revamped version of the iconic X-Men: The Animated Series theme tune from the '90s.
There have been plenty of questions about how Daredevil fits into the MCU and whether this version is the same as the one we left in 2018. Now, the use of the theme tune all but confirms the Netflix shows are part of the mainline Earth-616 canon. Thanks to Loki's variants and Doctor Strange in the Multiverse of Madness blowing open the MCU Multiverse, we've quickly learned it's a get-out-of-jail-free card when it comes to bringing back fan-favorites without messing things up. Just like Patrick Stewart's return as Charles Xavier and questions about whether Deadpool and Hugh Jackman's Wolverine will be amalgamated into mainline canon, some thought the Netflix shows were in their own universe. Unfortunately, Vincent D'Onofrio coming back as Kingpin for Hawkeye didn't help clear that up.
When Wilson Fisk arrived on the scene in the Disney+ series, fans wondered if his comic-accurate wardrobe change and the fact he was much stronger than in Daredevil meant he was a Kingpin variant. D'Onofrio told CinemaBlend it's the same character, while the official Marvel site updated its character profiles to mention Murdock's on-screen events, including everything that happened in Daredevil and a mention of: "Sometime later, Matt was hired as an attorney to defend Peter Parker." It should've settled the debate, but in a strange twist, Marvel then removed the No Way Home reference.
It doesn't help when the likes of Cox and MCU overlord Kevin Feige only add to the confusion. In a September interview with Extra TV, Cox explained how Feige had called the upcoming Daredevil: Born Again season one instead of season four, adding, "Which I think is the way to go. If you are going to do it again, do it differently." The lead said that because of the name Born Again, he assumed it was a whole new take – so what's changed? Whether plans shifted around, those at the top didn't want to spoil the surprise, or Feige wanted things to feel like a fresh start, there are clearly some crossed wires here. With Matt Murdock confirmed for the Alaqua Cox-led Echo – and viewers hoping for Cox's return in the She-Hulk finale – this canon conundrum will hopefully be cleared up a little more.
Thankfully, She-Hulk goes hard on letting us know we didn't waste three seasons of Daredevil, only to get a brand new iteration from another timeline. Aside from the Netflix theme, She-Hulk episode 8 included a mention of Murdock now doing pro bono work, which lines up with Daredevil season three's ending. As a final nod, Jacobson has made a couple of new suits for Daredevil. This seemingly follows from his previous designer, Melvin Potter (Matt Gerald), being behind bars when the Daredevil credits rolled. So there we have it, we don't need a lawyer to win a case of The Fans vs. MCU Canon!