Features
She-Hulk Episode 2: The Weird MCU History of Abomination and Hulk
Head writer Jessica Gao tells how the show landed on its meta Incredible Hulk reference.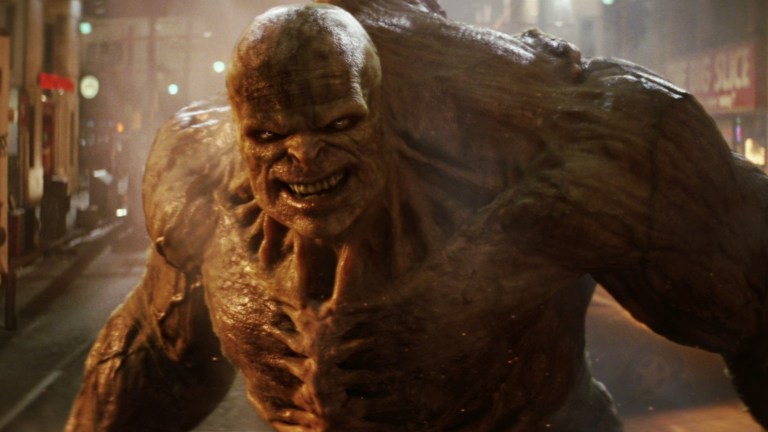 This article contains spoilers for She-Hulk: Attorney at Law.
In episode 2 of She-Hulk: Attorney at Law, Jennifer Walters (Tatiana Maslany), after losing her job as an assistant district attorney due to an incident of Hulking out in court, soon finds herself offered a new position with a firm that wants to defend enhanced humans and other super-powered beings. Desperate for a gig, she takes the job – and then finds out there are two caveats.
First, her boss wants her to perform her duties in her She-Hulk form, thinking it will serve as both great marketing and publicity that will attract clients and attention. Second, she is already assigned her first client: former Royal Marine Emil Blonsky (Tim Roth), known in both the Marvel print and screen universes as the Abomination.
Blonsky made his Marvel Comics debut in 1967 but first appeared on the screen in 2008's The Incredible Hulk. Assigned to take down the Hulk by General Thaddeus "Thunderbolt" Ross (William Hurt), he first gains exceptional strength and speed when given a dose of super-soldier serum. When that is later combined with Bruce Banner's gamma-radiated blood, Blonsky violently expands into the monstrous, reptilian, super-sized creature known as the Abomination.
Blonsky battles the Hulk three times in the film: once as a normal human, the second time with enhanced powers, and the third time as the Abomination, where he wrecks Harlem and comes pretty close to beating the crap out of the big green guy before the latter turns the tables and brings the Abomination down – alive, but wounded and contained.
So when Jennifer is assigned to seeking parole for Blonsky, after he's been imprisoned for nearly 15 years and has seemingly repudiated his bad behavior, she naturally wants to call her cousin Bruce and see – before she fully accepts the case — if there's any lingering bad blood (so to speak) or resentment on his part over his dealings with the Abomination.
The good news: there isn't. That leads to one of the funnier meta moments so far in She-Hulk: Attorney at Law. Speaking on the phone to Jennifer, Bruce (in his Smart Hulk form) tells his cousin not to worry about it because, as he says, the fight with Blonsky was so long ago and he (Bruce) is "a completely different person now — literally." Cut to Jennifer, who pauses, looks right at the camera, and gives us a little "ha ha."
You see, as Marvel fans everywhere know, Bruce, played by Mark Ruffalo, is telling the truth not just metaphorically but, as he said, quite literally. The Hulk/Bruce Banner that fought the Abomination to a bloody draw in The Incredible Hulk was played by Edward Norton, whose tense, troubled, one-and-done excursion into the MCU ended with that movie and paved the way for Ruffalo to take over.
"It's very in keeping with the meta-ness of classic She-Hulk," says series head writer Jessica Gao when asked by Den of Geek about the reference. "That line was actually written by one of our writers, Jacqueline Gailes. It was just a brilliant line where she was like, 'Oh, he should definitely say, you know, I'm a completely different man now.' And it works on so many levels, because he's a different actor, but also, even in his physical form on the show, he's a different guy."
Of course, The Incredible Hulk has long been considered the outcast, black sheep, whatever you want to call it, of the MCU. Just the second film produced and released under the Marvel Studios shingle following Iron Man two months earlier, it remains the sole MCU movie distributed via Universal Pictures due to that company's existing hold on some rights to the character (Marvel still can't make a standalone Hulk film as long as Universal retains its option – although there have been rumors that the contract reportedly expires in 2023).
The film's poor box office performance and less-than-enthusiastic critical response, combined with the mudslinging between Marvel and star Edward Norton (who reportedly rewrote a lot of the script himself), quickly consigned The Incredible Hulk to the dustbin of MCU history, especially after Mark Ruffalo made his acclaimed and beloved debut four years later as Bruce in The Avengers.
Until the re-emergence of Blonsky, the only other character to return from the film was the late William Hurt's General Ross, promoted to Secretary of State for Captain America: Civil War, the Infinity War/Endgame pair and Black Widow. No word on what happened to Liv Tyler's Betty Ross or Tim Blake Nelson's Dr. Samuel Sterns, who we'd love to see come back to the MCU as his villainous persona The Leader.
In the meantime, however, this latest episode of She-Hulk: Attorney at Law hat-tips the discrepancy and finally brings a bit of closure not just for Bruce and Blonsky, but for fans who at least want to see The Incredible Hulk acknowledged for its place in the MCU, flaws and all. Since we doubt that Ed Norton will show up anytime soon as an alternate universe Bruce, this is probably the best we'll get.
New episodes of She-Hulk: Attorney at Law premiere on Disney+ every Thursday.