Features
Schitt's Creek: What Happened to Mutt?
Tim Rozon's handsome hippie, Mutt, was a main character in Schitt's Creek but after the start of season 3 he all but vanished.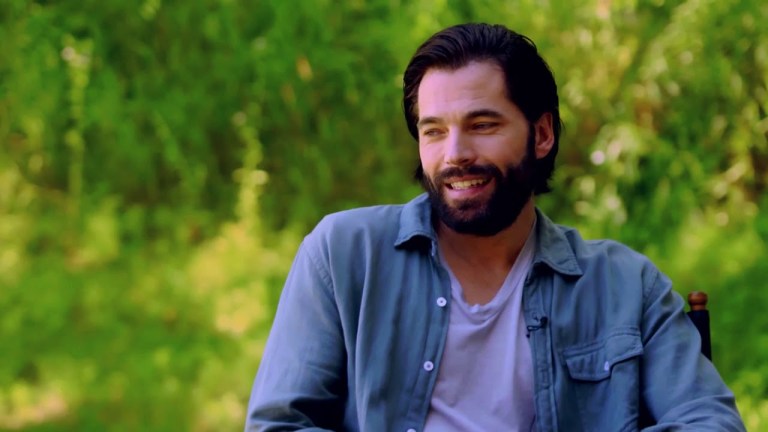 Schitt's Creek is a perfect gem of a show, in six seasons. A warm, slow burn delight which sees a wealthy family lose their riches and have to relocate to a motel in the titular small town, part of its charm is how the characters – who often seem like terrible people at first glance – are allowed to grow and change as the show progresses. 
One major character from the first two seasons, though, is something of an exception. Mutt Schitt, played by Tim Rozon, disappears after the first episode of season 3 and only pops back for a guest appearance at the end of season 4.
In real life Rozon was cast in a major role in the show Wynonna Earp – he plays Doc Holliday, the cursed, ageless former partner of famous lawman Wyatt Earp, who goes on to father a child with Wyatt's great-great-granddaughter Wynonna. The show has won major plaudits and is still ongoing with the first half of season four airing in August – the second half was delayed because of COVID19 and is slated for 2021.
In the world of the show Mutt's character had somewhat run his course, too.
Mutt is Roland and Jocelyn's son which in itself is both implausible and very easy to forget, not least because the age differences don't work. Tim Rozon was born in 1976 and while Chris Elliot (Roland), who was born in 1960, could just about have been his dad if he'd fathered him at 16, Jennifer Robertson (Jocelyn), born in 1971, is just five years older than Rozon. This is sort of acknowledged in episode 4 of season one where Alexis (Annie Murphy) is assigned community service with Mutt and thinks he's having an affair with Jocelyn after she sees them being affectionate with each other.
Mutt is somewhat estranged from his parents, he lives in a barn, he's an environmentalist and a child of nature, while Roland takes the mayoral tradition very seriously. When we meet Mutt he's dating Twyla (Sarah Levy – Daniel Levy's sister, Eugene Levy's daughter in real life) but their relationship comes to an end and the attraction between Mutt and Alexis grows, even though Alexis is dating Ted.
They begin a relationship but Alexis' need to constantly talk and Mutt's silent and stoic nature causes conflict and when he shaves off his beard it results in a fight and the two break up. We don't see a lot more of Mutt until the end of the season where he throws a party attended by David, Alexis, Stevie and Ted, and later by Moira, Johnny, Jocelyn and Roland. This is the season finale and it's one of the standout feel good episodes of the whole show – and it essentially works as Mutt's leaving do (though he returns in the first ep of season 3).
This episode juxtaposes an Anniversary dinner between Moira and Johnny which gets disrupted when they run into old friends and are joined by Roland and Jocelyn, and Mutt's party. Mutt has a new girlfriend named Tennessee, which unsettles a vulnerable Alexis. She runs into Ted at the party – and it's a key step in the progression of their relationship. Ted has to swallow his pride to attend a party thrown by the man Alexis left him for, but is soothed when he sees Alexis struggling in front of Mutt's new girlfriend. He tells her he cried for weeks after their breakup but was able to get past it and she has a chance to apologise sincerely for hurting him.
Meanwhile at dinner, Johnny finally stands up for Roland, Jocelyn and the town itself in front of their old friends. At Mutt's party Jocelyn, Roland and Mutt are reunited and the Roses tell their children that they love them – before everyone dances to James Morrison's 'Precious Love'. Utterly adorable.
In the first episode of season three Mutt departs with Tennessee to drive up the coast and harvest pine cones, leaving Alexis the keys to his barn so she can water the plants. Tennessee isn't happy about it, and Alexis tells Ted she won't be watering those plants, foreshadowing Mutt's final return to Schitt's Creek at the end of season 4.
While Mutt's gone no one really mentions him, including his parents, but when he arrives back having broken up with Tennessee he's the catalyst for Alexis finally having to accept that she is in love with Ted.
Mutt's quietness, affinity with nature, openness and honesty is paralleled with Alexis' gregariousness, tendency to be materialistic and emotional shallowness. When Mutt returns in season 4 he tries to kiss Alexis but she turns him down, telling him something has changed for her. His talk about telling Tennessee exactly how he felt inspires Alexis to do the same – Alexis has grown and Mutt has helped her do so, but in doing so she's grown out of Mutt.
Mutt's arc on the show is done and the character doesn't appear in the series again. As Alexis says: "You're a good one Mutt".