Features
Schitt's Creek Ending Explained
As Schitt's Creek comes to an end, here's where everyone, from the Roses to your favorite townspeople, ends up.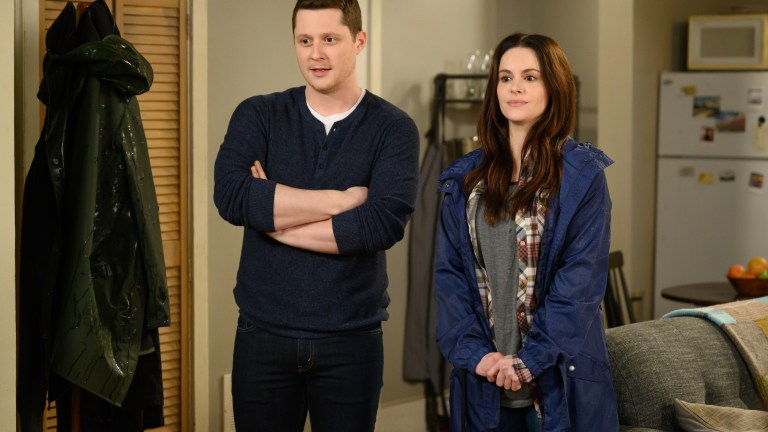 The following contains spoilers for the Schitt's Creek series finale.
As some Roses finally achieve their dream of leaving Schitt's Creek in the bittersweet series finale, others put down deeper roots. On the surface, the Rose family finds itself back where it started—that is, with enough disposable income to plan a future beyond the walls of their motel. But in all the ways that matter, they are not the same people who reluctantly retreated to this podunk town four years ago. They've fallen in love; they've had healthy relationships for the first time in their lives, even if they ultimately had to end them. They've embedded themselves in the Schitt's Creek, not as laughably exotic and out-of-touch outsiders, but as genuine members of the community. They've grown immeasurably better as businessmen, actresses, and publicists… and especially as people.
The Roses arrived in Schitt's Creek as a desperate last resort. They leave, or decide to stay, on their own terms.
David and Patrick's Wedding
In typical TV tradition, the Rose/Brewer nuptials were not without their share of hiccups, all thanks to a massive storm that they couldn't have predicted (but might have drawn up a contingency plan for). Thankfully, their neighbors and family and friends came together to solve every problem: Outdoor venue drenched (and no money spent on a tent)? Move to the Town Hall. Officiant cancelled? Enter Moira Rose, dressed as a bishop and delivering a tearful speech that managed to tastefully reference The Crows Have Eyes III: The Crowening. David is a bundle of nerves? Set him up with a massage complete with a—well. Patrick accidentally paid for a surprise happy ending for his groom on their wedding day? David works it into the vows: "You're my happy ending." Plus Patrick sang Mariah Carey's "Always Be My Baby" for their vows, the Jazzagals contributed an a capella rendition of "Simply the Best," and the indoor waterworks outdid the storm.
The fact that we don't see any of the reception or afterparty suggests that it was quite the shindig, especially as David, Patrick, Alexis, and Stevie are still in various stages of fancy dress and/or drunkenness at 6 a.m. the next morning, when they bid goodbye to Johnny and Moira.
Johnny and Moira Rose's Fresh Starts
After securing the Rosebud Motel Group deal with the brand-new venture capital company created by Ruth Clancy (both moved by their presentation and guilted by Roland), Johnny and Moira are ready to return triumphant to New York City. But then Moira gets the incredible offer to star in the Sunrise Bay reboot: her former producer Tippy Bernstein chose her over former co-star Clifton Sparks, and even threw in the tennis bracelet she demanded for good measure. With that, and considering how Moira has suffered most of all the Roses in Schitt's Creek, Johnny decided that they would move to LA for the foreseeable future. He'll manage Rosebud Motel Group from there while she returns to her beloved soap opera.
It's unclear if they'll stay in Hollywood past the thirteen-episode order of the reboot, or if they'll become bicoastal. They have money again, and so they can afford the luxury of choice.
What Happens with Patrick and David?
While David is sorely tempted to join first his whole family and then just Alexis in reestablishing themselves in New York City, he ultimately realizes that it's no longer the right place for him. All of his memories of the Big Apple were as bleak as they were fabulous, and none of his so-called "friends" would actually be the kind of support system that he already has. Aside from the personal roots, he also has professional ones, with Rose Apothecary continuing to operate and soon to be stocking all of the franchised Rosebud Motels all over North America.
Ever the supportive partner, Patrick was willing to relocate to New York for David, despite his reservations about living somewhere he'd never actually been. But when David realizes that Patrick was trying to buy them a house that David had admired in passing, he commits to staying in town with his partner. "I'm gonna make you so happy," Patrick promises, and in typical David fashion he snarks, "You better!" But the truth is what David himself says: He's not yet finished with Schitt's Creek.
What Happens with Alexis and Ted?
Alexis and her "Galapa-guy" Ted actually break up long before the series finale, in Season 6, Episode 8 "The Presidential Suite." While they struggled to make their long-distance relationship work, when confronted with the reality of Alexis finally coming to the Galápagos, they realized that they no longer had the same goals. Ted was offered the opportunity to stay on at his research lab for three years. Unfortunately, his dream job comes at the same time that Alexis' publicist career is finally taking off after she successfully spun the disastrous Crows premiere into a stunt ensuring the movie's cult status. Neither would let the other halt their respective career momentum, so they agreed to end things amicably if bittersweetly, especially upon reflecting how much they've helped each other reach exactly this point.
Now, for the first time, Alexis is flying solo; she'll be returning to New York City without her family to lean on, nor a handsome and rich boyfriend to show her the high life (and potentially kidnap/ransom/trade her in a game of high-stakes poker). What's more, she'll be solely responsible for making it in the city—but the fact that she's got an in with Interflix, and will be visiting their NYC offices, is a good place to start. Despite getting emotional at the realization that David's wedding would be the last time the four of them would share their cramped space at the Rosebud Motel, Alexis is exhilarated with her future prospects. (And whatever apartment she finds in NYC on her modest budget will have a lot less square footage than their motel room.)
Where Does Stevie Budd End Up?
After starring in Cabaret last season, Stevie was reinvigorated to figure out what her purpose is. With Johnny's blessing, she quit the motel and handed over her co-owner stake in order to pursue her new passion… of being a flight attendant. That ended before she got on her first flight, as she realized just how shady Larry Air was. With her proverbial tail between her legs, Stevie went back to Johnny to ask for her job back, but he was not just relieved but overjoyed to welcome his co-owner, knowing that he couldn't handle the business without her (and especially not with new co-owner Roland).
Stevie is the one to recognize the value in franchising Rosebud Motels all over the continent; and when they get suited up for their big pitch in New York City, despite her nerves, she makes a good showing as a fledgling businesswoman. Ultimately, she decides to stay behind in Schitt's Creek and continue to oversee the original Rosebud Motel. She didn't want to move to New York City, she tells David, but she wanted to know that she could.
What Happens to Jocelyn and Roland Schitt?
Jocelyn is probably secretly relieved to not have to wrestle over control of the Jazzagals anymore, but will still miss having Moira as a reluctant confidante. While the Schitts are staying firmly in the town named for their family, no doubt Rosebud Motel Group happenings will throw them on plenty of business-trips-slash-double-dates with the Roses in the future.
Roland promises Johnny and Moira a going-away present that's part prank, part tribute: redesigning the Schitt's Creek sign with Moira as the suited Schitt, Johnny as the bent-over sister, and David and Alexis flashing peace-signs in the background. Moira misses the glimpse, but Johnny smiles at the way in which they've been immortalized.
What Happens to the Residents of Schitt's Creek?
With the purchase of the Café Tropical, Twyla Sands might make it more obvious that she won big in the lottery a few years back. More likely, though, the humble waitress will simply continue keeping her windfall to herself, serving questionable smoothies to hungry folks, and hosting her annual murder mystery party. Most likely that secret will stay between her and her dear friend Alexis, who Twyla will likely splurge on visiting in New York City.
Moira's departure, shockingly, was what helped the normally stoic and sardonic Ronnie Lee get more in touch with her emotions. Once the Roses drove off, however, she likely dried her tears and returned to her clear-eyed work as town councilor. The waterworks might come back the next time Moira sweeps into town, but Ronnie will likely never thaw toward Patrick.
Meanwhile, Bob Currie is still waiting on Gwen to come home, poor thing.
What Happens to the Town of Schitt's Creek?
Not much! Things proceed as usual—as it should be. Although the Roses embedded themselves in the town with their respective businesses and relationships, and helped put the town on the map a bit more (albeit unflatteringly, before Moira walked back her disastrous People magazine interview), really the town changed them.
Residents will enjoy their work lunches and date nights at Twyla's Café Tropical; treat themselves to home goods at Rose Apothecary; enjoy performances from the Jazzagals in their post-Moira Rose phase; and, of course, stay at the original Rosebud Motel. And when Johnny pops into town for a business meeting with Stevie; or Moira comes for a humble holiday when Sunrise Bay is on hiatus; or Alexis crashes at David and Patrick's cottage, they'll drive into town beaming at the sign featuring undoubtedly the town's most famous one-time residents, the Roses. Schitt's Creek: Where everyone fits in!